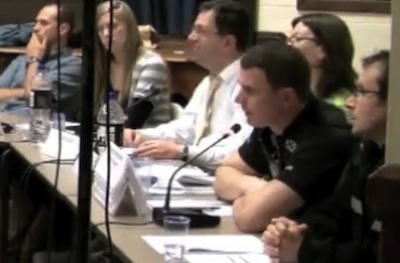 Sgt Wragg of the police with councillors at the Cambridge North Area Committee
Elected councillors should set local police and crime priorities and hold their local police and other agencies to account for their performance against them.
Priorities should be set after councillors have heard from those with an interest in policing the area. Evidence based, quantitative, priorities should be encouraged, and priority setting meetings need to know what information is available which could be provided to them, or indeed what could be collected on request. Examples of material which can inform elected representatives' decision making includes speed survey data, injury data, crime and anti-social behaviour reports, as well as information recent court outcomes.
District and County Councillors voting on priorities ought be the default position and the details of how the meetings are run should be up to them. If District and County Councillors think it appropriate they could decide to extend additional speaking rights, voting rights, to town or parish councillors. Where there are other elected representatives of significant numbers of people in an area, for example students' union or school council representatives it would be appropriate for them to be enabled to play an appropriate role in setting, and monitoring performance against, priorities.
Meetings need to be well publicised, with councils, the police and others working together.
Further Views on Specific Topics:
I would like to see members of the public interested in influencing their local policing able to make use of their local police priority setting meeting, either in-person, by contacting local councillors, or contributing via an online forum eg. Facebook or ShapeYourPlace. A key advantage of such routes is they can be used at any time. The day when we see a whole committee of councillors prepared to make a decision following an online deliberation might not be so far away, but we're not there yet.
Currently police consultative effort is spread thinly, I think we need to see less of police surgery type events (PCSOs hanging around in shopping centres) and more focus on the events where priorities are set and elected representatives have the opportunity to robustly hold the police to account. All outcomes of consultative efforts should be fed into the democratic process of priority setting and holding to account. Communications should not be exclusively focused on specific groups such as residents associations and neighbourhood watch groups, but made available to the general public, undue effort and resources should not be expended on working with such self selecting minorities.
See Also
I have attended, and expressed views on local police priority setting meetings across the Cambridgeshire Police Force Area including: Ely, Wisbech, Bassingbourne and Melbourn, North Cambridge, Sawston, Orton Goldhay, Peterborough, East Cambridge, South Cambridge, Histon, Impington, Cottenham, Milton, Chittering, Oakington and Waterbeach, Barton, Bourn, Caldecote, Cambourne, Caxton, Comberton, Coton, Croxton, Eltisley and Granchester and West/Central Cambridge.
Overview
I have published a summary of my views on what Cambridgeshire's Police and Crime Commissioner ought do.