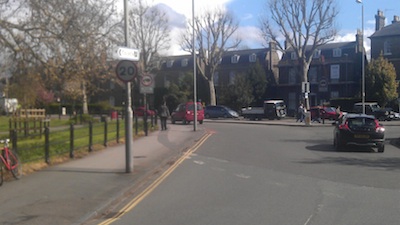 Poorly located 20 mph signs on entering Maid's Causeway.
On Thursday the 26th of April 2012 I observed Cambridge City Council's West/Central area committee hold the police to account on their recent performance and set the new policing priorities for the area.
One of the key items under discussion was the operation of the 20 mph limits and zones in the city centre, particularly on Maid's Causeway.
In January 2012 councillors had set a priority of:
Speed enforcement in support of the 20mph limit
Cambridgeshire police, represented by Inspector Steve Poppet, came to the committee to report that while some work on speeding had been done on all roads with 20mph limits in the area, he had decided it would be unfair to give those travelling under 31 mph anything other than words of advice, and he had set "operational guidelines" for his team in line with that view.
Inspector Poppet reported that the majority of people were breaking the 20mph limit, and the majority of those stopped stated they were unaware of the 20 mph limit and had not seen the signs.
Poppet stated his view that enforcement alone could not reduce speeds, and that even continuing the level of enforcement which had been seen in recent weeks was inappropriate in the absence of better signage and changes to the road environment to reduce speeds, never mind introducing tougher enforcement measures.
Inspector Poppet specifically called for the suitability of Maids Causeway for a 20 mph limit to be reviewed as so many people were going faster than 20 mph.
The leader of the council Sian Reid (Liberal Democrat, Newnham), and the executive councillor for policing, Tim Bick (Liberal Democrat, Market) proposed a local speed awareness course for Cambridge. This was in response to Inspector Poppet saying one reason he felt it unfair to take action against those breaking the 20 mph speed limit but travelling at under 31 mph was that they could not be offered a speed awareness course.
I contributed to say:
I think the local speed awareness course is a terrible idea, as it will be unfair on visitors to the city if they have to return to Cambridge if they wish to attend the course [rather than pay a fine or have their case taken to court]. This used to be a problem in relation to all speed awareness courses, following lobbying from me and no doubt many others, we have just obtained national speed awareness courses, and this problem is, in general, being addressed, a new local course will be a retrograde step.
I agree with the police inspector that enforcement should not be the prime means by which 20 mph limits are expected to reduce speeds. I think that asking the police act against the majority in the way some councillors are seeking is illiberal and potentially damaging to the key principle of policing by consent. I don't want to live in a country with the kind of police force we would require if we relied on primarily on police enforcement to enforce this, or any other law.
Councillors, including Cllr Bick, have suggested giving more powers and training to PCSOs to enable them to tackle speeding. I would suggest making those PCSOs who are capable into PCs, and setting a priority of having the city centre patrolled by PCs rather than PCSOs so that action can be taken against not just speeding but other forms of dangerous and illegal driving and cycling.
County Councillor Whitebread, (Liberal Democrat, Market) expressed her view that the signage was inadequate, a number of councillors joined her in expressing this opinion. I hope this is clearly minuted and if anyone ends up in court before the problems are solved they are able to put this to the magistrates, who I think ought take account of it.
Despite having agreed the signage was insufficient though, Cllr Whitebread proposed strengthening the police priority set by the committee. She proposed setting a priority asking the police to issue Fixed Penalty Notices or summonses to those breaking the 20mph speed limits at under 30 mph. No councillor seconded Cllr Whitebread's proposal and it was dropped.
What I think councillors may have missed is that even if no action is taken against those going at under 31 mph the consequences for those issued with Fixed Penalty Notices or summonses at higher speeds will be more severe as a result of the speed being recorded in a 20 mph limit. The consequences of doing 40mph in a 20mph limit is greater than that for doing 40mph in a 30mph limit.
p131 of the latest Magistrates' Court Sentencing Guidelines suggest magistrates can disqualify drivers for 7-28 days, or give 4-6 points along with a fine for doing 40mph in a 20 limit, where as for doing 40 in a 30 limit the guidance is that 3 points and a smaller fine is appropriate.
I would love to be able to go and observe how our local magistrates are dealing with these cases, but while the doors of the courts are open, the court lists are not published so it is all but impossible to observe particular cases of interest, other than those the participants let people know about.
For many people their car is critical to their way of life, particularly for those visiting Cambridge from more rural areas. I think given the fact the current signs are so badly positioned, and the signal in-terms of changes to the road environment that a 20mph limit which are typical elsewhere, it would be unjust to see people banned from driving as a result of minor speeding in a number of central Cambridge's 20 mph limits.
I passionately want to see Cambridge made safer for cyclists and pedestrians. Just putting up 20 mph signs, and asking the police to take enforcement action against those breaking that limit, isn't working, and it isn't in my view going to work. The kinds things I would like to see include extending the policy of closing off roads to shift through traffic away from areas which are now heavily used by cyclists and pedestrians (eg. Carlyle Rd at its junction with Chesterton Rd), introducing park roads (gates, red roads etc), this could work for elements of Maids Causeway, and prioritising cyclists eg. perhaps banning overtaking of cyclists and putting the cycle lanes in the middle of roads, eg. on Mill Road.
Cllr Smith (Liberal Democrat, Newnham) said she agreed with me, rather than her leader and the executive councillor for policing, that a local speed awareness course would be unfair.
Cllr Reid then called for speed cameras to enforce 20 mph limits.
There was a lot of discussion about what headlines might result from various actions by the committee, Cllr Smith warned that dropping the priority for enforcing 20mph limits might make councillors look as if they were not committed.
Cllr Hipkin expressed concern that his views, not supporting continuing with the priory, might be mis-represented and used against him in the current election campaign.
Before voting on the priority councillors asked Inspector Poppet for information on how much time would be spent on enforcing 20 mph limits; clearly rattled he refused to answer the question saying it was an operational matter.
Councillors voted in favour of keeping their previous priority of "Speed enforcement in support of the 20mph limit", they did not strengthen it. All Liberal Democrats on the committee voted to keep the priority, Cllr Hipkin abstained. Cllr Hipkin said it wasn't working and what he wanted to see was a city wide 20 mph limit, which he thought drivers would better understand (he wasn't clear on if he meant literally a city wide limit, or as many, but not all, mean when they use that term a 20 mph limit for "residential streets").
Inspector Poppet had warned that the "Neighbourhood Action Group" might over-ride councillors' views, particularly if they set the more stringent priority proposed by Cllr Whitebread. I suspect this might be one reason why they did not. As the police were calling for the priority to be dropped entirely they may still ignore the councillors.
I have lobbied for the activities of the secretive Neighbourhood Action Groups to be opened up, but Cllr Bick, the executive councillor for policing has opposed this, and defended their continuing in secret, he even opposed publishing the minutes, and outcomes, of their meetings.
My view is that the police have operational independence and are free to do what they think is right, but they are accountable to councillors. I think councillors should set their priorities as they think fit and it is up to the police how they operationally respond to those. If councillors find themselves unable to effectively influence and hold the police to account at a local level then they should look to the Police Authority, or in future the Elected Commissioner, for assistance.
Inspector Poppet suggest councillors lobby ACPO Ltd, some councillors appeared to think this was a reasonable suggestion others pointed out anything ACPO says is just guidance and they were right to be trying to influence the police directly.
County Council Position
County Council officer Mr Preston addressed the meeting on the prospect of better signage or changes to the road environment. He said the county council focused its funding where they expected it to reduce injuries, and that as there were very few injuries on residential roads subject to 20mph limits they were not a priority for the County Council.
City Wide 20 MPH Zone Project
Cllr Cantrill (Liberal Democrat, Newnham) spoke to draw attention to the fact the City Council have budgeted £450,000 for work on a city wide 20mph zone. Council leader Sian Reid said it was £400,000, and Cllr Canrill noted that was still substantial, both councillors claimed this was in the city council's recently approved budget.
While I cannot find a relevant section in the papers for the February 2012 full council meeting at which the council's latest budget was approved, the details are in the papers for the January 2012 Environment Scrutiny Committee. p19 of the Planning & Sustainable Transport Portfolio – Budget 2012/13 shows a "bid" for £29,900 in each of 2012/13 and 2013/14 for :
Implementation of new 20mph zones across the City. Funding proposal covers the staffing resource and there is a separate linked capital bid for the physical works involved (signing, lining etc). Bid is for 2 years funding, which would provide a City-wide approach. [See also C2755]
The referenced capital bid is for £200,000 in each of 2012/13 and 2013/14 described as:
Further research into the project and meetings with Portsmouth City Council suggests that a City-wide approach to 20mph restriction, rather than a piecemeal implementation would be more appropriate and successful in terms of public awareness, compliance and enforceability. The estimated capital costs (based on best estimates from local and Portsmouth experience) as well as inclusion of commuted maintenance for the new structures and markings on the highway that will be necessary if the City funds this project. This is estimated as a two year project with scoping, research, surveys and preparation in year one with implementation, including signing and lining, following in year two.
The total funding being £459,800, Cllr Cantrill was closer than the council leader, but neither got it right.
How much change to the city's road environments which is expected isn't at all clear, there is a mention of "new structures", but having seen how little value for money the public sector gets when it comes to changes to the road environment that's not going to go very far.
If the council is expecting the police to do most of the work to change behaviour how will they be funded, and have the wider implications of a dramatic change in the culture of policing in the city, been properly thought through?
The meeting was told by Cllr Ward (Liberal Democrat, Arbury, Executive Councillor for Planning) that progress towards a city wide 20 mph limit was slow, and to-date all that had occurred was deciding which department would be responsible for the project, and working on the job description for someone who would be hired to run it. The committee was told a consultation on the idea of a city wide 20 mph zone could be run later in the year.
Public Contributions
Hugh Kellet addressed the meeting calling himself a spokesman for the "think tank" and campaign group "20 sense". He use an analogy of cats and mice, with the speeding car drivers being the mice, and asked for more mouse traps.
Ex Liberal Democrat councillor Anthony Bowen spoke to say the police were holding the committee in contempt.
Maids Causeway resident Mr Lawton called the whole thing a farce, and noted it had been eighteen months since councillors had asked for enforcement of the 20 mph limits and there was still no action.
Other Policing Matters
Dispersal was briefly discussed, Inspector Poppet was no longer pushing for a dispersal zone in the city centre but failed to really explain what had changed since the previous meeting which he attended calling for councillors' support in introducing such a zone.
Worryingly he stated that if he thought a dispersal zone was needed in the future he would "move more swiftly".
I asked if by that he meant he would try and avoid public consultations, and making the case to the West Central Area Committee or another open council meeting, and try and bounce the executive councillor for policing into a rapid decision.
Inspector Poppet admitted this was the case.
Councillors Bick, Cantrill, and Smith were unimpressed by this response and made clear they wanted any future dispersal zone proposals to come before the West/Central Area committee and the chair offered to hold an emergency meeting of the committee if necessary.
Cllr Cantrill said: "We've held emergency meetings for less important things, like trees", but the meeting, including Cllr Cantrill burst into laughter, and Cllr Cantrill made clear he wasn't suggesting trees were unimportant.
City council officer, Linda Kilkelly, noted the councillors were reversing a previous policy of having an emergency procedure for introducing dispersal zones. Councillors confirmed very clearly that was in fact what they were doing.
Cycle Theft
At the previous police priority setting meeting I had asked for photographs, and frame numbers of recovered stolen bikes to be recorded by the police and placed online.
Inspector Poppet responded at this meeting to say this had been considered, but the police had decided against it on the grounds people other than the owners of the bikes might seek to claim them.
My view is this is nonsense, as the police can ask for evidence of ownership.
Cambridge Cycling Campaign tweeted in response to the police statement saying:
They used to! Surely proof of ownership is needed, and/or a prior police report solves that?
Divisional Priorities
The Inspector noted the existance of divisional priorities. I suggested these be reported to councillors along with what they were, the time period they were running for, and information of the amount of manpower and other effort devoted to them, so they could take this into account when setting their own priorities.
This request was ignored.
Restorative Justice
I asked who was giving approval for restorative justice disposals where the community at large, and not an individual, was the victim. I noted that approval by the victim of a proposed restorative sentence/penalty was an important safeguard in the approved scheme. I asked if any councillors had given any such approvals, they all indicated they had not. Inspector Poppet declined to comment.
I suggested a priority of asking the police to follow their restorative justice policies, but no councillors took this up.
Mobile Phone Thefts
The police reported mobile phone thefts in pubs and clubs in the city centre was an ongoing problem, with very high value items being targeted eg. iPhones and similar. A priority of tackling this was suggested.
Cycling
Cycling the wrong way on one way streets, primarily Sidney Street and Trinity Street, was discussed.
Despite the committee repeatedly (on occasion prompted by me) asking for road markings to be improved, and for one way arrows to be painted on the road, the County Council had responded by asking the committee if they were sure, and saying they would, if the committee really still wanted them to, come up with some specific and costed proposals for an up-coming meeting. The committee for third or fourth time confirmed that they really did want the County Council to do this.
Priorities Set
Councillors agreed on:
Speed enforcement in support of the 20mph limit
Anti-social cycling
Mobile phone thefts.
Background Documents
Meeting papers:
See Also
Some of my previous articles on the subject of 20mph speed limits: