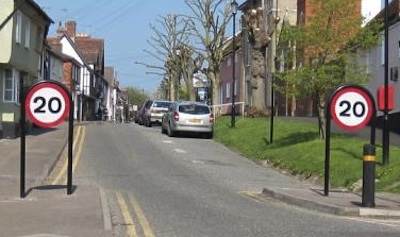 Prominent 20 mph signage, and traffic slowing pinch point, in Saffron Walden
It was well after midnight when Cambridge City Council's Full Council, which had started on Thursday the 23rd of February 2011, reached a motion on enforcement of 20mph speed limits in the city.
The motion was proposed by Cllr Tim Bick, who is the city council's executive councillor for policing and represents the city centre's Market ward.
Part of Cllr Bick's speech introducing his motion could have been taken directly from articles I have written and published on this site. He explained one of the key problems is many of those patrolling the city are PCSOs, not police constables. PCSOs don't have the powers required to take enforcement action against speeding drivers. Cllr Bick noted that special constables have the necessary powers and suggested it they could wield them then they should be given to PCSOs too. (Special Constables have the full powers of a police constable, following a shorter training period than given to PCSOs).
I have expanded on my own views in other articles. Whereas I would like to see capable PCSOs become constables, and kept on patrol and on neighbourhood duties via management and restrictions on how they can be deployed, Cllr Bick proposed lobbying government to extend the powers it is possible to give a PCSO to cover speeding. I would like to see us move back to a state where those in the most junior roles in the police have the full powers of a constable. I think constables are much better value for money than PCSOs.
While speeding is a key issue, I think dangerous and careless driving is what the police ought be focusing on, (often the two go hand in hand). The police are a thin blue line, I want that to remain the case, and speed reduction generally has to be achieved by means other than enforcement. I think those we pay to patrol the city would be much more effective at making it a safer and more pleasant place if they all had the powers to deal with driving offences.
A couple of constables, sometimes perhaps on bikes, patrolling the centre of Cambridge, with access to speed monitoring equipment and video cameras to collect evidence, would I think be able to address some of the dangerous driving which does cause a problem in the city and make it feel less safe than it ought, particularly for cyclists and pedestrians.
Promoting some PCSOs to constables is something we could do locally in Cambridgeshire; and asking for more constables, rather than PCSOs is something which Cllr Bick could do even more locally when he, with his fellow councillors, set the city centre policing priorities. Cllr Bick however didn't focus on what could be achieved locally, but the text of his proposed motion focused on lobbying the Government and the Association of Chief Police Officers.
The motion, which was approved unanimously by the full council, read:
Welcoming the Department of Transport's encouragement of local authorities which want to introduce 20mph limits, Council accepts that enforcement is only one of the tools which influence the success of such schemes. But it welcomes Cambridgeshire Constabulary's readiness to carry out enforcement and its extension of the fixed penalty notice system to the 20mph limits to do so.

To further enhance the situation, it calls on the Government and ACPO to carry out a national review to optimise the tools and powers available for enforcement, to include:

Development of optional speed awareness courses for those breaching a 20mph limit for the first time, treating it like breaches of higher speed limits
The potential to deploy PCSOs to carry out speed controls
The specification of speed cameras suitable for areas of 20mph limits

Council calls on local MPs and representatives in the LGA to support and follow-up this call.
The Labour opposition said the police had been right to ask for engineering solutions to reduce speeds to nearer 20MPH before enforcement. This is a position I too support. The Labour party also said Cllr Bick had failed to properly involve the police in his party's plans to introduce and extend 20MPH limits in the city.
Labour Cllr George Owers proposed shooting speeding motorists; he later backed down from this position via a tweet in which he stated he had been making a joke.
One problem with speed awareness courses is that there are no national standards; and you have to return to the police area where you are accused of an offence to attend one. I would like to see forces agree to recognise each others' courses so that people are not faced with having to consider to travel huge distances back to a place they may have visited, or passed through, to attend such a course. Until this major issue is addressed I do not support Cllr Bick's call for their extension (we also need to look at who runs the courses, and who profits from them).
Cycling Campaign Contribution
Mr Woodburn from Cambridge Cycling Campaign addressed the meeting during the public speaking slot (about six hours before the relevant agenda item was reached).
Mr Woodburn provided me a copy of his speech:

Cambridge Cycling Campaign strongly supports a 20mph speed limit throughout the residential area of Cambridge and welcomes the cross-party initiatives on this matter and the way the public have backed the idea when consulted.

Our city is exceptional in many ways. One of them is the extraordinary number of people who cycle here, which is far, far, higher than anywhere else in the UK. Another is the remarkable number of pedestrians which is also exceptionally high by UK standards.

A 20mph limit would make our streets safer and much less intimidating for all and especially for thouse who travel around our streets on foot or by bicycle. But for it to be effective, the importance of the 20mph limit for making our city an even more pleasant place to live in must be brought out by educational and other community efforts. Community involvement really matters.

We welcome recent changes in government guidance which make it easier to introduce 20mph limits and enforce them. We are encouraged that Cambridgeshire police are no responding and beginning to implement some first measures to enforce 20mph limits. The Association of Chief Police Officers (ACPO) are willing to go further and in a valuable recent discussion with 20splentyforus people they have developed and clarified the guidance which was reported in the Cambridge News on the 17th of February. Unfortunately the website where this development of guidance is reported is broken at present but we can provide copies.

Cambridgeshire Police may well be concerned they will be blamed if they seek to enforce a speed limit where signage is inadequate and numbers of motorists are unaware of the limit or are unaware of the reasons for it. careful cooperation is needed to increase awareness and secure greater compliance. Police enforcement will be needed for serious or persistent offenders and we are hopeful that now that ACPO advice has been developed, Cambridgeshire Police will feel able to adopt a more active policy of enforcement where the new limits are clear.

Keeping urban speed limits down can dramatically reduce the number of road casualties and make our city a much better place for all road users. So councillors, please support councillor Bick's motion.
Councillors
A number of councillors had left to go home by the time the motion was reached; one or two had not voted in favour of considering it that night, preferring to reconvene at 6pm a few days later to carry on. Notably the city council's cycling champion, Cllr Salah Al Bander, made no contribution to the debate (I believe he is yet to make a substantive contribution to any full council debate).
See Also
Some of my previous articles on the subject of 20mph speed limits: