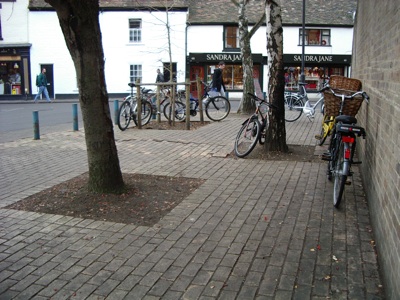 Cambridge City Council's West/Central Area Committee on the 30th of April 2009 received a report from officers on progress towards installing cycle parking at the King Street – Manor Street junction.
Officers reported that they are working towards providing six wall mounted loops on the wall to which bikes can be locked.
The committee were told that wall mounted loops were the only option as standard "sheffield style" stands could not be installed due to the presence of tree roots.
I queried this and asked why a more innovative way of providing more standard cycle parking could not be looked into. I asked why it was not possible, for example, to install an array of stands which sits on top of the pavement (such as those used at Newmarket Road Tesco).
Cllr Rosenstiel was invited to respond as he is the designated "lead councillor" for this project. He explained that the proposals had been on the table for around five years. He said he had not made any comment himself on the proposals brought by officers as he was glad that at last something was being done. Having said that, he said he was bemused as there appeared to be lots of space available between the trees and the trees didn't appear particularly close to possible locations for cycle parking. Cllr Rosenstiel was clearly exasperated by the situation, but given the officer's advice he was of the opinion that it was best to just get on with it.
Council officer Dinah Foley-Norman spoke to me outside the meeting to explain her opinion that it was impossible to use a "floating" array of stands as there was nothing to bolt them to. The site is surfaced with bricks, and she explained you can't bolt a rack to individual bricks or it will pull them out.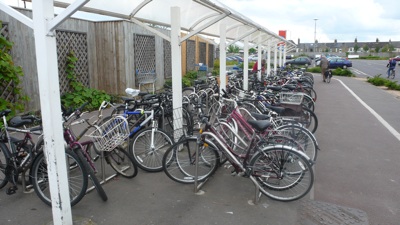 I suggested that even if only two substantive fixings (bollards) were used, one at either end of an array of stands, that would amount to many fewer holes than two per stand and might be acceptable. I was told that any holes at all in the area would not be permissible due to the tree roots. I think the council needs to be more imaginative and innovative with its cycling related projects, I can't believe that there is no practical way of providing high quality cycle stands without damaging the trees. Ideas could still be sent to Cllr Rosenstiel.
The current situation is that council are negotiating with the landowner – Jesus College and King Street Housing who both need to agree before they can go-ahead with their proposals.
Other Cycling Related Items
Cycling was mentioned tangentially a number of times during the West/Central Area Committee:
During the policing item there was a report on the anti-social use of vehicles in the city centre; this had been a police priority. Enforcement was largely focused on private cars going where they shouldn't and parking where they shouldn't. It was reported that only about 10% of tickets were issued to taxis, though taxi drivers were feeling unjustly targeted. Cycle related "Anti-Social Behaviour" was also covered, there had been a focus on items such as cycling on Burleigh Street and Fitzroy Street when it is prohibited, cycling without lights, cycling on the footpath etc.
A member of the public asked about enforcement of cars going through red lights. He was particularly concerned about the East Road / Newmarket Road roundabout; he claimed that one purpose of such lights was to improve the safety of the roundabout for cyclists. He suggested that there ought be a greater focus on driving offences than things like cycling on Burleigh Street. The police confirmed that they were interested in tackling motorists going through red lights.
The police, represented by Sgt. Maggs, said there was no way of enforcing 20 mph speed limits; this being something to do with the calibration of the police's LASER speed check devices at lower speeds. Councillors were so shocked at this revelation they made it solving this problem a local priority!! While it wasn't mentioned at the meeting, I have observed discussions at the Transport Area Joint Committee where it has been pointed out that one reason for a 20 mph zone is that those caught at higher speeds, say over 40 mph would expect a more severe punishment than they would expect if caught doing the same speed in a 30 mph zone.
Cllr Rosenstiel told the meeting that when the central 20 mph zone was brought in the county council agreed to enforce it themselves, with county officers. Taxis found speeding were to have their transponders for the bollards taken away, though he didn't think this sanction had been used yet. Cllr Rosenstiel also said there was no effective analogous measure which could be used against speeding bus drivers.
The police reported the number of cycle thefts in March was the highest it had been for eighteen months. Councillors agreed with the police that cycle-theft should remain a priority. Encouraging the use of http://www.immobilise.com/ and carrying out stop checks on individuals acting suspiciously were the two ways the problem is being tackled that were mentioned. I wasn't given any confidence the police really were taking this problem as seriously as it ought be, given the importance of cycles to Cambridge's residents and increasingly visitors.
Funding for the Riverside works was discussed, councillors agreed to make a contribution despite it not being in their area. Cllr Reid and others said that connecting Stourbridge and Midsummer Commons with a pleasant safe cycle route would encourage more people from across the city to cycle.
Planning permission for 139 Huntingdon Road to become a student residence was approved subject to the provision of "covered, secure storage for at least 17 cycles" being provided. The accommodation is to comprise 16 student rooms and a flat. The applicants had not included this in their application; officers suggested it as a condition which was agreed by councillors.
Photographs from the Cambridge Cycling Campaign's Photomap, licenced under the Creative Commons Attribution-Share Alike licence. Click the photos to be taken to their photomap page.