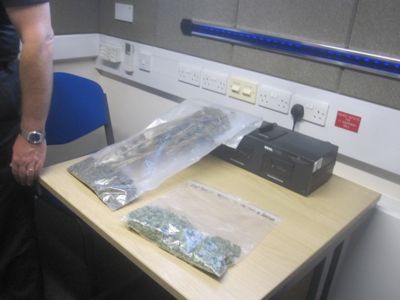 Seized Cannabis at Ely Police Station Open Day
Individuals suffering from addiction are responsible for a significant amount of crime; those with problematic addictions impose substantial costs on society as a whole.
I have been closely following the debate on our country's policies on drug abuse which are the subject of a current inquiry by the Home Affairs Select Committee. I've also taken an interest in how those with addiction problems are treated locally by the criminal justice and health systems.
We need to have more emphasis on helping criminal addicts deal with their health problems; however that does not mean I think we should decriminalise the possession or supply of any currently illegal drugs. I do not want to see a situation where an individual is punished less for a crime because they were under the influence of drugs, or because they are an addict. Sentencing aims to protect the public and punish, deter and rehabilitate the offender, we have to do all those things, not just one of them.
Further Views on Specific Topics:
I want to see sentences which are designed to get people's health and lives back on track which benefits both them, and wider society. Currently sentences involving drug treatment orders can involve very minimal treatment, magistrates are not clear about exactly what they are sentencing someone to. I would like to see much greater openness from the probation service about what treatment orders actually amount to.
Where people need medical help with tackling their addictions that ought be easily accessible, committing a crime and ending up in court shouldn't be the easiest route to help.
Overview
I have published a summary of my views on what Cambridgeshire's Police and Crime Commissioner ought do.