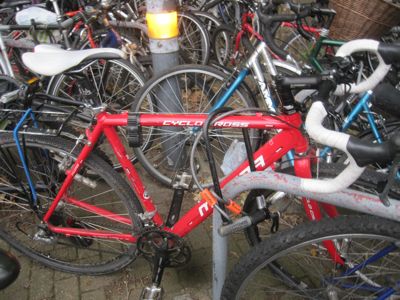 My bike.
I observed Cambridge's North Area Committee on the 26th of July 2012 where policing priorities for the area were considered and adjusted by councillors.
Cycling
Cycling was one of the main topics of discussion. A priority was unanimously added asking the police to tackle "anti-social cycling" in the area. It is notable that unlike in other areas of Cambridge where police are asked to deal with illegal and dangerous behaviour by both drivers and cyclists, councillors in North Cambridge decided to focus only on cyclists, and to include legal behaviour considered "anti-social".
The primary protagonists of this targeting of cyclists were Cllrs Pitt, Kerr and Wilkins.
The discussion was kicked off by a member of the public who talked about the Milton Road – Gilbert Road junction. The complaint was that despite the presence of new cycle lanes, cyclists were still using the pavements on Gilbert Road, and they were jumping the traffic lights. Specifically one complaint was of cyclists jumping onto the pavement, cycling past the traffic lights, then rejoining the road while travelling down Milton Road towards the city centre. Another member of the public reported she had been hit by cyclists while walking on the pavement in the area.
Police Sergeant Wragg responded to say he found the area confusing and he wasn't sure where one could and could not cycle. While an a worrying thing for a police officer to say, I have some sympathy with this, I lived in Cambridge for many years before I absorbed and understood things like the signage permitting a right turn for cyclists from Market Street into Sidney Street and I learned a lot I'd not noticed on the ground from the Cambridge Cycle Map. Many of the signs on Milton Road are old, battered and illegible.
I'm not certain of the status of a few stretches of pavement in the area, and not sure for example if turning left from Gilbert Road, onto the shared use Milton Road pavement / cycle path when the lights are on red is legal.

Sergeant Wragg told the committee he had stopped one person for cycling on the pavement in the area under discussion; only for someone else to cycle past and when he stopped them too they pointed out to him that they were on a shared use pavement. Sgt Wragg then said the person he stopped first was cycling while using his mobile phone, and that's really why he decided to stop him. Sgt Wragg told the committee that he did the person for the mobile phone offence anyway despite him having got it wrong about being a pavement on which cycling was not allowed.
I asked Sergeant Wragg what offence the cyclist using the mobile phone had committed and he replied: careless cycling. This response was reported live by Chris Havergal of the Cambridge News who wrote:
Sgt Wragg says there is an offence of carelessly riding a bike, under question from @rtayloruk.
However Section 29 of the Road Traffic Act 1988 which dealt with careless cycling may have been repealed by schedule 8 of the Road Traffic Act 1991.
Perhaps anyone stopped for merely careless cycling should consider making clear their fury and seek to get charged with something more esoteric?
Where might this go next? Might we see calls for action against drinking and cycling in Cambridge? That really would put the cat among the pigeons in this city, I doubt our pub supporting councillors would get behind that one though.
I'm quite concerned about this priority; I think it has the potential to distract the police from serious problems like violent crime and burglary. I am concerned that as a responsible cyclist, but a cyclist who likes to try and stay alive and uninjured, I may fall foul of the crackdown.
The city is awash with cyclists who cycle at night without lights, and cyclists who behave in a clearly dangerous manner. I think these kind of problems ought be tackled, particularly where the unlit cyclists are clearly causing a danger on busy roads.
Milton Road / Arbury Road Junction
Member of the public Mr Bond noted this junction has a phase where all the traffic is stopped for pedestrians to cross. He suggested it would be a good idea if during this phase cyclists be allowed to move too, so the junction is cleared for drivers of motorvehicles, he said that speaking as a driver, he would find it helpful if the cyclists got out of the way.
Fen Road
Sergeant Wragg said there were now few problems on Fen Road and the problems had been addressed. Though he contradicted himself by saying that he had spoken to two transit van drivers side by side at the level crossing that afternoon.
Sergeant Wragg said that someone driving in a manner causing a "risk to human life" had been dealt with under anti-social behaviour legislation. I asked why this kind of driving was not treated as criminal, as careless or dangerous driving, and taken to court where an appropriate sentence could be handed down. Sergeant Wragg did not reply.
Sergeant Wragg said there had been a number of "crime operations" on the far end of Fen Road, including in relation to the Chittering Murder, and a recovery of a large sum of money, the proceeds of crime.
222 Victoria Road
Sergeant Wragg said he and his officers were still visiting the hostel daily, he suggested keeping the hostel as a priority, and mentioned problems in the nearby Histon Road Cemetery which would be covered by that too.
Arson
Jim Meikle of the Fire Service said that arson was still a problem in North Cambridge. He showed off posters which will be placed in problem areas. He gave examples of fires being set in cemeteries and allotments, causing significant damage.
He said he would be working with Neighbourhood Watch; so I asked if there were many Neighbourhood Watch groups in North Cambridge, noting I'd never seen any representatives attend the North Area Committee and seek to influence police priority setting.

On questioning Jim Meikle admitted there weren't really any active Neighbourhood Watch groups in the area. He said though the police had a part time member of staff who's job it was to encourage them, he said he wanted to use them to set up a new "Fire Watch". North Cambridge might get its own army of Warden Hodges, I wonder if they'll be issued tin hats?
Voting
The committee agreed to continue priorities of:
222 Victoria Road
Arson
Anti-Social Cycling
There was a vote separately on Fen Road, which Cllrs Kerr and Manning wanted to keep as a priority, they lost this vote 7:2. A separate vote was held on adding a priority to tackle anti-social cycling, which was passed unanimously, with 13 councillors voting for it. All 13 councillors also voted to approve the three priorities as set as a whole. I was impressed with the way that this was done clearly, and formally, though Cllr Kerr got confused and wasn't sure when she was allowed to put her hand up.
Seeking Clarity and Openness
Due to poor chairing of their May meeting councillors had not reached the police item then despite it being on the agenda, so they had arranged a police update for the July meeting. Unexpectedly councillors decided to consider and set new policing priorities on the 26th of July despite doing so not being on the agenda.
I asked if, as I had been told, councillors had set police priories by email following the May meeting. I noted it appeared from the oral update given by the police that the priorities had not been changed. I suggested that decisions taken between meetings ought be reported to the next meetings, and in the case of decisions taken following email discussion the emails should be made public. I received no response to my question, or suggestion.
Non-Policing Notes
Councillors agreed to tar over the green space on the entrance to Victoria Park, where it is got a bit muddy due to people cutting the corner. We're yet to see detailed plans. Personally I'd suggest grass strengthening (plastic / metal grids set into the earth under the grass) get considered first. Cllr O'Reilly spoke against, but voted for, the loss of the green space. In her speech she suggesting re-seeding the grass, but eventually voted for it.
The Kendal Way verges consultation was mis-run, with people being asked about parking on the pavement, not the verges, this has damaged local support for action, so the idea will probably be dropped.
Councillors O'Reilly, speaking on behalf of Cllr Bird, proposed a memorial to Lil Speed (who runs the private police consultative committee in East Chesterton, which I strongly oppose).
I was jeered as I questioned why the Old Chesterton Residents Association had been given an agenda item. The association noted they had a presentation from senior planning officers from both Cambridge City Council and South Cambridgeshire; I noted there had been no public event with such people present. I think giving undue influence to residents associations is a real problem in the city; I am a supporter of openness and representative democracy and find it astonishing that I get jeered for expressing support of those ideals at my local area committee. Mr Bond of the Old Chesterton Residents suggested bizarrely that the residents association's activities were more open than my own lobbying. This is nonsense, almost all I do takes place in, or is reported in, public.
The taxpayer provided tea, coffee and a choice of custard creams or chocolate rich-T biscuits.
Permission was granted to permit a shared house at 19 Alpha Road, despite objections from student hating local residents. Their complaints focused on noise, which is an enforcement matter.
I was able to lobby my local councillor, Cllr Ward, on a number of matters during the break, including broken new trees on Milton Road and Fraser Road; and the proposed all weekend closure of Harvey Goodwin Avenue for a street party.
Labour's Mike Todd-Jones was elected chair. He won a 6-5 vote, had Liberal Democrat Cllr Brierly turned up on time, it would have been a 6-6 tie. Cllr Todd-Jones said he would focus the meeting on the public, but capped the Open Forum section to three pre-submitted questions, two of which were asked as one of the questioners had gone home by the time the item was reached. I used my question to suggest a "correspondence" agenda item, allowing matters to be raised, and perhaps resolved, prior to the meeting but still made public, and drawn to councillors attention, as part of the meeting. I suggested this could address the problem of a rushed and curtailed Open Forum section. Cllr Kightley indicated at the beer festival that he supports this idea, and would like to bring it in at the West Central area committee, but he's not yet been able to get a word into the crammed and often curtailed Open Forum section there to suggest it.