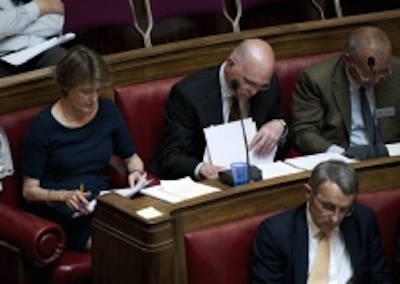 Cambridge City Council allows people to take photos and videos in their meetings as long as permission is obtained first. While I have been observing the council I have only seen permission given for coverage of prize givings at the start of meetings and for establishing shots showing the general environment of a meeting to be filmed. In my experience video and recording equipment has always been ordered to be removed, or turned off, during the substantive elements of meetings.
I and others have been lobbying for greater transparency suggesting that unintrusive filming, photography and recording ought be permitted throughout council meetings as a matter of course. This would aid the press, campaigners, and others wishing to record and publicise what goes on within council meetings. (Official minutes are not verbatim transcripts, often omit key sections of debate, and are typically only published many weeks after a meeting).
The council has been robustly, though selectively, enforcing its rules on recording meetings. I first learnt about the restrictions when the Sergent-at-Mace rushed up to the public gallery during a council meeting to let me know I was not permitted to take photos (he left the mace in its cradle in the chamber). Since then the rules have been better publicised and are now often referred to on agendas and are quite easy to find on the council's website. For a short period recently a procedure was adopted where all council meetings began with a statement from the chair making clear to the public that photography, filming and recording is not generally permitted. I was even at one meeting asked by the chair to attest that I was not using my laptop to record audio of what was being said. The rules are rather selectively enforced though I have observed councillors, council officers, and councillor's guests take photos on a number of occasions. A press photographer has also openly taken photos without permission and despite being noticed (council officers guided him to the public gallery) his activity went unchallenged (see the caption of the image above).
I have also observed members of the professional press, and campaigners present at meetings making use of the public speaking slots, surreptitiously use recording devices; presumably to ensure they can accurately report on what has been said.
At the council's Civic Affairs committee on the 30th of June 2010 [minutes] councillors debated their rules on filming meetings. It has been suggested to me that this debate in public followed a heated debate within the Liberal Democrat group who were split, with some wishing to retain secrecy and others accepting the idea of more openness. The question of if individual councillors ought be able to request they are not filmed was debated and a decision made not to give an opt-out to councillors on the grounds: "they should be expected to be in the spotlight". Councillors decided not to allow filming without permission being obtained three days in advance. While the text of a new protocol agreed by the Civic Affairs Committee and approved by the Full Council doesn't explicitly say so, its text indicates that requests for permission to film the substantive elements of council meetings will now be considered though as far as I am aware mine is the first application for such permission.
I would like to be able to take photographs or video at council meetings spontaneously; I don't always know three days in advance that I will want to record a particular element of a council meeting. I suspect others will turn up at council meetings and decide they would like to take a photo or snippet of video but will not be aware of the three day notice period required.
The council's new protocol doesn't appear designed for individuals to seek permission to video all city council meetings; but as this is what I want, and it may circumvent the three-day notice rule for me (and prove others can similarly avoid it should they wish) I have requested such permission. The text of the email I sent the council earlier today is reproduced below:
Dear Mr Clift (Democratic Services Manager, Cambridge City Council),

This is a request under the protocol on media relations and filming, recording and photography at council meetings – approved at a meeting of full council on Thursday July 22, 2010.

I am writing to seek permission to Film / Record / Photograph all upcoming Cambridge City Council meetings, including committee meetings.

I will now address the questions I am required by the protocol to answer:

a. The name, organisation and contact details of the applicant making the request;

Richard Taylor. Independent Cambridge Resident.
rt —at- cantab.net

b. What the film/recording/photographs will be used for;

My intent is to publicise what goes on within council meetings. I may post material to my own website:http://www.rtaylor.co.uk , post it on other websites eg. YouTube / Flickr and distribute it widely, to the public, councillors and others.

c. When the applicant wishes to film/ record/ photograph during the meeting;

At all times.

d. How this information will be retained;

I don't fully understand what information is being sought by this question. Typically video, photos, or sound recordings will be initially retained on a memory card within the device used to capture the material. I will transfer selected material to other media during the process of publicising and distributing it. If material is uploaded to my website, or others' websites the intention will be to make it accessible there indefinitely. I may also keep my own copies indefinitely.

e. The name of the meeting, the venue and the date;

All City Council meetings ie. those listed at:

http://www.cambridge.gov.uk/democracy/

as well as other, unpublicised meetings eg. the Ranger Steering Group, University Liaison meetings etc.

The first meeting I would like to record is the Planning Committee meeting on the 22nd of September 2010. I also have specific plans to record the West/Central Area committee on the 23rd of September, the North Area Committee on the 30th and Full Council on the 21st of October.

I am seeking general permission as often an interesting debate occurs of which there has been no prior warning.

f. What will be captured (which parts of the meeting, which speakers and which observers);

Potentially everything; though I will of course comply with directions from the chair.

I will now make the declarations / statements required by the protocol:

I have no intent to use flash photography or additional lighting.
I agree to ensure the film/recording/photographs will not be edited in a way that could lead to misinterpretation of the proceedings. This includes refraining from editing the views being expressed in a way that may ridicule or show a lack of respect towards those being filmed/ recorded/ photographed;
I agree to share the film/recording/photographs in its original and unedited form with the council's democratic services manager on request. This is clearly conditional on my still having a copy in my possession. Due to the very large size of many media files I will be unable to keep a copy of all films/recordings/photographs taken.

Regards,

—

Richard Taylor
Cambridge
I do not think I have completely signed away my right to ridicule. Publicising unedited snippets of meetings where councillors make themselves look silly simply through what they say is as I understand it perfectly acceptable.
I think it's very illiberal of the Liberal Democrats to try and prevent those wishing to create funny videos by remixing their words (another, another, another, and another). I think that kind of thing might well bring some much needed life to debates on how Cambridge should be run and might introduce those running the city to a wider audience. I don't think those in public life ought be afraid of satire and comedy.
This is an area Parliament has been battling with too, their 2009 Review of the Management of Parliamentary Copyright noted:
Coverage of debates or oral questions can be edited or modified to give a misleading impression, particularly if taken out of context of the wider exchange. This is perhaps not far removed from the use of short clips from PMQs or Select Committee hearings on television news programmes…
I, and many others, including possibly an MP, breach Parliamentary copyright to place material on YouTube to bring it to a wider audience and enable comment and debate on it. It is a great shame that personal legal risk has to be taken to do this kind of thing which otherwise may be more common.
I will provide updates in the comments noting any response, or further correspondence, with the council relating to my application for permission to record proceedings. I hope my request will clarify if individuals, campaign groups and media organisations can apply just once, make clear their acceptance of the councils terms, and then record future meetings without giving specific prior notice.
If I obtain ongoing permission to film/record/photograph all council meetings on an ongoing basis it will be ridiculous if the members of the public or professional press turning up on the day without advanced permission are denied the opportunity to make recordings when I am. I hope that my actions will draw attention to the problems and help prompt the adoption of a more reasonable and open policy. I think the council's terms are unnecessary, overbearing and illustrate the degree of control freakery exercised by the ruling Liberal Democrats.
Ideally I think the council ought soon broadcast meetings online and make them available in an online archive just as Parliament and the London Assembly do. The technology to do this is getting ever cheaper and easier to use. The council already pays for a technician, and a number of committee officers to be present at most city council meetings who I would have thought could operate the equipment.
I think that if anyone was allowed to film or photograph Cambridge City Council meetings; subject only to no disruption to proceedings being caused, then we would soon see more debates or speeches of interest appear on YouTube and/or sites like mine and the connection between residents and councillors would be improved. We would be able to better monitor the performance of those they've we've sent to the council chamber to represent us, and voting decisions at elections would be better informed.
If anyone wants to volunteer to help me film some of the council's proceedings do let me know either directly or in the comments.
See also
Councillors Approve CB1 Outline Plans – article illustrated, and backed up, by a photo of a council meeting. (Before the council effectively publicised its policy and I became aware of it).