On-Street Parking Controls – Blinco Grove Area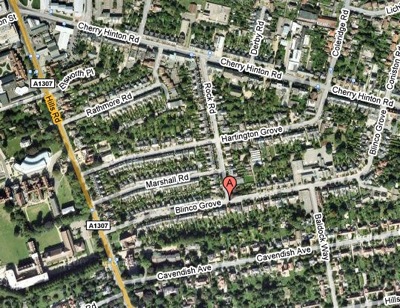 I attended the Cambridge Traffic Management Area Joint Committee on the 26th of January 2009. While the County Council is the Highways Authority for Cambridge they delegate many decisions to a joint committee made up of both City and County Councillors. County Councillor John Reynolds (Girton) is a member of the committee, as the lone Conservative he was to a degree acting as a representative of the ruling Conservative group on the County Council and was often a lone voice.
On-Street Parking Controls – Blinco Grove Area
There was a discussion surrounding the proposed introduction of on-street parking controls in Rathmore Road and Rathmore Close and on the western arm of Hartington Grove (The area between the city ends of Hills Road and Cherry Hinton Road) . Consultations had been carried out in the area affected as well as in Neighboring Rustat Road area of Coleridge (officers explained that consulting neighbouring areas was unusual but had been carried out in this case at the request of Cllrs Herbert and Howell).
Councillors noted the rather unexpected result of Rustat Road residents being more in favour of the proposed scheme than those in the Blinco Grove Area. A total of 602 people had been involved in the consultation.
While noting we have a democratic system and not mob-rule, John Reynolds said that he didn't think that the committee would wish to go against local residents' wishes in this instance, and a majority (201/332) opposed bringing in an area wide parking permit system to their area. I support the caution raised by Mr Reynolds, and in cases like this where there have been surveys of public opinion they ought be interpreted with care, we do not have direct democracy and people do not expect to have to be constantly engaged with political processes. Even with large numbers participating in consultations, something which will might well happen as online engagement with government, councils and representatives improves this may become even more important.
County Council policy is to only go for introducing parking controls in whole areas, not individual streets. Cllr Blencowe a city Labour councillor agreed with Mr Reynolds, neither thought that a "piecemeal" approach was appropriate.
Cllr Blair, a City Liberal Democrat began her contribution by coughing to gain everyone's attention before launching into a speech, the essence of which was that she thought the County's policy, which did not allow for exceptions to be made, was inappropriate. She did not speak in relation to the particular streets in question but instead addressed the policy issue in the abstract. She said that if a situation arose in her ward (East Chesterton) where residents of one street, or part of one street wanted parking controls, due to a very local problem she would be campaigning for localised controls herself. While perhaps enlightening her own constituents about the way she approaches her position, I do not think she contributed to the debate on the streets in question.
Cllr Rosenstiel pointed to precedent for highly localised residents parking schemes in the city, saying Sturton Street and York Street have one end within such a scheme and the other end not.
Residents on Hartington Gove were split with 30 respondents strongly approving of parking controls and 24 strongly disagreeing. Councillors noted that this was different opinions at different ends of the street. Perhaps showing the responses on a map would have been more informative than a table on a street by street basis. I believe interested councillors were able to look at the detail of the consultation responses even though this did not make the report to the committee.
Councilors noted that some of the localised parking problems arose de to students attending college on Hills Road, and suggested that the college ought act to deter them. I can't see how this approach could ever be successful.
It was decided not to pursue parking controls (residents parking permits) across the whole area, but voted 7:3 in favour of some controls in certain streets. Cllr Reynolds voted against this, along with City Labour Councillors Blencowe and Walker.
The originally proposed limited parking restrictions (yellow lines) in specific streets were:
Rock Road junctions with the north side of Blinco Grove
Both sides of Hartington Grove
At the Baldock Way junction with Blinco Grove, including the raised table outside the Morley School.
At the meeting an amendment to these proposed by Cllr Baker was agreed (7:4, Rosenstiel joining those opposing) to add "the western arm of Hartington Grove" to those streets to get parking restrictions. The committee did not discuss the detail of what those parking restrictions are to be, the report indicates that they will include yellow lines, but goes no further.
As the decision made was contrary to County Council policy (though generally in-line with the officer recommendation!) it will have to be considered by the County Council's Cabinet before any action is taken.
See also: