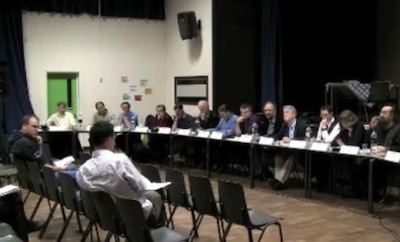 Image from Video from Cambridge City Council North Area Committee September 2010
On Tuesday the 23rd of November 2010 I was sent a copy of a report into Cambridge City Council's Protocol on Filming Committee meetings which has been produced by the council's Independent Complaints Investigator Corinne Hibbert. The report was the outcome of an investigation which had been launched following a complaint concerning the filming of the North Area Committee on the 30th of September 2010. I had filmed that meeting with permission from the council and in compliance with their filming protocol.
The report includes the terms of reference for the investigation; it appears the investigator was asked to review the council's filming protocol in light of the complaint that had been made. Asking an unelected unaccountable individual to review something devised by a committee of councillors and approved by the full council just a couple of months previously appears very odd to me. I think it would have made more sense to ask the investigator simply to investigate the complaint. Perhaps as a result of the what the council asked for the report largely consists of the investigator's personal views on filming meetings. I expected a rigorous setting out of the facts, judgements on any contentious issues, followed by any recommendations based on the investigation's findings.
Astonishingly the report does not even make clear what the complaint was. On the 3rd of November 2010 when I was informed a complaint had been made by the city council's Democratic Services Manager he wrote:
The complaint is that the person was not made aware the filming was being done by a third party and therefore that person had not given informed consent to be filmed and to have voice, name etc. published on the internet.
Without knowing the substance of the complaint it would be very difficult to make any sense of the report.
The report reveals that Liberal Democrat Cllr Blair was more than a mere conduit for the complaint which is how the council's Council's Chief Executive Antoinette Jackson had described her role to the Civic Affairs Committee. The report states:
Cllr Blair is probably correct to point out that members and the public are not aware of the potential 'end use' and are not giving informed consent.
The investigation appears to have been conducted in a lazy manner as not all relevant information has been considered. There is little sign of any real investigation going on, there is no sign of efforts being made to really establish the facts such as what signage was present at the meeting in question. For example it appears video from just one section of the meeting has been considered, despite more, including the opening, being available on YouTube, and evidently minutes from other area committees have not been reviewed to establish the council's practice on naming public speakers. Councillors involved in devising the filming protocol appear not to have been consulted; and the minutes of their deliberations are not referred to. I was not contacted during the investigation, and there is no evidence that the chair of the North Area Committee, or Committee officers were asked for their input either.
The report also contains a number of inaccuracies and appears to have been written by someone with very little, if any, awareness and understanding of technology or the internet.
In addition there are more minor problems such as not highlighting the fact the minutes of the North Area Committee used were in draft form and had not yet been approved. The report twice mis-quotes the title of an article I published as being: "East Chesterton Residents Terrorised By Thugs", rather than: "East Chesterton Residents Terrorised by Thuggish Parents", this is potentially material to arguments and recommendations made by the investigator due to the fact her report contains an allegation of sensationalism against me.
Allegation of Sensationalism
The report by the independent complaints investigator contains what I consider an extraordinary paragraph:
Having viewed the 'East Chesterton Residents Terrorised By Thugs' blog it is clear that Mr A is as much interested in sensationalism as he is in transparency. The September North Area Committee dealt with a number of important issues, none of which are reported by Mr A save for the, tabloid headlined, Evergreens Close issue. As this casts doubt in my mind as to motive, I see no reason why an applicant should not be asked to explain their interest in a little more detail.
(I'm "Mr A")
I have pointed out the factual inaccuracy in the way the report has quoted my headline. It is also factually incorrect to say I did not cover any other issues at the North Area Committee. In addition to police priority setting I also reported on my public statement on the use of Anti-Social Behaviour legislation against those speeding or driving carelessly and published a video of that section of the meeting. I also published a video of my public question on the tree protocol and Alexandra Gardens Trees, the description of that video contains a summary of what was said and I have also published that video, along with commentary on my website.
I don't accept the premise that sensationalism is a bad thing; would the council want to ban those reporting for the tabloid press for example, but allow more heavyweight publications in? I think that's a very dangerous road to go down. I think that enabling more people to find out about what the council is up to is a good thing. The fact is that if I had buried this important story deep within a long article it may have reached a smaller audience.
How can an article which discusses the possibility of a traffic regulation order ever be considered sensationalist?
I think my record for covering, in detail, subjects many would consider very dull speaks for itsself. I have written about the setting of police priorities in North Cambridge for a number of years. I think this particular instance, where emotive testimony from members of the public persuaded councillors to set a priority, was worthy of reporting. The story was also reported by the Cambridge News though of course given their space restrictions not in as much detail.
I would note that had there not been a complaint to respond to I may have been able to spend more time covering other aspects of the meeting. The complaints investigator might not have been aware that many of the other agenda items, such as Akeman Street Planting were being debated for the second or third times and I have reported on them previously.
Names of Public Speakers
Independent Complaints Investigator Corinne Hibbert states in her report:
the minutes do not name the public speakers and, in my experience, it is this that is usually the case.
That is yet another false statement. The names of public speakers are included in the minutes. I am named, as are a Mrs Speed and Mrs Harris. It appears to me that if council officers are aware of the speaker's name then it generally goes in the minutes, though there is no consistency.
Quality of Minutes – Citing my Correspondence with a Public Speaker
The investigator notes: "It is clear from looking at the minutes of meetings that they are not full transcripts. In fact the record is extremely brief". The section of the minutes relating to the element of the meeting which prompted the complaint states:
A member of the public raised the issue of external traffic accessing Evergreens (Close) generated by local school commuters attending Shirley Primary School
The Committee noted various residents concerns about anti-social driving and behaviour over a period of years. Sergeant Wragg offered to liaise with residents and take action based on information reported.
Action Point: Councillors Manning and Moss-Eccardt to liaise concerning implementing An 'access only' traffic regulation order in Evergreens to prevent external traffic generated by local school commuters.
It is later noted the minutes that the following was added as a police priority:
Tackle unlawful parking and associated anti-social behaviour linked with the Shirley School, East Chesterton plus Evergreens.
The reference to "A member of the public" rather than, as was the case, two members of the public, may have confused the Independent Complaints Investigator, though "residents" is mentioned in respect to correspondence with Cllr Nimmo-Smith. She refers in her report to correspondence which I had with one of those from the Evergreens who spoke but fails to make clear if the individual who I corresponded with was the complainant. The presence of this quotation in the report might suggest to some readers that this individual was the complainant and that may well be misleading.
Blanket Filming Requests
The report states:
Mr A seems to have been able to apply to film all meetings in advance. There is no provision in the protocol for there being more than one request to film. If Mr A has pre- booked all meetings the Chair would either have to accept more than one camera or refuse the newcomer.
I think this is a rather bizarre statement. I did make a request to film all meetings in advance that's true, but it was rejected. I don't think there's any way the council can be expected to pre-empt every way someone might seek to poke the beast and apply to do something.
I think the suggestion made by the investigator that the council clarifies the position with respect to blanket requests is a good one.

Suggestions and Statements from Investigator Corinne Hibbert
The report makes a number of largely quite outlandishly silly suggestions. Unfortunately these will now be considered by councillors so may well need seriously rebutting.
Investigator Hibbert proposed:
To ensure the notice at the entrance to the meeting is large and: advises attendees that consent has been given by Councillors for a private individual to film; that as a result the film may appear on various social network websites and CCC has no control over this; that the public have an absolute right not to be filmed or voice recorded; that any objection should be made to the Chair at the beginning of the proceedings or at any point throughout.
Notices are already A4 sized and contain large clear text; multiple notices are used.
There is no explanation given explaining why the investigator considers that material filmed by a "private individual" may appear on "various social network websites". Whoever does the filming it may end up published anywhere online and will not be under the council's control once it has been published. For the purposes of news reporting and criticism copyright does not apply.
Investigator Hibbert proposed:
That the Chair ask all present and any latecomers if they have seen and understood the 'Notice'.
I think that would be highly disruptive. Clearer explanations, especially at area committees, of what's going on, who's present, and what the public speaking rules are would be a good idea.
Investigator Hibbert proposed:
That the Chair adopt the method used by Oxford City Council whose Chair can be heard throughout a recording saying 'stop filming please', presumably when someone who has expressed a wish not to be recorded starts to address the meeting.
The chair stopping filming already happens in Cambridge. I have published a video of it happening. At the Oxford City Council meeting listed as evidence two members of the public made statements, both of them were filmed by the council. An individual presenting a petition was also filmed; all were also recorded by the local radio. The latter point not being mentioned by the Cambridge City Council's investigator. I note the Oxford meeting is hard to follow due to their "Lord Mayor's" use of councillors first names so looking up who they are is made difficult. The Oxford recording is a 752 MB video file; people then use that and post clips of interesting bits on YouTube. Due to the difficulty dealing with the Oxford file I've not been able to get to any instances of the chair asking for filming to be stopped; but it is clear that did not occur during the public speaking section of the meeting. (Perhaps there was a break, an interruption, or a confidential section of the meeting?)
Investigator Hibbert stated:
If individual filming is to continue, the safeguards with regard to the 'Notice' … above should be implemented. I imagine this will result in very few opt ins and will require increased vigilance on the part of the Chair to ensure filming stops when those who have opted out are speaking
I agree that if filming is to be stopped the chair, or council officers, need to ensure any direction from the chair is followed.
I disagree with Corinne Hibbert's assertion that few public speakers would opt-in to having their contributions recorded. Many public speakers at the last full council groaned with disapproval when the mayor ordered the camera be turned off. Those speaking on behalf of others such as union representatives, students' representatives might want those they represent to see what they have been doing on their behalf.
I don't think the council should start giving preferential access to certain individuals or organisations, that is a dangerous slippery slope to go down.
Investigator Hibbert proposed:
Consideration should be given to setting limits on where the film will be reproduced, say, the film maker's website only. (As stated this will not prevent other parties reproducing elsewhere)
I think this is clearly bonkers. I can't see what it would achieve; it would limit those able to publish films of council meetings to those with the technological capability to do it themselves without the help of services such as YouTube or Vimeo. It would mean that one person, or group, could make a video put it online and comment on it, but others would be unable to also present the video and offer a different interpretation and commentary to go with it.
Investigator Hibbert proposed:
Separate applications for each meeting should be made, no less than 3 days in advance of a meeting and no more than 2 weeks in advance of the meeting
I think the question of the purpose of advance applications needs to be made clear first but if councillors want to ban blanket requests then a clause like this appears reasonable.
Investigator Hibbert proposed:
Consideration should be given to the film maker signing a short contract setting out the privacy elements of the protocol.
It is already the case that those seeking permission to film council meetings have to give a number of undertakings; no written signature is required. To require applicants to print off and physically sign applications (and presumably submit them by post) would be bizarre; requiring this kind of thing is a method officialdom uses to deter people from doing things. The requirement to seek permission and make the required undertakings in itself ensures those filming meetings are aware of the protocol.
Investigator Hibbert proposed:
Members should give consideration to whether or not it is necessary, or desirable, to film all public meetings. It may be more appropriate to film full council meetings only, as appears to be the case with Oxford City Council.
I think filming meetings themselves is a good idea for councillors to consider. As many decisions of most public interest are made at Area Committees, or at Planning and Licensing committees in Cambridge I think it would be better to pick decisions for filming based on anticipated interest levels rather than filming whole meetings, or just full council meetings. Where the council doesn't record meetings themselves I think others should be able to.
Investigator Hibbert proposed:
That CCC [Cambridge City Council] consider whether their best option is to film themselves. This is obviously a cheaper option if only full council meetings are filmed. However the use of a static camera could be explored as could advice on software that would limit reproduction of any film appearing on CCC's website. CCC's website may already have this. Although it would always remain possible to film the webpage this would be poor copy plus it may be possible to protect copyright. Assuming the same protocol rights as now, the main problem would be in stop /starting a static camera.
I see no reason why, if CCC are filming, there would be any need to allow anyone else to do so. That would defeat the purpose of being able to control reproduction; protect privacy and safeguard against any potential liability.
The investigator believes the only way to get a copy of a video, which has been copy-protected, from a council website would be by aiming a camera at the screen. That would only be remotely conceivable if the council very strictly limited viewing to via particular proprietary software.
Cambridge City Council has a record of seeking to control reproduction of their information, as was seen by the restrictive licence conditions they impose on those seeking to use data from their public access planning application (seeking to prevent residents associations, newspapers and others from listing planning applications on their own websites; and even explicitly ban people mapping planning applications!)
No explanation is given as to why publication of a public speaker's speech on the council's website would be any different from a privacy point of view to publication elsewhere.
Having read the rest of the report it is not surprising that the investigator has come up with the sentence: "I see no reason why, if CCC are filming, there would be any need to allow anyone else to do so". There are of course many reasons. One is timeliness; with major public interest in a decision or debate the media may want to broadcast as soon as possible, or even live, waiting for the council to place video online may create an unacceptable delay. Another reason would be quality; it is probable that any recording by the council may not be of sufficient quality for TV or Radio broadcast.
Investigator Hibbert asked:
Why film at all ?… Another option may be to record and fully transcribe meetings.
I think a full transcript would be much more boring than video. The video is also a much more reliable source, and is more likely to be accurate. I think full automatically generated transcripts might well prove useful for indexing videos (as done by the BBC Democracy Live website).
I don't know if the independent investigator gives her services voluntarily or if she is paid. I would be very concerned if public money was being spent on an investigation which was of this poor a quality.
My Ban – Lifted
On Tuesday the 23rd of November 2010 I was sent a letter from Cambridge City Council's Chief Executive Antoinette Jackson stating:
I am writing to confirm the outcome of the investigation of the complaint about the filming at North Area Committee and the issues associated with this.

Given the Independent Complaints Investigator's conclusions, I am lifting the current restrictions against you filming, which were put in place while we considered the complaint.
The letter was scanned in and sent to me as images in a PDF; making the text inaccessible for copy and pasting.
The Independent Complaints Investigator's conclusions make no reference at all to me; which is unsurprising as I was not the subject of the investigation, it was the council's procedures which the investigator was being asked to review. There never was any suggestion I had done anything wrong. No logical explanation for banning just me from filming meetings has been offered.
Raw Documents
See Also