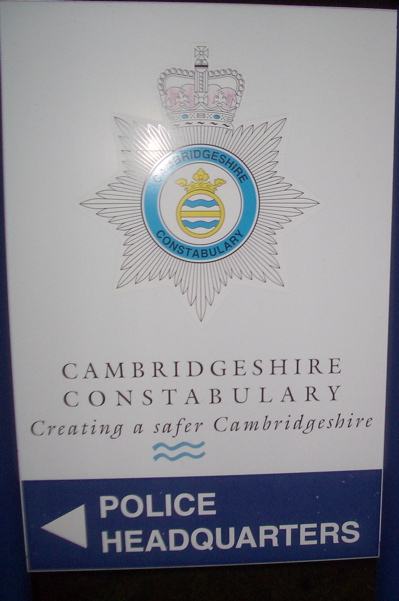 I attended the meeting of the Cambridgeshire Police Authority held on the 30th of September 2010. It was held at police headquarters in Huntington; I had to show my passport before I was allowed in.
After a briefly welcoming the new Chief Constable, Simon Parr, to his first police authority meeting the first item taken was the public questions slot. There were six public questions, three from me and three from those campaigning for fairer pensions for police officers who have been injured on duty.
In order to speed things up, to try an ensure all questions could be properly considered I offered to precis my questions in a sentence or two. This prevents the chief executive of the authority painstakingly slowly reading out the full question, and answer, and taking up all the time allocated for the questioner and authority members to seek clarification. I was the only public questioner present in person.

Question One – Using ASB Powers to Deal With Speeding and Careless Driving
My question:
I would like to draw the authority's attention to what I consider misuse by Cambridgeshire Police of Section 59 of the Police Reform Act 2002.

This, poorly drafted, New Labour, legislation was I believe intended to give the police powers to deal with "anti-social behaviour" involving vehicles. I do not believe it was intended to be used to provide an alternative route for the police to deal with offences such as speeding and careless driving; which is how it is being used in Cambridgeshire.

A major problem with the application of this law in relation to speeding and careless driving is that it gives excessive summary justice powers to individual police officers and PCSOs. The use of these powers appears to be an attempt by the police to deal with a criminal act in a non-criminal manner; presumably to avoid court cases where the police would be required to provide evidence and defend their actions and where those accused of wrong doing would have an opportunity to defend themselves.

A further concern I have is the degree of localisation of these powers; they have been specifically applied, via a priority, to one road in North Cambridge. I am concerned that quite literally in this case this has amounted to there being one law for some, and another for others.

Are authority members satisfied the police's use of S.59 orders is appropriate and that robust safeguards and appeals processes are in place in relation to their use? If an assurance cannot be provided, will the authority commit to investigate and monitor the use of these powers?
The authority's answer has not been posted online with the meeting papers (as the authority's procedures require) despite at the time of writing it now being three weeks after the meeting. The written response from the authority was short:
You have expressed concern regarding how front line police officers and PCSOs are using their powers under Section 59 of the Police Reform Act 2002, in a specific street in Cambridge. As this is an operational issue I have asked the Constabulary to respond.
Clearly I disagree that this is an operational matter otherwise I would not have brought it to the police authority.
It appeared however that the response had been written by the authority's secretariat and a number of members of the authority disagreed. The authority did commit, as I asked, to investigate and monitor the use of the powers.
The Deputy Chief Constable also commented; he defended the force's use of the powers saying they were a legitimate route for enforcing elements of the Road Traffic Acts.
Later on the day of the 30th of September I attended Cambridge City Council's North Area Committee, some of whom despite being Liberal Democrats, support the use of these powers, and reported my response from the police authority to them. (Video)
At the North Area committee Cllr Pitt promised to ask the city's MP to follow up the lack of an appeals process. Julian Huppert MP has now done so and the relevant Government minister has confirmed there is no appeals process and also announced there are no plans to introduce one.
The minister's suggestion of a "an action in the county court for trespass to goods" as a route of redress is no good for those wishing to appeal their first S.59 notice. A complaint against a police officer or PCSO would be inappropriate if that officer was acting fully in line with the law, and the force's policies.
Question Two – Stop and Encounter – PACE
My question:
I would like to draw the full authority's attention to the "Review of All Stops" presented to the authority's Scrutiny Committee, in the name of the Chief Constable, on the 16th of September 2010.

Section 7 of the report, titled "Stop and Encounter", states:

From 1st January 2009 in England and Wales, there was no longer a requirement to complete a lengthy form when requiring a person to account for their presence somewhere

Police officers are only required to record the ethnicity of a person who is subject to this tactic.

The requirement under Section 4.12 of PACE code A to provide a receipt to the person stopped is not mentioned.

As the authority are aware, and have been monitoring, Cambridgeshire police do not consider they have to abide by the requirements of Section 4.12 of PACE code A. I suspect this is why it has been omitted from the report.

After raising Cambridgeshire's police's stance on this at a previous authority meeting the authority's Chief Executive said she would seek an assurance from the police that this is the only area in which the Cambridgeshire Police have decided it is permissible not to follow the PACE codes. Has that assurance been provided? Is the failure to comply with Section 4.12 still justified.
The authority's response:
In September 2009 the Police Authority received a demonstration of a mobile printer to enable the Constabulary to provide a receipt when a person is stopped, with a plan to roll this out across the Constabulary. We are aware that from January 2011 the requirement to record stop and account encounters will be removed from PACE Code A. The Police Authority has therefore not requested an update on the roll out of these devices.

On your second issue regarding PACE in general, the Constabulary have provided reassurance they comply with PACE
I told the authority I was very happy to finally get the assurance I had been seeking for some time that the Cambridgeshire Police comply with the PACE codes. The force had previously stated that the PACE codes are merely guidance which they can choose to ignore. They may well still hold that view, but as long as they're providing an assurance they're complying with them that's rather academic.
Question Three – TASER
In response to my question on TASER deployment I was told the force has scrapped its plans to issue TASER to non-firearms officers. I have written a full article on that Q and A at:
Other Questions
I was shocked that when after dealing with my questions in less than five minutes the authority did not consider at all the remaining three questions on police injury pensions.
I asked authority member Mr Wilkins about this afterwards, he suggested the questions may have been glossed over as they referred to a long running dispute which is before the courts. But the questions had been submitted, accepted, answered on paper; the authority's attention was not drawn to them and members were not invited to seek clarification.
As there were lots of copies of the written responses left in a pile I'm not even convinced the authority members all had a copy in front of them,
Interesting Points from the Rest of the Meeting
Responding to expected government cuts to policing was the main matter discussed. The authority was told it was impossible to get rid of police officers due to their terms of employment; it was even impossible to freeze or cut their pay. The authority was told that therefore cuts would have to be to civilian staff, potentially including PCSOs. (Rochester and Strood MP Mark Reckless is bringing in a Bill in Parliament seeking to remove this protection and give police authorities freedom to decide where cuts should fall).
The Chief Constable was asked what he would would cut first. His first answer was responding to Freedom of Information requests; and second was providing performance statistics to central government. (the following day it was reported the Metropolitan Police are also considering "restricting" FOI requests.)
The Chief Constable defended lobbying central government, in secret, via ACPO, saying that was a very effective channel and claimed secrecy was essential when negotiating with government.
Further Meeting Notes
The authority was warned that pay awards, including police officer promotions, made to staff in September (that month) were now unfunded.
The force treasurer explained there would be a need to draw on reserves, and pointed out that reserves should really be spent on investments, and not on revenue items like paying staff, as that was unsustainable. The treasurer said one off payments to achieve re-organisations would be an appropriate use of reserves.
Cllr Victor Lucas (who was once chief of staff to the UK's submarine flotilla) asked how much more the authority was getting via council tax as a result of new homes being built in the county. He was told that a 1% increase was being budgeted for, and told the figure was in the papers under "Tax base increases".
An authority member asked how much direction was expected to come with the cuts; for was the government expected to require forces to keep a certain number of officers or PCSOs. The Chief Constable responded to say the government was giving the strong message that priorities are to be set locally; but if there are any strings attached to the cuts was yet to be seen. The Chief Constable then clarified what he meant by "to be set locally"; sharing his interpretation that where the cuts fell would be "for Chief Officers to decide".
Cllr Wilkins asked for a confirmation that the budget cuts of £30m by 2012/13 and £7.5m by March 2011, coupled with the protection given to police officers would mean the money "would have to come off police staff". He was told yes.
The spending review was discussed, with the Deputy Chief Constable saying that as yet there was no detail and lots of uncertainty. He said that despite that "the scale is clear" and "we need to plan for what is coming on the horizon".
The Deputy Chief Constable appeared to me to be giving a different impression from the Chief Constable when he warned that it would be impossible to make promises on things like "maintaing police numbers" and "maintaining the front line". Mr Parr's press release on appointment stated: " Frontline service delivery will be our primary focus at all times." I suppose it could still be a "priority" but not "maintained"?
The Deputy Chief Constable promised a "force review" in progress would complete and result in a final balanced budget by the 16th of December 2010. The DCC stated that he expected whatever the Home Office settlement in the spending review was to be reflected in the police budges as policing was 2/3 of Home Office spending. (Home office cuts are 23% by 2015, but it is being reported that policing will only be cut by 14%).
Police officer numbers can be reduced, but only by offices being lost through "wastage" and on medical grounds.
Cllr Wilkins ased if pay cuts for staff or police officers could be considered. He was told that police officer pay was set nationally and the authority could not change that; the authority were told that while they follow national pay scales for their civilian staff they are not compelled by law to do so and it was up to them how they "cut between grades".
Conservative Councillor for Girton John Renyolds spoke about greater co-operation with local government and other public sector bodies; saying the public would expect more working together.
The Chief Constable said that all bodies were often dealing with the same families who needed a lot of support and attention; he agreed the approach was "not as conjoined as it could be".
The Deputy Chief Constable said his cost cutting plans had two stages:
Cutting within the existing structure
"Redesigning the business going forwards"
Authority members asked what the Chief Constable's message would be to Government, along the lines of "if you stop that we'll save some money".
The Chief Constable rejected the premise of the question which suggested he would get into lobbying Government in public. He said he supported the role of ACPO which he told the authority was to "be more productive behind closed doors" and said there were many benefits to taking a position in private.
The Chief Constable said the complexity of the "performance monitoring machine" was too great and suggested he would like to see the number of staff and amount of data required to be collected both reduce by half. He the creation of police statistics as a "huge industry". He also highlighted compliance with "Freedom of Information" law as an area where the force could stop doing things, save money, without an effect on the front line. He suggested he was considering he was contemplating "what-ifs" such as what would happen if the force simply didn't provide the Home Office with all the monitoring data it demanded.
The Chief Constable did accept there was "some tension with accountability", but said there were real problems with some parts of policing being monitored in five or six different ways.
Pushed to identify other areas he would cut, the Chief Constable stuck to the line that a public hit list would be a bad idea. One thing he did say was that the government (and I've seen it more locally to from Cllrs) idea that shared services provided an opportunity to save lots of money wasn't true and he only expected to see savings of about 0.2% of the total budget from that activity.
A member of the Police Authority suggested a clear message should be sent to the public when cuts were announced saying "we are still here".
Police Authority Allowances
In recognition of the strains on public services they decided not to award themselves any "cost of living uplift" for the forthcoming year. This will save the taxpayer £5,000. The authority chair stated this would "demonstrate solidarity", and pointed out the Police Authority would be aiming to reduce its costs by 10%. The Chief Executive of the Police Authority is paid around £100K, for a role which amounts to managing the servicing of a committee. Those members of the authority who are councillors, or who have other paid political roles can obtain quite significant sums from when the allowances from all the various bodies they sit on are added up. I think the authority significantly over-egged the contribution they're making by foregoing their "cost of living uplift".
Elected Police Commissioners
There was a brief discussion of the effect of police commissioners; it was suggested that Police Authorities will be disbanded and a new "Crime and Policing Panel" might take their place.
Authority members asked to discuss the transition more in the future.
I would like to see Police Authorities remain; and hope any re-organisation will allow more tailored authorities for particular areas; eg. in Cambridgeshire I think members of the district and Cambridge City Councils ought be represented. If an MP or two could be persuaded to take part that might also help both the MP and the authority. My main worry with elected police commissioners is that there isn't enough appetite for electing public servants at all levels in the UK; I think the democratic legitimacy and accountability would be more resiliently achieved by bringing existing elected representatives together on a new police authority. I don't think direct election is necessary or desirable; I think strengthening existing elected representatives and giving them routes to influence and set the strategic direction of the police is the best way to go.
Chief Constable's Car
The Chief Constable's official car, a large black Audi was on show under the force flag outside Police Headquarters when I attended the meeting. The day afterwards the Chief Constable announced he would be ditching the expensive perk and driving his own car to work. More junior officers in the force still drive luxury cars provided by the taxpayer though.