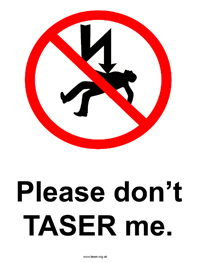 Earlier today, in response to a public question I asked at a full meeting of the Cambridgeshire Police Authority, it was revealed that Cambridgeshire Police are no longer planning to issue TASER weapons to non-firearms officers.
I have been campaigning and lobbying against the previous government's proposals to arm all frontline police officers with TASER weapons for a number of years.
The text of my question:
According to a report to the authority's Professional Standards Committee on the 12th May 2010 roll out of TASER weapons to non-firearms trained officers in the force was to commence in September 2010, and the deployment was to be was to be accompanied by the production of a "Extended Operational Deployment of Taser Policy" and engagement with the media.

Has this deployment occurred? Has the new policy been published?

I am disappointed that the authority did not take the final decision on this extended deployment of TASER, classing it as an operational matter and leaving it to the police. I view it as a major strategic change with the potential to seriously damage the relationship between the police and public.
The authority's response:
The extended deployment of Taser has not occured and there are currently no plans to extend the deployment of Tasers beyond the Tactical Firearms Unit taking into account the cost and current financial climate.
I am happy that the weapons will be remaining in a cupboard (many had already been bought and distributed to forces by the Home Office). I feel safer knowing that those officers armed with these weapons will be only those with the experience and training required. I would have preferred the reasoning to not only have mentioned cost, but also the potential impact on policing by consent.
Elsewhere in the country though there area still non firearms officers armed with TASER. I would like to see the new government formally and clearly reverse the position taken by the Labour Home Secretary in November 2008 when the intent to get all front-line officers carrying TASER was announced.
I fully support firearms police having access to TASER as an option. I think that every policeman who is armed with a gun ought to also have a TASER available so that the less lethal option can be used if it is appropriate for the situation.
See Also