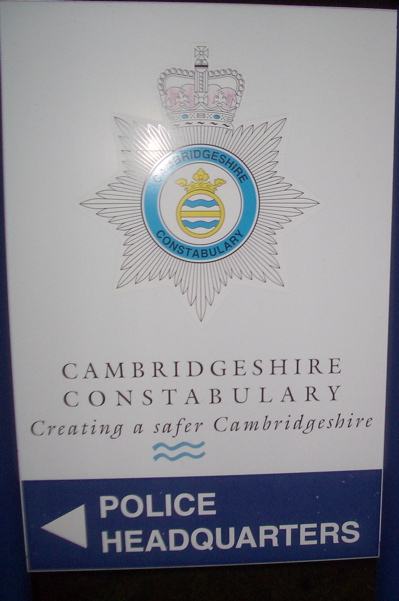 I attended Cambridgeshire Police Authority's meeting on the 17th of December 2008, items discussed below include:
TASERs
Public Speaking
Police Powers for Security Guards
Common Assessment Framework
Treasury Management
Collaboration
Other Items
TASERs
Following the Home Secretary's announcement on the 24th of November that all the UK's response police are to be issued TASER weapons I expected to witness Cambridgeshire Police Authority formulating its response during their December meeting. Within hours of the ministerial announcement the Metropolitan Police Authority decided not to extend TASER use to all front line response officers in London on the grounds that they may cause fear and damage public confidence. However three weeks later Cambridgeshire's Police Authority had not even got the item on their agenda, never mind made a decision on it. County Councillor Wilkins, who opposes the expanded deployment of TASERs and is a member of the Police Authority assured me, in public, at December's North Area Committee meeting in Cambridge that he would try to ensure TASERs were discussed at the meeting. He failed to do this, and has not replied to my request for an explanation. I am very disappointed with the Authority's and particularly Mr Wilkins' lack of action on this point. Mr Wilkins has the support of many of his fellow City and County Councillors who like him oppose this expanded TASER deployment, he could have taken those concerns to the Police at this meeting.
Public Speaking
Mr Wilkins said when speaking on the 11th of December that he had not seen an agenda for the Police Authority meeting, and noted it had not been made public on the Authority's website. He did not draw attention to this failing at the meeting itsself, something I think he should have done. I was notified that agenda was published on the Police Authority website at 13.00 on the day before the meeting, just over twenty four hours in advance. It is worth noting that while the public can ask questions at Police Authority meetings they have to be submitted three days in advance. There was no opportunity therefore for any members of the public to ask questions about items that were on the agenda, or as I might have liked to have done, draw attention to items omitted from it, because the agenda was released so late.
The rules for public speaking at Cambridgeshire Police Authority meetings are quite difficult to find because the relevant section of the Standing Orders was changed in June 2008, and an amended copy has not been made available. One has to consult the minutes of the June meeting to find the rules, and of course there's no reason why anyone looking for the rules would think to look for them in those particular minutes. The June change introduced the mandatory three day notification period. Until the amended standing orders are published it is impossible to tell exactly what rules and advice are in force. The Authority, in June decided to allow the public to make statements as well as ask questions, and resolved:
A 3 day notification period for the submission of all public questions.
For all future Police Authority and Committee agendas to include an additional standing item "Questions and Statements from Members of the Public" (in compliance with the Standing Order).
For the Media and Communications Officer to ensure this that this new process was effectively "advertised" to members of the public, in addition to a notice on the Authority's web site
I can see no evidence the new process has been advertised. As well as not even updating the standing orders, I cannot find the relevant notice on the Police Authority Website. The Public speaking rules are not mentioned in, or linked to from agendas.
It is worth remembering that the Police Authority's Chief Executive earns around £100 000 per year, and the Police Authority's budget is about £1m a year, so such basic failings in publishing their own rules, following up on items resolved at their meetings and publishing their agendas in a timely manner are totally unacceptable.
I have written to the Police Authority to make suggestions for improving the accessibility of the public speaking rules, and have made a public Freedom of Information Act request using the WhatDoTheyKnow.com website to find how the changes have been advertised and what the current rules actually are.
Community Safety Accreditation
There being no items of urgent business raised by members, no questions from the public, and the police officer responsible for presenting the next item on the agenda having left the room the committee moved to discuss: "Community Safety Accreditation". This is giving police powers to civilians. Members of the Police Authority were briefed on plans for uniformed staff at Addenbrookes Hospital to be given police powers as part of a trial scheme to be run between March and September 2009. They were asked for their opinion both on this particular scheme and such schemes generally.
The Chief Constable (CC), Julie Spence, (referred to as "The Chief" by her colleagues and some Authority members) noted members of the Authority had been given a verbal presentation on this subject previously, and it had been discussed by the Authority's Citizen Focus Panel. She went on to explain that since the legislation enabling Community Safety Accreditation Schemes had been passed the opportunity to establish them had been taken up across the country. She said that Essex police had given powers to around six hundred individuals already. The CC said the scheme offered a : "Business benefit for the constabulary". I thought that a bizarre phrase to choose and it was odd to describe the police as a business. The Authority was told by the CC that the powers would go to "Security Individuals", and that the aim was to improve the "Security of the Site".
The CC noted that Section 40 of Police Reform Act 2002 which introduced Community Safety Accreditation Schemes required consultation with Local Authorities. She did not say if this had been done or not, or if it was planned. Section 40(4) states:
(4) Before establishing a community safety accreditation scheme for his police area, a chief officer of any police force (other than the Commissioner of Police of the Metropolis) must consult with—

(a) the police authority maintaining that force, and

(b) every local authority any part of whose area lies within the police area.
The CC finished her introduction by saying that in her opinion the public consultation and democratic mandate had been obtained already by virtue of the Police Reform Act 2002 having gone through parliament. She also said that Tony McNulty, when he was a Home Office minister had said that Community Safety Accreditation Schemes show evidence of neighbourhood policing and community engagement. She said it would be difficult for the force to show it was taking its responsibly to conduct community engagement work if it was not taking part in this scheme.
I cannot see where the connection is between community engagement and giving "security individuals" police powers .
Nick Clarke was the first member to respond. He said he thought there were two separate issues. One being the accreditation of individuals who were wearing uniforms, which he supported, and two being the powers to be delegated which he did not support. I viewed this as a ludicrous separation betraying a complete misunderstanding of what is proposed. There is no proposal, under the CSAS for the police to accredit uniform wearing individuals, but not give them any powers. As he doesn't support the delegation of police powers to these people he does not support the scheme. Mr Clarke expressed concern about the "blurring of the role currently carried out by Police Officers and PCSOs". He was worried that the accredited individual's actions might bring the constabulary into disrepute. He illustrated another point by suggesting that young people often had a bit of banter with door staff at a night club and would give them a bit of cheek. He was concerned that if they were part of the CSAS scheme and seen as part of the Police, and youngsters might feel it was acceptable to treat Police Officers in the same way.
Ruth Rogers spoke to ask what the Vehicle and Operator Services Agency (VOSA) staff did. I felt this was a shocking question showing she had not researched the area on which she was being asked to express an opinion. She said also said that Neighborhood Policing Panels often heard from people asking for more to be done about anti-social behaviour (ASB), and she asked if powers to tackle ASB were included, if they were she said she thought there would be public support for that.
Mr Wilkins spoke to raise a good point about the powers which are available for delegation to these accredited individuals. He noted they included the ability to administer justice, albeit "low level justice" as he put it in the form of Fixed Penalty Notices. He also said he was uncomfortable with extending policing powers outside the "Policing Family", of Police Officers, PCSOs who are under the control of the Chief Constable.
Another member said that he felt there was a big difference between a penalty notice for littering, and one for disorder. He would be happier delegating the powers to issue a FPN for littering than disorder. The CC did not at any point tell the Authority which powers, from the set permitted by law, she was considering giving these individuals.
Ruth Joyce asked if there was a time limit which the accreditations would last for. Had she bothered to read the report which had been prepared for her she would have found the answer. The Chief Constable slightly exasperatedly pointed out that the question was answered in the paper which states:
On the anniversary of individual staff accreditation the Force will also be responsible for re-interviewing and re-vetting all concerned.
I was appalled by this standard of holding the police to account. Ruth Rogers not knowing what the VOSA officers did, Nick Clarke thinking there was the possibility of "accreditation only" and now Ruth Joyce not having read the meeting's papers. We need better, accountable, individuals on Police Authorities.
The Chief Constable spoke again, saying Cambridgeshire clearly wasn't at the forefront of pushing this scheme, but was in effect coming to it late. The implication appeared to be: everyone else is doing it we'd better join in. Then she made an incredible statement;
At Addenbrooks' – there is no way we can give the level of service we need to give, especially as it grows.
If that's true, she needs to be working with the Police Authority and elected representatives including the MP to ensure she does have the resources she requires. It sounds as if there is a much more serious problem than any which can be solved by issuing some badges and books of FPNs to security staff. The Chief Constable also revealed the police's ambitions for the scheme of giving powers to civilians, saying:
We will start off light, and then look at how we can expand. We will start small and grow
The use of the word "light" worried me, as "starting off light" implies the intention is to get more heavy handed eventually. There was certainly a disconcerting undertone there.
A member of the Authority asked if it would be possible to make these individuals members of the Special Constabulary and give them full police powers. The Chief Constable explained that Special Constables separated their "Specialing" from their paid employment. Not least because of problems surrounding liability for their actions. Apparently having second thoughts about her earlier comments on consulting Local Authorities she added, unprompted, that she would be "talking to councils, to see if they had any concerns, any red flags". I hope that this prompts some discussion, by councillors, in public and they appreciate that as statutory consultees their views ought be taken into account.
Cllr Wilkins asked if there were any current plans to extend the scheme beyond Addenbrooks', he was told there was not.
Nick Clarke threw in a comment: "This is the thin end of the wedge", I think suggesting that there needed to be consultation now before the snowball starts rolling.
The Chief Constable responded very dismissively saying: "This is going to happen, as it has been voted on as legislation". "We would get no where with an open consultation".
David Sanders a Peterborough City Councillor spoke next, he said he was concerned that the proposals would fragment policing. He said that people need to see real police officers, and gave his opinion that these newly empowered individuals would not take the pressure off the calls for service received by the police. In response to the Chief Constable saying that the scheme had been introduced by legislation, and implying that was a reason to implement it he said: "We're all jumping about doing what the Government say all the time".
Kevin Wilkins took the opportunity to ask a few more questions, including asking if the powers would be given on a person by person basis, or if the same set of powers would be given to all accredited individuals. He asked if a panel of the Authority would be overseeing the powers given, and the progress of the scheme. The Chief Constable cut him off saying: "You can express a view Kevin, but it is an operational decision". Keith Walters, Chairman of the Police Authority rapidly concurred, saying; "It's your decision not ours", to the CC and with that discussion on the item ended.
I was amazed none of the members of the Police Authority members challenged the Chief Constable's view that giving police powers to security guards for the first time in Cambridgeshire is an operational decision. My judgement is that it is clearly a strategic issue. If she takes that view on this subject no doubt she will also decree that the TASER deployment to all front line officers is also an operational decision and the Police Authority and our local democratic representatives won't have a say there either.
Common Assessment Framework
The Common Assessment Framework is part of the Government's "Every Child Matters" framework. The Common Assessment Framework form is used to share information between schools, health providers, social services, the police and other agencies. Shona Johnstone, joined by other members of the Police Authority, were asking why Cambridgeshire Police were not using this form.
The Deputy Chief Constable (DCC) said that "The CAF gets in the way, there is not a lot the police would be filling in anyway". He drew attention to the paragraph in the police report which states:
Use of the CAF is not consistent or universal within those organisations which provide services to children in Cambridgeshire nor is it used properly by Forces in the Eastern Region. This is due to a combination of the CAF's relatively recent introduction and also to the different business processes which exist within organisations. It is generally felt that the CAF process is bureaucratic and there is work in progress to bring about an abbreviated form called pre-CAF.
He explained how it was a long form, which got longer as it was filled in. He appeared to me to be suggesting that a police officer cannot look at a form without feeling compelled to spend hours on end trying to complete every box on it. As he spoke about how it would be a waste of time for a Police Officer to try and research information to put in the Health and Education boxes Shona Johnstone, Ruth Rogers and others exclaimed "no no no". The DCC gave the impression that the police had not grasped how it was intended the form be used, with each agency completing those elements it can.
The DCC when speaking addressed the "Civic members" of the Police Authority, he may have done this to show his respect for them over and above the unelected magistrates and unelected independent members. He might have also been suggesting that given their responsibilities for social services and education they might want to tackle this problem of information sharing with respect to children from all angles. This was something many people suggested needed to be done.
Mr Wilkins expressed concern that this was another area, like Stop and Account, where the Cambridgeshire Police, albeit for good reason, had decided to ignore national guidance and go their own way. He said this set alarm bells ringing.
Benjamyn Damazer asked what the current model for information sharing, he suggested it was "very casual", this prompted a vehement "No" from the CC and DCC, though when he persisted and asked: "What is the process?". He was told the "Central referral unit for children is excellent".
Ruth Joyce spoke for the second and final time in the public part of the meeting to say that wanted to encourage the use of the pre-CAF form, and also wanted to see the police using the National Contact Point database. Contact point is another of the current government's big-brotheresque schemes. An article in the Times from last year stated:
The database, which goes live next year, is to contain details of every one of the 11 million children in the country, listing their name, address and gender, as well as contact details for their GP, school and parents and other carers.[…]Regulations governing the system, which is costing £224 million to build and a further £41 million a year to run, were rushed through parliament without publicity last month, despite the warning of a House of Lords committee. "The enormous size of the database and the huge number of probable users inevitably increase the risks of accidental or inadvertent breaches of security, and of deliberate misuse of the data (eg, disclosure of an address with malign intent), which would be likely to bring the whole scheme into disrepute", the Lords' Select Committee on Merits of Statutory Instruments concluded.
Treasury Management
In light of the instability in the banking sector the Police Authority discussed where it was investing its money.
Members were told the Authority has recently opened a Debt Management Account Deposit Facility (DMADF), which was described as a really safe, but poor interest account run by the UK Government for public authorities. The constabulary's treasurer stated that: "every public body in the country as opened an account", it will be interesting to see, if that is true, how Cambridge City Council are planning on using theirs.
They decided to, subject to checking the Government's guarantee of all funds in Northern Rock applied to them as a public authority, agree to put up to 75% of available
funds in Northern Rock.
Mr Wilkins warned that "The Government are more likely to steal one's money than anybody". "The Government has the power to change the rules".
Keith Walters, Chairman of the Police Authority spluttered: "We need to make a few assumptions of good faith".
There was then some bizarre discussion between the Treasurer of the Police Authority and the Constabulary's Treasurer, the Authority's Treasurer said he would "retain everything within the shores of this green land", to which the Constabulary's Treasurer said she didn't have the skill and staff required to invest in overseas accounts. However she had previously mentioned that Icelandic banks had been on the police's counterparty list (the list of institutions approved for investing money in) .
Collaboration
There was a fairly brief discussion about technicalities of working together with other forces in the region, including the setting up of a Joint Statutory Committee (JSC). Buddy force arrangements for carrying out "out force" enquiries when required were reported on.
Mr Walters said it would be difficult to explain to the public why six police forces couldn't agree to work together in buying plain white shirts. This drew an impassioned response from all the police in the room, who jumped to explain that they weren't just wearing any old white shirts, but the shirts had critical details, and Cambridgeshire's details were different to Norfolk's for example. The DCC pointed to some element which in some forces is horizontal and in others at an angle. The police all laughed, and said there were "intricacies", suggesting probably quite rightly that the rest of us there would never "get it". Mr Walters appeared never to have been seriously looking to challenge the police on their penchant for special shirts and was just winding them up, knowing it would prompt a reaction.
Other Items
As usual the major items were taken first, and reports towards the end of the agenda taken at some speed. Interesting items being:
Police Authority Operating Budget 2009/10 – the Authority's Increase was in percentage terms 1/4 of the Police's
The budget to run the Police Authority next year is £949,690
The Police Authority's Current Chief Executive is leaving, to be replaced in January 2009
The Police Authority's finance committee doesn't have a chair, this was causing the Police's treasurer consternation as she didn't know who she ought be consulting on a day to day basis.
A report on the state of the fabric of custody suites was discussed. The on call maintenance provision was discussed, and there was a lot of talk of the buildings being in a poor physical state of repair, and of decay within the estate. The Authority asked the police to look at the arrangements the Met. Police had and if it was worth copying them in Cambridgeshire
The Chief Executive is now aware not all areas have Neighbourhood Panels, saying "Neighbourhood Panels and alike"
Members discussed their own procedures for dealing with any breaches of Ethical Standards by one of their members
Jayne Wright made her only contribution to the public element of meeting to say she hadn't been trained on the lines to use in answering common questions at public meetings, and might not be able to make the proposed date for such training. The Chair and Chief Executive offered to brief her, and any others on a one-to-one basis.
The appointment of Ruth Joyce as lead member for Freedom of Information was ratified. I wrote to her asking her views on FOI, and the response, drafted by the Chief Executive of the Police Authority was astounding. "We feel something will have to change to control this headlong dash for information which is an industry in itself", given her contempt for the FOI law this was an astounding appointment