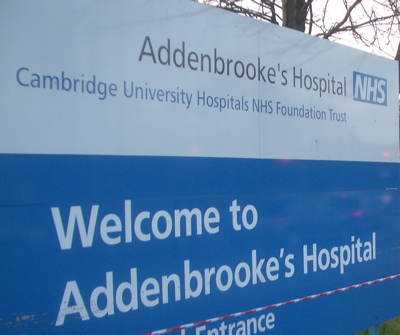 I attended Cambridge City Council's South Area Committee on the 2nd of April 2009. I used the opportunity to raise some questions about policing the Addenbrooke's hospital campus.
I told the meeting what the Chief Constable had said during the December 2008 meeting of the Police Authority which I observed:
"At Addenbrooks' – there is no way we can give the level of service we need to give, especially as it grows."
One way the police are looking to provide policing on the cheap is by giving police powers to security guards. I noted that at the December Police Authority meeting a trial of doing this at Addenbrooke's was approved, and it was to run between March and September 2009. I asked if the trial had in fact begun, and what powers had been given to the security staff (members of the Police Authority had decided to allow the Chief Constable to decide which powers to delegate, within the restrictions of the law).
Sergeant Gordon Morgenthaler reported that the trial had not yet started, but that it had "just been dumped" on "his boss's desk" and he had been asked to implement it in April.
The police sergeant expressed his own concerns about police powers being given to security guards. He said he was worried that people would find themselves getting fixed penalty notices for accidently dropping litter / cigarette butts. Whereas a police officer would only use a Fixed Penalty Notice as a last resort, he was worried the security guards would immediately jump to using their powers rather than trying other options first.
I noted that the law (Section 40 of Police Reform Act 2002 which introduced Community Safety Accreditation Schemes) requires consultation with local authorities prior to the establishment of such schemes and asked if the City Council had been consulted. No councillor answered my question verbally, but Cllr Taylor shook her head indicating that as far as she knew the council had not been consulted. After the meeting Cllr Taylor suggested I ask this question at the City Council's Strategy and Resources committee. (This is the second area committee at which I have raised it, I have been promised a response from Inspector Kerridge with respect to the question I asked at the West/Central committee which, given the area covered, focused on the potential of giving powers to club door staff in the city centre. )
I suggested that publicity letting people know about the uniforms (badges?) to be worn by those people given powers and what powers they had been given ought to occur in advance of the scheme starting. I got an assurance only that publicity would accompany the start of the scheme.
In terms of the powers to be given to these people Sgt. Morgenthaler made the ludicrous statement : "they will not be police powers, they will be the kind of powers PCSOs have".
I challenged what the police sergent said, pointing out that the powers that PCSOs have are police powers. I noted that giving out FPNs was not in my view at the lowest end of the spectrum of powers either, as they were giving the power to administer summary justice to these security guards. Sgt. Morgenthaler said that wasn't such a big issue as fixed penalty notices were given out by local council staff too. There is a difference between local authority fixed penalty notices and those issued by the police. Over the last two years I have been lobbying for PCSOs to be given the authority to issue local authority fixed penalties so they can be more effective at tackling problems such as fly-tipping in the city. I have obtained evidence that there have been negotiations on this but they appear not to have reached a conclusion.
The aim of giving security staff at Addenbrooke's these powers has been described by the Chief Constable as being to improve the security of the site, to me that suggests the delegation of more serious summary justice powers relating to disorder are being considered.
I would prefer to see more real police officers. We need more experienced PCs who remain at that rank rather than rapidly seek promotion, such a corps of individuals would be more use than PCSOs and would not have to cost any more money. Giving police powers to security guards, bouncers, and others risks damaging police-public relations even further and risks people losing respect for those given the authority of police powers if they are not used appropriately. A series of legitimate concerns were raised by police authority members but none had the gumption to rein-in the Chief Constable's proposals.
It was very hard to find out what powers PCSOs in Cambridgeshire had, there needs to be much greater openness and transparency if this proposed scheme is put into operation.
See also: "Addenbrooke's Staff to get Police Powers".
Traffic Control
I also slipped in a quick question about how the police propose to enforce the restriction on through traffic going to and from the new Addenbrooke's link road. When I described the proposed system of number plate reading cameras which are to issue fines if you go through one within fifteen minutes of another Cllr Heathcock made faces implying I was talking nonsense and he'd never heard of the proposal. I explained they'd been described by Roger Cutting, Addenbrookes' planning and development director in his evidence to the Cambridgeshire Transport Commission the previous week.
Sgt. Morgenthaler told me there was nothing to worry about, it was "the same as Tesco enforcing their car-park". He said that the system would be entirely automated and would therefore not use up any police time at all.
I just had a chance to make the point that as these cameras were to be placed on public roads the situation was therefore entirely unlike a Tesco car-park before Cllr Blackhurst, the meeting's chair decided that the subject of enforcing the no-through traffic regulation had strayed too far from "neighborhood policing" and closed the discussion.