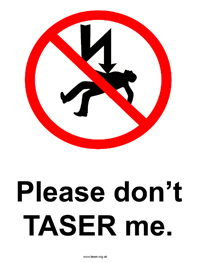 Hidden behind today's big news of a pre-budget report which could determine the future economic prosperity of the country is an announcement from the Home Secretary that all the UK's 30,000 front-line response officers will soon be carrying TASER weapons. This was reported in an article on the front page of the Sunday Times headlined : Police to get 10,000 Taser guns.
As I have campaigned vociferously against non-firearms police being issued with TASERs I was invited on to Radio Five Live to participate in a debate with Liberal Democrat MP Lembit Öpik and Simon Reed, the vice-chairman of the Police Federation early on Monday morning.
I agreed with Lembit saying I support police firearms units having access to TASER weapons which they can elect to use as an alternative to firearms in circumstances where they would otherwise use firearms. I said I would prefer to be shot with a TASER than with a gun. However I do not want to live in a country where more police officers than necessary are routinely armed with TASERs. I believe any expansion of TASER use would be damaging to the relationship between the public and the police.
I went on to take issue with some of what Simon Reed had said. He had claimed the trials were over. They are not, the metropolitan police trial has not yet run for the full year. While statistics have been released on some trials periods there has not yet been any interpretation of those statistics or collation of public response to the trials. He responded to say that the reports will be published later today. I agree we will have to see what they say, but I am concerned they might be buried by the pre-budget report.
Simon Reed had also claimed that TASERs would only be used in extreme cases, not he said pub brawls. I pointed him to a BBC article with a headline of : "Taser fired as three fight in pub". This was from North Wales, where the Chief Constable had said that only rural officers would be issued with TASERs, the fight occurred about 4 miles from Wrexham where there is a major police station.
As for the Home Secretary's announcement, she justified the decision by saying she was providing the police with the tools they had asked for. She appears to have missed the point that her role is not simply to accede to requests from the police but to make a wider judgement based on the views of everyone in the UK on how we want to be policed.
See also my letter to my MP, urging him not to allow non-firearms police to carry TASERs.
I plan to ask my local police in Cambridge if they feel they need TASERs at the North Area Committee on the 11th of December. If they don't want them and the people of Cambridge don't want them I don't see why the Home Secretary should force them on us. It will be an interesting sight to see Cambridge police with their recently reintroduced whistles in their mouths and new bright yellow TASERs on their belts, clearly showing how difficult it is to balance the conflicting current expectations and demands put on the police.