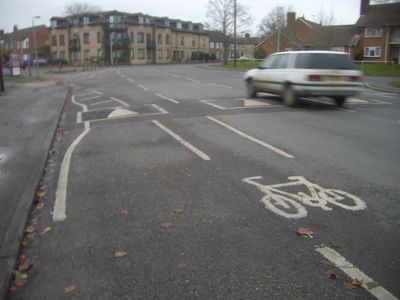 Councillors approved police proposals to confiscate vehicles, like the one pictured, which swerve to avoid the Fen Road speed cushions.
Drivers in North Cambridge who drive between, rather than over, speed cushions are to face confiscation of their vehicles under a new police priority approved by Liberal Democrat county and city councillors at the North Area committee on the 4th of March 2010. Repeat offenders could even see their cars crushed by the police.
The police are proposing to use legislation which has previously been applied in the city mainly to deal with those using mini-motos and motorbikes in an anti-social manner to clamp down on drivers swerving around traffic calming features. The law to be invoked is Section 59 of the Police Reform Act 2002 which gives the police power to deal with a vehicle which is being driven carelessly and which "is causing, or is likely to cause, alarm, distress or annoyance to members of the public". Those dealt with under this provision are warned on the first occurrence and face seizure of their vehicle on the second.
A major problem with this law is that it gives excessive powers to individual police officers and PCSOs; it doesn't allow those faced with action under it the opportunity to go in front of a court and argue their case. The use of these powers appears to be an attempt by the police to deal with a criminal act (careless driving) in a non-criminal manner; presumably to avoid pesky court cases where the police would be required to provide evidence and defend their actions. I am astonished and appalled that the Liberal Democrats have approved the police use of yet another draconian and inappropriate police tactic in the city (Earlier this year they renewed dispersal powers). I think those voting Liberal Democrat expect Liberal Democrat councillors to stand up for basic principles of law such as the right to a fair trial, something which I and others who have looked at the implications of the Section 59 powers conclude are denied to those the police use these "S.59″ powers against.
Liberal Democrat Parliamentary Candidate Julian Huppert is standing on a platform of defending civil liberties and at a recent hustings event he said : "I've had a bit more involvement in trying to direct it [Cambridge] since we in the Liberal Democrats took control of the City Council". I cannot see how he can square both his support for civil liberties and his proud association with the Liberal Democrat City Council.
Elsewhere in the country it has been reported that the police are using "Section 59″ powers against speeding drivers; presumably where they don't have enough evidence to making a speeding charge stick in front of the magistrates. Drivers are understandably furious when they find out that our MPs have given the police the power to issue summary justice in this manner without reference to the courts. I think our legislators need to be a lot more careful that they don't give excessive powers, without due safeguards, to the police (or others) when they enact new laws.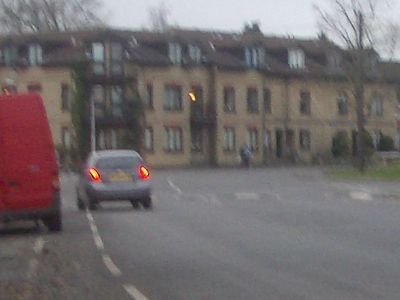 Drivers who swerve into the cycle lane pose a danger to cyclists.
I drive a car which doesn't deal with speed bumps very well; where it is safe to do so I always try and avoid them or drive over them in such a way as to minimise the damage they are doing to my car. Now due to the action of the car-hating Liberal Democrats in the city I face the risk of having by car taken away from me, summarily, based on a PCSO's interpretation of my actions. I am furious, both with the Labour MPs who pushed this draconian and far too widely drafted law through Parliament and with my local Liberal Democrat councillors who have endorsed the police expanding their application of this provision, and avoiding the courts as they do so. When the law was brought in The Labour Government's Home office spokesperson in the Lords said:
we should trust the police to exercise their discretion operationally as to when seizing a vehicle would be appropriate.
While I want to see well trained, high quality, front line real police officers given the tools and powers they need to do their job; I do not think that "trusting them" ought be the only safeguard in place to prevent abuse of police powers. I question if PCSOs are appropriately trained to deal with offences like careless driving, and do not think that's what they should be used for, I think money spent on PCSOs would be better spent on PCs.
I have been repeatedly asking the police why they operate a two tier system with respect to policing our roads, with youths being dealt with under anti-social behaviour legislation rather than being charged with offences under the Road Traffic Acts. What we are seeing here is creep of the Anti-Social behaviour laws to apply them in ever increasing circumstances. I am very uncomfortable with many aspects of new Labour's antisocial behaviour laws, and think their application ought be more limited and not expanded.
I think the police in North Cambridge were trying it on; they were pushing our councillors to see what they can get away with. It was noted that Sgt. Wragg, who presented the police proposals, was grinning from ear to ear when councillors approved the priority without raising any objection to his proposals to use S.59 powers against those swerving to avoid speed humps.
Fen Road
Councillors' approval of the new use of the police powers came as part of priority aimed at dealing with problems related to driving in Fen Road, Chesterton. This is one of a few areas in the city where I have feel I've almost got killed while cycling on more than one occasion. There is a real problem, part of which is cars, vans buses and lorries swerving into the cycle lane as they avoid the speed bumps.
For years now members of the public, and councillors, have been aware the speed cushions have been built badly. Both Cllr Blair, a Liberal Democrat who represents East Chesterton, and Mr Bond, the spokesperson for the Old Chesterton Residents Association have admitted to driving through the middle of the speed bumps on the road themselves. It is an ironic aspect of these events that councillors have asked police to tackle behaviour that they themselves have admitted to at a council meeting.
Cllr Blair was the only East Chesterton councillor to turn up to the North Area Committee on the 4th of March (Liddle and Kerr were absent). I think a lot of the area's problems are directly due to the election of councillors who perform poorly. Other East Chesterton councillors rarely turn up and rarely speak and while Cllr Blair is regularly present, and talks a lot; I more often than not am left unimpressed by her contributions. On the 4th of March, as well as supporting the police action, she was calling for the contractors who had installed the speed cushions to be required replace them without further charge to the public purse. This was despite the fact that the contractor was not technically at fault had been established in November 2008 – a fact Cllr Blair's Liberal Democrat colleagues had to remind her of yet again.
Cllr Rupert Moss-Eccardt suggested making a bid for some "Cambridgeshire Together" activity on the street which would bring together various different agencies. He reported this was a very expensive scheme which the County Council were running and he thought the Fen Road area could benefit from its attention.
Cllr Blair reported to the meeting the fact she had been asked by local residents to organise a meeting to discuss the problems; she said she would be in favour of a multi-agency approach.
A police speed survey found an average speed of only 20mph on the road. This doesn't chime with residents' (or my own) perceptions. Full details of the survey have still not been released, so it may be the speed detection equipment was located on areas of the road where drivers are slowing for hazards such as parked cars and the level crossing.
From my own observations many vehicles using this road, which is the only access to the travellers' site, don't appear roadworthy, they often look over-loaded, occasionally dangerously so. It's the one part of Cambridge where one can reasonably regularly see people driving even with flat tyres. My impression is there is a particularly high incidence of careless and reckless driving on this road. I don't think the police ought allow lawless areas of the city to emerge and that's a key part of what needs to be tackled here. It is really important that everyone is treated fairly and equally by the law and the police; we must not allow one law for some and another for others; which is what the anti-social behaviour laws have resulted in.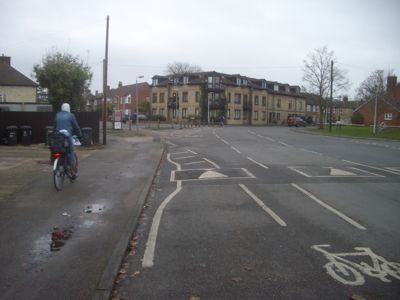 Many cyclists, particularly students and rowing coaches, use the pavement in this area.
I think some of the £62,000 councillors used to resurface the parking area could more usefully have been applied to improving the cycle lanes on the adjacent road. When the proposals for that area were under discussion I wrote to Cllr Liddle, the lead councillor, saying: "The opportunity to integrate the cycle paths in this area with the adjacent cycle paths on the road/pavement is being missed."
See also