On Thursday the 10th of June 2010 I attended Cambridge City Council's North Area Committee. The meeting started at 18.30 to consider planning applications but the main agenda was not scheduled to begin until 19.30. When I arrived at just before 19.30 councillors were still debating the first of three planning applications which had been put before them. The application was for a new access from the road and change of use to a day nursery for the Old Manor House St Andrews Road. Cllr Ian Nimmo-Smith was in the chair and I saw the tail end of the debate with councillors expressing concern about access, particularly with respect to the different type of traffic the new use would be expected to attract, I saw councillors eventually reject the application on those grounds – they decided to give particular weight to a representation against the proposed development from the County Council highways department.
When they turned to their second planning application, for a two storey rear extension to 2 Primrose Street, councillors were told by their planning officer that this had come to the committee as it was an application being made by a member of the council staff and so by law could not be determined by officers. Councillors were told that if the applicant had not worked for the council the application would have been approved under delegated powers. Councillors approved the application without a word of debate or discussion.
The final planning application was for a new house on Scotland Close; councillors were told this was the third time an application for this site had been submitted. Last time the application was rejected on the grounds that access to bin storage and bike parking at the rear wasn't easy enough. I watched the debate the last time when Cllr Upstone made the insightful comment that land ownership was not immutable, clearly implying that in order to make room for a house on this plot it would be really be necessary use some of the land which is currently a neighbouring garden. The applicants had decided to reverting to their original plan of having bikes and bins stored at the front of the house and councillors summarily refused the application without any debate. I understand this is often the case when councillors agree with an officer recommendation but I would like to see some indication that councillors have actually understood and considered the proposal, even if only one of them makes a statement and the others concur. I am left wondering if the applicants have understood councillors' previous decisions and if they have effectively been communicated to them; or if the applicants thought that following the election they'd have a go again with a different bunch of councillors.
As well as dealing with the planning applications during the first section of the meeting the committee were also scheduled to receive a report on the council's new online planning system on which residents associations, but not the wider public, have been consulted. While this is a great step forward and may well remove the need for councillors or members of the public to visit the council offices to view planning applications and comments on them there are a number of problematic flaws with the technical implementation. I have written a separate article on the upgrade to the planning system.
Another item which took place during the first part of the meeting was the election of a chair. Labour Councillor Mike Todd-Jones doesn't take part in planning decisions as a protest against restrictive rules which he feels prevent him from fulfilling his role as an elected representative so he didn't turn up till the scheduled start of the main agenda. As he did last year he complained that by the time he turned up a chair had already been elected; he said he would have stood and that Cllr McGovern had agreed to second him and that he hoped he might have obtained wider support. I suggested in advance of the meeting that the election of chair ought be delayed until the main agenda when Cllr Mike Todd-Jones would be likely to be present, Cllr McGovern replied:
@RTaylorUK as for Mike's absence, that's a matter for him to arrive for the published start of business.
Main Agenda
Liberal Democrat County Councillors Moss-Eccardt, Wijsenbeek, and Wilkins were absent without explanation; but all the North Area's city councillors were present.
Open Forum
The meeting started with the "Open Forum" where members of the public are able to ask questions of councillors, and in this case, the police too.
Verges
The first question was about parking on grass verges, and what the council was doing about establishing a by-law to prevent it. Cllr Pitt responded to say that action by the relevant minister was being awaited and the city's MP Julian Huppert was on the case.
Arbury Park to Riverside Cycle Route
I then asked about the way the public consultation relating to the Arbury Park to Riverside Cycle route in Church Street Chesterton had been run in a secretive and non inclusive manner. I had asked about what was happening at a previous North Area Committee but councillors had not revealed their intent to hold a private consultation event which was only open to selected invitees. The Liberal Democrats, supported by residents association members in the public gallery, aggressively defended their closed and secretive approach to decision making. Cllr Blair told me that if I wanted to know what had been decided at the secret meeting I should go and read the lamp-posts in the Church Street area. I have written a comprehensive note on my question and the answer given which I have appended to my article on the "consultation".
Mitcham's Corner
Member of the public Mr Cook asked about "Anti Social Behaviour" on Mitcham's corner, which he said was a "matter for concern". He raised the fact that there was a significant difference to the licence for the premises formally called The Graduate as the new applicants were seeking to serve alcohol without live music. Mr Cook asked if the council followed the "Cardiff model" which he said involved measuring the level of all crime relating to a particular licensed premises and rating them on a traffic light red, amber green scale. Those premises rated red would have their licences reviewed and conditions looked at.
Cllr Boyce responded. He said that The Graduate was due to be renamed The Tivoli and the pub had been leased by Weatherspoons. He said a licensing consultation was currently running and responses should be sent to the council by the 2nd of July. Cllr Boyce noted that only if there were objections would there be a licensing hearing. Cllr Boyce said that two applications had been made, one to simply amend the floorplan associated with the current licence and another wholly new application which would remove the entertainment restriction from the licence.

Policing
Following the police presentation of their report I tried to make some comments. Firstly I noted that Cllr Bick had been appointed as the Executive Councillor for Policing. I asked how that appointment had changed the framework for democratically influencing policing in the city. I asked if Cllr Bick was now taking on a role akin to an elected police commissioner in the city. Cllr Bick was present, he's not a member of the North Area Committee so I presume he was attending in his policing capacity; he blushed at my comparison of his role with an elected police chief. I noted that in his first speech as Executive Councillor for policing he had called for Fixed Penalty Notices to be used where there was a lack of evidence which could be used to take someone to court. I asked what the police view was on using FPNs in that way.
I drew a parallel between such use of FPNs and the police's use of powers under S.59 of the Police Reform Act 2002 against those speeding and swerving around speed humps on Fen Road.
I said that supported tackling the problems on Fen Road, which is clearly one of the most dangerous and lawless roads in the city, with many vehicles speeding, being driven badly, many being obviously unroadworthy. What I opposed was the strategy being deployed with the approval of councillors – the use of S.59. I complained this amounted to one law for some and another for others. I said that S.59 denied people access to due process and justice and I was surprised to see the Lib Dems support the use of such powers at their last priority setting meeting and urged them not to do so again. I suggested those voting Liberal Democrat weren't voting to ditch due process, to deny people justice, and deny people access to magistrates and that Liberal Democrats shouldn't be voting for measures against the interests of civil liberties and justice. I explained that those caught speeding elsewhere in the city would have the opportunity to go to court and contest the allegation; but there was no route of appeal against a S.59 notice. I said I felt it was inappropriate to use S.59 in cases such as speeding if the reason for using S.59 was the police had no evidence which would stand up in court that an offence had been committed.
The meeting's chair, Cllr Nimmo-Smith stopped me from speaking as I made my representation and instructed me to hand the microphone back to the council officer running the meeting. He explained his action saying: "you don't understand what goes on at meetings". Cllr Nimmo-Smith then directed Inspector Kerridge, who was present on behalf of the police, not to answer my question about the new role which had been taken on by Cllr Bick. I protested, maintaining it was a legitimate question. Cllr Pitt protested saying I had misrepresented the role to which Cllr Bick had been appointed.
I suspect that the city council might not have told the police about the new role they have given Cllr Bick and didn't want to be shown up by the police officer saying he had no idea what had changed. (I am concerned that while when as City Council leader Ian Nimmo-Smith made illiberal decisions such as approving giving police powers to security guards at Addenbrookes he could be scrutinised at the Strategy and Resources scrutiny committee; Cllr Bick is not subject to that process.) Later Cllr Nimmo-Smith explained it was his idea to give responsibility for policing to someone other than the council leader, and confirmed to the meeting that the council leader's policing powers had been given to Cllr Bick.
The police officer, Inspector Kerridge, replied and addressed a couple of my points.
He said that the S.59 powers were not only being used in Fen Road in relation to the North Area priority, but were also used elsewhere in the city by traffic officers. He also said that if "primary offences" such as drink driving were being committed then those committing them would be dealt with for those offences and not by the issuing of a S.59 notice.
Cllr Pitt asked what "come back or appeal process" there was for those issued with a S.59 notice.
This appeared to throw Inspector Kerridge and he ummed for a good ten or twenty seconds. He eventually stated: "There is follow up" and explained how people could pay a fine and get their cars back if they were seized. He reported that most don't bother though.
Shockingly Cllr Pitt appeared happy with this response.
Being able to pay a fine to get your car back is no route to obtain justice for someone who has been wrongly issued with a S.59 notice – for one it's not a route which can be taken by people who've wrongly been issued with their first notice.
Cllr Pellew asked for confirmation that cycle theft remained a priority to be dealt with as a result of the city wide designation; he was assured it was. (Though councillors are free to direct even more resource is directed at a problem by making it a local priority too).
Councillors also received a representation from the Shirley School about parking problems. They decided add those parking issues as a priority and also to renew the Fen Road priority , continue work on St. Luke's school on the grounds that during the school holidays the lack of staff might permit the re-emergence of vandalism etc. which had been a problem there recently.
Cambridge City Liberal Democrats fought the last election on manifesto which stated the would:
Continue to work in close partnership with the Police, sanctioning and withdrawing special Police powers sparingly and in strict response to hard evidence of incidents and avoiding measures likely to limit innocent behaviour
and
Encourage greater transparency, public debate and scrutiny on Policing priorities
I think they breached both of those manifesto commitments here by renewing the Fen Road priority and implicitly approving the police strategy. They also went against core Liberal Democrat principles.
Community Development and Leisure Grant
The only notable element of this discussion was new Liberal Democrat councillor for West Chesterton Damien Tunnacliffe speaking against a grant for £900 to a Guide group. He claimed the group only had six members (this wasn't in the report – it said the grant would benefit 15 people). Cllr Ward said that some scout and guide groups had more affluent parents than others and the council funded those which asked for grants. Cllr Boyce said membership numbers were variable and there were systems for equipment sharing.
When it came to the vote on this issue Cllr Tunnacliffe looked hesitant and despite speaking strongly against the award was putting his hand up to vote. He was then reassured by some of his Liberal Democrat colleges that he was in fact free to vote with in line with his beliefs on this matter. Having been presumably been reassured there would be no party disciplinary action resulting Cllr Tunnacliffe abstained from the vote; all other councillors present voted for the grant which was awarded.

Environmental Improvements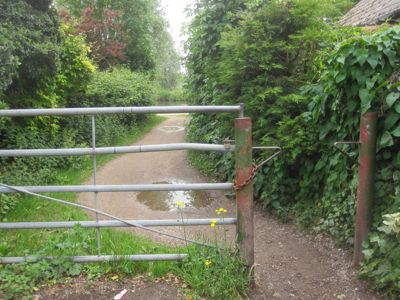 Councillors are to spend £1,000 altering the pedestrian gap alongside this gate between Fen Road and the river.
Interesting items here are covered in other articles:
Related to the dangerous traffic on Fen Road, councillors agreed to remove the "pram arms" on a path from Fen Road to the Hailingway. £1,000 is to be spent removing the arms and installing a replacement chicane of barriers. (They've approved initial development of a plan to spend this money, they never get on and make a decision in one go.)
There was also a very brief discussion of the Riverside scheme as on-the-ball (ish) newly elected councillors insightfully noted it wasn't in the North Area. Cllr Ian Nimmo-Smith left it to council officer Mr Preston to explain the bizarre arrangements where by the Liberal Democrats had pretended to locally allocate some of their budget only to then re-centralise it again.
Background Papers