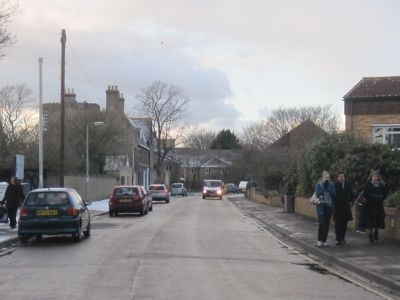 Cars often park illegally on Church Street in Chesterton. As part of a scheme to make the road more attractive to cyclists Cllr Clare Blair wants parking formally permitted.
At the North Area committee on the 4th of March 2010 I asked a public question about consultation in relation to a proposed Arbury Park to Riverside cycle route. I asked why the Liberal Democrats were not using the area committee system, which they set up, to inform local people about the proposals and to debate them. I asked why the City Council were pro-actively encouraging people to comment on the West-Cambridge to Sliver Street cycle route but were not encouraging input into the Orchard Park to Riverside scheme with the same gusto. As I regularly do; I questioned why the North of the City appeared to be getting a poor deal when compared to Newnham. I said I wanted to find out how the consultation was being run and asked what the current position was.
One reason I asked my question was that I had observed the Transport Area Joint Committee on Monday the 25th of January 2010 where Cllr Blair proposed, and the meeting resolved, that consultation with residents would take place in relation to elements of the proposals affecting the Church Street area. After the Traffic AJC meeting Cllr Blair spoke to those present in the public gallery about her intent to hold a meeting with Vie residents and other constituents in St. Andrew's Hall in Chesterton to which she said she would invite council officers and others to attend.
Cllr Clare Blair volunteered to answer my question at the North Area Committee and the chair allowed her to do so. Cllr Blair said that in her view it would be inappropriate for the City Council to duplicate what the county was doing, and the county, via the Traffic Area Joint Committee, was leading the consultation on the Arbury Park to Riverside cycle route. That was it; that's all she said on the subject.
Despite having been asked, in public – at a council meeting, to explain what consultation was underway, Cllr Blair did not reveal the fact that she has in fact organised a local, invitation-only, meeting at which the proposals for the Church Street area will be discussed. I have now learnt this meeting is to be led by a county council officer who will write a report on the outcomes of the workshop for the Traffic AJC. I have not been invited and neither as I understand it have any members of the press or members of opposition political parties. Local residents and cyclists who use the route but are not members of residents associations are being disenfranchised and not being given the opportunity to stay informed and have an early input into plans. When the Traffic AJC approved a consultation meeting I doubt the Labour and Conservative members present envisaged a private, invite only, meeting as part of that. They didn't specify it ought be an open and inclusive process, but I'd have thought it would have been reasonable to take that as read. Where Liberal Democrats are involved they may have to take more care in-future.
A regular reader of my website, a Labour Party member who lives in East Chesterton, who may well want to stand in the upcoming elections, has asked me to let him know if I find out when this meeting is being held. He expressed an interest in attending and offered to let me know what's said. I will be getting in touch with him to draw his attention to this article. I will be interested to find out his views on the fact this is not a public meeting and if he has received an invitation.
At the time of the North Area Committee I did not know the details of the meeting (hence my question); they have since been leaked to me (FOI would not necessarily have obtained them from the County Council in time):
Wednesday 10th March 2010, 18:30 – 20:00, St Andrew's Hall, Chesterton
Officer Brian Stinton of Cambridgeshire County Council's highways department is to lead the private meeting. When I cycled down Church Street in Chesterton on the 10th of February 2010 I by chance took a photograph which happened to record Cllrs Kerr and Blair walking down Church Street along with Mr Stinton. I have used the image to illustrate this article.
At the North Area committee there was a very brief discussion about the other end of the cycle way near Kings Hedges Road. Cllr Blair there gave an assurance that a new path from the Meadows Community Centre car park onto Arbury road was to be built. Cllr Ward said he wished someone would tell him what the County Council's plans were in relation to that part of the route (which is in his ward). Cllr Ward often makes rather short and cryptic contributions to council meetings; I think he may have been suggesting that he too wants an answer to the question I asked relating to how the consultations will take place. As I understand it Cllr Ward, who is my local councillor, hasn't been invited to the private meeting either; had he been aware of it at the time of the North Area committee he might have been able to ensure I got a fuller answer to my question.
See Also