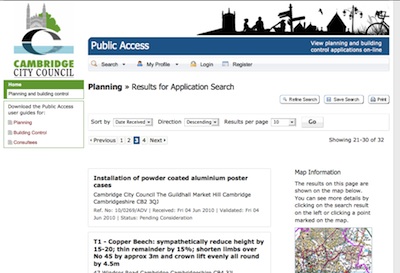 Screenshot of Cambridge City Council's upgraded online planning web pages.
Cambridge City Council has just launched a new online planning system.
Key Points
Plans, drawings and documentation for planning applications can now be viewed on the council's public website. Previously viewing plans almost always required visiting the Guildhall in-person.
The City Council is going to be able to close its planning reception as a result of launching the extended online service.
£33,000 worth of new monitors are being provided for the use of members of the public who want to visit the council offices to browse this improved section of the council website. [Update 25/6/2010: While this was implied by the public information, the £33K is infact buying about 60 new monitors for council officers to use with the new system as well as the two for the public more]
Presumably objections and letters of support are also to be made available online, though this has not started to happen yet.
Only residents associations and not the wider public were consulted in relation to the expanded online service.
The council is not setting the planning information free. It has gone to extreme lengths to try and keep control of the data and is currently forbidding others from representing the data and producing things like lists, or maps, of new planning applications.
Direct links to applications, or documents, don't work; seriously reducing the utility of the new system. eg. a residents association newsletter or website can't carry a direct link to either an application's summery page or the comment form. This is a loss of functionality when compared with the previous system. [Update 25/6/2010: This has been fixed with respect to applications and comments]
A a briefing on the new "public access" planning system is being taken around each of Cambridge City Council's Area committees in the next few weeks.
Under the old system those wishing to look at the details of a planning application and comments which had been made on it had to go into the Guildhall and ask to see the file. This was a physical real file filled with an assortment of papers, including print outs of plans, print outs of emails and the odd handwritten or even typewritten letter. The idea of the new system appears to be that it will allow access to documents online, enabling the council stop operating a planning reception where people can go and view the files in person. Individuals will also to be able to register an account and obtain email alerts about new planning applications – previously this service was only offered to councillors, residents associations and others with a special relationship with the council.
I think what the council is now doing amounts to a fantastic step forward. I have noticed many councillors, particularly at area committees making planning decisions obviously without having been into the council offices to review the all the relevant documents. Hopefully that problem will be vastly reduced in the future as access to applications and representations will be so much easier. If this increased online publication does turn out to be the step change which it appears it could be councillors who don't regularly visit the council offices will now have the opportunity to better informed about the applications in-front of them and be better aware of the detail of what objectors and supporters of a particular application have been saying. While I have on a number of occasions been in to the city council to view planning applications it is very time consuming; placing the application files online will make commenting on planning applications much more accessible and may well result in engaging a much broader group of people and enabling more people to have their say in the process.
Council officers Nova Roberts, the Head of Customer Service, and Paul Boucher, Business & Information Services Manager in the Environment and Planning department, are looking: to receive feedback and comments at the area committee briefing sessions. It will be up to area committee chairs as to if those comments can come from the public or just from councillors and it is unclear what, if any, prospect there is for the council's contractor Idox Group to act on any suggestions made at this late stage (after the launch of the new system).
Prior to the launch the council only talked to residents associations, and not to the wider public, about the new system. I suspect this decision to exclude the majority of those with an interest in the city from having input into the specification as meant the council has not benefited as much as it could have done from the vast pool of knowledge and talent available in Cambridge. Consulting with a wider group would also I believe have prompted the council to think twice about its decision to adopt such a restrictive approach to allowing re-use, linking, and re-presentation of the information.
The old system appeared to have the functionality to enable the uploading of files but it generally wasn't used. Officers have started uploading documents into the new upgraded system, however I have not yet seen any comments (objections or letters of support) published. Currently, as was the case with the old system, the number of comments is noted, but the content is not available. Until the comments are online then continuing easy public access to the raw paper files containing them is absolutely essential.
Wrong Mindset in City Council
One major problem with the council's approach is that they've not sought to set the information they're holding free. The council don't appear keen on others doing anything with what they see as "their" planning application data. The council's terms and conditions strictly forbid people from re-presenting the information in the system; so it appears that for example residents associations will have to risk legal action from the council if they republish notices of local planning applications on their own websites, things like my map of tree works may be under threat too.
They've not even made it possible for people to include straightforward links to applications or documents. I hit this problem earlier today when I decided to tweet a link to a plan showing the view from Jesus Green of a (now withdrawn) proposed extension to the Christ's College Boathouse only to be rapidly told by many others that they could not access the document. I then had to direct them to the I agree button to submit to the city council's extensive terms and conditions so that they would be able to view the drawings of what had been proposed.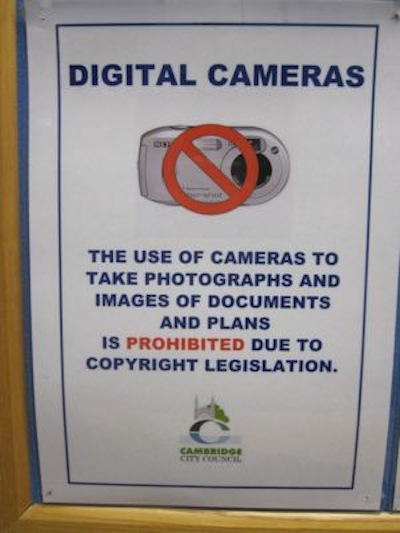 Cambridge City Council currently bans cameras from its planning reception; that attitude has persisted as it moves online.
The council's planning offices have posters on the walls forbidding the use of digital cameras to take copies of plans (though official copies could be purchased so the motivation is unclear). This results in ludicrous situations such as campaigners copying plans out by hand. I have previously published photos of plans on my website when discussing planning applications and such images have also appeared in the local media as their use can clearly be justified on journalistic grounds.
I think that details of planning applications are public information and they ought be as accessible as possible for those wishing to debate and comment on them.
Historical Data
The loss of older historical data with the move to the upgraded system has been raised with me as a matter of concern; the previous system had very valuable data from decades ago – already clearly digitised and available online – but apparently dumped during the import into this new system. To cease to make this material available is the modern equivalent of tossing the city's civic records on a bonfire.
Land Searches
I would like to know if the new public access system is reliable and comprehensive enough to allow people to conduct their own searches as are required for mortgages or if the council intends to keep charging people for professional searches. The previous system carried a disclaimer stating it was: "not a substitute for carrying out a formal land search or other legal enquiries", but surely as technology improves there it will be less acceptable for councils to charge for access to information which ought be easily accessible on the web and Cambridge City Council ought be leading the way.
Activism
In this, as with other areas where I'm trying to get Cambridge City Council to operate in a more open and transparent manner, I am not just campaigning but have taken some direct action.
I have published a live copy of the list of the current month's planning applications on my website. Links from my page by-pass the City Council's I agree button meaning they're of use to everyone not just those who've visited the city council's planning pages earlier during the same browsing session.

I have also made the monthly application list available as an RSS Feed. The council had not even specified an RSS feed of new applications for their new system, never mind a geoRSS feed which would be better. Ideally of course such feeds would be available for any of the existing advanced search options as well as for other critera such as "near my home".
I have also written a parser for PlanningAlerts.com, the output of which can be seen at:
Currently incorporation into Planning Alerts is less useful than it would be if the council showed something other than an error message to those following links to pages and documents within the new planning system. Unless those following the links have recently clicked on the council's "I agree" button they would see the error and not be offered any easy route to finding the intended documents. Planningalerts.com frees up the data and makes it much easier for both individuals and website operators to reuse it.
Nonsense bureaucracy
A lot of nonsense bureaucracy has been newly exposed and can rapidly be seen by those browsing through the new system. For example an application from another part of the council to the planning department for new noticeboards on the Guildhall prompted one council officer to write back to another requesting they pay a fee (suggesting a cheque from Cambridge City Council to Cambridge City Council) and requesting plans to a particular specification be provided.
Costs
Costs related to this project are included in a report to the Environment Scrutiny Committee on the 22nd of June:
| | | |
| --- | --- | --- |
| Description | Cost | My Comments |
| Public Access Module | £12,000 | Cost of software upgrade from Idox? |
| Planning Services ICT Project Management | £17,000 | |
| Server Replacements | £48,000 | Further spending is planned on servers. |
| Monitors for use with Document Management System | £33,000 | For public to browse website at the council offices |
| Development Control Public Access & 1APP Connector | £23,000 | Presumably code making systems work together |
| TOTAL | £123,000 | |
As well as the monitors there will be additional costs associated with specialised large format printers for the council's Regent Street "Customer Access Centre". The facilities are intended for members of the public to go in there in person and use the council's website and print plans from it. (Just imagine the reaction you'd get if you walked into a company's offices and asked if they had computers they'd let you use to browse their website from their office. They'd rightly think you were nuts.)
I hope those who already charge crazy amounts for creating central government websites don't hear of this as they might start adding tens of thousands onto their bills for equipment for the public to view their websites on too!
I think it is scandalous private contractors sell these systems repeatedly to different parts of the public sector across the country. Where there is clear potential for software to be reused within the public sector it we ought pay for it once and require it be released under an open source licence. When councils find ways of improving it the upgrades should be freely distributed and made available for use by all councils.
No doubt there are other costs which have appeared in other year's accounts and some of the costs mentioned above, such as the servers, may not be entirely related to the expanded online service.
Questions Which Need Answers

I hope members of the Environment Scrutiny Committee, as well as councillors at area committees, will ask challenging questions on the functionality of the new system. My suggestions are:
Will records of actions taken by chairs of committees making planning decisions (and agreement of opposition spokespeople), which are currently kept in planning files be uploaded to the new system?
How quickly will documents be uploaded onto the system? Will all representations be uploaded on the day they are received?
Under what circumstances will representations relating to a planning application not be made public via the new system? (Some comments are currently marked "Comment not available for publication")
Will details of S.106 agreements be posted on the system? Will this be correlated with details of how the funds raised have been spent?
Will the agendas of meetings considering planning items link to the detailed information. ie. Do the "ModernGov" and "PublicAccess" systems interact effectively and automatically?
Why, when a user meets a "Document Unavailable" error due to not having accepted the councils terms and conditions eg. after following an external link to a specific application or document are they not offered the opportunity to click the "I agree" button at that point?
Why is the council being so restrictive and controlling in relation to re-use and representing the information? Why is the council opposed for example to planning applications being viewed in Google Maps; or for lists of planning applications being provided on third party sites? Could the council release its information, including the detailed geographical location data, in a free and open format?
What is the plan relating to the inclusion of more historical data?
What is currently preventing formal legal land searches being offered free of charge over the web?
How many people does the council anticipate will visit the council's offices to view the planning section of the council's website?