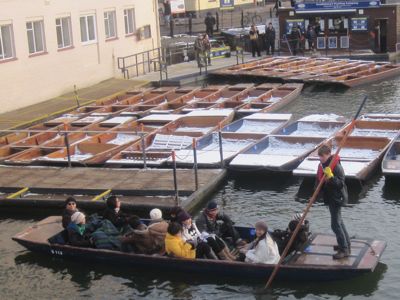 Cambridge punter wearing rubber gloves and a lifejacket earlier this year.
At Cambridge City Council's annual meeting on the 27th of May 2010 Tim Ward, the Liberal Democrat councillor for Arbury put the following question to the Executive Councillor for Community Development and Health, Cllr Bick. (Cllr Bick has also been given city wide responsibility for policing by the council.)
What can the council do about aggressive touting for punt hire?
Cllr Bick started his response by saying, rather redundantly in my view, that Cambridge is famous for punting, that people enjoy it, and it contributes to tourism. He also said that as the street system doesn't parallel the river people have to draw attention to punting on streets away from the river. He said the council has to consider the acceptability and manner in which it [punt touting] is conducted.
Cllr Bick appeared be reciting a briefing he had been given by offers as he reported the city council has various "powers and resources" two of which are statutory:
The City Council and Police can pursue anti-social behaviour orders (ASBOs) where activity causes harassment alarm or distress.
The City Council has a by-law intended to deal with punt touts causing annoyance or obstruction in a public place. (Cllr Bick reported that this provision had been in place since 2005 and that one prosecution had taken place under it – in 2007).
Cllr Bick then spoke about "a third power" where there is a contractual relationship and the council can include terms which bind operators. He explained that this was relevant to the La Mimosa punt station which is owned by the council. (According to a report to the Feb 2008 Strategy and Resources scrutiny committee the city council also owns the river frontages used by punt operators at Granta Place, Silver Street and Newnham Road. Cllr Bick's response suggests that there is no element of the lease/contract at those sites which regulates touting).
Cllr Bick told the meeting that PCSOs were trained by the city council in the by-laws and there was a member of council staff dedicated to dealing with punt touts patrolling the streets.
Cllr Ward used his follow up opportunity to say he was not sure about how much of a problem punt touting would be this year, and suggested evidence collection is the problem.
Cllr Bick replied to say that providing training for touts and operators on what's acceptable and what isn't is something the council's enforcement team is anxious to do in the near future. He also reported that the council was looking for powers to enforce by-laws with fixed penalty notices, and complained that this had not implemented despite assurances by the previous Government that it would be. He said that such powers would improve the activities of enforcemenet team.
I was shocked to hear Cllr Bick, who was elected as a Liberal Democrat, argue that the fixed penalties could, and should, be used when the evidence which would be needed to take people to court, wasn't present.
Cllr Bick then told councillors there was a possibility to: "put punt touting on same footing as street trading" but noted: "it is rather difficult to separate that from things like political campaining and leafleting – and other things people do on the street". Cllr Bick said the idea of street trading style regulation was: "something to look at".
My thoughts
I am puzzled by the fact the council are seeking powers to issue fixed penalty notices with respect to their bylaw as the police already have the powers to issue Fixed Penalties for causing harassment alarm or distress under section five of the public order act. Perhaps the council think the police are failing to fulfil their role – in which case councillors should direct them to where they think they are lacking when they next set the policing priorities for the city centre. The primary role of the police is to keep the peace and quiet and where punt touts disrupt that the police should act. Where the behaviour of punt touts is falling below the threshold at which the police ought to get involved, then I don't think FPNs are appropriate either.
ASBOs can be sought – not for punt touting specifically – but for "conduct which caused or was likely to cause alarm, harassment, or distress … and where an ASBO is seen as necessary to protect relevant persons from further anti-social acts". Violating an ASBO can incur up to five years imprisonment. My view is that such excessive criminalisation is not generally the right approach to the aggressive punt touting problem the city faces. If people are behaving criminally and genuinely aggressively then police action may on rare occasion be justified, but overall I think regulation and licensing is the best option. Punters operating from La Mimosa are heavily restricted in how they can operate as a result of their contract with the council for using the landing stage there. If all punters could be bound by such rules as a condition of their punt licence from the Cam Conservators that would appear to me to be a more reasonable approach. I have seen this discussed at meetings of the Cam Conservators though and their position is that they can't refuse to licence a boat unless its unsafe. However the Conservator's current position appears to be inconsistent with the fact they publish a code of practice for punt operators which states:
Subsequent failure to comply with the Code could be grounds on which the Conservators would refuse to register vessels in the future.
Surely that code of practice could be extended to cover the behaviour of punt touts, there is a problem though with the fact that the Conservators licence boats and not individuals.
I would support making the Cam Conservators a democratically accountable public body, subject to the freedom of information act (or dismantling it and distributing its responsibilities to the relevant councils and the Environment Agency). As with many other areas I think that here more openness and transparency would be very useful; the City Council, Conservators and Police could publish, perhaps jointly, their current policies and practices with respect to punt touting.
Neither Cllr Ward, or other councillors (Nimmo-Smith and Walker) who also are Cam Conservators declared their positions as Conservators when this question was being asked at the full council meeting.
See also
I have written articles on the other oral questions asked at the May 2010 full council meeting.