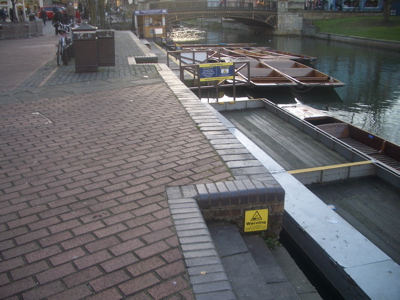 The Budget Setting Report to Cambridge City Council's Strategy and Resources Scrutiny Committee on Monday the 19th of January 2009 reveals that despite the council looking for savings in many areas of its operations it is planning to fund an enforcement officer to "support the regulation of punting".
The explanation of the request for this new position refers specifically to: "trespass on land owned by the City Council on the Jesus Green frontage" and states "If successful, the bid will enable continuation of a temporary Enforcement Officer post within City Services which carries out punting enforcement duties and which will be extended to March 2010″.
I believe Cambridge City Council should be encouraging and enabling competition between punt operators in the city, I am concerned that this council officer will be used to make it difficult for some of those running punting businesses to operate.
According to the Friends of Midsummer Common website the status of Jesus Green was confirmed as a common by the Cambridge City Council Act 1985. However the rights of common only refer to grazing not access to the land so do not permit punting operations. Even in terms of grazing the 1985 Act gave the council the power to exclude animals from the whole or any part of Butt Green, Jesus Green and Midsummer Common.
I have written a number of other posts discussing punting: