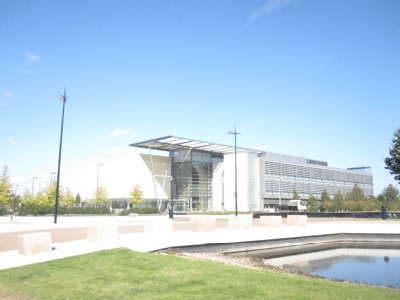 I observed a Cambridgeshire Horizons Board Meeting which was held in South Cambridgeshire District Council's Cambourne Offices (Pictured)
On the morning of the 24th of September 2009 I attended a Cambridgeshire Horizons board meeting. Cambridgeshire Horizons describes what it does as project managing the delivery of the growth strategy for Cambridgeshire. It is an organisation with twenty staff and an office based in Histon. It is a limited company and it is neither subject to the freedom of information act nor does it voluntarily comply. Its board comprises representatives of the district councils in Cambridgeshire, including Cambridge City Council, as well as the County Council and representatives of Chamber of Commerce, Cambridge University, Central Government and Addenbrooke's Hospital. Developers are also represented.
The body has a role in allocating public money from central government and is also responsible for reporting performance on various housing relating targets.
The A14
Cambridgeshire Horizons lists "A14 upgrading" as its top "Key strategic infrastructure project". Cambridge City Council is represented on the body by Liberal Democrat Sian Reid. Cllr Reid spoke a number of times during the meeting to stress Cambridge City Council's objection to the work.
Cllr Reid promotes a "dream Cambridge lifestyle of living close to work and cycling around". It is in that context, and without regard for practicalities, the economy, and consideration of the future of the city that Cllr Reid and some of her Liberal Democrat party collegues oppose the upgrading of the A14. I take completely the opposite view to Cllr Reid; I think the A14 needs to be upgraded urgently; both for economic reasons and to reduce the continuous death and injury toll.
At the meeting there was a discussion on if funding A14 improvements ought be included in a justification for a new tax on development. The meeting appeared to be erring towards saying no, mainly on the grounds that funding for the work has already been approved by central government – but mindful that if they did include it there would be discord within the group as Cllr Reid, on behalf of the Liberal Democrat Cambridge City Council would not support it.
Proposals to build on Marshall Airport
In her role as Cambridge City Council representative on the Horizons board and in her role as Executive Councillor for growth on the City Council Cllr Reid spearheads the efforts to get Marshall to move off Cambridge Airport so a sprawling new housing estate can be built.
I think Marshall as a company, and the airport, is immensely valuable to the city and and to try and push them out is a completly irrational policy which will be detrimental to the city.
The item on the agenda discussing this point was titled the: "Cambridge East Relocation Progress report". It was dealt with in only two or three minutes in the public session. When I arrived for the public section of the meeting at 10am I was told by the receptionist that Cambridgeshire Horizons had already been meeting for hours. Cambridge City Council's Chief Executive was at the secret meeting but did not stay for the public one. I suspect the key discussions were held in the secret meeting but have no way of knowing.
Powerpoint slides summarising Marshall's position were distributed at the meeting ( They are now available on Cambridgeshire Horizon's website). The only action taken was an agreement, following a proposal by Cambridgeshire Horizon's chair, to try get on with some "spin" and media management. While no vote was taken there appeared to be an agreement that the first bullet point on the slides of: "Marshall remains committed to the vision of Cambridge East as a vibrant and exciting new quarter for Cambridge – providing suitable relocation sites can be found" ought be sent to the press. Hopefully the press won't eat that message up too eagerly simply reprint it as Marshall have already made clear their reasons for their stance – admirably they view it as not in their interests to work against government and the rest of society. It has though been revealed they are considering sites across the UK in case they are forced to move their business. Marshall have also always made clear they have no intention of moving if it is not in their interests to do so. This point was made again today as the presentation said : "Any relocation site must demonstrate that it is in the best interest of Marshall customers, staff and shareholders".
A deadline of the 24th November 2009 was mentioned; this is the closing date for consultation responses to the East of England Regional Assembly on the Regional Spatial Strategy (I have written previously about this process and submitted my own response to the county council's consultation on the subject) .
The horizons board were told that there had been one statement agreed between defence estates and Marshall, and another might be sought before the deadline.
Progress Building Houses
There was one key graph presented to the meeting – it shows the current numbers of homes provided as well as:
A prediction of the future numbers of homes which will be built (the bumpy line)
An early warning of how few homes are to be completed in the near future based on how few have been started (the red line)
Board members mused about the futility of trying to gaze into a crystal ball. They asked for more details on the risks involved in not meeting targets for providing new homes and requested that a breakdown by district, including an assessment of risk, be presented to their next board meeting. Representatives of the councils indicated that this data is held by the individual councils, the Horizons officers are being asked to bring it together and present it. In terms of risk board members suggested the main risk from the point of view of developers was that of promised infrastructure not being provided.
Interestingly "affordable housing", which Horizons monitors, does not include just new builds but all new homes made available (Not quite all there was some discussion of how shared ownership schemes not administered via charities are excluded). Certain student accommodation doesn't count either, the officer giving the report offered to explain the details but the board appeared keen to get on to its last agenda item of "lunch" so didn't get the details offered.
For the last year the county had exceeded its performance target for overall delivery of homes. 2810 had been built compared to a target of 2344. It was reported that it was the larger sites which were doing well, with 1589 of those being on sites of 100+ homes. The target for providing (building and otherwise acquiring) affordable homes had also been exceeded in 2008/9. It was reported that the "open market home-buy" scheme – providing non-new build affordable housing, had been scrapped in order that all the resources aimed at providing affordable housing also go on promoting the building industry.
What Does Horizons Do?
Nigel Howlett the Housing Association Representative on the Horizons Board asked what was meant by the board "looking after" a range of other targets it appeared to have no influence on. He cited the example of the proportion of council housing which meets decent homes standards, asking how that was relevant to "growth". The chair and chief executive replied to say it wasn't relevant and Horizons had no role there – they were just a reporting conduit.
South Cambridge
John Onslow, Horizon's director for development reported on each of the development sites. His report stated: "Countryside Properties plc has so far declined to accept the offer of an HGF Flexible Fund equity investment deal that would have enabled early commencement on the Clay Farm/Glebe Farm site (total around 2,550 homes). The planning appeal proceedings are now in train and the public inquiry is scheduled to commence on 28 September 2009. "
North West Cambridge NAIB Site
The update on this was : The planning application for the main NIAB site (1,580 homes) is scheduled to be considered by the Joint Development Control Committee on 1 October 2009.
My article on this development.
North West Cambridge University Site – between Madingley Road / Huntington Road
Cllr Sian Reid objected to a sentence in the Horizons officer's report which stated: "The Inspectors have confirmed the challenging policy for Climate Change and Sustainable Design and Construction, which requires the development to be a step ahead of Building Control requirements." Cllr Reid reported that the University were arguing against the requirement to meet such a high level of sustainability specification; she said this was disappointing. She wanted the Horizons board to amend the wording so that it didn't support the university's view that these requirements were too strict and too demanding. (I don't think the University of Cambridge representative was present – if they were they didn't speak up). Alex Plant, the Chief Executive of Horizons suggested: "Stretching but achievable"; Cllr Reid didn't think that would help the City Council's case in court if it came to that. "Groundbreaking and achievable" was then suggested; Cllr Reid liked that and said it was groudbreaking, she said she was particularly proud of the fact that the city council had managed to win the argument in front of the planning inspector in the face of evidence from "high paid energy experts".
My article on this development.
County Council's TIF Bid
Mark Lloyd, Chief Executive of Cambridgeshire County Council, told board members that Next Tuesday the TIF bid proposals would be taken to the County Council. He said he expected a bid to fast track the Chesterton Station project to 2012. (While this is excellent news this it has been suggested to me this could be an attempt to distract from a decision not to apply for the full TIF bid).
HGF Funding Cut
A meeting with a minister, and all the region's MPs to discuss the proposed cut in the Housing Growth Fund was mentioned. This is to be held once Parliament is sitting again and after the conference season. (That struck me as odd, as surely this ought be a high priority for the regions MPs and I would have expected them to be more available now then when they are busy in Parliament (then again Parliament does usually look empty on TV). Cambridgeshire had the highest housing growth fund allocation in the country – £30m over
40% of Development makes no Contribution to Infrastructure
That was an interesting statement by the Chief Executive of Cambridgeshire Horizons; he said this was as only large developers make a contribution.
A new Tax on Development
The introduction in the report explains the background:
The Community Infrastructure Levy is a new charge, the primary legislation for which was enacted as part of the recent Planning Act. It will empower Local Authorities to impose a mandatory levy on new development, in order to fund local and sub-regional infrastructure. CIL will not wholly replace Section 106 agreements, but the use of Section 106 will be scaled back so that it is only to be used for securing affordable housing and mitigating the immediate site-specific impacts of development.
The meeting discussed what infrastructure proposals could be used to justify the new charge. This is when the discussion on the A14 which I mentioned above took place. It was explained that it was anticipated the new tariffs might be legally challenged if the proposals for spending the money were not clear and defensible. The proposal was that the board should aim to justify a level of say £40K per property and then only actually charge £20K – they thought that would strengthen their position defending any challenge The consultation on the regulations relating to this charge is still to occur. How the local tax would cope with developments close to boarders was raised as a concern; often infrastructure to support a development is required in a different county to the one where the development itsself is located. Development around Wisbeach, which is right on the Norfolk boarder was cited as an example. The Chief Executive observed that all inland counties had this kind of problem, observing : "we're not Cornwall".
Health and Development
The representative of Addenbrookes Hospital asked if new health related development would be asked to contribute to infrastructure under the proposed new tax. He asked if money would flow in the other direction – also asking how much money per new house would flow into health. I don't think he got an answer.
Zero Carbon Public Buildings
The board then got an insight into some of what Horizon's twenty staff must do with their time. A presentation on zero carbon public buildings was given by an officer. She estimated 60 new public buildings would be built in the county between now and 2021. She appeared to be suggesting that Cambridgeshire Horizons ought be doing research which I would have thought would be better placed in Universities. The Addenbrookes representative noted that the National NHS Sustainable Development Unit is based at Fulbourne, he wondered if Cambridgeshire Horizons would like to take on some of their work too. I don't know if he was suggesting Horizons staff were scrabbling around looking for work to do, but that was a thought which crossed my mind. Horizons Chief Executive Alex Plant, and Cllr Reid both said they were unaware of the NHS unit's presence just outside Cambridge.
Access to the Papers
Cllr Reid apologised for not having read the committee's papers properly; and said she had only recieved them the day before as she had been away. (Perhaps at the Lib Dem Conference?) She implied that she had been waiting for a paper copy. The documents have been available online; perhaps the Lib Dems don't have the internet at their conferences?
Next Meeting
The next meeting is to be in Cambridge's Guildhall. Board members complained – asking: "is there parking?" (apparently none of them were keen on using the Park and Ride and getting the bus). Many tried to change the venue – questioning if the council chamber was appropriate for a board meeting – Cllr Reid joined them in saying the room was "terrible" but expressed an alternative view that Cambridge City Council could get some income from Horizons by hiring the room to them.
Sir
Cambridgeshire Horizon's Chair – is David Trippier, his name plate said "Sir David Trippier" and a couple of board members addressed him deferentially as "Sir David".