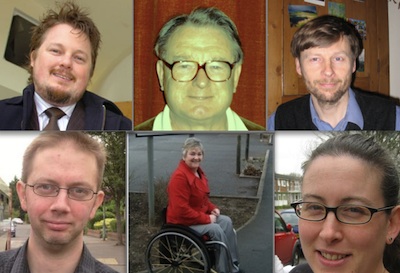 Candidates in the East Chesterton By-Election
On Thursday the 16th of September 2010 there will be a by-election in East Chesterton for the County Council seat left vacant by the resignation of Liberal Democrat Siep Wijsenbeek who had only been a councillor since June 2009.
East Chesterton is a ward which has inflicted a series of terrible Liberal Democrat councillors on the city, many of whom have not lasted very long. Mr Wijsenbeek is just the latest East Chesteron Liberal Democrats to have disappeared recently (I'm not sure he really ever appeared in the first place). Just before the June 2009 elections City Councillor Marian Holness stepped down and earlier this year one of the East Chesterton Liberal Democrats, Cllr Liddle, moved out to Woodditton but didn't promptly resign from her council seat (she never spoke at any of the full council meetings I witnessed and was often absent from North Area committee meetings).
The candidates in the by-election (clockwise from top left in the image) are:
Matthew Thomas Bradney, Conservative
Peter Burkinshaw, UK Independence Party (UKIP)
Peter Harry Pope, Green Party
Anna Gordon, Cambridge Socialists
Gerri Bird, Labour
Ian Geoffrey Manning, Liberal Democrat
The first I knew of the election was a re-posting of a City Council press release on cam.misc by Cllr Colin Rosenstiel. I scrape the Cambridge City Council news webpages regularly and only obtained a copy of the election announcement on the 26th of August after the nomination period closed on the 19th. I did not notice any publicity surrounding the call for nominations either in the ward, or in the local media. Quite how anyone considering standing would be expected to find out about the by-election I do not know. I expect this might have something to do with the fact all those standing are party members.
It is excellent to see such a full set of candidates; it's something which doesn't always happen elsewhere in the country. At least some of the the 1% or so of the city's population who are members of political parties were able to find out what was going on and have taken some interest.
Secrecy in East Chesterton
East Chesterton is an unusual part of the Cambridge in that often public civic decisions which affect the area are made behind closed doors. The local ward based policing meetings are run, not by the police as elsewhere, but by a friend of Cllr Blair, Lil Speed, who personally decides who is allowed to attend (I am expressly not invited). Another example of civic secrecy in the ward arose when instead of debating local issues such as parking restrictions in the Church Street area recently Cllr Blair ran a secret meeting to discuss the plans. Councillors also attend meetings of the Old Chesterton Residents Association (which doesn't meet in public) and even at one point tried to give that body the final say on plans for refurbishing the Penny Ferry car park. These are just examples of a persistent and very localised trend.
The Liberal Democrat candidate, Ian Manning has supported this "engaging with a select group" approach while writing in the comments on one of my articles and I suspect that approach is what he is alluding to when he said in the press release announcing his candidacy:
I'm a firm believer that if you get everyone in a room talking then you can sort out a problem.
I think that the East Chesterton election is to a large extent a referendum on Liberal Democrat secrecy; and a vote for Ian Manning would be a vote for the status quo to continue.
The latest Liberal Democrat Cambridgeshire County Council manifesto I can find was published in 2008, it makes none of the commitments to openness and transparency contained with in the Lib Dem's City Council manifesto.
Matt Bradney
I think Mr Bradney's candidature in this election is ludicrous.
During much of the time I have been observing the North Area Committee the residents of East Chesterton, through their elected representatives, had been clamouring for Mr Bradney to attend a meeting in his then capacity as County Council Cabinet member for transport but Mr Bradney repeatedly declined the invitations. For him now to be asking those he refused to meet and engage with to elect him is surely never going to wash. East Chesterton residents wanted to ask about buses, the effect of the guided bus on the area, and the proposals for the new Chesterton Station, but Mr Bradney remained aloof.
Cambridge News Article on Mr Bradney's refusal to visit the North Area Committee.
Mr Bradney found plenty of time to come into Cambridge to do television interviews on the guided bus and new house building in the region, but didn't want to meet the elected representatives of those living in the north of the city, or members of the public who wanted to ask him about changes to local busses.
Mr Bradney is also one of the key individuals who has been responsible for the guided bus; widely regarded as a badly mismanaged project and a complete waste of money. East Chesterton, and the north of the Cambridge in general is an area which will be negatively impacted by the new busses, if they ever run, with no benefits being brought to the area.
In his favour Mr Bradney has a campaign blog; however it is light on content. The campaign has also prompted him to start tweeting so he may be more accessible to city residents if he is re-elected than he was as a cabinet member.
Peter Burkinshaw
Mr Burkinshaw was a candidate for the Cambridge seat in the general election. He was the only candidate to be clearly and unequivocally in favour of renewing our nuclear power stations but that was , I think, the only policy which I agreed with him on, and that's not something he can reasonably be expected to pursue effectively within the County Council.
Mr Burkinshaw has stood for election in East Chesterton before, in 2009, during that campaign the Cambridge Cycling Campaign asked him about cycling provision. He responded:
Provision for cyclists is already adequate. Please remember that motorists are the people who pay to use the roads whereas cyclists are "freeloaders". They are entitled to use the roads but not disproportionately.

If everyone cycled, as you suggest, there would be no roads to ride on.
Questions I would like addressed:
Policing
What are the candidate's views on policing, particularly on Fen Road? Mr Bradney has tweeted to say "We need far more policing and a much better safety strategy for the area". I think that needs some more detail.
Personally I think the area needs fewer PCSOs, who are in abundance at 9am on weekday mornings, and for them to be replaced with real police officers working around the clock. More policing will not solve the area's problems if the police continue to focus on anti-social behaviour, rather than criminality. If the police continue to abuse the new labour anti-social behaviour laws to by-pass due-process and deny those accused of offences a right to a fair trial then the police-public relationship in the area will continue to deteriorate.
I would like to see the candidates comment on my article: "Councillors Approve Police Seizure of Cars Which Avoid Speed Humps".
I think the area's the ward based policing meetings ought be run by the police or council, and they should feed suggestions for priorities to the North Area Committee. I'd like to know what the candidates think of that.
Will the candidates attend the North Area Committee regularly and will they participate in setting police priorities? (Generally county councillors have a terrible attendance record at these meetings, and many LibDems are reluctant to play an active role in setting police priorities or overseeing the work of the police).
How Long has Mr Manning been a Lib Dem?
In January this year Mr Manning was particularly scathing about Liberal Democrat planning policy how long has he been a party member what does he now think of the party's policies on :
Many poor LibDems appear to have been recruited in desperation when the party has been struggling to find a candidate.
Education
I think Education is one of the most important things the County Council does, its an area where I largely support the Liberal Democrat county council manifesto. I would like to know the candidate's views on strengthening the connections between schools and all those living in the local area. I think this is an area where the Conservatives running the county council are performing poorly. (more).
A particular area which needs addressing in East Chesterton is the number of those aged 16-18 who are not in full time education, work or training. More data needs to be collected on the number of teenagers who are only formally occupied for a few hours a week and help directed to them to assist them to find a role in society.
Clearly there are many many other important areas, particularly transport, the building of new homes in the region which it would be desirable to know the candidate's views on. I'm not an East Chesterton resident but if I was I think I would be struggling to find enough information on which to base a voting decision. Additional links I have found include a profile of Gerri Bird and a rather vacuous election statement from socialist Anna Gordon both written for a previous election when they were standing for the city council. If they can't even refresh their online materials for the new campaign how effective will they be as councillors?
Anna Gordon is clearly against public sector cuts, but neither she, or the Cambridge Socialist manifesto makes an argument for any alternative. The question of who pays is never addressed in relation this or any of the other policies promoted, so essentially the argument appears to be we ought all get poorer as a nation- but that's OK if we all get poorer together equally (despite it inevitably leading to us not being able to afford the quality of healthcare, education etc. we can now).
Campaign Snippets
There has been little physical indication of the election in the ward during the campaign. Latterly though a Lib Dem orange diamond sign has appeared in a garden of a house on the Old Chesterton Road.
In a twitter exchange MP Julian Huppert was happy to allow Liberal Democrats on Cambridge City Council to take the credit for fixing potholes on Green End Road despite the highways being the responsibility of the Conservative run County Council.
However MP Julian Huppert managed to spend a couple of days during the long Parliamentary recess to campaign in the ward. I was surprised to see Mr Huppert supporting Ian Manning so actively due to Mr Manning's strong anti-transparany and in my view anti-democratic views.
Mr Bradney started his campaign by having one of his Conservative Colleagues make a bunch of reports on FixMyStreet
Mr Bradney's second tweet of the East Chesterton campaign reads: "Canvassing is such fun. Had a guy call me a scum bag and try to grab my rosette… and I'm the scum bag?". (During election campaigns only candidates (and polling agents) are (legally?) allowed to wear rosettes.)
Ian Manning has also joined twitter but he hasn't yet tweeted and I'm his only follower and the only person he's following is Mr Bradney.
According to her Twitter feed East Chesterton councillor Liberal Democrat Clare Blare was in Sharm El Sheik during the initial period of the campaign, so well out the way.