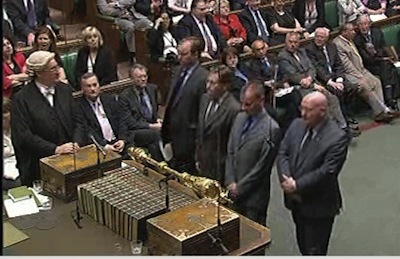 Tellers report the result of a vote on an ambiguous SNP amendment on Trident which was supported by just 27 MPs.
On the 8th of June 2010 MPs were discussing the coalition's programme for government in the House of Commons. An archaic tradition, which does nothing for making Parliament more accessible and easy to follow, means that they do this in the form of a debate on how MPs ought phrase a letter of thanks to the Queen for attending Parliament and reading out the government's proposals. Scottish National Party MP Angus Robertson proposed adding a section to the note of thanks to the Queen saying:
… but respectfully request that your Government includes as part of its Strategic Defence and Security Review a full examination of the Trident nuclear missile system and any possible replacement.
My view is that the hereditary monarch ought have no role in government, and if MPs are to debate the government's plans with respect to the defence of the country they ought do so directly and not via this absurd charade. The lunacy of the parliamentary process isn't the only source of confusion. What's much worse is that Mr Robertson's amendment wasn't, at least in my view, particularly clearly written. What it appeared to be doing was asking for the consideration of abandoning the UK's nuclear deterrent entirely as an option in the upcoming defence review; given the pro unilateral nuclear disarmament policy of the SNP who were behind the motion I'm sure that was its intent. However as written the motion could be read as calling for a full examination of "any possible replacement" ie. expressing support for investigating alternative nuclear deterrent options other than renewal of the existing Trident system. I can understand that some of those in favour of getting rid of any form of UK nuclear deterrent may not have wanted to support a motion to which the latter interpretation could be applied.
I hope the people of Moray are following the performance of their MP Angus Robertson in Parliament as I don't think someone who is unable to draft an unambiguous amendment ought have any role in formulating legislation.
Despite a number of Liberal Democrat MPs, including Cambridge's Julian Huppert, having stood for election on a platform of discontinuing the UK's nuclear deterrent in any form they did not vote for this SNP amendment. This may have been due to the ambiguous wording or it may have been that they've put power, the unity of the coalition, and their party allegiances, ahead of the principles on which they stood for election. During the election campaign Mr Huppert cited the maintenance of a nuclear deterrent as the key area where he disagrees with Lib Dem party policy. Around two hundred and eighty MPs, just under half, including Mr Huppert, didn't vote at all in the division. Under the current system there is no way of knowing if those who abstained made a positive decision to do so or if they were just absent. Abstaining MPs could easily shout "I abstain" into the nearest microphone when votes are called and if they insisted their "interventions" were recorded in Hansard their positions would be clear and the transparency of Parliament would take another step forward.
The vast majority of Liberal Democrats (51/57) voted with the Conservatives against the amendment. All but 15 Labour MPs didn't vote at all.
I could not spot Mr Huppert in the chamber prior to or after the vote and he also did not vote in division which immediately followed despite that subsequent vote being a very well attended division (the house was pretty full and 592 MPs took part), this suggests Huppert may have, intentionally or not, been absent. As the later vote (while literally again about sending a thank you note to the queen) is generally seen as a vote of support or not of the coalition's programme for government Huppert's failure to participate was again notable.
I can understand members of the Government voting no; both on the grounds of avoiding being asked by Parliament to do something ambiguous and on the grounds of voting against the clear intent of the motion. The Liberal-Conservative coalition's programme for government states:
We will maintain Britain's nuclear deterrent, and have agreed that the renewal of Trident should be scrutinised to ensure value for money. Liberal Democrats will continue to make the case for alternatives.
The Liberal Democrat use of "Alternatives" appears to me to be designed to allow it to be read by different people in different ways. They are free to suggest to some it means: "alternative nuclear deterrents", and to others "alternatives to a nuclear deterrent". This is the way Liberal Democrats operate and it is not in my view a honest and upstanding way to behave.
My own view is that the coalition policy of maintaining Britain's independent nuclear deterrent is the right one. I think the strategic defence review ought consider all ways in which that can safely and effectively be achieved and with a view to keeping costs as low as possible.