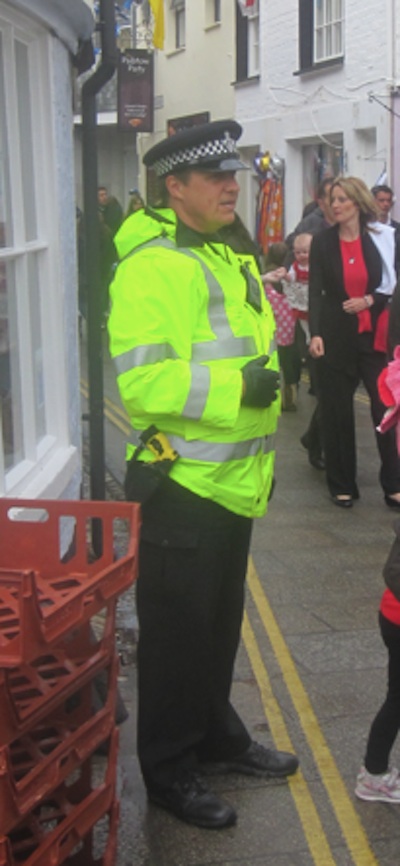 TASER armed officer on duty outside a pasty shop in Padstow, Cornwall.
TASER use by Cambridgeshire police is currently restricted to their Tactical Firearms Unit.
I support this as I am concerned that having officers routinely armed with TASER will damage the relationship between the police and the public and will lead to an escalation of the level of force used by the police.
It has now emerged that the force's has aspirations to train more officers to use TASER weapons. These plans were revealed during the Police Authority scrutiny committee on Tuesday the 13th of December 2011, shortly after I was thrown out for pointing out a key omission in the public documents pack.
A report to the scrutiny committee meeting had noted that Cambridgeshire's force policies in respect of TASER were different than those in neighbouring forces. The report noted that:

"Bedfordshire have trained 34 officers within Roads Policing and have plans to widen this".
An urgent report from the committee to a meeting of the Full Authority to be held on the 20th of December 2011 reveal that the Cambridgeshire police chiefs present at the scrutiny committee meeting reported an intent to change their policies. The urgent report states:
The Constabulary reported their future intentions in respect to Taser. It was noted that the selection and training of officers, storage of Taser and scenarios when Taser would be deployed were to remain the same. The intention was to open up access to training to a greater number of officers.
Source: p12 Report of Committees and Panels (PDF)
This isn't a particularly informative statement. It prompts an awful lot more questions than it answers.
It is not clear if non-firearms officers are to be trained to, and permitted to, use TASER or not. If they were that would presumably be a change in the selection criteria. I suspect the police are being very slippery with their wording.
My concern is not primarily with who within the force is trained to use TASER, I'm happy for as many officers as possible to be familiar with its use, and capable of using the weapons in extreme circumstances. What I am concerned about, and do not want to see, is routine deployment with officers responding to calls or on patrol.
If there were firearms trained officers in the force who have not yet been trained to use TASER I would be very concerned. I always want to see armed police officers have TASER available as a less-leathal option to turn to instead of their firearms. I would fully support training all firearms trained officers (if their usual role is in a tactical firearms unit or not) to use TASER.
I think the increased arming of officers with TASERs is a strategic matter which the police authority should determine. It ought not be considered an operational matter for the Chief Constable. If there's a need for a debate on if the decision is an operational one or not then that debate ought take place in public, and not as it has done in the past in a behind closed doors between the chief constable and chair of the police authority.
I think the police authority ought base their decision on evidence from real life use of TASER in areas where it is more widely deployed. However in the past the police authority have preferred to based their decisions on rather abstract scientific research on computer simulations, the effect of electric shocks on animal tissue, and the effect on calm, healthy volunteers. I think the authority should also consider the impact on the public perception of the police, as the Metropolitan Police Authority did, when making their decision not to allow the routine deployment of TASER to front line officers.
I would like, and am pushing for, regular publication of TASER statistics by the Home Office, so that we can see how greater deployment of TASER has affected police TASER use elsewhere in in the UK.
Earlier this month Channel Four reported a large rise in police TASER use they had to survey police forces themselves to find this out as the Home Office data is not being published in a timely manner.
See Also