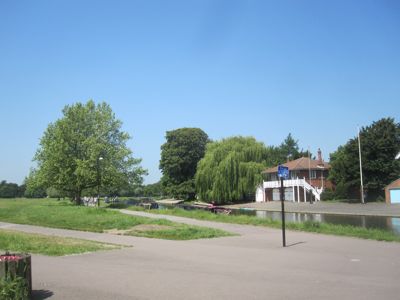 Cambridge City Council has felled many trees from Midsummer Common; significant funds have been allocated for replacements.
During the "open forum" of the 24th of June 2010 West Central Area committee where members of the public are able to question councillors I asked:
Is there a date yet for the proposed meeting to discuss new tree planting on Jesus Green, Midsummer Common and New Square? If, or when, there is a date can it be publicised openly?
Cllr Cantrill, the Executive Councillor for Arts and Recreation, who has responsibility for the city's green spaces, responded. He said "there is no date for the tree workshop to discuss broader issues" and added that when it was decided it would be publicised and he would specifically tell me the date.
Following up on that response Barry Higgs, the secretary of the Friends of Midsummer common, asked for a "paper" on the council's proposals to be produced in advance of the meeting so there would be something to discuss.
Cllr Cantrill responded but insubstantively and without addressing the question. He said the meeting would be: "consultation with certain residents associations".
John Lawton, the chair of the Brunswick and North Kite Resident's Association also followed up. In response to Executive Councillor Cantrill's statement that there was not date for the meeting, Mr Lawton told Cllr Cantrill: "We have a date; we have an agenda, but there are no proposals".
This failed to prompt any more information from Cllr Cantrill and the chair, Cllr Kightley, moved on to the next public question.
Much later on in the meeting, during an item on Environmental Improvements, City Council officer Andrew Preston, spoke about the Midsummer Common and Jesus Green tree planting. The report to the meeting on the Environmental Improvements stated only:
A Tree Management and Planting Seminar is being organised. The seminar will include a talk about the management and planting of the trees on open spaces and focus on Midsummer Common and Jesus Green followed by a walk of the two areas and then get invitees involved in the plans for the future.
In his oral update, Mr Preston referred to my question, and directly contradicted what Executive Councillor Cantrill had said in response. Mr Preston said that a meeting was scheduled for the 1st of July, and told the committee that it was only open to invitees who were "local stakeholders".
This prompted the meeting's chair Cllr Kightley to express confusion. Cllr Rosenstiel verbalised what Cllr Kightley was showing on his face. Expressing incredulity at what was going on he said: "here we have decided on a date but not on who to involve", he appeared to suggest that even he, as a ward councillor for the area, was not aware of the 1st July meeting. Cllr Kightley looked in my direction which I took as a prompt to point out the inconsistency between what Executive Councillor Cantrill had said in response to my question and what had been reported by the officer. Cllr Cantrill became agitated and he ranted and complained that I had misrepresented what he said and claimed not to have said there was no date set for the meeting in his original answer, he went on to claim that I had previously mis-represented what he had said as well (presumably he was referring to an article on this website). I asked if by agreeing to openly publicise the meeting it would be reasonable to infer he would be making it open to all. Cllr Cantrill stated that his commitment to publicise the date of the meeting was different to making it a public meeting open to all and stressed that by agreeing to publicise the date he was not agreeing to open up the meeting.
Later, during a break in the meeting both Mr Higgs and Mr Lawton let me know that what I had said was accurate and Cllr Cantrill had indeed stated that there was no date set. I would hope that the minutes will also record Cllr Cantrill's inconsistency. Mr Lawton said that his residents association had been invited to send a representative to the meeting, which will be outside on the green spaces, on the 1st of July and offered to help me attend; he didn't know for sure what time the meeting would be, but thought it was in the evening for a couple of hours – something like 17.30 till 20.00.
Brief Background
A lot of trees have been felled on Midsummer Common in recent years and the City Council has not replaced them. In early 2009 the City Council proposed a scheme of felling, tree moving, and new planting for Jesus Green, Midsummer Common and New Square. I and others successfully campaigned against these proposals on grounds including excessive felling of good trees, encroachment of the open space on Midsummer Common, and a lack of a long term plan and vision.
My comments on the April 2009 felling and planting proposals.
On the 30th of April 2009 the West Central Area committee rejected their officer's proposals for tree works and approved £50,000 for new planting in the area. This is very large unprecedented sum which has the potential to allow us to plant new trees and place great foundations for the future of these three green spaces over the next century or more.
My article on the discussion at the 30th April 2009 West Central Area Committee
My View on Cllr Cantrill's Comments
It is possible that despite the clarity and brevity of my question Cllr Cantrill, who has only been in the role of Executive Councillor with responsibility for green spaces for a month or so was confused between the two meetings on trees which his predecessor had promised. One is a meeting on city wide tree strategy, which which no councillors or officers turned up to when it was last scheduled and the other the proposed discussion on planting on Midsummer Common and Jesus Green which was mentioned in the Environmental Improvements report. It may be these two events are being combined, but if that's the case it wasn't made clear.
Clearly had this been the case though he ought to have explained and apologised when the Environmental Improvements section was reached and the officer revealed that a meeting was planned for the 1st of July. His rant was entirely unjustifiable (this just the latest outburst I have witnessed from Cllr Cantrill, one previous one being in response to a question from Cllr Howell about openness and transparency in Love Cambridge, and another occured during a debate with the Leader of the opposition at a full council meeting Cantrill denied ownership of a fancy 4.0L Jaguar sports car which was parked on his drive. Cllr Cantrill also refused to answer a public question I asked at a full council meeting on why council officers in a department he had democratic responsibility for were threatening graduate students with court action for non-payment of council tax for which they weren't eligible.)
I had not expected the tree planting meeting to be scheduled so soon after I was asking my question, but there are still a few days for Cllr Cantrill to comply with his commitment to publicise the meeting.
Cambridge City Council has a webpage dedicated to Jesus Green Consultations yet the meeting on the 1st of July doesn't feature on that.
Cllr Cantrill and his fellow Liberal Democrats have been elected on a platform of openness and transparency. On the 6th of May 2010 Cllr Cantrill was re-elected having stood, along with the other Lib Dems on a manifesto stating:
… our fair deal for Cambridge means honouring our commitment to transparent and accessible local politics and maximising direct local input into local choices.
I think that with just a few months of his re-election Cllr Cantrill has substantially breached that election promise by not openly publicising the date of the meeting well in advance and by keeping it restricted to selective invitees. Cllr Cantill and his fellow LibDems appear to be trying to maintain their support for residents' associations – which in practice in Cambridge means special treatment and access for a largely LibDem supporting elite. They have been doing this for many years, and Cllr Cantrill and others have been re-elected on the basis of their record of this kind of behaviour – so perhaps they do believe they can claim an electoral mandate for it. At the last full council meeting the Lib Dem Leader, responding to a question from the leader of the opposition, claimed that by voting Lib Dem the people of Cambridge had given them the authority to make decisions in secret (in closed LibDem group meetings) rather than public council meetings – an even more blatant disregard for the published manifesto on which they asked the people of Cambridge to vote for them.
My Comments on What Happens Next
I think an opportunity is being missed if the meeting is not open to the public. This will exclude any possible input from many in the city who have an interest and expertise in tree matters, for example those involved in managing the university's trees. It will also exclude almost all of those who use Midsummer Common and Jesus Green and many residents who are not members of residents, or "friends" associations will be disenfranchised too. Despite Cambridge having a very healthy news media – with the Cambridge News the new Cambridge First, various student publications including the excellent Cambridge Tab website, as well as many local sites taking an interest in civic matters holding this meeting in secret will prevent them from covering the discussion.
In terms of the tree planting I have written previously on my views. Important factors to me include:
Maintaining the open space in the middle of Midsummer Common and not significantly encroaching on it with new tree planting.
Getting on with new planting, especially on Midsummer Common by the river – and starting with new planting and not with felling.
Planting a new substantial avenue of trees with a long lifespan; (There are various options for locations and maybe not all one species).
Having a long term plan – and retaining funds for use in the future eg. to replace the cherry tree avenue on Jesus Green when the time comes.
I think the horse chestnut avenue on Victoria Avenue could be managed by planting replacement trees in the gaps.
The very old trees on the riverside which come to life each year ought be retained despite having a rather pillar like shape
See also My comments on the Jesus Green trees and my comments on the Midsummer Common proposals for more of my views on what there is potential to do.
I believe any proposals will have to be considered both by the West Central Area committee, and according to the City Council's protocol on tree works.
Related Articles