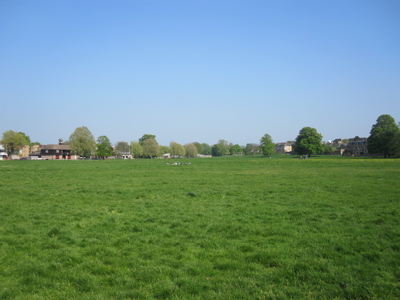 Substantial plans for felling, transplanting and planting trees on Midsummer Common, Jesus Green and New Square were taken to Cambridge City Council's West/Central Area Committee on the 30th of April 2009.
The plans involved:
Playing chess with the trees on Jesus Green, moving them into straight lines.
The felling of healthy trees on New Square in aid of the council's grandiose plans for planting a new straight line of trees along one side, and enclosing the space.
Removing all five oaks from Jesus Green, because they are not in the desired tidy straight lines.
Prematurely felling many trees on Midsummer Common, including some planted quite recently.
Removing scattered informal planting from Jesus Green, but introducing it to Midsummer Common.
Encroaching on the open space on Midsummer Common with new planting.
Councillors decided:
Not to give the go-ahead for, or even express any collective support for, the specific plans presented to them.
Not to do anything until the council's new protocol for making decisions on new tree works has been adopted. Councillors confirmed the new protocol would be followed with respect to any works on Jesus Green, Midsummer Common and New Square.
To hold a public seminar/workshop with tree officers about the options for what could be done on Jesus Green / Midsummer Common and New Square.
To allocate £50,000 from the West/Central Area Committee's environmental improvements budget for tree works, and to instruct officers to seek other sources of funding such as S.106 contributions from those building new homes in the city, environmental charities and the budgets of other area committees.
In addition the Executive Councillor for Arts and Recreation finally grabbed hold of the reins which she ought to have been holding all along and insisted officers show her, and allow her to approve, future proposals, including ideas which are to be consulted on, before they are made public. She also asked for proposals for a dedicated central budget for tree works on open spaces to be included in the next budgeting round.
Cllr Smith claimed that the city council's draft tree protocol was already out for public consultation. While I have published a copy on my website, and have commented on it I do not believe it has yet been published by the council.
My Contribution
During the discussion of the item I spoke to say I thought that the fact that this meting was not to make the final decisions on any of the proposals ought to have been publicised beforehand (it had clearly been decided beforehand). I noted that in September 2008 plans for tree felling to enable consistent new planting along one side of Parker's Piece had come to the West/Central Area committee and a few weeks later the trees had been felled.
Cllr Julie Smith responded on this point to say that the City Council's procedures for making decisions on trees had changed significantly since the work on Parkers' Piece and Queens' Green was approved in September.
The meeting's chair had explained that the West/Central Area committee that evening wouldn't start discussing individual trees. I sought an assurance that councillors would, when it came to it, get involved in taking the detailed decisions. I said that elected councillors, who can be voted out, ought make the decisions, rather than officers.
Cllr Julie Smith's response was that councillors are interested in trees; and that the new protocol, whatever that turns out to say, would be followed.
I urged councillors not to approve funding for the proposals and then to enter consultation after having already given the go-ahead, I said that this approach looked very bad. When it came to the decision councillors were careful to explain that while they were allocating money for tree works, there was absolutely no connection between the money allocated and the proposals in front of them – this was exactly what I was seeking.
The meeting's chair discouraged members of the public from commenting in too much detail about the specific proposals so I made very brief comments on each of the areas:
New Square
Healthy trees were proposed to be felled so that the council could plant a straight line of new trees and there was an aim to enclose the square. I said I opposed the plans to fell healthy trees in aid of grand plans, and that I thought the outlook / aspect looking on to the square across the grass to the trees in the middle was a desirable feature. I suggested trees around the edges of the square would shade the houses and not improve the appearance of the square.
Councillor Rosenstiel said he was involved in the original decision to plant the trees it was proposed to fell. They had been planted following public consultation in 1983 when the square reverted to green space, having been used as a car-park. He said he wanted to get best value for those trees and agreed with me that they ought not be prematurely felled. He called for a specific, localised, consultation about the plans for New Square.
Midsummer Common
I commented that the proposals for Midsummer Common involved encroaching on the central open space. I accepted that the proposals appreciated the area to be used for the fair and bonfire was sacrosanct and that planting ought remain restricted to the edges. I said that I thought the proposed planting ought be even more restricted to the edges than proposed.
I also noted what I feel is a missed opportunity to plant along the city side of the North Terrace – Cutter Ferry bridge axis creating a new strong feature for the future there.
I asked why "Nettle Trees" were specified and suggested the whole chestnut avenue along Victoria Avenue needed to be treated as a whole. I said I supported the current approach of maintaining the avenue, and didn't think a row of cherry trees on Jesus Green was an adequate substitute.
Jesus Green
I said I opposed "playing chess with the trees" moving them into straight lines, and that particularly with respect to the oaks I didn't see why they couldn't remain as a counterpoint to the avenues.
On the cherry tree avenue, I asked what its expected life span was, and why the report said three apparently healthy trees needed to go now.
The Debate
The item was kicked off with a statement from the Chair, Cllr Kightley, he said the committee would consider "principles only" saying there was "not a remit in the committee to make decisions on the fine detail that's beyond our scope", "if we agree anything in principle it will go out for wide consultation".
Many councillors including Sian Reid, Julie Smith and Mike Dixon started by welcoming the proposals put forward by the tree officers; this initially worried me but the support of the committee was not sustained. Cllr Bick said "I welcome the tree proposals in principle, but that's as far as it ought be taken". He said that the city council's proposed protocol for making decisions on trees was a "good protocol" but said he wanted an assurance that there would be the same quality of consultation when planting trees in the first place as there would be when felling trees. There is consideration of tree planting in the draft new protocol, but I agree with Cllr Bick it could be more clearly given a higher profile. Cllr Bick was the primary proponent of seeking other sources of funds for the tree works in addition to a contribution from the West/Central Area Committee.
Martin Thompson – JGA
Martin Thompson spoke on behalf of the Jesus Green Association. He explained the JGA was supported by the council and represented a wide range of users of the green. He started asking, as I had, about how decisions were going to be made. He said that if councillors were going to proceed to a vote on the proposals in front of them it was important to address them.
He spoke about the conflict between two different fashions for tree planting; first the highly ordered planting in straight lines currently favoured by the council for Jesus Green verses the more informal use of drifts of trees which had been in vogue just a few years earlier. He expressed concern that tree plans go out of fashion and become "out of date".
He spoke of Capability Brown's proposals which he presented to the University in 1779 to landscape Cambridge's backs in the style of a country house garden as an example of a fashion it was fortunate the city avoided.
Mr Thompson expressed concern that the plans had been titled ; "Tree planting" in the committee's papers. He pointed out this was misleading given the extent of felling and transplanting included within them. He asked a pertinent question about the expected success rates of transplantation, saying that this had not been covered in the report.
A section of the report which Mr Thompson on behalf of the JGA agreed with was then quoted:
… it is considered unacceptable to fell a healthy tree with a long life expectation unless the community and Members recommend that it should be removed in the long-term interests of the design of the tree planting for the next century.
Having agreed with that sentiment he expressed concern about the report's constant use of the word "renewal", he wondered what exactly that meant and appeared to be concerned it might involve premature felling and replacing of existing trees.
He drew attention to the fact the "green boundry" (as opposed to the river-side boundry) of the swimming pool had not been properly considered.
Mr Thompson suggested the city council's tree department was under resourced (I disagree I'm shocked the city has even one full time tree officer, never mind the 4-6 it appears to have). He was concerned that felling had become the first resort of the city council as it didn't have the ability to look after older trees. I think the pressures might be slightly different, new trees need watering, mulching, weeding, staking and protecting they create work for the tree officers whereas established trees generally look after themselves, so tree officers trying to justify their jobs might embark on felling the established stock and planting new trees.
Mr Thompson's statement finished by generally welcoming the principle of a new protocol for making tree related decisions.
He put four specific questions to the committee:
What is the scope and role of this committee? What is the whole timetable for making the decisions on these tree works going to be?
When does the new protocol for making decisions on trees come into force? Will it apply to these plans?
Who will have the final say – will it be Executive Councillor Julie Smith?
Is it true that when selecting tree contractors the tree officers have to take the lowest quote regardless of quality?
Cllr Julie Smith responded, without much clarity (though more clarity did come later from the committee as a whole). She said that the tree protocol was "out for consultation now" (It's not as far as I can see).
On tree contractors, it was confirmed that the lowest quote was always taken, but that contractors were pre-vetted.
George Eccles
Mr Eccles had asked to address the committee on the subject of trees; he spoke briefly to say he was happy that committee appeared to be moving towards a sensible consensus and he felt that the concerns he had intended to raise about the plans would be addressed.
Councillors' discussion
Councillors then debated what to do among themselves. Cllr Smith proposed ; "not making any decisions on specifics", and then said that councillors needed to be in position to make informed decisions in the future and proposed "a large tree seminar in July".
Cllr Cantrill supported Cllr Smith and stressed that the committee would not be deciding to spend money on any specific scheme that night. He explained that allocating a sum of money to trees generally would reinforce the fact that the consultations to be held were meaningful; as there was allocated money to be spent, a genuine question of how to spend it was being asked. Clearly wanting to distance himself from the officers' proposals he repeated his desire to allocate money, but not to show any support for any specific detailed proposals.
Friends of Midsummer Common
Mr Baxter, the chair of the Friends of Midsummer Common addressed the meeting. He started by saying that : "We do have a conservation plan for Midsummer Common" and that it was clear that there was a need to plant trees. He expressed concern that the conservation plan was produced eight years ago and there had been little progress, he was concerned that the committee would "kick the idea back into the long grass for discussions". I agree – consultations don't need to be long and drawn out, there ought be a rapid timetable for getting some action; I think the minor tweaks needed to the Midsummer Common plans could be rapidly agreed. I think the role of the consultation ought be to identify the points where decisions need to be made, and to identify the pros and cons which councillors can then weigh up. He explained that he was hoping to get the management plan, which was devised with the aid of the Wildlife Trust, formally approved and signed off by the council.
He said that one area of particular interest and potential on the common was the "pound", where the cattle currently are, behind Auckland Street. He said the Wildlife Trust was interested in using that as a public orchard, he felt there might be support from the Woodland Trust and Natural England for such a scheme, and he wanted input from councillors prior to meetings he was going to have with Natural England. He noted there was potentially money and expertise available from these organisations for such a scheme, and Cambridgeshire had been identified as a target area for projects.
Cllr Sian Reid said that as the City Council's Executive Councillor for Climate Change and Growth she was very supportive of the orchard idea, and supportive of demonstrating the potential for people to grow their own fruit. She thought other organisations in the city, such as the transition town group would also be supportive.
Cllr Hipkin agreed, and expressed support for enabling "scrumping officially".
Anne Garvey
Anne Garvey made some comments on the council's plans "for moving trees around and felling them". She supported the proposals to spend money on trees, but warned that people would be shocked if the council spent money on projects such as moving a fifty-foot copper beech tree from one place to another on Jesus Green. She was concerned about the amount of proposed transplanting asking again about the expected survival rates of the trees. With respect primarily to Jesus Green she urged councillors to :
Say no to focusing solely on the main avenues at the expense of other trees.
Say no to focusing too much on the far future – 150-200 years at the expense of the shorter-term.
Say no to (as I had said earlier) treating Jesus Green like a chess board, and to moving the oak trees.
Say no to chopping down healthy trees.
Cllr Kightley said he agreed with most of Mrs Garvey's points but did think there was a need to look at the very long term.
Cllr Rosenstiel
Cllr Rosenstiel said that the primary decision that the committee now needed to make was budgetary. He was concerned about having enough money to spend on the underfunded Burleigh Street / Fitzroy Street refurbishment if too much was spent on trees. He didn't think the West Central committee ought be spending too much of its budget on tree works on open spaces as they were a city wide asset.
Speaking on what he called the "New square tree; as opposed to the old fashioned round tree" proposals, Cllr Rosenstiel said he generally agreed with my observations. As well as opposing the felling of the trees he had supported planting in 1983 he called for detailed, localised, consultation of residents. He also commented on fashions, pointing to unsuccessful efforts to grow new trees in square raised beds on New Square. He explained he was trying to make another "New Square" pun there.
Mr John Lawton
Mr Lawton addressed the committee saying that the council's tree management had generally been reactive, and there had been a lack of strategic planning since the south side of Midsummer Common was planted in 1927. He said the city council had been sitting on its hands for eighty years; he welcomed the council's interest in doing more than cutting down and replanting and actually considering a strategy.
Mr Lawton called for a dedicated tree budget, as the Environmental Improvements budget wasn't a consistent and reliable source of funding for strategy which would be enacted over a number of years. He suggested that the £100,000 pounds in this year's councils budgets to renew Microsoft Office and Windows software licenses ought simply not be spent and diverted to trees.
Another source of funds suggested by Mr Lawton was for the City to stop funding highways works which ought be funded by the County Council.
Cllr Smith responded to say that a dedicated tree budget had been considered for this year, but was rejected in the face of competing pressures on funds by the Community Services Scrutiny Committee. She committed to ask officers to bring proposals for such a dedicated budget to the committee during the next budgeting round.
She said there was a need to weigh up spending on trees against other competing demands on the council's resources – including those wanting to spend public money on Microsoft software licenses.
Mr Lawton sparked quite a heated debate about the city funding highways works. Cllr Rosenstiel pointed to the £30K allocated for "mobility crossings" (dropped curbs for those in wheelchairs and who find mounting curbs difficult) in Newnham. He said that it was the county's responsibility under the Disability and Discrimination Act to provide them. Cllr Reid asked what more could be done to lobby the County Council; the highways proposals the city was funding were only done after it was made clear there was no hope of the County funding them.
County Councillor Alex Reid explained the county's position saying they would only fund highways projects where:
There was a proven accident record
There was an opportunity to reduce congestion
Wrapping up the Discussion
Returning to trees, Cllr Bick proposed treating the New Square/Jesus Green/Midsummer Common proposals as one. He said there was a need to seek external funding (which would be harmed if the council put too much in to start with) so proposed £50,000 over two years. He proposed officers should be asked to seek any possible other sources of funding to add to that pledged by the West/Central Area committee.
Cllr Cantrill agreed with what Cllr Bick proposed, and added that a central fund ought be looked at.
Cllr Smith said she supported what Cllrs Bick and Cantrill had said and agreed to look at options for ongoing central funding.
Cllr Smith asked that a report on such funding options be available the next time councillors discussed trees; and she also requested that the tree officers and the environmental improvements team work together and only present plans in future that they are both supportive of (suggesting perhaps there was a behind the scenes rift over these tree proposals?)
A consensus on the way forward with respect to the tree plans was reached; Cllr Cantrill re-iterated a summary:
The first thing to get sorted out is the new decision making protocol; nothing will be done before that is in place.
£50,000 has been allocated to "trees" in general, not to any specific works, by the West Central committee.
Some of that £50,000 is available for consultation.
There is to be no consultation until the Executive Councillor has approved what is to be made public what form the consultation is to take.
There is to be localised, specific, consultation with respect to New Square
With that the tree item was closed.
A member of the public congratulated councillors on their sensible set of decisions and the independent minded views expressed and contributions made. I agree, the whole meeting was uncharacteristically sensible and rational; perhaps the upcoming elections are having an effect on their clarity of thought?
Attendance
The meeting was attended by around fifty members of the public and a full complement of City Councillors. County Councillor, Gaynor Griffiths, the Liberal Democrat who lives in Ely but represents Cambridge City's Market ward on the County Council was not present.
[This is my best effort at recording what went on; if I've got something wrong or not given it enough emphasis do comment below or send me an email. ]