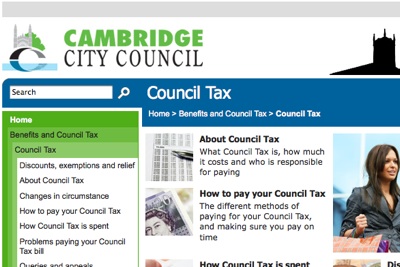 Given the importance of research students to the City of Cambridge it is astonishing that the City Council has recently increased the level of harassment to which they subject those working towards a PhD. The council is sending council tax bills to research students. This has been a problem for many years, but in the last few months the council has been sending an increasing number of individuals bills for council tax which they are not liable for and it has been refusing to cancel them when they are shown to be incorrect (Full time students are exempt from council tax).
I think it is appalling that the council is treating this group of people so badly, many of whom spend long hours working on research aimed at improving people's lives and making the world a better place, for very little money. Non-payment of Council Tax is something which rarely, but regularly, people end up going to prison for. Higher education is becoming an important source of foreign exchange in the UK and if Cambridge City Council start taking action against students that could be placed at risk.
At a full council meeting on the 16th of July Cllr Bradnack (Labour) tabled a written question asking if the Liberal Democrat Executive Councillor responsible for council tax collection, Cllr Cantrill, was aware what was going on. The fact that council officers had apparently suddenly and inexplicably decided that PhDs take three years and they had determined that those taking longer are liable to council tax was highlighted to Cllr Cantrill. Cllr Cantrill failed to grasp the point being made to him. In responding he stated:
"It was our understanding that the duration of a PhD was three years, as reflected in the Council Tax certificates being issued to students via the University. "
More than 90% of PhD students take longer than three years to complete a PhD, and many publicly funded research students now even get funding for four year courses and there are many four year PhD programs within Cambridge, and other, universities. Set against this background Cambridge City Council's current practice of sending bills to full time research students beyond their third year of research is absurd and indefensible.
Rather than tackle the substantive and important point of those clearly undertaking full time research beyond their third year being charged council tax Cllr Cantrill's reply at the July council meeting focused on other much more minor situations which are not the subject of major dispute. He reported the university and the council are arguing over an exemption being given for students after the point at which they have submitted a thesis and are awaiting a viva, at which point the council argue (and in some cases have a point) students are no longer engaged in full time study. Another situation he reported is under discussion is where a student has completed a viva but is awaiting the award of a degree. Allowing discussion of such circumstances distracted from the key problem that the council is determining that some of those who are engaged full time in working towards research degrees are liable for council tax. The only factor which matters is if the individual is a student engaged in full time research or study according to the legal definition. The legal definition is quite lax to account for those students across the country who are involved in far less intense work than that conducted by PhD students.
Cambridge City Council's web page on student exemption clearly states students are exempt from council tax and defines a student as someone: "attending a university or college course that lasts an academic year or more, for a minimum of 24 weeks a year and 21 hours a week "
In July a 60 day suspension of legal action against PhD students was announced. There was no update at the recent strategy and resources committee meeting held in October, the forum where Cllr Cantrill could have been held to account for his actions by "backbench" councillors.
Councils across the country regularly threaten graduate students in this way. Last year an Imperial College Student was taken to court, where the case was thrown out even though in that case the university refused to issue a certificate.
My Advice
I would suggest PhD students wrongly given council tax bills obtain a letter from their college and/or department stating that they are a full time student. Once in possession of such a "certificate" it is implausible in my view that a prosecution would either proceed or succeed.
Taking the letter in, in person, to the council's offices and asking for a receipt / acknowledgement and an assurance that your council tax account has been updated to show the letter has been accepted is the route I took personally when I was in this situation quite a few years ago. In my case officers were unpleasant and stated they would disregard the letter and base their decision only the result of a communication directly with a college (my certificate was officially signed and stamped by my department), but did appear eventually to accept it. I have had a number of encounters with the city's council tax officers, and have found they give terrible, incorrect, inconsistent, advice particularly on the phone. I have found them slightly better in-person at the council's offices so would suggest that route.
Writing to those in a position to push for a change in the council's stance might also be effective at solving this problem on a wider level:
Cllr Bradnack – Labour Opposition Councillor who has taken an interest in this. (Ben.Bradnack at cambridge.gov.uk)
Cllr Howell – Conservative Opposition Councillor. (chris at moufflon.co.uk)
Writing to those responsible for the council's current stance might at least make it less credible if they claim ignorance of what their officers are up to:
Cllr Nimmo-Smith – Liberal Democrat Leader of the Council (ian at monksilver.com)
Cllr Cantrill – Liberal Democrat Executive Councillor responsible for Council Tax (rcantrill at millingtonadvisory.com)
Other suggestions include writing to the Cambridge News (newsdesk at cambridgenews.co.uk) and attending the full council meeting on the 22nd of October 2009 and put the case to councillors directly. (Members of the public have an opportunity to address the council at the beginning of the meeting). Those affected could also try and lobby CUSU or GU representatives to speak. I would also be prepared to speak on behalf of anyone who would like me to.
I understand independent councillor, John Hipkin, is planning to ask a question on this subject during the full council meeting.
If the council does not back down, I would suggest offering to pay the bill, making the offer in the form of a cheque sent along with a formal "letter before action" making clear your intent to immediately seek repayment of the money via the county court if Cambridge City Council pays in the cheque. The legal system insists that you are actually owed money before you can take a county court action. I would suggest that taking county court action against the council for the return of your money would be preferable to being taken to the Magistrate's court for non-payment of council tax by the council. The county court option puts the student in control and ensures there is no risk of you being sent to prison (I've seen some crazy decisions by Cambridge's Magistrates).
Strengthening Students' Unions
The longer term solutions in my view include strengthening students' unions in Cambridge. Within Cambridge University there is too much focus on the individual and no emphasis placed on solving systemic problems, such as this, which affect large groups of students. Attempts to pursue broader change, other than for personal benefit, are met with suspicion and incomprehension. When I applied to be an external member of the university council I placed democracy, and strengthening students' unions very high on my list of things I thought needed to change.

Paying PhD Researchers a Salary
An idea I am sympathetic towards is paying publically funded PhD researchers in the UK a salary, and not classing them as students. This may go some way towards improving society's view of those working towards PhDs. While it would result in money going round in circles due to council tax and income tax I think there would be many benefits. Individuals would be protected by employment law (and other benefits extended to institutional staff) and would find it easier to rent or gain a mortgage on property. I think attitudes towards individuals from both inside and outside academia would improve and the UK taxpayer would get more for their money.
Other Ways Cambridge City Council Liberal Democrats Treat Students and Other House Sharers Badly
Introducing and expanding "conservation areas" which result in students and shared houses being pushed out of desirable areas. (This is one of a range of policies the Liberal Democrats pursue which appeared to be aimed at dividing the city).
Failing to enforce basic standards for housing quality (which it requires for social housing) in university accommodation even when it is inhabited year-round by graduate students or staff.
Convoluted and unpublicised systems for obtaining discounts at swimming pools
Making landlords, rather than tenants, liable for council tax in situations where the Local Government Finance Act does not permit them to do so. I believe this is being done to improve the headline percentage rate of council tax collection but has no effect on the actual amount collected and disenfranchises those who no-longer receive council tax bills or other communications and information sent only to those who receive council tax bills. (Students with an exemption ought receive a "bill" showing the exemption has been applied.)