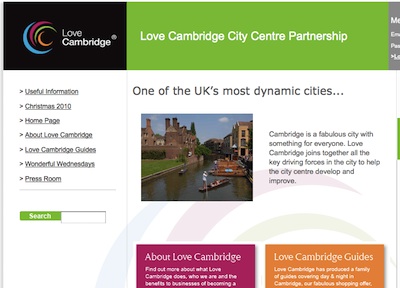 On the 23rd of February 2010 I attended the second members' meeting of Cambridge's City Centre management organisation: Love Cambridge. I am not a member but was invited to attend by Nicky Morrison, who serves as a director representing residents' interests on the organisation's board.
Key Points
Emma Thornton, Head of Love Cambridge, and the City Council's Head of Tourism described Cambridge as an "unfriendly place". A customer service charter to tackle this is one of Love Cambridge's major upcoming projects.
Love Cambridge has aspirations to be the organisation though which a local business rate levy (a new additional local tax) would be spent.
Love Cambridge has 110 members.
Love Cambridge is promoting some fantastic offers on its Wonderful Wednesdays webpage.
Love Cambridge has raised £130,000 this year; and its income is up 20% on what the council's city centre management raised last year.
University colleges want Love Cambridge to tackle pigeons.
Love Cambridge is considering setting up cameras to track people as they shop in the city.
Introducing Love Cambridge
As this was only the second ever members meeting, and many of those present had not been to one before, it began with an introduction to the organisation. Emma Thornton said the organsation's aim was to ensure "when people come to Cambridge they have a positive experience" and explained how it had grown out of the city centre management organisation which had been established in 1995. Talking about spinning "Love Cambridge" out of the council, she said: "The move to independence was in line with what was happening nationally". She did try and give some more substantive reasons for changing beyond simply saying that everyone else was doing it; saying increased separation strengthened the organisation, enabled more people to get involved and offered the opportunity to raise "increased and new funding by virtue of being an independent entity".
The role of "Love Cambridge" was summarised as being "delivery of measurable partnership projects"; Emma Thornton claimed the organisation was open, saying "anybody can join". I think that latter statement was highly misleading as membership is not open to all, but only to those who the board approve of. Love Cambridge's website states membership is open to:
any person, business or organisation who is interested in promoting the Objects of the Company and in the opinion of the Directors has the ability and status to contribute to the promotion of the Objects of the Company;
There are other categories of member which are not subject to board approval; the board is unable to veto membership applications from business rate payers in the city or from local councillors. The membership restrictions have been relaxed over the course of the Love Cambridge's first year in operation to enable more groups to join which would have otherwise been unable to due to an over-restrictive code of conduct for members, so improvements have been made but there is a mismatch between how the organisation is being sold and promoted and the reality.
Emma Thornton told the meeting there was still a City Centre management team within the City Council which deals still with things such as markets and statutory matters.
What Love Cambridge Has Been Doing
The chairman of Love Cambridge Ian Sandison addressed the meeting to describe what the organisation had done since it's inception. He started with the family of guides which are available in shopping centres, the tourist information centre etc. He held up the "shopping guide" which is a map with adverts for fifty, mainly independent, retailers on the back. He spoke about the Christmas publication which had been distributed via the Cambridge-News and the "Wonderful Wednesdays" promotions aimed at making the city "alive after five" on Wednesdays. Love Cambridge is posting offers on its Wonderful Wednesdays webpage. Mr Sandison rather over-egged it when he claimed the Love Cambridge website is fast becoming "the place to visit", but I'm sure he was grounded in reality when he said there was a regular spike of traffic on Wednesdays now from people checking out the current offers.
Turning to the Christmas lights and switch on event he and Love Cambridge took credit for the Mill Road festive lighting and the scheme for the Market Square.
Talking about the "Night-time map" Mr Sandison said that this was a response to anti-social behaviour in the city in the evenings and was intended to help people use the city and get home safely. It is a map which folds to the size of a credit card and contains last bus times, cash point and taxi rank locations. He said twenty thousand had been printed and they had been distributed to all students (the fact he said delivery was "by putting one in each pigeon hole" suggests this may have been Cambridge University focused).
Mr Sandison said we were still seeing new investment in the city, pointing to a "Superdry" shop due to open and the new Jamie Oliver restaurant.
The project to improve the look of the city centre by displaying local artists work in empty shop windows was mentioned. The fact Love Cambridge has taken on responsibility for "finishing off" the "wayfinder" project (new signposts for those walking round the city centre) was mentioned and Mr Sandison reported the "old black finger poles" will be removed and replaced by May/June this year.
Mr Sandison told the meeting that Love Cambridge's funders want to understand how the city is doing with respect to its competitors so a "user perception survey" is to be run in March. This is to be a low-tech paper based survey handed out along with freepost reply envelopes.
The meeting was told that Love Cambridge had made its members aware of "transport consultations for the City and County". Mr Sandison said the organisation was only making members aware, not co-ordinating responses. This made me wonder if Mr Sandison was aware of the response submitted on behalf of Love Cambridge to the Taxi Advertising consultation which has allowed video screens in the back of taxis. While it appears Love Cambridge members were not consulted a response was made which councillors at the licensing committee meeting I observed gave great weight to; the fact that Love Cambridge was supportive of these new screens is in my view a major reason why they've been introduced.
The meeting was told Love Cambridge has worked with CAMBAC (Cambridge Business Against Crime) to organise taxi marshalls; Mr Sandison explained how taxi queues can be hot spots for trouble.
On funding Mr Sandison said that income was up 20% in 2009/10 and Love Cambridge had also raised £5,000 for charity. He reported that most funders were renewing their support for a three year period and some were pledging increases in funding.
I felt Mr Sandison's funding summary had left out some key points so I asked first if the money being raised was actually being spent (he had referred only to income). Mr Sandison said it was, pointing to the "not for profit" status of the company (though that doesn't mean it can't amass reserves, it just means it can't distribute them as dividends!); he also said that Love Cambridge works on a per-project basis and raises money for a particular project then spends it on that project. Personally I find that hard to reconcile completely with the fact that funding commitment for three years are being sought yet supposedly members are to have in influence on what Love Cambridge is to do in the future.
Mr Sandison had mentioned a 20% increase, but had not mentioned an absolute figure for income or turnover to put that into context. I asked and was told Love Cambridge's income had been £130,000. I had no idea before the meeting what that figure would be, I wouldn't have been surprised if it had been ten times that. I do not know if the number given includes salaries for Emma Thornton and Love Cambridge's staff member, if it does that will be a significant chunk; as would the assistance the City Council is giving in terms of office space. While this is a small amount of money a lot of what Love Cambridge sets out to do isn't expensive and is simply about getting people together, helping people work together.
What's In-Store for 2010
Emma Thornton described Love Cambridge's plans for the upcoming year:
A "Love Cambridge Charter" seeking to get all city retailers to agree to try and provide a "memorable and aspirational customer service experience". Describing the need for this project Emma Thornton said: "Cambridge can be perceived as an unfriendly place in terms of the whole service industry".
Looking at the external environment and encouraging people to take pride in it. (No details were given)
Projects focussing on businesses efforts to reduce their carbon footprint. Two planned "public relations spikes" are planned in connection with this, one in April and one in September.

A "make a difference day" in April is proposed where a "carrier bag exchange" will be run in the city where people will be able to swap plastic bags for a "sustainable Love Cambridge plastic bag". As Emma Thornton always does when talking about something she is involved with she talked about the fact this kind of event has been held elsewhere; I'm all for sharing good practice but I do think she places far too much weight on what others' have done and am not convinced when she's speaking that she's considered what's right and appropriate for Cambridge.
The second, September, public relations spike is to be centred around Rose Crescent. Emma Thornton reported that Rose Crescent, ironically one of the view streets in Cambridge not covered by Google Streetview, has been shortlisted for a Google Streetview award. I'm not sure if it is just the Google competition, or if Love Cambridge is planning its own "Best Kept Street" award, but the focus is certainly Rose Crescent.
The 2010 Christmas lights switch on will be on the 21st of November; and will again be "community focused". We were told the Christmas lights are now 30-40% LED lights.
Emma Thornton said there was a project in place with the Judge Business School to run the perception survey and in addition an annual members survey would be carried out and a "key performance indicator report" written. Emma Thornton's finished by expressing a desire to be "more engaged with residents' groups".
Cambridge United Football Club and Love Cambridge
The business development manager from Cambridge United Football Club and Love Cambridge addressed the meeting to explain how membership of Love Cambridge had helped them.
He said that one could spend a day, or even a week in the city and not be aware it has a football club. He said he wanted to raise the profile of the club within the city and wanted to engage the city and retailers. He said Love Cambridge had helped him get in touch people who could provide expertise which the football club did not have in-house, giving the example of "fashion".
CUFC's sponsorship of the city's parade was a success and it had attracted CUFC supporters in their shirts into the city. He spoke of the club shop which had been open for a period in the Grafton Centre, and said that while it had now been closed a lot had been learnt and the club was looking to return to a city centre shop, perhaps in the Grafton, perhaps elsewhere in September. He said it may not just be a shop, but could be a sports cafe or other venture too.
Looking to what Love Cambridge could do for the football club in the future he wondered if the organisation would help provide a route for the club to discuss Newmarket Road transport issues in the future.
Opening Hours Co-Ordination
A question about Love-Cambridge's plans to co-ordinate Christmas (and late night) extended opening hours was asked. Ian Sandison's reply initially focused on shopping centres but the questioner said that co-ordination between and within the shopping centres was already excellent and where help was needed was in working with "the rest of Cambridge" the smaller shops an independents. The argument put forward was that people need to know what to expect when they come in to the city.
Climate Change
Cllr Tim Bick asked about Climate Change. One of Love Cambridge's top priorities for the next year is doing more to tackle Climate Change. Personally I think it would be easier to sell and promote efforts to reduce the amount of energy used in the city centre by focusing on the economic, and resilience, arguments for making improvements rather than on the relatively abstract and harder to get to grips with notion of Climate Change. As there appears to be a willingness, at least from the Grand Arcade representative to share best practice and let people know what features are already incorporated into the building there to make it as energy efficient as possible and to reduce its impact on the environment I think it would be fantastic if Love Cambridge could do more to promote the release and sharing of that information.
Tracking People
Love Cambridge is considering installing more cameras around the city centre to track people's movements. Apparently these are already in place in the shopping centres but the organisation is considering taking them out onto the streets. At the meeting we were asked to prioritise what Love Cambridge ought be doing in the next year, this was on the list but even after hearing an introduction on the technology I was unsure what it amounted to and placed a "?" in the box where I was being asked to rate the idea.
My concern is privacy; I am wondering how this technology tracks people; if it involves facial recognition for example and if it was to be employed and was able to collect personally identifiable information I would be very uncomfortable with it. I'd rather it wasn't there than have to start considering things like how long the data ought be stored, who has access etc.
Interestingly the shopping centres are willing to share their people counting / tracking data both with each other and with university students. This appears a great opportunity for Love Cambridge to get hold of and release information which will be of interest to those trying to understand how the city is working.
I can see immense benefits of a more scientific approach to city centre improvements; it would be fabulous to have hard data from say before and after the huge sums of public money (via the City and County) which are to be spent on Burleigh Street and to see the effects and improve future schemes to change the streetscape based on the results.
Pigeons
I didn't know Cambridge had a particular pigeon problem before I went to the meeting, but tackling pigeons was on the list of possible projects for Love Cambridge in the coming year. Emma Thornton explained that University of Cambridge Colleges had raised this as a problem for them in trying to maintain their old buildings. What they were looking for was a more co-ordinated city-wide approach the pigeon problem.
My view is that if Love Cambridge can help put the right people in touch with each other (perhaps doing what the University doesn't – helping the colleges work together) so they can collaborate both among themselves and with others responsible for property in the city that would be a good thing. I don't think its something Love Cambridge should prioritise highly itself though.
Perhaps we'll soon see birds of prey being flown over the city centre and over the backs to deter the pigeons?
Nicky Morrision
Nicky Morrison, the Director of Love Cambridge who has the seat as a representative of city residents is also a university academic. She invited two of her students to the members meeting and used the meeting as an opportunity to discuss potential student projects with those present. I don't think public positions (which is what being a director of Love Cambridge amounts to) ought be used for unrelated professional gain. She is there as a director to fulfil her legal duties as a director and ensure the company is properly run and to represent the interests of residents and not in her capacity as an academic. I think it is excellent that Love Cambridge is engaging with university researchers but this ought be done in a proper open and transparent manner. I felt Nicky Morrison was distracted from her role as residents representative that evening.
I wasn't able to question her about her role in the depth which I would have liked, but I was able to raise the questions of openness. She said this hadn't been discussed by the board and she didn't really inspire confidence that she understood the problem. When I asked what was behind the members only login on the Love Cambridge website with a view to suggesting that if the minutes and papers for meetings were behind there they ought be released, she looked blankly as if she wasn't aware that secrecy was being used by Emma Thornton as a way of providing additional value for members. She apologised for not replying to my three emails on Love Cambridge over the last year and said she had been focusing on Residents Associations which she was contacting via Morcom Lunt; when I pointed out that during the creation of Love Cambridge and establishment of the residents' director position assurances had been given that the City Council would assist the person taking on the role in communicating with residents. When I suggested asking for this assistance she said no appearing to want to not rock the boat and to keep a low profile. The residents' director is a lone voice on the Love Cambridge board representing the interests of residents, we need someone in that role who is focused on representing residents and who is willing to speak out for them and defend their interests.
I suggested to her that her name and contact details ought appear on the Love Cambridge (and perhaps city council) website and pointed out I had asked public questions at a council meeting and made a freedom of information request to find out who the residents' director was and how to contact them. Nicky Morrison appeared unaware her contact details were not on the Love Cambridge website but didn't appear too keen on letting people know who she was, what she was doing and how she can be contacted (via nicolamorrison at hotmail dot com ).
Nicky Morrison admitted that while student union representatives from both ARU and Cambridge University showed a keen interest in Love Cambridge, and particularly the residents' director, this had not been capitalised on and students unions had not become members and involved in the organisation.
Cycling
Cycling in the city centre was discussed briefly. An option for the next year was for Love Cambridge to promote responsible cycling in the City Centre. I cautioned that this ought be done in a positive, pro-cycling manner, saying I didn't want to see cyclists discouraged or banned (again) from the city centre. It always astonishes me that this city is so divided about cycling. I think there is plenty of work to be done to tackle illegal dangerous cycling in the city centre and across the city – eg. cycling the wrong way on one way streets and cycling without lights. While I was supportive of the wording proposed "promoting responsible cycling" I cautioned that I didn't want to see a "clampdown". I think much more needs to be done to make clear where you can and can't cycle in the City Centre. Personally for example I lived in Cambridge for four or five years before becoming aware of the little signs allowing bikes through the sides of the no-entry signs on the Market Street – Sidney Street junction.
Love Cambridge Aspires to Levy Taxes
Part four of the The Local Government Act 2003 enables a levy on business rates to be made in a particular area if a majority of business rate payers in the vote, in a ballot, to pay such an extra tax. (Interestingly it is not ballot weighted to take account of how much each business rate payer is charged). A questioner at the meeting asked what Love Cambridge's current position with respect to such a "Business Improvement District" scheme was. Love Cambridge's manager Emma Thornton replied, as is her style and mind-set, pointing to what others are doing; saying that sixty areas in the UK had already agreed to a "Business Improvement District". She revealed Love Cambridge's aspiration to become the conduit though which money raised via such a business rate levy would be spent and expressed her opinion that a partnership with a track record of success was a key pre-requsite for such a scheme to be introduced. Perhaps sensing unease in the room Emma Thornton tried backtracked a bit from what she was saying; describing the scheme as merely "something to explore". She said that it Love Cambridge would not be in a position to get involved in such a scheme before it had operated for a couple of years had had an opportunity to "build trust and a track record of delivery".
Since before Love Cambridge was created it has been using it in this manner has been suggested. I think that if the organisation is to be raising and spending taxes then there will be an even stronger argument for it operating in an open and transparent manner.
It was pointed out that the Business Rates Supplements Act is separate legislation (which also involves an extra local levy on Business Rates).
[Another similar scheme, which City Councillors have considers is a proposal to borrow money to widen pavements, and do other alterations, on Hills Road, and to charge an increased business rate along that road only to pay the loan back. ]
Pursuing Openness in Love Cambridge
At the January 2010 Cambridge City Council Strategy and Resources Committee I asked a public question of Cllr Cantrill, the executive councillor for Customer Services and Resources who, in that capacity, sits on the board of Love Cambridge.
I reminded Cllr Cantrill that in response to a public question I asked at a Strategy and Resources meeting in March 2009 he had committed to ensure Love Cambridge operated to the same standards of openness and transparency as the city council. I pointed out this had not happened and called for Love Cambridge to hold its meetings in public, for meeting reports, agendas and minutes to be published to all (and not kept behind a members-only login on the Love Cambridge website) and suggested the organisation ought voluntarily comply with the Freedom of Information Act. I also asked about what had gone on within Love Cambridge with respect to gritting and taxis, asking how the organisation was engaging with the councils on those matters.
While I directed my question to Cllr Cantrill he asked Emma Thornton to respond. She said the organisation was set up to ensure broader engagement and was open to anyone able to make a valid contribution she said it was free to join and there are "no barriers". (This is inaccurate – board approval is required for two classes of members).
Apparently seeing I had not had a satisfactory answer to my question Conservative Cllr Howell took up my point. He went much further actually and attacked the general "culture of secrecy in the council"; he said I'd made three simple requests for more openness FOI compliance, open meetings, publication of papers; he asked Cllr Cantrill again to commit to pursuing this.
Cllr Cantrill for some unfathomable reason became highly agitated and ranted back at Cllr Howell (this kind of thing is quite common with Lib Dem councillors, particularly Cllrs Blair and Rosensteil, but I had not seen Cllr Cantrill do it before). He said Cllr Howell was suggesting a dramatic step – to bring City Centre management back into the council and argued that would be wrong. (Cllr Howell had made no such suggestion). He accused Cllr Howell of not wanting to give Love Cambridge a chance to work for the benefit of the city. Cllr Howell calmly spoke back, describing Cllr Cantrill's outburst as a "bizzare response", he asked Cllr Cantrill to stand by is previous assurance that Love Cambridge would operate in an open manner and follow the city council's own guidance on openness.
Cllr Cantrill finally agreed. He, and Emma Thornton said that a full annual report describing the first year's operation of Love Cambridge would be brought to the Strategy and Resources committee in September. He said that the public would see then that Love Cambridge had been a great success and had secured more funding than the City Centre management had as part of the City Council.
Cllr Howell also took the opportunity to ask about Love Cambridge's proposals to improve the visual appearance of the market, he asked what was planned and if it went beyond visual appearance. Emma Thornton said the aim was "ongoing cosmetic improvements" and called for the city's seven day a week market to be "celebrated".
The February 2010 members meeting was apparently made open to all at some point, but wasn't at the time of the Strategy and Resources meeting in January, so it does appear there is some movement there.
Background
Since April 2009 Cambridge's City Centre management, which was previously run by the City Council, has been run by an independent company "Love Cambridge". The idea was that it would be easier to raise money from businesses if the city centre management was not constrained by local government bureaucracy and the potential benefit of that extra income was judged to be worth the loss of democratic accountability and oversight.
Director Turnover
While Cllr Cantrill has indicated that if he ceased to be the City Council's Executive Councillor for Customer Services and Resources he would step down his position as director of Love Cambridge to allow his successor to take up the role. If Emma Thornton would step down from Love Cambridge if she ceased to be employed by the City Council is less clear. How directors representing various groups will be replaced if necessary in the future appears to be something that has not been addressed; they may essentially be positions for life – I raised this at the prior to the establishment of the organisation.
My View
I was surprised that after nine months of operation Love Cambridge was only on its second members' meeting; if it had been engaging effectively online through a website enabling discussions then that might well be entirely reasonable, but I can see no evidence that was happening either.
I was quite surprised by the current low income for the organisation, particularly when set against its staffing level and the number of people involved. This is only the first year of operation though and I think the structure in terms of openness has to be ready for the organisation to be taking a larger role. The most important thing here is the prospect of a business rate levy in one form or another. I am in favour of a small state and I think that generally people, or companies, are better at spending their money than the state is. I am particularly uncomfortable with the ideas for levies to repay money initially borrowed to build improvements. I would rather see companies voluntarily come together through an organisation like Love Cambridge to contribute to schemes implemented by the councils than see any increase in taxes. I think there is an argument to be made to see Cambridge retain a greater share of existing business rates than have a series of additional levies to be able to keep money locally.
I am in favour of giving local councils more power; if there is a scheme which genuinely suits a highly localised levy and there is support for it than councils ought have the freedom to do what's right for their local area. Such powers will strengthen democracy as it becomes more important the right people are running the city. With schemes such as the Hills Road proposals I think the potential affects (positive and negative) on the rest of the city are such that the decision on what, if anything, to do has to be taken at a strategic city wide level, and paid for through general taxation. I strongly believe that tax raising, and tax spending has to be firmly under democratic control; I am very concerned about the kind of role which a small, elite, self-interested group like Love Cambridge could end up playing. I
I am surprised that Love Cambridge aspires only to make its members aware of local and national government consultations. I think it could have a greater role in assisting their members to understand what is being asked and to co-ordinate drafting of responses from groups of members. I thought a big reason for setting up the body in the first place was to create a conduit though which the councils could be better made aware of the views of groups such as retailers, hotels and the colleges; this appears to have been dropped completely and I think it ought be reinstated as an aim.
On improving customer service; I agree this is a major problem for the city. It can essentially be really hard to spend money here; some local businesses just don't seem to want customers (there are some which are fantastic too). On a couple of occasions people from other countries have suggested to me the city is racist; they thought they were getting poor service because of their appearance and accents, but I was able to reassure them that wasn't the case it was the same for everyone. I think the anti-student feeling in parts of the city makes things difficult an unpleasant for younger people who get mistaken for students if they are or not. It is rather shocking that the head of Cambridge's City Centre management organisation has said: "Cambridge can be perceived as an unfriendly place", but it is essential to recognise problems to be able to tackle them.
Lastly I see some opportunity to connect up what the City Council is doing for older school age people in the city; who a recent survey has revealed would like to be able to access more of what the city offers but find it expensive with what Love Cambridge is doing promoting Wednesday evenings. The City Council's research showed that there was poor knowledge among young people of discounts offered to them by Cambridge business (A recent East Area committee was told one cinema offers 90p films on a certain night; and that many young people use "Orange Wednesdays" two for one offers on films).