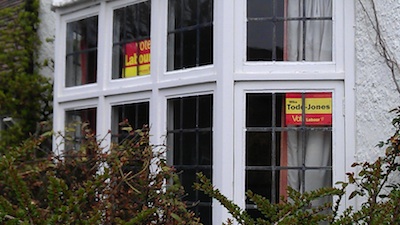 Only Sign of Elections in Arbury – Posters for Labour's Mike Todd-Jones.
Cambridge City Council elections are to be held on Thursday the 3rd of May 2012.
Cambridge is split into fourteen wards, there are three council seats for each ward. The elections in May are for one seat in each ward, so a third of the council seats are up for grabs.
The names and addresses of the candidates have been published online by the council in the "Statement of Persons Nominated" available from the council's elections page.
I have mapped the candidate's addresses and displayed them along with maps of the wards. Those wishing to get to grips with the information can view it on Google maps, and turn individual wards and their candidates on and off using the checkboxes (the topmost checkbox turns everything off, which may be a useful starting point. The wards shapes are listed below the candidates). Maps for specific wards are included later in this article, they can be clicked to enlarge.
Some of key points from the data:
There are three wards where none of the three main parties, Conservatives, Liberal Democrats and Labour have fielded candidates who live in the ward. These are King's Hedges, Coleridge and Cherry Hinton.
King's Hedges is one of the most deprived wards in the city. As well as having no candidates from any major parties who live in the ward it has Liberal Democrat and Conservative candidates who live in quite different, remote parts of the city.
Cherry Hinton is the only ward in which none of the candidates live in the ward (there is no one who lives in Cherry Hinton standing for election anywhere else in Cambridge either).
In Kings Hedges Ian Tyes (United People's Party) is the only candidate who lives in the ward, and in Coleridge Green Shaun Peter Esgate is the only candidate who lives in the ward.
There are a number of candidates who live outside the city altogether:

Martin Lawson, Green, from Impala Drive near the airport, standing in Queen Edith's.
Robert Dryden, Labour, from Fulbourn standing in Cherry Hinton.
Jack Benjamin Toye, Green, from Waterbeach, standing in Castle.

In Trumpington and West Chesterton all the candidates live in the ward.
Personally I was surprised to see that Cambridge Socialist Tom Woodcock, who is standing in Romsey, as he has done in the past, has an address in East Chesterton.
Tabulated Data
Information on candidates who live out of the wards they are standing in:
| | | |
| --- | --- | --- |
| Party | No. Candidates Living Out of Wards | Mean Distance From Ward(m) |
| Labour | 7 | 1199 |
| Conservative | 6 | 1948 |
| Green | 6 | 2450 |
| Liberal Democrat | 3 | 1155 |
| Cambridge Socialists | 1 | 1000 |
How Far Out of Ward Candidates Live from their Wards
Straight line distances from candidate's address to nearest edge of ward:
| | | | |
| --- | --- | --- | --- |
| Ward | Party | Name | Distance (m) |
| Castle | Green | Jack Bejamin Toye | 7800 |
| Kings Hedges | Conservative | Anette Karimi | 5100 |
| Arbury | Conservative | Ali Meftah | 4400 |
| Romsey | Labour | Rachel Eckersley | 2800 |
| Cherry Hinton | Labour | Robert Dryden | 2100 |
| Queen Edith's | Green | Martin Lawson | 1800 |
| Kings Hedges | Liberal Democrat | Neil McGovern | 1700 |
| Market | Green | Brett Mark Hughes | 1600 |
| Abbey | Green | William John Birkin | 1500 |
| Petersfield | Green | Sandra Billington | 1500 |
| Market | Labour | Noel Kavangh | 1400 |
| Cherry Hinton | Liberal Democrat | Keith Edkins | 1400 |
| Romsey | Cambridge Socialists | Tom Woodcock | 1000 |
| East Chesterton | Labour | Margery Abbott | 1000 |
| Cherry Hinton | Conservative | Angela Ozturk | 800 |
| Queen Edith's | Conservative | Richard Graham Jeffs | 600 |
| Newnham | Conservative | Andre Leslie Beaumont | 600 |
| Newnham | Green | Billy Aldridge | 500 |
| Petersfield | Labour | Gail Marchant-Daisley | 500 |
| Coleridge | Liberal Democrat | Thomas Spencer Yates | 365 |
| Kings Hedges | Labour | Nigel Gawthrope | 350 |
| Coleridge | Labour | George Owers | 240 |
| Coleridge | Conservative | Sam Barker | 190 |
Starting Position
As only a third of the council seats are up for election, on the morning of the 3rd of May not all parties in Cambridge will be starting from a level position.
The current breakdown of the council is:
| | |
| --- | --- |
| LibDem | 25 |
| Labour | 14 |
| Green | 2 |
| Other/Independent | 1 |
As of the morning of election day, some of these seats will remain safe as they're not up for election, the starting position on election morning is:
| | |
| --- | --- |
| LibDem | 17 |
| Labour | 10 |
| Green | 1 |
| Other/Independent | 0 |
As there are 14 seats up for election it is technically possible for Labour to take control of the council from the Liberal Democrats in this election, or for the council to be left without one group in overall control. My view is this is unlikely and while the Liberal Democrat's majority might be reduced there will probably be little substantive change to the overall make-up of the council.
I would prefer to see less conservatism in the system, giving elections more meaning, and the electorate more power, by holding all-up elections every time. I think that four year terms for councillors in a city with such a high turnover of population is too long. I'd rather see all council seats up for election every time we have an election, and shorter terms for councillors.
As well as giving a greater opportunity to overturn the current regime, I think shorter terms might encourage younger people to stand for the council, as I suspect many of those in their twenties in the city might be less certain of where they're going to be in four years than those who're older and more established in terms of jobs, homes and families. One reason I didn't stand for election in my twenties was because I wasn't sure I would stay in the city for the subsequent four years.

Arbury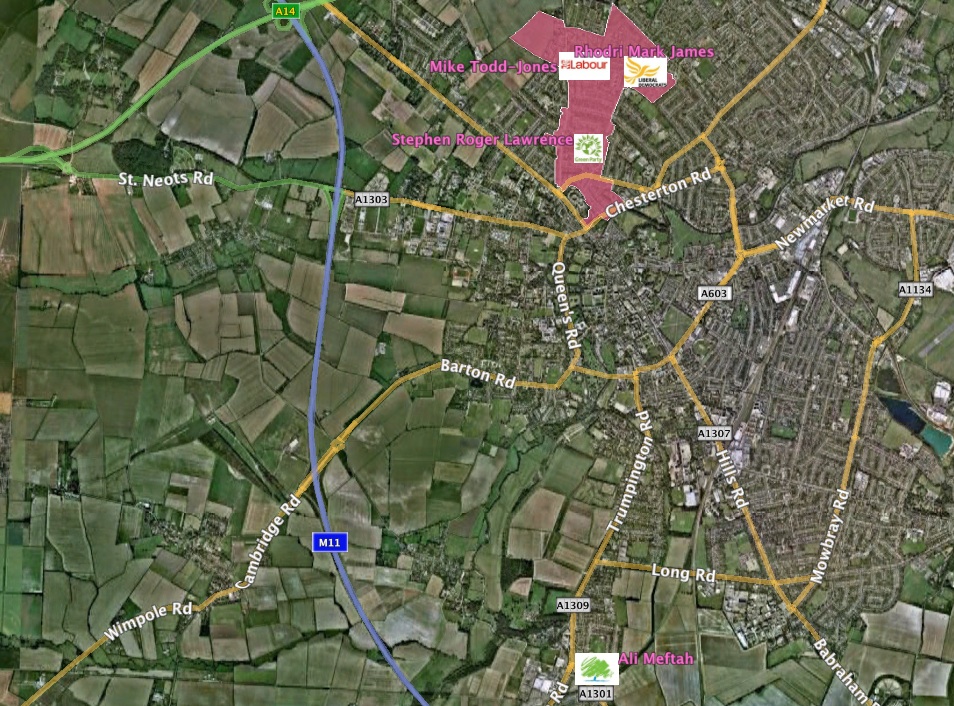 This is my local election. Labour's Mike Todd-Jones is the sitting councillor seeking re-election, and Rhodri James, the Liberal Democrat has previously been my councillor so I am voting from a better informed position than would usually be the case. Mike Todd-Jones and his team have been canvassing hard in the ward already, many of my neighbour's homes have his poster in their windows (I've seen no evidence of any other candidate's posters).
Mike Todd-Jones regularly carries out his "Arbury Survey", so has some contact with the ward's residents between elections. He would be a good local councillor in a low tech, unchanging, sleepy part of the country, but in Arbury the fact he doesn't vote on planning applications, rarely participates in debates on setting police priorities and holding the police to account, and appears to be someone who is rather proud about the fact he doesn't communicate via Twitter or a blog means he's not really an ideal person to represent the ward. He doesn't appear to have a clear vision for the ward, or the city. How he plans to keep the city working in the face of the massive expansion it is experiencing and what his views are on the development around the city are not clear from his publications and statements.
Like Rhodri James did when he was a councillor Todd-Jones appears to have focused mainly on the needs and interests of those living in council housing in the ward.
It appears the Conservative candidate, is just a "paper candidate" someone the party has come up with to ensure they've got someone standing in every ward, though I'm interested to see if they do come up with anything, and I am yet to hear anything from the Green.
While Todd-Jones often tries to distance himself from the actions of the national Labour Party he appears happy to pick up the votes of those who vote locally based on national politics.
My own vote might go any way, or I may spoil my paper. I'll cast my vote based on who I think will do best for Arbury and for Cambridge.
See also my comments from the 2008 Arbury city council elections.
Abbey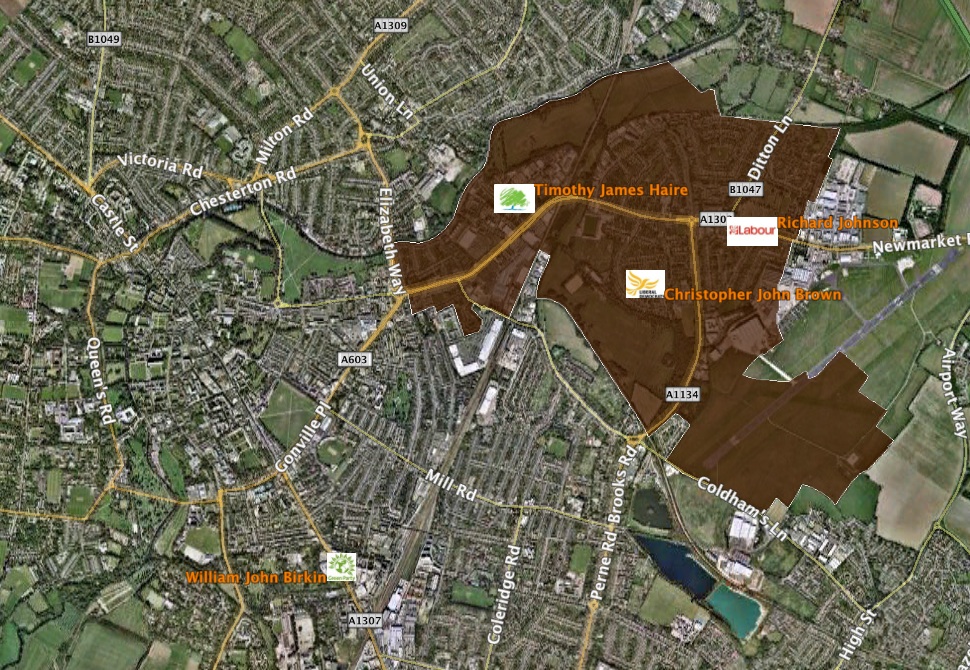 Labour's Richard Johnson appears to be running a strong campaign here. I think he has a good chance of winning and would make an good local councillor if he focuses on what a local councillor can achieve and not on national politics. See his recent leaflet on ElectionLeaflets.org.
Mr Johnson has been active in the city's political debates for some time now, having stood previously in Newnham. He tweets.
We've got a month to go before the election and in Abbey as elsewhere I'm interested to see what the other candidates come up with. The Conservative candidate for Abbey is their local deputy chairman Tim Haire his most recent article focused on Trumpington.

Castle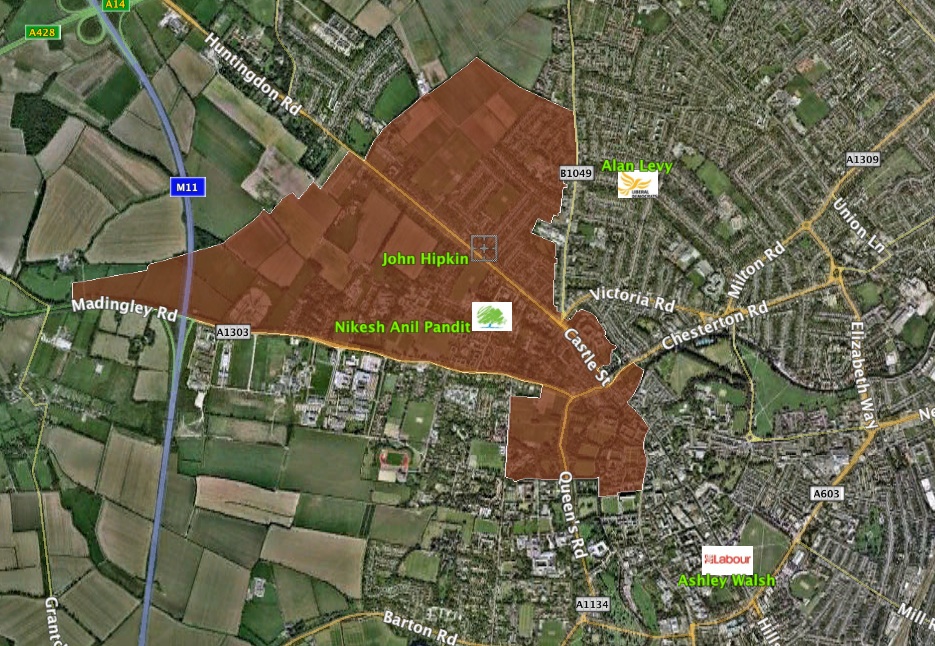 The Liberal Democrats appear to have surrendered this ward to Ex Lib Dem, and Ex. Labour, now independent, John Hipkin.
Cllr Hipkin (Twitter, Blog, Manifesto) provides a useful counterpoint to the Liberal Democrat groupthink on both the West Central Area Committee and planning committees. He is one of the few councillors to think strategically about the city, and while I sometimes disagree with him he often pushes debates on to the important subjects which might otherwise be missed.
The Liberal Democrat's candidate Alan Levy has been shipped in from Arbury, he clearly wasn't the Lib Dem's first choice in his own ward. He was very poor as a councillor when he was elected, he rarely spoke at any council meetings and never substantively participated in debate at full council. He had such a long, unexplained, period of absence that his seat ought to have come up for re-election but the Lib Dems passed a special motion at the City Council to allow him to stay on as a councillor despite not attending for longer than the period which ought result in automatic loss of office.
Cllr Hipkin rarely stays to the end of full council meetings though, and his performance in the last year or so has not been as impassioned has it has been in the past.
If I was in Castle ward I'd certainly not be voting Alan Levy, Cllr Hipkin is the known quantity, the green lives in Waterbeach with no clear link to the ward, and student Ashley Walsh's election manifesto comments on the ex-Texaco garage site planning promising: "Ashley will keep residents informed about the appeal against that decision". He could do with keeping himself up-to-date and informed first, he could do with reading John Hipkin's newsletter which reported in March that a planning inspector had upheld the appeal against the city council's refusal last month. Ashley Walsh on Twitter.
Hipkin appears to be the only serious candidate.
Cherry Hinton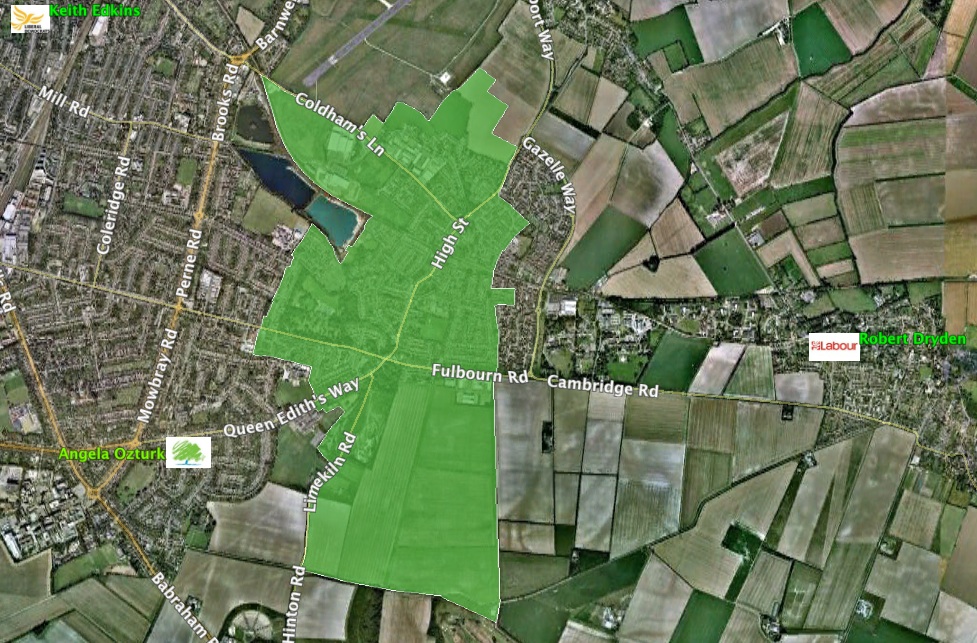 Here the big surprise for me was that the sitting councillor, Robert Dryden doesn't live in the ward, though he has a long historical connection with it.
The Liberal Democrat candidate, Keith Edkins tweets, his Twitter biography states:

Unimportant background figure in Cambridge Lib Dems
I think far too many Liberal Democrats remain background figures when elected, many stay silent throughout council meetings and their only participation is voting as their leaders direct them. We need people who participate.

Coleridge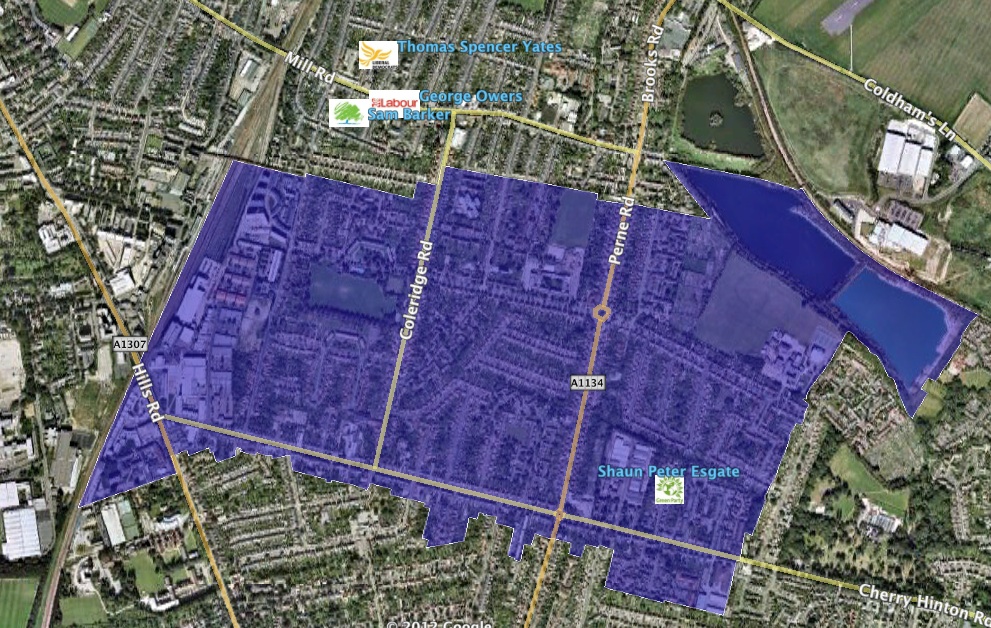 Here the candidates from the three main parties live near the ward, but not in it.
I think in some cases, if candidates work in a ward, or spend a lot of time in a ward then standing somewhere other than where they live is acceptable. When people live miles away from where they represent though I think they lose or lack a connection with the area which is necessary to represent it effectively.
Cllr Owers (Twitter), a history research student, has in his short time as a councillor shown himself to be a passionate local councillor and while his contributions at full council meetings have been rather heavy on the national politics he has provided some much needed life and vigour into proceedings. He once accidentally addressed the mayor (who chairs council meetings) as "Mr Speaker", he participates in full council debates (something which is unfortunately notable for a councillor!), and has a habit of stopping immediately, even mid-sentence, if told his time is up.
Here we have three candidates seeking to represent a residential suburb they have to go out of the city from where they live to visit. I think this is different to someone standing to represent the city centre when they live just outside the Market Ward. I think there's a slight parallel with Kings Hedges where we have candidates living in richer, nicer parts of the city seeking to represent the poorer and more troubled parts (though as with almost all wards in Cambridge Coleridge is very mixed and there are richer and poorer, good and bad, streets).
East Chesterton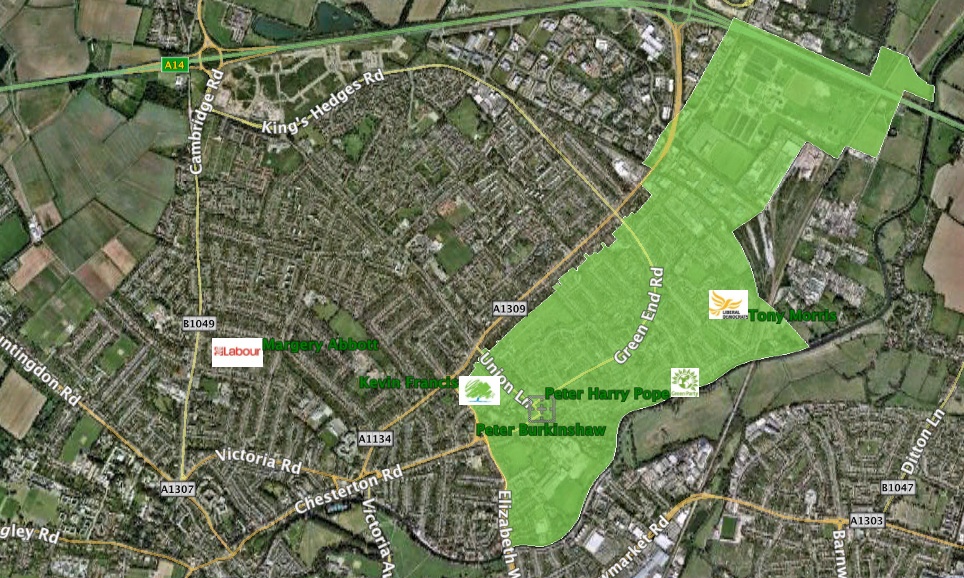 East Chesterton regularly appears to elect poor quality councillors, as far as I can see from the current candidates there's no sign of this changing.
I believe the Conservative is probably the Mr Francis who attended a North Area Committee meeting in 2010 to comment on the lack of visitor parking for the Vie development.
King's Hedges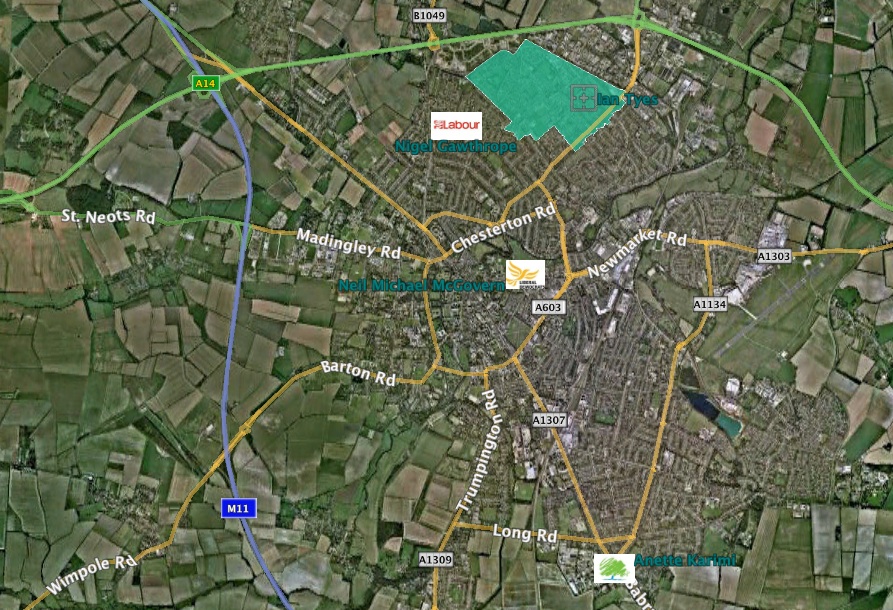 Cllr Neil McGovern (Twitter) is a reasonable local councillor, but now he's moved to the city centre I question if he's still the best person to be representing King's Hedges. I wonder why people in the ward can't find someone who lives there to represent them.
For those wishing to read about the one candidate who does live in the ward, Ian Tyes, I found this rather unusual biography.

Market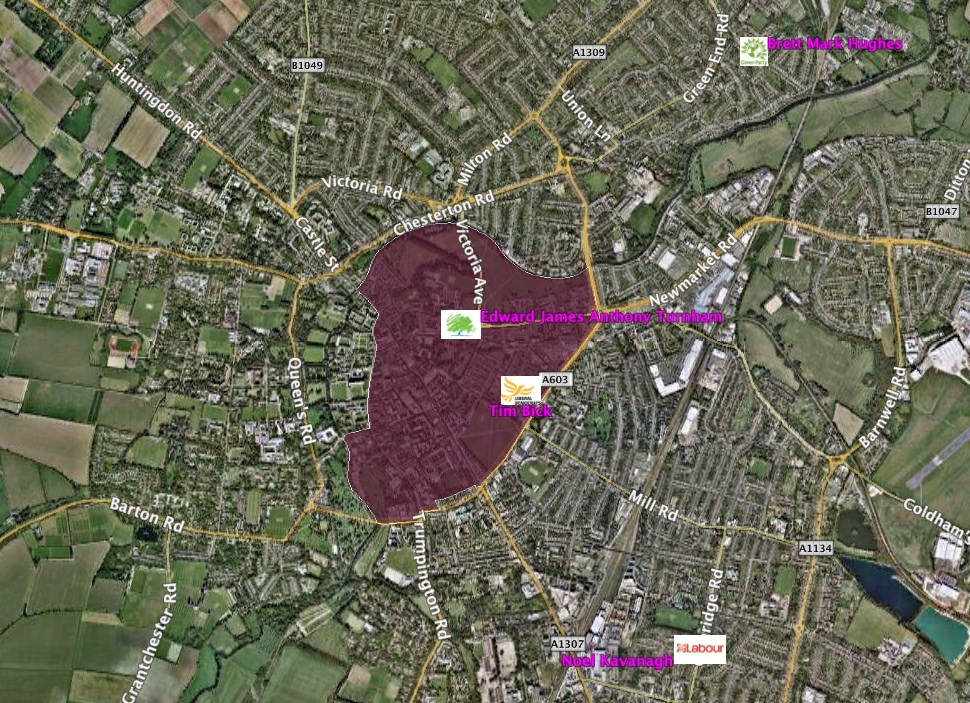 The Liberal Democrat Executive Councillor for policing, Liberal Democrat Tim Bick, is seeking re-election.
This is a student heavy ward, and the Liberal Democrats have, as a party, broken their promise to oppose the increase in tuition fees, this is probably the ward where national politics is most likely to have a substantial impact on the city.
Cllr Bick promised a gate to control vehicular access onto Midsummer Common when he was seeking election four years ago, despite a period when he claimed this was no longer desired by residents, one has recently been installed.
Cllr Bick struggles balancing the liberal principles on which he was elected with lobbying from the police and some businesses for a more authoritarian approach to policing central Cambridge. Cllr Bick recently said he would be prepared to consider a regime to limit freedom of movement in Cambridge.
Cllr Bick is on Twitter but hasn't yet tweeted.
Newnham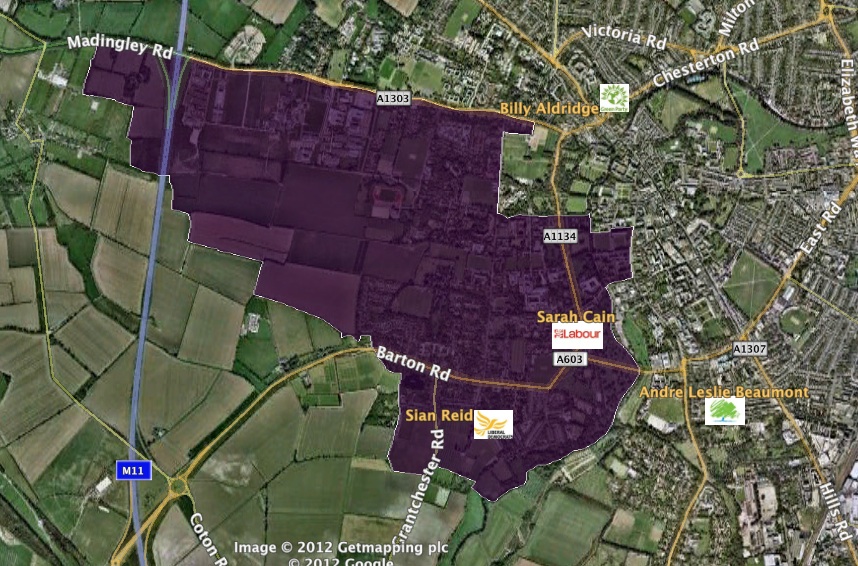 Council leader Liberal Democrat Sian Reid is seeking re-election. I suspect there is little realistic chance of a decapitation, her politics of "Shop doors" and "Residents' Associations" appears to go down well in Newnham. Though it is notable that the current Liberal Democrat manifesto for Cambridge has dropped any mention of Resident's Associations, recognition and consideration of these groups used to be a key part of the party's offering despite them rarely being inclusive and representative.
Petersfield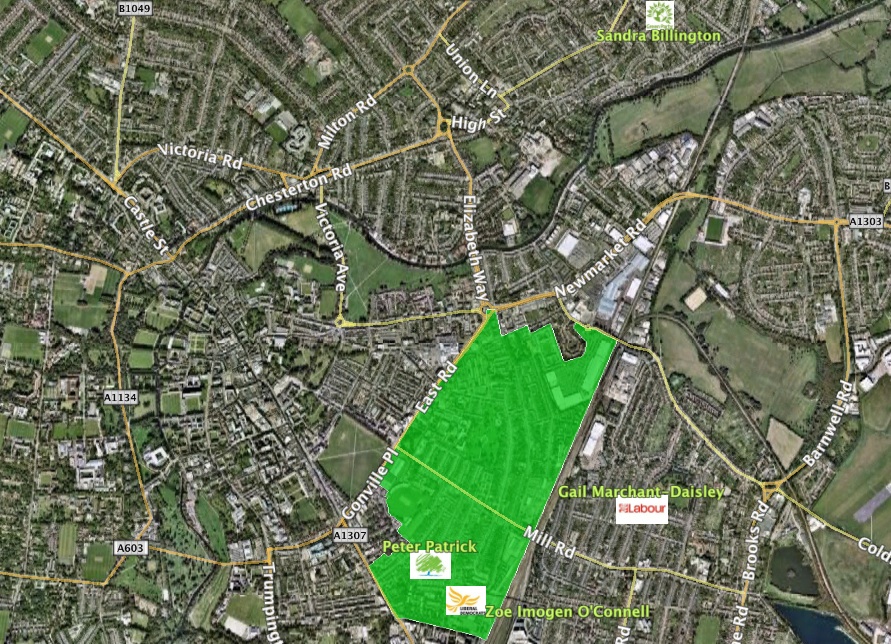 Active liberal tweeter Zoe O'Connell is standing against Labour's Gail Marchant-Daisley. This is a ward where unfortunately someone who'd make a great councillor isn't going to be elected; if only we could re-distribute the passion and ability around the city.
I am slightly concerned that O'Connell's liberal beliefs and principles might not survive the transition into power though, as as of the time of writing there has not been any response to my question on which way O'Connell would vote on dispersal zones which many of Cambridge Liberal Democrats support.
Queen Edith's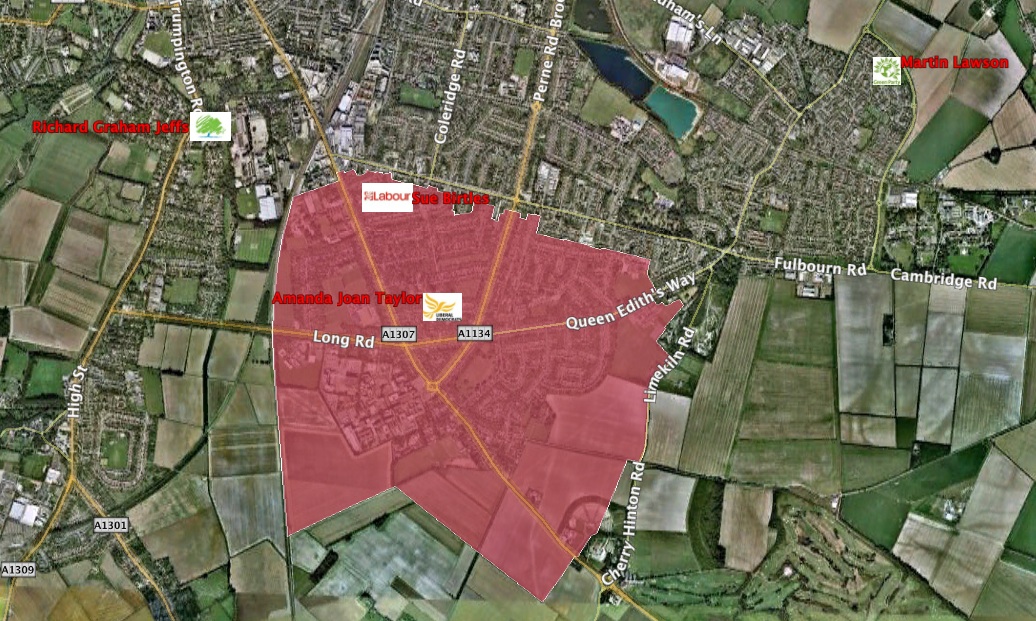 Liberal Democrat Cllr Amanda Taylor (Twitter) is seeking reelection. She has a substantial record on which residents can judge her performance. She is an active councillor I've often written about her contributions.

Romsey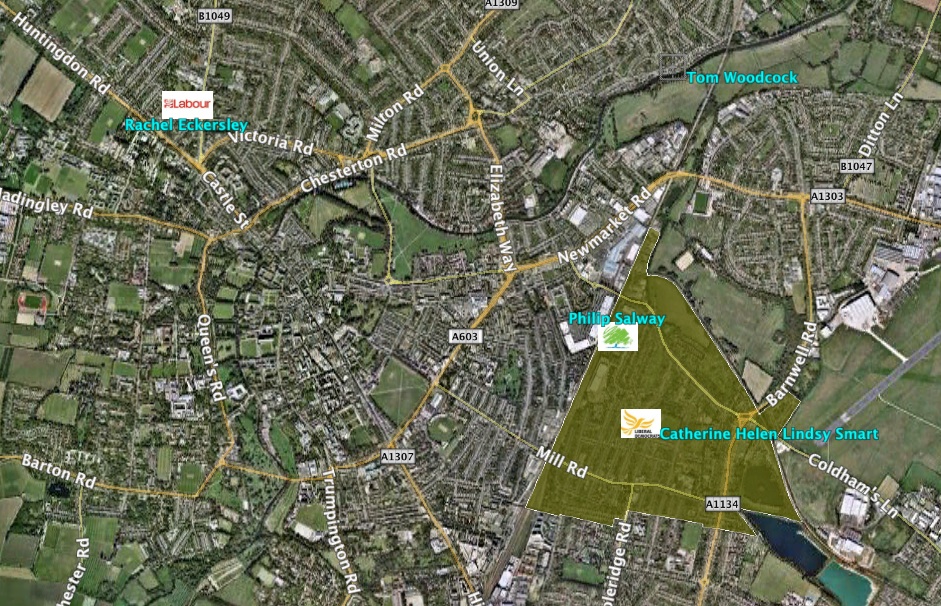 The biggest surprise here to me was to find that Tom Woodcock (Twitter) does not live in the ward he regularly stands in. Perhaps he's chosen Romsey because he thinks that's the ward in Cambridge where a more extreme socialist than a Labour party support stands the best chance of getting elected.
The Liberal Democrat councillor, and candidate, Cllr Smart isn't particularly impressive, she is deputy leader, but in the absence of the leader of the council at the recent budget setting full council meeting gave no speech when introducing her party's proposed budget for the city.
I have regularly written about Cllr Smart's contributions to council meetings. Cllr Smart's views on speeding can be found in this article
With the socialist vote here being split between Mr Woodcock and the Labour candidate from the other side of the city I think it's likely Cllr Smart will be returned; but has with many of the city's wards, the result could go in any direction following a decent campaign.
Trumpington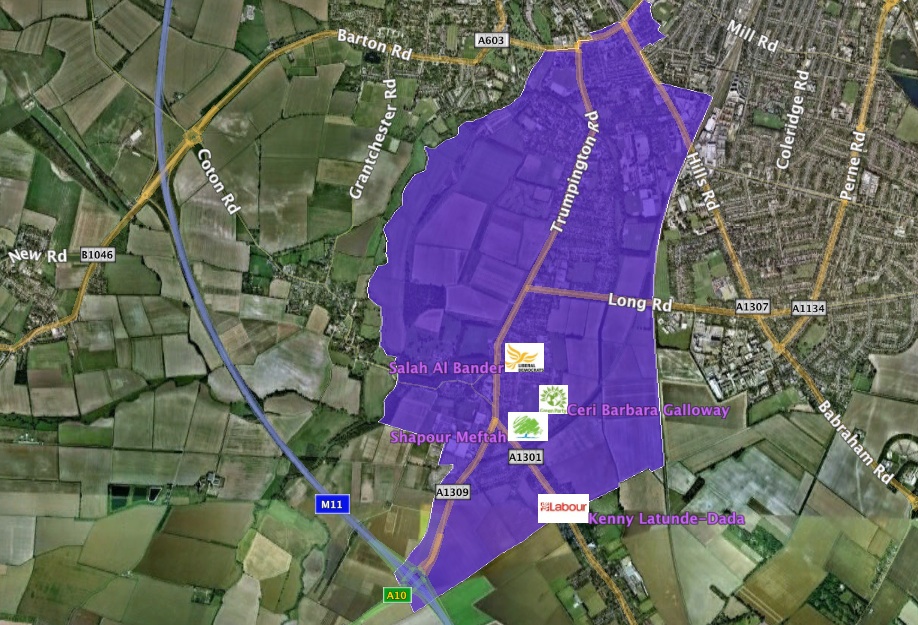 One of the most inactive Liberal Democrat councillors, Cllr Al Bander is standing for re-election. Cllr Al Bander is the council's cycling champion, but I've never heard him speak on the subject despite attending many meetings about improving cycling in the city. Cllr Al-Bander has only made one contribution to a full council meeting, noting a black sailor from 250 years ago with a link to Cambridge. Liberal Democrats give their non-speaking councillors a round of applause when they finally make a contribution, often years after they get elected, Cllr Al Bander got his in July 2011 after being elected in May 2008. His contributions at South Area committee meetings are often off-topic.
If I lived in Trumpington I'd be investigating other options. I suspect this is one ward the Conservatives could win, but they have very little presence in the city.
West Chesterton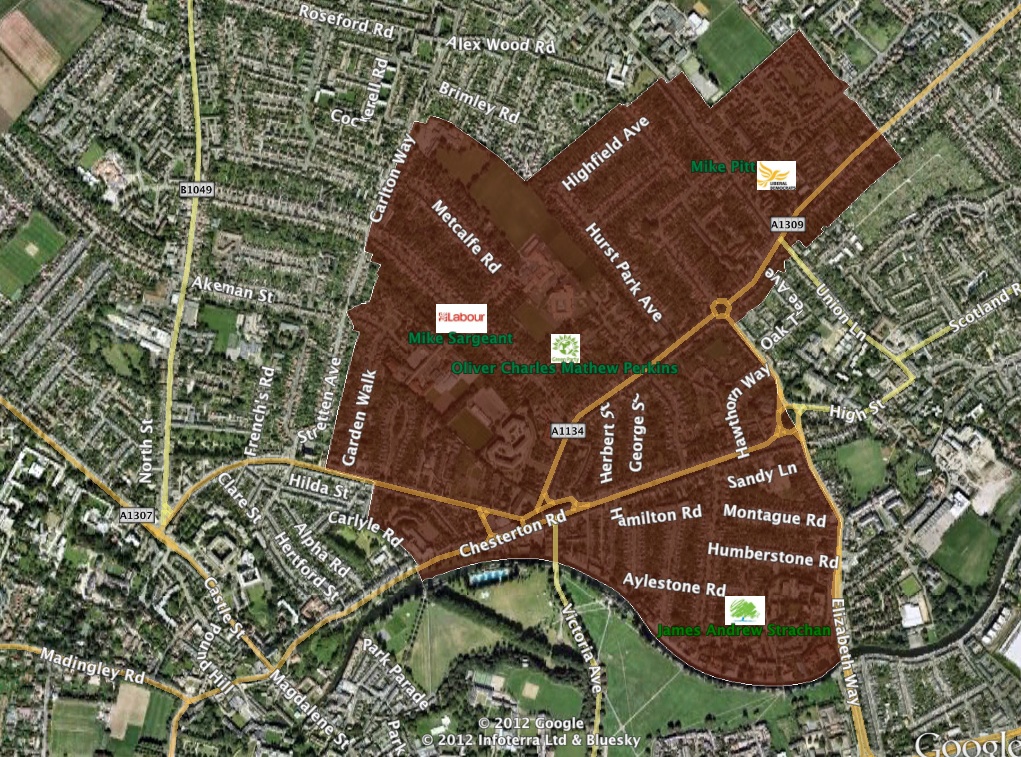 The current Mayor, Ian Nimmo-Smith is not standing for re-election. The Liberal Democrats are putting up Mike Pitt (Twitter), who lives in the ward, but previously represented Kings Hedges. Cllr Pitt was one of the better Liberal Democrats at the North Area committee when he served as a councillor. As a maths teacher he is capable of basic arithmetic, a skill which it is often useful for at least someone round the table to have at council meetings. Cllr Pitt also appeared, unlike many of those elected as Liberal Democrats to care about civil liberties and due process, he to some degree followed up a number of concerns in these areas which I raised using the public speaking slot at the North Area committee.
The Conservative candidate, James Strachan, though has opposed the extension of controlled parking (and the associated extra tax) to the De Freville area, which the Liberal Democrats have broadly supported. I think this is a signifiant issue in the ward, and while West Chesterton has previously been a Liberal Democrat stronghold, I think Mr Strachan stands a good chance of being elected.
Moving Councillors
It's not just candidates who sometimes don't live in their wards; from time to time councillors move away after being elected. Currently two of Cambridge's youngest councillors are representing city wards while living our of Cambridge. Liberal Democrat Cllr Sarah Whitebread represents Central Cambridge's Market Ward on the County Council while living in Stapleford. Green Cllr Adam Pogonowski represents Abbey on the city council while living in Rampton. Both have declared aspirations to return to live in Cambridge, but councillors are not immune from the pressures of jobs and housing costs which affect many others. In recent years Arbury continued to be represented by Liberal Democrat Rupert Moss-Eccardt for a few months after he moved from the ward to Ely, and Liberal Democrat Gaynor Griffiths continued to represent Market ward for a period after she too moved to Ely.
Manifestos
The Liberal Democrat Manifesto for the 2012 City Council elections (PDF) contains lots of promises to do things which have already been approved or agreed, this is a cynical way of campaigning. It also contains the line "We have Saved the Alexandra Gardens trees" those who were following events know is complete nonsense, local residents had to campaign against the Liberal Democrat run council, and it was the Liberal Democrat run council which was threatening the trees in the first place.
Labour have published their priorities for Cambridge giving pavement obstruction and dog poo a surprising prominence
Cambridge Conservatives and Cambridge Greens have made their local policies available on their websites.
Overall
I think we have a healthy and thriving democracy here in Cambridge.
A full set of contested elections, with each seat being contested by at least three, and in most cases four candidates is fantastic.
There's a lot more we could be doing better though; more openness, greater awareness of what local councillors can do, and are doing, as well as electing better quality councillors with more strategic vision.
Raw Data
Thanks to Lucy Price for helping transcribe the candidate data, MySociety's MapIt for the ward boundary data and Google Maps.