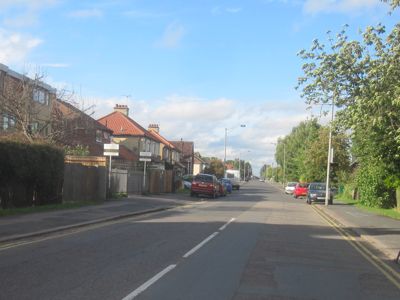 Coleridge Road, Cambridge.
A fantastic example of why transparency is good for democratic decision making occurred at the Cambridge City Council's East Area Committee on the 19th of August 2010. Green Party Councillor Margaret Wright had proposed a motion removing an existing police priority aimed at reducing speeding on a range of target roads across the east of the city, particularly Coleridge Road. This was taken to a vote as some councillors, notably Conservative Cllr Howell and Labour Cllr Herbert who both represent Coleridge strongly support tackling speeding and having it as a police priority. The vote was taken via a quick show of hands and the committee clerk announced Cllr Wright had been successful and had won the vote 7:6.
Cllr Howell asked for some clarification on who had voted which way and councillors, particularly Liberal Democrats, quickly sat on their hands. Cllr Howell decided to call for a recorded vote so the chair asked councillors to put their hands up again. At this point County Councillors Tariq Sadiq (Labour, Coleridge) and Simon Sedgwick-Jell (Green, Abbey) both asked if they were eligible to vote. The meeting's chair Cllr Herbert chastised them saying those who didn't know what they were entitled to vote on were "not very good politicians". After the fact County Councillors are able to vote on setting the police priorities was confirmed the vote was held again. The result was:
For Scrapping the Speeding Priority
Cllr Margaret Wright (Green, Abbey)
County Cllr Simon Sedgwick-Jell (Green, Abbey)
Cllr Catherine Smart (Liberal Democrat, Romsey)
Cllr Sarah Brown (Liberal Democrat, Petersfield)
Cllr Paul Saunders (Liberal Democrat, Romsey)
Cllr Raj Shah (Liberal Democrat, Romsey)
Cllr Caroline Hart (Abbey, Labour)
For Keeping the Speeding Priority
Cllr Chris Howell (Conservative, Coleridge)
Cllr Lewis Herbert (Labour, Coleridge)
Cllr Adam Pogonowski (Abbey, Green)
Cllr Jeremy Bensted (Labour, Coleridge)
Cllr Gail Marchant-Daisley (Labour, Petersfield)
County Cllr Kilian Bourke (Liberal Democrat, Romsey)
County Cllr Tariq Sadiq (Labour, Coleridge)
Following the 7:7 tie which occurred following the second, recorded, vote the meeting's chair Cllr Herbert chose to use his casting vote in-line with the way he had originally voted (and inline with keeping the status quo) by voting to keep the speeding priority. Therefore the recorded vote went the opposite way to the unrecorded vote.
Cllr Wright complained, saying that she had already won her vote, and it wasn't right to run it again. Cllr Benstead joked that the East Area committee had joined the ranks of those democracies where you just keep voting until you get the right answer. Cllr Herbert justified his actions as chair saying that as there had been people unaware of their eligibility to vote it was right to re-run and allow them to have their say. However the voting record shows that removing either all, or just the confused pair, of county councillors doesn't explain the initial result. For there to have been seven votes in favour of scrapping the speeding priority there must have been at least one councillor who voted for it when they thought no-one would have a chance to record it and changed their minds when they knew it would make the minutes.
The original vote was taken so unclearly neither I nor others in the public seating area could be sure who had switched their votes. While I have previously photographed key votes in an effort to record them the anti-transparancy Liberal Democrat run council continues to forbid photographing council meetings without prior permission.
In May 2009 the vote making speeding a priority was won by only one vote; only my website records which councillors voted for it and now reveals that Cllr Wright has withdrawn her support.
Only Cllrs Wright and Smart explained their reasons for voting against the speeding priority. They both argued essentially that as the police weren't doing much as a result of having the priority set there wasn't much point in keeping it.
The police have been reluctant to accept a speeding priority from the point it was first suggested. They prefer councillors to prioritise "anti-social behaviour" as this appears to fit in well with what the police culture appears to believe neighbourhood police officers ought be dealing with. I think it is excellent that unlike most of the Liberal Democrats who are generally very reluctant to do anything other than approve the police's suggested priorities, Cllrs Howell and Herbert in the East have been willing to push for them to do something residents have asked for.
Cllr Howell has been pushing for an evidenced based approach, with speed surveys (conducted by automated black boxes on streetlights) conducted before and after action is taken by the police. Cllr Howell expressed concern that a plan agreed between city councillors, council officers and the police had not been acted upon.
August East Area Committee Speeding Update
Mr Fuller, The Community Engagement Manager at Cambridgeshire Police (Who has received an award from the Chief Constable), reported to councillors that "on speeding police activity has been slow and limited". Despite councillors both setting the priority at the East Area Committee and meeting the police to agree a detailed plan of action Mr Fuller said there was a "need to reinvigorate". In a shocking statement he told councillors, rather unconvincingly:

If you prioritise it again you can have my assurance that we will put some effort into it this
In addition Mr Fuller also admitted that the report to the meeting lacked statistics and said that he ought to have been providing details of "hours put in and checks done".
Mr Fuller's speech became even more astounding when he told councillors: "We need to take action before the nights draw in and we lose the daylight". No councillors followed up on this and queried if the implication that Cambridgeshire Police are unable able to tackle speeding drivers in the dark is accurate. The police sergeant had already explained that the force's health and safety policies meant officers had no choice but to carry out speed monitoring wearing high visibility jackets; on the grounds they could only work near roads if they were clearly seen; she did not explicitly say this meant they couldn't work at night though.
Cllr Smart kicked off the speeding debate by explaining why she wasn't going to vote for the speeding priority. She said: "The PCOSs have done monitoring but can't … Does the PCSO monitoring show there's a real problem? Is it a minor problem we thought was major?"
Cllr Burke interjected: "If we do pursue this it would be desirable for us to have more quantitative information so we can assess the reality. If we can't have that information we need to be told the reason why we can't."
Cllr Howell spoke to say that he was all in favour of getting more information out of the police, he expressed his frustration that the committee had adopted a priority, a plan had been agreed and the basis of that plan was to look at proper quantitative data. He explained the problem with the speedwatch and PCSO data was that there the recording influenced the readings. He explained the agreed plan had called for for speed monitoring again on Coleridge Road -to be followed by some police enforcement, some high visibility work by PCSOs all to be joined by councillors and others campaigning. The plan had been to conduct a further survey afterwards and look at the data to see if the work had been effective. Cllr Howell commented on the fact the plan had not been put into action saying: "support from the police and other parties didn't happen".
Cllr Howell said that effectively we were right back in the situation we were "a couple of periods ago" (May 2009) and there was a need to say again "lets have some police activity"; he said the feedback from residents on Coleridge Road strongly suggested action was still needed. He said he hoped the police and others would "make a better go of it this time".
County Cllr Tariq Sadiq noted the police had called for the County Council to co-ordinate tackling the speeding problem. He asked what exactly they had in mind when they said this, so that he as the County Councillor for one of the affected areas could go to the County and make the case for it.
Cllr Marchant-Daisley said that the police had raised this before, and Liberal Democrat County Councillor Nichola Harrison had promised to go to the County to get the required "co-ordination". Cllr Marchant-Daisley noted with frustration that "the police have admitted they have not done as much as they said they were going to do"; she appeared to be suggesting getting the County Council to take a lead might be a more effective way of prompting police action.
Cllr Adam Pogonowski spoke up for his own Abbey ward noting that he wanted quantitative analysis there too, specifically on Wadloes Road and Barnwell Road; he said these were roads where drivers had an opportunity to go fast down them, particularly as "on Wadloes there is nothing coming the other way".
Mr Fuller said that in the past there has been a speed survey in Wadloes Road (It was in Feb 08 and the results have been released). He said the police (who he represents) could have given statistics on PCSO hours, and numbers of vehicles speeding but hadn't. He, redundantly (or possibly betraying a failure to comprehend the proposed plan) noted that the reality of high visibility enforcement is very few prosecutions as drivers see officers from a distance. Mr Fuller said that there were 60 sites for concern about speeding in the County to which the police deployed their covert safety camera vans and none of them were in the City of Cambridge.
Mr Fuller reported that the latest data from a speed survey on Coleridge Road showed only 2% of vehicles speeding at over 35mph. He postulated: "something's happened, maybe the Mill Road closure has led to increased traffic and a reduction of speed in Coleridge Road." Mr Fuller said the police needed to find locations where there is a significant problem, he said he was worried that if energy was put into Coleridge, with only 2% of vehicles going over 35 mph, many of which he said would be emergency vehicles, that would not be a good use of police time.
The police data shows the survey was conducted right next to the traffic lights at the junction with Radegund Road. (location on Google Maps) – perhaps the police were assessing the speed of vehicles queuing at the traffic lights and/or approaching the junction with caution. From my personal experience I would suggest speeding is more likely in the region of the Litchfield Road and Ashbury Close junctions.
Cllr Howell said he didn't have an answer to the statistics (which I believe had only just been reported to him at that meeting); he tried to explain to Mr Fuller that the aim of the agreed plan was not to issue lots of tickets but to try and change people's behaviour. He said that most of the people speeding on the roads in the East Area were likely to live in the East Area and the police enforcement role was a vital part of the plan and campaign but not necessarily something which would take up a lot of police time.
Cllr Adam Pogonowski asked the police sergeant, Kay Stevens what protocol or rule says the police have to wear high visibility jackets when trying to catch speeders; he said: "If there is a ridiculous rule I would like to know what it is". Cllr Pogonowski then suggested an alternative solution of making residential areas 20mph zones; he questioned why Cambridge City Council had not done this. This prompted a rather weak heckle of "keep quiet" from a member of the public, who I believe may have been a young conservative. Sgt. Stevens said it was force health and safety policy which dictated: 'Officers working on or near the road need to be seen".
See Also