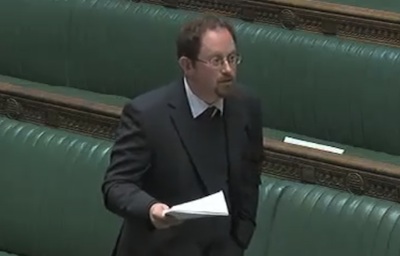 Cambridge MP Julian Huppert
Earlier this evening I listened to Cambridge MP Julian Huppert speaking on the subject of : "The future of science in Parliament" at Murray Edwards College, Cambridge.
During his speech Mr Huppert stated that he had agreed with his chief whip not to talk about tuition fees in public.
I tweeted this breaking news live from the event however Mr Huppert has since tweeted back saying he was only joking.
The joke Mr Huppert made was to say that while he was banned, by his chief whip, from speaking on tuition fees there was nothing stopping him segueing directly from the subject of tuition fees to the UK's nuclear deterrence policy; Mutually Assured Destruction (MAD).
That's what he said, and that's what will be on the video, if it is published by the University of Cambridge's Centre for Science and Policy who were filming the event. I'll leave it up to readers to make their own judgement as to where the facts end and the joke begins.
I think that the role of an MP is not only to represent the views of his constituents; and to do was promised prior to the election, but to work to try and persuade other MPs to vote alongside them. If Mr Huppert has done a deal with his party allowing him to vote against the party position on tuition fees, but which involves banning him from campaigning openly on the issue, then I think he has betrayed those who voted for him. Voting against isn't enough; we need him to be speaking out in favour of a university education, free at the point of use, which is what he has said he believes in.
Once Mr Huppert had clearly re-stated his own personal commitment to voting against an increase in the tuition fee cap student leaders in the city very quickly moved to asking him what he was planning to do to get others to join him. That's the key current question. If the answer is he's allowed himself to be silenced that's an important story which needs reporting to the electorate; and I think it's worthy of front page news in the national press.
All MPs get exemptions from their party whips for one or two issues which particularly affect their chances of re-election in their constituencies. They get allowed to vote against their party in the full knowledge that their other party members will more than cover for them. It's one of the mechanisms through which the political parties, and those who are members of them, maintain control of UK politics.
We, as the people of Cambridge, have elected a party politician to represent us; so inevitably we have someone who is prepared to balance their principles against party political aims.
Notably Mr Huppert also revealed during his speech that all political parties are struggling to find people to stand for them. The era of party politics is ending; but the UK doesn't do overnight revolutions, and the 2010 general election didn't see party politicians booted out of Parliament in the numbers some predicted.
On an number of previous occasions I, and others, have asked Mr Huppert, if he has done a deal on tuition fees ; tonight he has again stated categorically that no such deal has been done:

Will Mr Huppert still be a Liberal Democrat at the end of the Parliament? If he isn't he might well get my vote; he's a good guy and one of the best MPs we've got, but as long has he's constrained by his party he's only slightly more useful than a chocolate teapot or OldHoborn would have been.
My View
My own view on undergraduate tuition fees for UK students is simple: I oppose them, as I explain in this YouTube video.