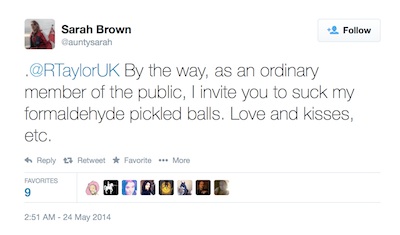 It appears an ex Cambridge City Councillor sending me a message in public saying: "suck my formaldehyde pickled balls" is news.
Ex Cllr Brown's astonishing invitation to me shows how unpleasant people can be to those entering discussion about how we run Cambridge and our wider society. I think this kind of exchange is something which puts people off having their say on questions facing the city and country. Robust debate is one thing, but insults, slurs, defamation and unsubstantiated accusations make participating in public deliberations challenging and create quite a high hurdle to participation.
Shortly after having being ousted from office by the electorate ex Cllr Sarah Brown took to Twitter last week to publish a barrage of material which it appears she felt unable to publish while a councillor, but she clearly thought appropriate to send once the electorate of Petersfield ward in Cambridge had chosen someone else to represent them. Brown explained her view saying: "being a councillor DOES prevent free and open expression of views, because a councillor is a representative of the people." I think it is concerning if any of our councillors feel constrained and unable to freely and honestly express their views while in office. I want to know what our representatives really think and feel and not just hear from them what they think they are expected to say. I don't want our representatives feeling constrained by what Cllr Brown appears to have considered the shackles of elected office.
Ex Cllr Sarah Brown appears to have taken the decision it was appropriate to launch her tirade despite having announced her intent to stand, as a Liberal Democrat, in the 2015 Cambridge City Council Elections.
I feel there is often a thin layer of civility, and cordiality, in our society and Brown's outburst illustrates what lies beneath it, and what is never far from the surface.
Deciding how to respond to attacks can be difficult. I'm writing this article following the publication of the Cambridge-News article so that I can provide my views, and give readers the background to the article – which doesn't give any indication of why Ex Cllr Brown may have been motivated to invite me to suck her "formaldehyde pickled balls" (which she has since claimed was clearly a joke, and that her balls have been burned).
I often comment on policing matters in Cambridge, and Cambridgeshire, so when Brown tweeted to say "I'm on first name terms with the police commissioner", suggesting this would make it more likely that the police would act on evidence she has stated she holds on people she appears to take the view have committed crimes against her I thought it appropriate to draw attention to that. Suggesting preferential treatment from the police might arise as a result of knowing the Police and Crime Commissioner Graham Bright would be highly inappropriate for a councillor, and I thought it still an inappropriate thing for someone who had just lost an election to say, and something which could still damage the integrity of the office of councillor, and raise questions about the impartiality of the police. Brown was still technically a councillor at the time, she had hours earlier received support at the ballot box from 720 Cambridge electors, she also remained a director of TdFHUB2014 Ltd which is responsible for co-ordinating the planning for the opening three stages of the Tour de France in England in July, which includes the event's visit to Cambridge, and as a declared prospective candidate she remained a significant public figure in the city worthy of scrutiny. Brown responded to my comments with a tweet saying "Yes, the police do know who I am"; adding the context of "They are likely to know that I have been the victim of a transphobic harassment campaign." Following this Brown emitted the tweet which has caught the attention of the media, which in full states:
@RTaylorUK By the way, as an ordinary member of the public, I invite you to suck my formaldehyde pickled balls. Love and kisses, etc.
Next Brown asked said: "You're a kipper, aren't you?". I took "kipper" to be a reference to the United Kingdom Independence Party and responded: "I'm not a member of a political party. I do sometimes vote for them, or their candidates, if I have a preference between them."
I had recently been asked on BBC Radio Cambridgeshire if I had voted for UKIP and I had answered the question openly and honestly, as I always try and do, and said that I had done so in the elections for members of the European Parliament.
Next Brown asked me: "Where do you stand on shooting gays, oh kippery one?". Here I was left with a dilemma; it appeared Brown's behaviour was becoming trollish; there was what appeared to me to be an attempt to prompt me into writing something which, particularly in light of the constraints of the medium of Twitter, could be used to mis-represent my views.
The question, I expect relates to a reported statement by a UKIP candidate who it has been widely reported wrote:
"I rather wonder if we shot one "poofter" (GBLT whatevers), whether the next 99 would decide on balance, that they weren't after-all? We might then conclude that it's not a matter of genetics, but rather more a matter of education."
I decided to answer Ex Cllr Brown's question simply and directly; responding to the question of "Where do you stand on shooting gays " with "Same as my views on shooting any human". Brown described that response as equivocal so I expanded on it to say: "Very rarely justifiable to shoot anyone. In some cases eg. by police if only&last,opt to protect others from injury, defensible."; invited to expand further by another Twitter user I added "I would not support shooting anyone on the grounds they are "different". Obviously. Doesn't need to be said."
Ex Cllr Brown then published a series of Tweets seeking to publicise my comments to her followers including:
""@RTaylorUK: @auntysarah Very rarely justifiable to shoot anyone. In some cases": thanks for clarifying your position on shooting gays, Dick"
and:
"UKIP supporter @RTaylorUK suggests it would be acceptable to shoot gays, "to prevent greater harm"."
The latter is, out of context, quite clearly defamatory in that a reasonable person might read that, and in the absence of any additional information interpret as meaning I think it acceptable to shoot gay people because they are gay and that the purpose of shooting them would be to prevent greater harm arising from a result of behaviour related to their being gay. The tweet gained a number of retweets, largely from Ex Cllr Brown's supporters, so readers will have encountered it without context.
As I understand it the tweet doesn't amount to legally actionable defamation because it is true. I do think it is acceptable to shoot gay people, and indeed anyone, when it is proportional to do so, in the interests of preventing greater harm. I support the police having access to firearms and the country having armed forces. I phrase my comments as I do because I think it is very important that everyone is treated equitably by the state, particularly by the police, irrespective of factors such as sexuality, age, being a traveller, being a mother etc. . I have lobbied extensively against the police treating certain groups of people differently, on the grounds of, as the police put it, sensitivities.
Brown published a slightly more tangential tweet arising from the exchange; again apparently seeking to defame and discredit (see the thread):
Local Citizen Journalist, @RTaylorUK, suggests he would harass member of the public on Twitter. @TheAlanSmith
My comments on Ex Cllr Brown's performance during her time as a councillor have always been focused on her actions in public office, and never targeted at her in a personal manner. My primary substantive comments on her performance which I recall have been on the subject of the publication of planning notices, and Brown's admitted failure, or even refusal, to read formally submitted planning objections. I have also commented on Cllr Brown's apparent consideration of being a councillor as a job. We have volunteer councillors, paid an allowance in lieu of a complex and expensive to administer expenses scheme and I want to retain that. I wonder if treating the role of representative as a job, and following the election results considering she had lost a job, was a factor in prompting her outburst.
I never contacted Cllr Brown personally and privately; while we have exchanged a few words in person during Cllr Brown's time in office, all our substantive exchanges have occurred in public on Twitter, and all my comments on Cllr Brown's performance as a councillor have been made openly on my website or on Twitter.
Cllr Brown has described her behaviour as fun and cathartic writing:
"@RTaylorUK Maybe I'll not stand next year. This is more fun."
and the Cambridge News reporting:
"Yesterday Ms Brown said her attack on Richard Taylor had been the result of "catharsis mixed with disappointment"
One of those who retweeted Ex Cllr Brown's comments was Cambridge resident MJ Black, who when asked to explain why they thought the re-tweet was reasonable responded:
"*pats head* aww I'm sowwie hun, are you offended? Well tough, I thought it was funny."
I don't think it is appropriate to launch, or propagate, attacks on people because you are disappointed, in need of a purging of the emotions or relieving of emotional tensions, or indeed simply think such behaviour is funny.
It is clear from The Cambridge News article and a blog post she has written that she is acutely aware of the impact that launching unwarranted personal attacks on people can have on them; which makes it all the more incomprehensible that she judges it reasonable to carry out, and encourage, similar behaviour herself. From my personal point of view while responding to this unexpected exchange has been time consuming and I am concerned about the impact on my reputation among those who don't look carefully at the published material, it has not been as distressing as other attacks I have received while campaigning for a more open, democratic, fair and just society. In part this is as I'm now used to being attacked, insulted and defamed as a result of participating in public debate; it is also because Cllr Brown is not someone in a position of power over me.
The Cambridge News article reporting Cllr Brown's 'suck my formaldehyde pickled balls' comment directed towards me also reports on a campaign of transphobic abuse Brown has received. While the news article describes the abuse as being part of "a separate campaign of online harassment" I am concerned by the implication here that I was involved in any "campaign or online harassment" and I think that casual, uncritical, readers may not appreciate that. Ex Cllr Brown has tweeted:
The article is actually grossly unfair on Richard by falsely linking him with the harassment."
and:
Richard Taylor has never been transphobic to me.
I have noticed that as I am writing this the Cambridge News have removed the public comments section from their article. One of the comments I spotted on the piece earlier described me as "punchable" and attributed comments to me, on the performance of councillors, that I have not made. This illustrates my point about the unpleasant tone of public discourse which I think deters people from participation.
If the comments on the Cambridge News were still live I would add a link to this article; to offer my detailed response. I will tweet the paper asking them to clarify that Ex Cllr Brown's invitation for me to suck her formaldehyde pickled balls was completely unrelated to the reported campaign of harassment and to link to this article.