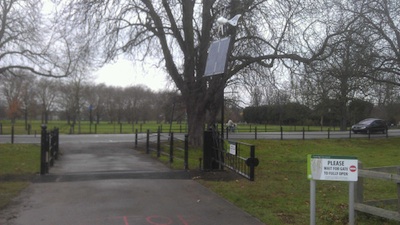 Cllr Cantrill's Windmill and Gate on Midsummer Common
The ongoing saga of disputes over parking and vehicular access to Midsummer Common in Cambridge took a bizarre turn at the West Central Area Committee on the 5th of January 2012.
Cllr Rodrick Cantrill announced the council's intention to prosecute two buildings on the common: the Fort St. George pub, and the Midsummer House restaurant. Cllr Cantrill explicitly said he had taken a decision "to prosecute against properties not individuals".
I have no idea what is going on here but Cllr Cantrill may be seeking to break new legal ground. As I understand it, to-date, only legal entities: real people and companies, have ever been prosecuted for anything in the UK.
The statement was prompted by a public question from Mr Lawton, who asked what the council was doing to enforce the rules against driving and parking on the common. Mr Lawton was asked if he had any follow-up point to make and responded to say he didn't understand what Cllr Cantrill was proposing, this prompted laughter from all present including the other councillors on the committee.
Liberal Democrat Cllr Cantrill, who is Cambridge City Council's executive councillor responsible for green spaces, had started his response to the question by highlighting the new gate which he has had been installed. Cantrill was heckled by residents who pointed out the contraption had not been working at all at first, and was now being left open between from 7 to 10am every morning as its solar and wind power sources weren't sufficient to enable it to open and close for each morning delivery to the businesses on the common.
Cllr Cantrill enraged representatives of both the Friends of Midsummer Common and the Brunswick and North Kite Residents Association by saying they had opposed a gate of any kind. This is something he repeatedly alleges and they repeatedly deny.
Cantrill said he had chosen his windmill and solar powered contraption over the residents' preferred option of a rising curb on the grounds of aesthetics. I thought this was very odd as the windmill is very visually intrusive and a rising curb would probably have been all but invisible to almost everyone except those driving head on towards it when in was a raised position. Cllr Cantrill said he had considered wider interests than the Friends of Midsummer Common and the residents associations had when coming to his decision. Ironically Cantrill claimed a rising curb would have made the area look like a car park. The representatives of those organisations present objected to the implication being made by Cllr Cantrill that they were philistines or did not care about the appearance of the common.
Cantrill had brought one of his officers, Alistair Wilson the council's "Head of Green Spaces" to the meeting. Mr Wilson told the committee the council was to pursue "injunctions against properties", which perhaps sounds slightly more in the realms of reality than prosecuting inanimate objects, but was still clunky phrased if injunctions preventing parking or access for certain purposes are in-fact being proposed.
Cllr Cantrill told the committee his new gate was part of a "stepped approach" the council was adopting. Mr Wilson said the council was planning to come up with a formal policy statement on how it was to take enforcement action against those illegally driving and parking on the common.
Cantrill told the committee that the council had done a land registry search and had concluded from the results that the Fort St. George pub had no right of access across the common. Mr Higgs of the Friends of Midsummer Common reported that Mr Baxter, the chairman of the Friends of Midsummer Common, understood that properties on or adjoining common land automatically had rights of access across it. (This appears to be based on the judgement in Bakewell Management Limited v. Brandwood and others; which has been interpreted in a DEFRA guidance note on the subject).
Wheel Clamping
A councillor asked if wheel clamping was permitted on the common; and if it was for this purpose considered public or private land. (Wheel clamping is to be banned on private land if c54 of the Protection of Freedoms Bill becomes law.)
Councillors noted their legal department was taking a very long time to get back to them on this question. Cllr Cantrill agreed. Mr Lawton said that everything in relation to parking on Midsummer Common appeared to be taking glacial amounts of time and wondered if the issue would be resolved before he, and everyone else, was dead.
Ombundsman Complaint
No update was given on the progress of Mr Baxter's complaint to the Local Government Ombudsman over the councils failure to act on parking and driving on the common.
Policing
I thought it notable that despite the police being present they were not asked to comment, or act, on the illegal driving and parking on the common.
Planning
The Friends of Midsummer Common also complained the council's planning public access system was broken and as a result they were not being kept informed of planning applications on and near the common despite registering their area of interest. They reported this was a deterioration in the service which they had previously received from the council.
See Also