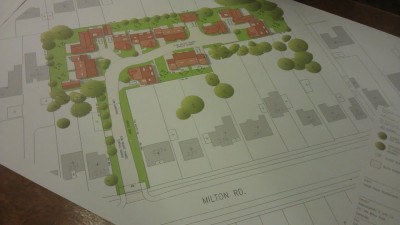 On Tuesday the 1st of November 2012 I attended a busy public exhibition to view plans for a proposed development behind 231-247 Milton Road in Cambridge.
The plan is to demolish a property to provide access to back gardens on which thirteen three bedroom homes are proposed. The image associated with this article shows the plan presented at the exhibition.
Junction
My prime concern is the junction with Milton Road. At the exhibition the developers said their estimate was just 50 car movements per day and claimed there would be no impact on Milton Road.
My view however is this is a complex area of road and I am particularly concerned about right turning traffic entering the development creating a hazard. As a main road in and out of the city of Cambridge I think it's important not to create undue complexity and confusion with too many junctions.
There is clear practical access to this site, if it is to be developed, from Woodhead Drive, most obviously via Robert-Jennings Close, or by demolishing an alternative property. This "rear" access route allows use of the right turn into Woodhead Drive from Milton Road which has a substantial place to wait in the middle of Milton Road to wait to turn in safety and without disrupting the traffic flow.
The developers claimed this would be difficult due to the fact Robert-Jennings Close is privately owned, and not by them. My view is this is something developers could and would negotiate if councillors made clear such an access would be required in order to secure planning permission.
A Private Enclave
The proposal is to create a private road, with according to the developer's representatives at the exhibition, an access with a feel of a private drive to the development, rather than a road.
Questioned on why this option was chosen (querying if the developer thought buyers had a preference for private roads) the developer's representative was very up front in admitting it was simply cheaper to build a private road as it didn't have to be to the standards required by the County Council for adoption as a public road.
I oppose the creation of private enclaves in the city and think new developments should be genuine extensions of the city and should be publicly accessible. Private roads create problems for future residents who have to club together to maintain the roads and verges etc. On a number of occasions residents have struggled to come to consensus and some residents (especially elderly ones) have been unable to raise money required to contribute to maintenance and we've had odd situations of the city council stepping in to put public money into maintaining the private roads.
Residents end up paying their taxes and having to pay again, via service charges, for maintenance of their roads, verges, lighting etc.
If the development is permitted I think the developer ought be required to build the road to adoptable standards; and the road, and streetlights, ought be in place and safe before residents move in.
Like many developments there is no proposed public way through. I think councillors fail to consider how people want to get around the city when allowing dead-end developments. Woodhead Drive is particularly bad with no-foot / cycle route out to the south towards the city centre. I would like to see at least a path through to the rear providing relatively traffic free routes out to the public open space and play areas off Woodhead Drive and routes beyond via the path towards Arbury.
Cycleway
The proposed access road, or as the developers prefer to call it, driveway, crosses the very busy off-road cycleway on Milton Road. Assurance was given to me, and others, at the exhibition that cyclists would be given right of way and the roadway would step up to the level of the cycleway which would remain level. As elsewhere on the road, we were told cyclists on the cycleway would be given right of way, and signage would indicate drivers need to "give way".
Garden Grabbing / Densification
Policy 3/10 of the city council's local plan states:
3/10 Sub-division of Existing Plots
Residential development within the garden area or curtilage of existing properties will not be permitted if it will:

a. have a significant adverse impact on the amenities of
neighbouring properties through loss of privacy, loss of light, an overbearing sense of enclosure and the generation of unreasonable levels of traffic or noise nuisance;
b. provide inadequate amenity space, or vehicular access arrangements and parking spaces for the proposed and existing properties;
c. detract from the prevailing character and appearance of the area;
d. adversely affect the setting of Listed Buildings, or buildings or gardens of local interest within or close to the site;
e. adversely affect trees, wildlife features or architectural features of local importance located within or close to the site; and
f. prejudice the comprehensive development of the wider area of which the site forms part.
There are relatively few Cambridge homes with reasonably sized gardens; this development reduce this number further. The new homes will have very small gardens and the size of the gardens of the existing properties will be substantially reduced. I think the city needs a diverse range of housing stock.
Cambridge needs more homes, and more affordable homes, but it's not just about numbers, we need homes which it is practical to live in, for life as well as those suiting people spending a few years in the city. Cambridge needs to have a housing stock which enables people to find appropriate housing which they can afford; at the moment we're failing miserably on that count.
Trees
The gardens on which the development is proposed currently contain a large number of substantial trees; some of which the developers propose to retain but many will need to be felled.
Trees, especially established ones, in an urban environment are immensely valuable; their presence between properties which back onto each other provide a feeling of privacy and seclusion; following the development it will be much more starkly clear that the city is a place where people are living very close together in dense housing.
It is not sensible to keep trees in order to obtain planning permission; some trees which are to be retained may, within a few years of occupation, need to be drastically reduced in size in order to make the homes practical and pleasant places to live.
My View
This isn't a terrible scheme; it would provide what look to be reasonably sized homes in a city and an area where they are much needed.
I think councillors should rarely intervene in the economics of the free market; and if people want to sell their back gardens for the price offered, their role in a case like this ought be merely checking any proposed development is not unacceptable (though I'd like to see them taking a more proactive planning role too).
What I'd like to see:
Plans adapted to provide vehicle access from the rear; and perhaps a foot/cycle path through the development.
The development built to be adopted by the council, with the road as public highway, and streetlights up and working from the point of first occupation.
Payments made to the council to reduce the impact of the development to be avoided by provision eg. of green space on the site or very near-by and by making direct contributions to directly related improvements eg. of local junctions. Personally I'd only like to see such taxes levied to pay for public works without which the development would be denied planning permission.
Bungalows considered for some of the plots. I note bungalow prices in the area are higher than much larger houses, so that might make economic sense.
The plans will probably be changed before a planning application is made.
As they are I'd say they are on the edge of being acceptable or not; which probably reflects what the developer will be doing – trying to push the council as far as possible and to get as dense and profitable a development approved as possible. Where the proposals are unacceptable councillors do have to push back against developers, in the interests of all the city's residents.
I live on Milton Road; though not in a property neighboring this development. My house is further down the road on the other side.