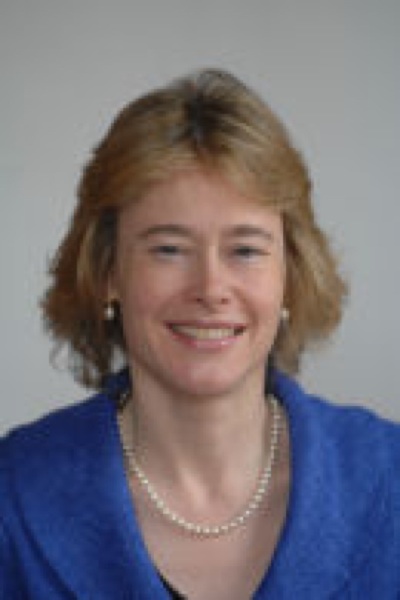 Despite presiding over mass fellings of healthy trees and substantial folk festival losses Cambridge City Councillor Julie Smith appears to be the best the Liberal Democrats can come up with to stand for election as Cambridge's MP.
On Tuesday the 15th of December 2009 Cambridge Liberal Democrats announced the six person shortlist from which they will select their candidate for Cambridge at the next general election. Writing in a comment on this site Liberal Democrat councillor Neale Upstone revealed that the selection would be made by a election in which all local party members have a vote. There is very little public information about the selection process available but I expect the announcement of the candidate is now imminent.
One of the Liberal Democrat's key mantras is localism, and one of the substantial differences between their list and the Conservative shortlist is that all the Liberal Democrats live in the City. All are current City or County councillors. I like the idea of sending a local councillor, someone who is aware of the city's problems, to represent the city in Parliament, but given their performance as councillors I don't think any of the shortlisted bunch are up to the role. I want to see all parties put up their best candidates; that is in the interests of a strong democracy so I am happy the Lib Dems didn't shortlist comedian Sandi Toksvig, which has been reported as a possibility.
Julie Smith
I think that Julie Smith is the strongest of the candidates and the person most likely to be selected by the Liberal Democrats.
I noted back in January of last year that it appeared that Julie Smith was being positioned for the role of Parliamentary candidate given the degree to which her colleagues, with whom she rules the city council, appeared to be attempting to insulate her from contentious matters. Opposition councillors have been among those complaining about attempts to divert questions being asked to her as an executive councillor to other councillors to answer. This was particularly explicit with respect to delays opening the play-area on the Accordia development.
As executive councillor Julie Smith has presided over attempts to pave over vast swathes of Jesus Green and a huge programme of felling healthy trees across the city on grounds such as "improving biodiversity". Much of what has occurred on her watch has not been as a result of her actively setting policy but as a result of her failing to take control of those areas of the council she has responsibility for.
Smith is also the Executive Councillor responsible for the folk festival; which lost the city £648,000 when a dodgy company appointed to run online ticket sales failed to pass money it had taken onto the council. There is no evidence she is actively and passionately seeking the return of that money for the residents of Cambridge and the inquiry into what went on is secretive and lacklustre. The folk festival losses are another area where it appears attempts have been made to disassociate Cllr Smith from the City Council's failings despite her being the elected individual directly responsible.
I believe, from her academic work, it can probably be inferred that Julie Smith is a strong Europhile; she would like to see greater integration and perhaps even the creation of a federal superstate it is surprising that her personal political website is rather light on the subject in which has specialised professionally and would probably devote much of her time to if elected. I think the UK should retain its independence, our laws ought be made by our MPs in the Westminster Parliament. The UK is a major net contributor to the EU and following incompetent negotiations by the current government our payments are increasing. We can't keep subsidising the economies of Ireland, Portugal, the Czech Republic and others when our own economy is in the state it is in. Cllr Smith, like many promoting the EU, says the EU has "contributed to half a century of peace and prosperity in Europe". Personally I put much more weight on the influence of the USA and NATO as being the forces which have ensured peace. There are clear benefits to Britain arising from the EU such as enabling easier trade and travel, but I don't think we need to be ruled by Europe to benefit from international cooperation in those areas. I would be concerned that if elected Julie Smith would essentially continue as an academic focusing on Europe rather than acting as a generalist representative.
Cllr Smith might be a popular choice with the Liberal Democrats centrally, and nationally; she has already been elected as a member of the party's "National Policy Forum". She spoke at the recent Lib Dem conference, apparently on the subject of Nick Clegg's announcement that he was no-longer going to commit to scrap tuition fees, but I was unable to make much sense of her garbled and internally inconsistent contribution. According to her website Cllr Smith is also currently vice-chair of the Liberal Democrat's Parliamentary Candidates' Association despite not yet being a Parliamentary candidate herself; perhaps this is an indication she is expecting to be selected?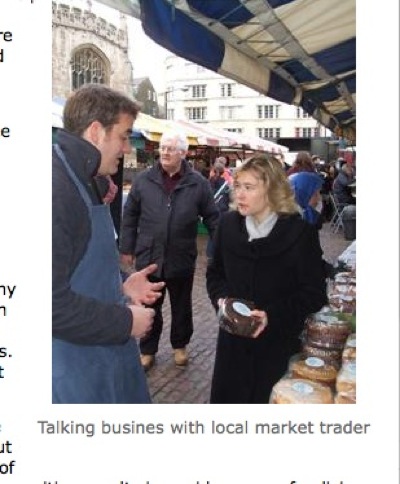 A Cake Stall – Julie Smith Getting to Grips with Cambridge Business? (Screenshot from Julie Smith's
policy page
)
Cllr Smith has a website at http://juliesmithcambridge.co.uk/ (registered November 2009) on which she has published a PDF manifesto in which she campaigns for selection as the Lib Dem's MP candidate for Cambridge. Julie Smith has also recently been "making friends" on the Liberal Democrat's social networking site "Act". On the 26th of November 2009 Cllr Smith made a posting on the site expressing her concern over the fact there were only two members of the "Cambridge Liberal Democrats" group; at the time of writing they are up to thirteen. The size of the electorate for the parliamentary candidate election has not, as far as I can tell, been made public. It would be interesting to know if the Liberal Democrats are able to muster more than the fifty or so people the Conservatives managed to get to take part in the selection of their candidate.
I have not spotted any of the shortlisted candidates taking a stance at odds with their party's view on any issue. Cllr Smith states "Free tuition is a key Lib Dem policy" but doesn't go so far as to commit to voting for the abolition of tuition fees if it becomes party policy to retain them. At the party conference the Liberal Democrats were split on this issue and Cllr Smith made a speech in which she both called for leadership from Nick Clegg (who had said he was in favour of dropping the policy of scrapping tuition fees) and at the same time asking for the views of the policy committee she sits on (which wanted the pledge to scrap tuition fees to be retained) to be listened to. This kind of indecision and fence sitting is not only the Liberal Democrat stereotype – it is the reality of what you get when voting Liberal Democrat. Cllr Smith's policy page is written, like a horoscope, in such a way that those with a very wide range of views could read it and conclude they agree with most of it. This is only possible when the substance is lacking.
The one area of national politics, in addition to "Europe", in which Cllr Smith claims to take a particular interest is immigration. She expresses her position on her website as being:
I am proud that as a party we still have the most liberal policies towards immigration but we also recognise that immigration has consequences on host communities. Thus it is essential that planners take movements of people into consideration so that we ensure that the infrastructure is adequate, be it in terms of housing, school places or the health service.
Another clear example of trying to have it both ways. Some Liberal Democrats think there ought be no limits on immigration yet the party's official pages propose a regionalised points based system; which would presumably restrict immigrants to living in a specific part of the UK – that sounds like the start of a scary and very illiberal slippery slope to me.
Recently Cllr Smith appears to have been taking a lead from Labour candidate Daniel Zeichner who is establishing a reputation for silly stunts; she has worn odd costumes (flags / aprons ) to full council meetings. Neither the point, nor the garments themselves, have been particularly clear from the public gallery. Perhaps we will see photographs and explanations emerge during the campaign?
Belinda Brookes-Gordon
I have attended most of the West/Central area committees since Brookes-Gordon's election as County Councillor for Castle Ward. Brookes Gordon has made very very few contributions to the discussions.
Belinda Brookes-Gordon is best known for the election campaign which she fought against independent City Councillor John Hipkin who was seeking election to the County Council. Brookes-Gordon whipped up worry in the local area about a possible supermarket on the proposed new university housing estate to be built between Huntingdon and Madingely Roads. I think she mis-prioritised the issues with respect to proposed development in the North-West of the City, and exaggerated the "threat" of a large supermarket in a cynical, but successful, attempt to gain support.
It is interesting that she appears to, as a matter of gut reaction, oppose the practice of city Liberal Democrats, particularly Julie Smith, of engaging substantively only with an elite (residents associations etc.) rather than the wider public.
Brookes-Gordon claims, on her website, to be someone who will fight for civil liberties; however where given the opportunity locally to influence local policing in response to questions I have raised at the West-Central area committee she, along with Julie Smith, Rod Cantrill and Sian Reid who are all also on this shortlist failed to prioritise getting the local police to follow the PACE codes, and treat those they stop, arrest, detain and question properly according to the safeguards which parliament has put in place. I have spoken to Kevin Wilkins, Liberal Democrat member of the police authority, and he told me that none of the committee had passed on their concerns to him, as they had said had committed in public to do. I find it hard to believe any of the Liberal Democrats' statements about pursuing civil liberties when they fail to use their ability to influence local policing.
Like her party colleagues Brookes-Gordon appears not to have been on the ball in her role as opposition member and scrutineer of the Conservative administration at the County Council. It was only in December 2009 that she and her fellow party members started drawing attention to the worryingly secretive and undemocratic "Making Cambridgeshire Count" "project" being run in the county council, yet those able to battle their way through the County Council's terrible website can see the project was been put to council committees months earlier. The Liberal Democrats ought to have been challenging the project (a last splurge of crazy spending on "high level meetings" before austerity kicks in) from the point at which it was conceived. Better late than never though.
Rod Cantrill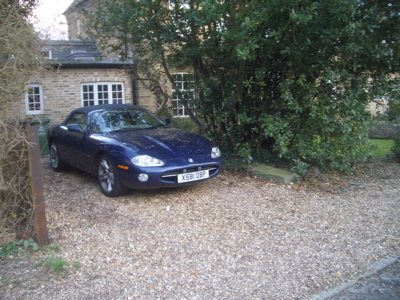 Has someone dumped a fancy 4.0L sports car on Cllr Cantrill's Drive?
One of the most notable exchanges involving Rod Cantrill which I have observed in the last year or so was when he was debating transport with the city's Labour Leader Lewis Herbert. During the heated debate Cllr Cantrill decided to ask how many Labour members had cycled to the meeting; in response Cllr Herbert mentioned the four-litre jaguar sports car parked outside Cllr Cantrill's large home on a private road in Newnham. Cllr Cantrill denied the car, parked on his drive, was his. At some point since Cllr Herbert's comments and before the announcement of the shortlist including Cllr Cantrill's name the vehicle has been covered with a tarpaulin; on balance this is more likely to be due to the weather than an attempt to hide it.
Cllr Cantrill has been responsible for the city council's improvements to its offices, a project he is often credited with having managed well. In his role as executive councillor he has also been responsible for the remodelling of the Guildhall which has made more commercial space available for rent – a positive change.
As far as I am aware Cllr Cantrill doesn't have a website. He has a blank "my councillor" page and appears to prefer to make statements via the Cambridge Liberal Democrats site which doesn't allow users to comment on articles.
Cllr Cantrill is responsible for council tax collection in the city. When in October 2009 during a full council meeting I asked him why the council was harassing graduate students for council tax despite them being exempt and having proved their status to the council he flatly refused to answer. A Liberal Democrat press release was later issued in which Cllr Cantrill was quoted as saying: "I welcome the council's prompt action to clarify the position." I think this clearly shows Cllr Cantrill, like is fellow Lib-Dems who ought be running the council haven't grasped their role, they run the council – they're responsible for it – for them to be welcoming the council's prompt action to correct something is a complete nonsense. With respect to threatening to take innocent students to court the situation may have been "clarified" as Cllr Cantrill said in his statement, but had not been fixed. Part of the problem appeared to be Cllr Cantrill's lack of interest in, or understanding of, the city's universities. Given Cllr Smith's role as a graduate tutor I am surprised she didn't help him out but she was presumably keeping as far as possible away from any trouble.
At the last West / Central area committee I asked if there was any mechanism for councillors to influence decisions on renewing and possibly expanding the city's dispersal zones he assured me, the committee, and the public that there would be an item on the agenda of the January Strategy and Resources Scrutiny Committee agenda yet it has not yet appeared on either of the two agendas which have been published for the meeting.
Cllr Cantrill has also been involved in the creation of "Love Cambridge" which has Cambridge's City Centre management out of democratic control an into a separate company. In response to my questioning the degree of openness and transparency with which the organisation would run at a meeting of the Strategy and Resources Scrutiny Committee Cllr Cantrill said that it would operate to the council's standards of openness. This has not happened, the Love Cambridge board does not meet in public and the activities of the company are disclosed only to members. The new structure has been used to keep things, such as negotiations with taxi drivers, more secret than they otherwise would have been. It also appeared possible that solicitors Hewitsons were given a seat on the board of the new company in return for free, or favourably priced, work setting it up.
While the argument that a city centre management organisation free of local government bureaucracy can find it easier to raise money may well be valid I am concerned about the degree to which the change was driven by council officers seeking to "empire build" and the unnecessary loss of democratic oversight and influence as well as transparency in the way the change was made.
Sian Reid
Like Julie Smith and Rod Cantrill Sian Reid is a city councillor for the Newnham ward. Cllr Reid is the executive councillor for Climate Change and Growth. I expect she doesn't find it at all ridiculous that Cambridge City Council has an Executive Councillor for Climate Change (The City council has a £250,000 fund for "Climate Change" which it thinks about spending on things like solar powered streetlights where the county council won't fund mains electricity; the fund can also be diverted to re-wiring buildings as long as when the lights are re-installed they come with motion sensors).
Cllr Reid spearheads Cambridge Liberal Democrat's opposition to improvements to the A14; a stance which I find absolutely shocking and clearly against the interests of the city. The injuries and deaths on the road, and the regular stationary traffic has a major impact on the viability of the city as a place to live and for companies to base themselves. I think it is something which needs to be addressed as soon as possible. Cllr Reid represents the City Council on Cambridgeshire Horizons the body charged with infrastructure development in the region; luckily Cllr Reid's voice is a lone one on that body.
Cllr Reid is very strongly anti-car, her evidence to the Cambridgeshire Transport Commission saw her express a desire to "block cars further away" – she doesn't want people to be able to drive anywhere near the city centre; she has expressed an elitist, "disneyland" vision for the City relaying her desire to promote the: "dream Cambridge lifestyle of living close to work and cycling around". Cllr Reid doesn't even want people to drive to the City's Park and Ride sites – proposing charges for parking there. It appears to me that she wants to drive retail and business sectors out of the city. Those wanting to cast a vote for sending the local, and national, economies back to the stone age have Tony Juniper and the green party as an option so quite what niche Cllr Reid might appeal to is not clear to me.
Tim Bick
Tim Bick has website dedicated to his campaign to be the Lib Dem parliamentary candidate at http://timbick.com/. His site presumes that the Liberal Democrats will not find themselves in Government after the next general election – he talks not about how he aspires to be part of a Government, but about how he hopes to effectively lobby government as Cambridge's MP.
For a split second on opening Cllr Bick's website my heart rose has he had put the word "energy" prominently in the site's headline. Unfortunately though he doesn't address how the UK is going to keep the lights on in the decades to come, and he doesn't address how we ought meet the country's energy needs. He mentions nuclear power – but only in passing, saying he campaigned against it as a student – he doesn't say what his current views are. Even though is statement was unclear. Cllr Bick's mention of nuclear power was about as close as any of these candidates came to addressing any of the major issues facing the country.
The "Energy" Cllr Bick focuses on goes with "Empathy" and "Experience" as he describes what he sees as his personal qualities.
One of the more ludicrous things Cllr Bick has done recently is attack those, including me, who were campaigning against Liberal Democrat plans, headed up by Julie Smith, to fell trees and pave over swathes of Jesus Green. Cllr Bick's angry press release can be read, but not commented on, at on the Cambridge Liberal Democrats' website.
Julian Huppert
Like Brooks-Gordon I haven't seen Huppert speak much at the meetings he's been at which I've observed.
He once spoke at an East Chesterton public meeting on policing opposing my suggestion that he (and Cllr Blair who was also present) ought take some of what had been raised to the North Area Committee where he would be able, along with his fellow County and City Councillors, to use it as a basis for setting the police priorities for the area. At that time he appeared, like many of his Lib Dem colleagues, to to think he or any other elected representatives should not play any role in directing policing strategy and holding the police to account for their performance. Since then Mr Huppert, no longer a councillor, has either clarified or changed his views, and he now believes, as I do, that councillors ought have a greater role in the Police Authority.
Julian Huppert has a campaign website at http://www.julianhuppert.org.uk
Mr Huppert stood for the Liberal Democrats in Huntingdon in the 2005 general election.
My View
We've seen the lackluster and directionless way the Liberal Democrats have failed to get to grips with running the city council; I think we really shouldn't as a city inflict on the country what the residents of Newnham have inflicted on Cambridge for the last few years. With the potential for a hung Parliament those considering voting Liberal Democrat need to think even harder than usual about what they are doing and what the consequences could be for the country.
As with the Conservative – we've got a lot to learn about whichever of the candidates is selected by party members in Cambridge before the election.