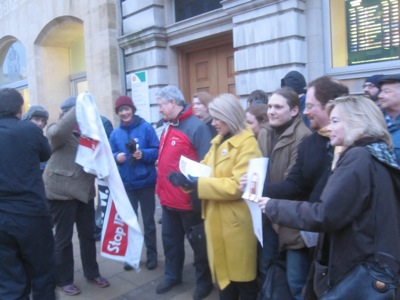 Gathering outside Cambridge's Post Office where minister Phil Woolas was supposed to launch an expansion of the ID Card and National Identity Register.
At 8am this morning I joined about thirty others outside the main post office in Cambridge waiting to greet Labour Minister Phil Woolas who was scheduled to be arriving for an event launching ID Cards for foreign nationals.
I don't want to live in a country where ID cards are compulsory and where the government maintains a national ID database. I joined those at the post office this morning to try and ensure Mr Woolas is reminded of the opposition to his government's proposals. I don't want to see the UK build an even larger and more oppressive state infrastructure; and I don't think every interaction I have with the state ought be linked as that creates the potential for a minor mistakes to result in enormous consequences.
ID cards have been issued to overseas students and other categories of foreign nationals for a few months now. From today more migrant workers, ministers of religion and sports people are required to go through the process of obtaining an identity card. By starting with these groups the government are picking on an easy targets to get a scheme underway which would then rapidly snowball to encompass the whole UK population – at first not via explicit compulsion but though the denial of driving licenses and passports to those not willing to volunteer to join the national identity register.
Cambridge benefits enormously from the large number of people from other countries working and studying here. I think it is wrong to be ramping up the bureaucracy and charges which we subject our visitors to; I think we really risk more people choosing not to come to Britain if we treat everyone as suspects. Quite why Woolas chose Cambridge for the launch when scheme will damage the city so much and the city is such a hot-bed of anti-ID database sentiment I can't imagine; he may simply be exceptionally badly advised.
I cannot believe that Labour will go into the next general election sticking to their current policy on ID cards and the national ID database. The scheme is enormously expensive, some estimates suggest costs of £20 billion, there are very few, if any, benefits which will arise from this spending and I think it ought be right at the top of the list of places were significant savings in public expenditure can be made.
No2ID has an excellent page outlining many of the problems with the government's ID card scheme.
Who Was There
Cambridge's Liberal Democrats attended in-force with three of those seeking to be the Liberal Democrat candidate in the next general election – Julian Huppert, Belinda Brooks-Gordon and Julie Smith present. Conservative candidate Mr Hillman was also there with a Conservative contingent. No2ID co-ordinator Andrew Watson brought his group's banner, posters and badges along and there were a couple of independent individuals like me.
Lib Dems Protest – But Don't Use their Power
Liberal Democrat run Cambridge City Council has passed a motion opposing ID Cards, I thought their action, while in the right direction, was rather weak as it didn't commit the council to any substantive action, for example it didn't rule out the council using the cards and database themselves and didn't result in the council taking steps to ensure that people won't be required to obtain an ID card and go on the national ID register to obtain council services (for example the council requires those applying for parking permits to transfer their driving licenses to the address for which they are seeking a permit – an action which will result in an entry on the National Identity Register being created).
Labour View
While it is a Labour Government introducing ID cards Labour's parliamentary candidate in Cambridge, Daniel Zeichner, has not made his own views on the subject clear. . In June 2007 I watched him defend ID cards at a No2ID meeting at Parkside; where he appeared to me to be taking a position indistinguishable from that of the Government. He has since commented on my website to say "I have argued for changes to the policy on id-cards ", his has recently explained his contribution to the public meeting as being due to him explaining the governments position rather than expressing his personal agreement with it.
Finding out About the Visit
Following the protocol that requires MPs to be notified when Ministers make official visits to their constituencies Cambridge's MP David Howarth had been told about the launch; he in turn tipped off local activists who were able to muster the group which was impressively large given the time of day, freezing conditions and few hours notice given. The Minister however did not turn up, apparently as he was unwilling to leave London due to snow. There was no snow in either Cambridge or London, but there was a little in-between. Trains were running.
See also: