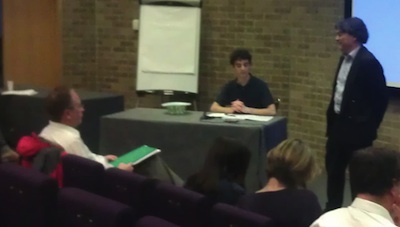 Conservative Candidate Andre Beaumont (Newham) Addresses the Student Hustings
On the 30th of April 2012 I observed a hustings run by the Cambridge University Students Union for candidates from the Castle, Market, Newnham and Queen Edith's wards on Cambridge City Council (wards selected for their large Cambridge University student populations).
The event had been advertised via an apparently university wide email yet only twenty-five students attended. This may in itself be informative and suggest in general students are not interested in the upcoming local elections.
Candidates
The Liberal Democrats sent their leader, Cllr Sian Reid (Up for re-election in Newnham), along with Cllr Tim Bick (Up for re-election in Market) (Twitter: @TimBick) , Cllr Amanda Taylor (Up for re-election in Queen Edith's) (Twitter: @LibralLady) and their candidate in Castle ward Alan Levy.
The Liberal Democrats were the only party to field a full slate of candidates for the hustings.
One Green Party candidate was present, their candidate for Market Ward, Brett Hughes (Twitter: @thugheb).
The Conservative candidates Nikesh Pandit (Castle) and Andre Beaumont (Newnham) appeared as did Labour's Noel Kavangh (Market), Sarah Cain (Newham) and Ashley Walsh (Castle) (Twitter: @Ashley_Walsh)
Independent Cllr Hipkin (up for re-election in Castle Ward) (Twitter: @CllrJohnHipkin) was neither present nor represented.
Opening Statements
Each party was given ten minutes, and the order selected by drawing names from a hat.

Conservative
Conservative Andre Beaumont kicked things off. He said he had an interest in students and that was the reason he had asked to stand in Newnham ward, rather than where he lives, or in Queen Edith's where he said he had stood previously.
Mr Beaumont said he opposed tuition fees, and was the only candidate to do so when he stood last in Queen Ediths. (He was up against Lib Dem Cllr Heathcock and Green Shayne Mitchell in 2005).
Mr Beaumont didn't explain why he was still a Conservative, or how his own view was compatible with being a member of a party which has just substantially raised tuition fees. (I'm also shocked by his statement there there was green and a Lib Dem supporting tuition fees, I find that hard to believe).
Candidates from all parties said, or suggested, they opposed tuition fees.
Mr Beaumont's statement went from the incredible and confusing to the bizarre as he announced without context that he had known Health Secretary Andrew Lansley for more than nine years but that Mr Lansley though he had known him for longer.
Mr Beaumont urged those present not to tactical vote, and not to be discouraged from voting Conservative by the fact they currently had no seats on the council, he said this could change over time if more people voted Conservative.
Nikesh Pandit spoke next, he said there was "no fairness or hard work in the current council". He stated the council's chief executive is paid £134,399/year (this isn't the figure the council gives), he also quoted a salary of over £100,000 for the Director of Resources (again not what the council gives). He said that these high salaries were "unfair".
He said that a quarter of the city's pubs closing was "unfair"
Mr Pandit said Cambridge was the 8th most expensive place in the country to live and violent crime was high and rising. He said if elected he would focus on four things:
Violent crime and anti-social behaviour
Sensible planning
Transport
Value for money
He said he would personally review crime in his ward and come up with reasons for the crime in his ward such as "lack of CCTV" and "fences". He said as a qualified barrister and a student of criminology this was his expert area, and he would look forward to working closely with an elected police and crime commissioner.
On transport he said he supported Chesterton Station, and wanted to see better cycling parking, including at the current station. He said he would audit cycle routes.
He said if elected he would cut councillor allowances, and merge the city council's chief executive post with one of the neighbouring district councils.
Green
The green, Mr Hughes, said he wanted to hold people to account, and talked about how people could choose how to vote. He said in the past you voted Conservative if the economy needed fixing, and then after a period voted Labour to rebalance public services. He said both Conservative and Labour were failing. He said people should vote on the basis of a party's platform and reputation. (Implicitly saying don't vote for an individual).
He said the Liberal Democrats had broken promises.
The Greens he said were in favour of social justice, peace, ecological justice and sustainability. He defined sustainability as "not spending more than you earn".
He said the green party was in favour of localism, and a lack of localism was his main criticism of the Liberal Democrats running Cambridge City Council.
Mr Hughes finished his speech saying: "vote for us as even if we stuff up the economy and social services we'll be no worse than the others".

Labour
Castle candidate Ashley Walsh kicked off for Labour, he said he was working towards an MPhil and then hopefully a PhD.
He said the Liberal Democrats wrongly charging graduate students council tax and their threat to the toilets in the lion yard, which he said was putting commercial interests over the wider public good, were reasons he was standing against them.
He said he wouldn't use national lines, then reeled off a bunch of anti coalition Labour lines on the NHS.
Walsh then turned to the living wage. He said as a student he had persuaded his college, Downing, to adopt it. He explained the point was paying someone enough to have their basic needs met for a 40 hour working week. He said Labour would pay a living wage if they controlled the council and use the fact they did it to lobby others, like the university, to follow suit.
On crime, Walsh called for CCTV monitoring 24 hours a day, and for a new post of a city centre enforcement officer. He said he'd plant trees on castle hill and hold community clean up blitzes. He finished by saying there was a town/gown divide, which sometimes deteriorated into fights, and urged people to vote for the "university slate" of Labour candidates (he's a student, one of the others is a staff member) bring the two sides of the city together.
Sarah Cain spoke next, saying she had lived in Newnham for sixteen years, as an undergraduate, PhD student and now as a member of staff at the university. She said she had been involved in running "access schemes" (My view is the underlying assumption behind these, that those from poorer backgrounds are unaware of Cambridge University is wrong, and if the university became a fairer, meritocratic institution, and ditched the corruption, nepotism and patronage it would encourage those from a wider range of backgrounds to attend.)
Cain said she thought the Owen Holland sentence was "disgraceful".
She said her three main points were:
Safety for women
Jobs
Housing
My view is that safety is crucial for everyone, not just, or even particularly, women.
Cain said she supported the "right to light" campaign for better lighting of city's green spaces and certain roads.
Cain said she would reopen consultation on the city's lap dancing policy, saying she wanted to see a "nil" policy.
Turning to shared housing Cain said many of the city's shared houses were squalid, unregulated, and bad value for money. She criticised Liberal Democrat Tim Ward on the grounds he was a landlord, and that he was using his commercial website, which she said supported this disreputable industry, to attack the labour policy.
(I think Cllr Ward's website provides a very useful service to Cambridge).
Cain finished by complaining MP Julian Huppert has misrepresented Labour's proposals in relation to regulating shared houses.
Noel Kavangh spoke next, he said he had worked as a lecturer in a further education college and in the Cambridge University Press. He said Cambridge is special. He said safety at night, particularly on open spaces was important, and he is a passionate cyclist who wanted more cycle parking at the station. He said the Liberal Democrat's recent budget was dismal as it failed to reinstate a full time cycling officer. He then urged those present to vote Labour, to "send a message to Westminster saying we've had enough of them".

Liberal Democrats
Cllr Bick spoke first, saying he had been a city councillor for four years. He said Cambridge is a successful city, and the Lib Dems aimed to ensure all parts of the city participated in the success. He said the Liberal Democrats had put funding into helping people in to work, helping women back to work after taking time off to have children, and had funded five disadvantaged young people giving them work experience.
Bick said area committees were the councils "flagship" policy,
He said the council supported minorities and minority groups such as LGBT and the aged; and told the event how the council funded Black History Month and funded ethnic minority communities.
Bick said the council worked with the police, urging them to act in a proportionate manner .
Bick said that lighting on Parker's Piece was something the others were talking about, but "we are doing" and it had been "adopted as a project".
(This means it's been added to a list of ideas, not that there's a worked up proposal which has been actually approved by councillors).
Sian Reid spoke next, saying she would talk about the economy and the environment. She said that the Liberal Democrats had presided over the creation of thousands of jobs and the city was a "top prospect" economically. Reid said the city had helped developers build in a green manner and had required developers to provide 40% of homes built as affordable homes. (She didn't define this, or discuss the impact of this requirement on house prices).
Reid claimed the city council had introduced a "cycling team" within the city council to "deliver cycling projects".
Cllr Taylor then spoke briefly opposing "tory cuts to busses" and in favour of "lighting cycle ways" before tuning to Labour's proposal to control, and cap, shared housing. She said that the council had prosecuted three rogue landlords already this year and was tough on them. She opposed the Labour idea of capping shared homes as 25% of properties in 200m stretch and called the idea: "fundamentally illiberal".
Cllr Taylor said that shared houses were not a nuisance in her ward, and she got more complaints about homes where families with large numbers of children lived. She called labour's proposals:
A direct attack against young people
She said a cap would make things for young people worse, and noted that the Labour proposals were targeting people, all sorts of people, including professionals, and limiting their choices.
The Liberal Democrat's time was up as Cllr Taylor was speaking. Alan Levy complained grumpily and petulantly that he hadn't been given a chance to speak, challenging the chair (who had done exactly what he said he'd do and given each party ten minutes).
Questions
Living Wage

A questioner asked for more details from those other than the Labour party, on their views on the Living Wage.
For the Liberal Democrats Sian Reid said only a few council staff were paid below the living wage, and they were only pennies below it. She said that following current negotiations with unions all staff would be paid above the living wage, she blamed the unions for the delay.
The Green candidate said the living wage was their idea which the other parties had stolen.
The Conservatives said that putting up the salaries of public servants in a time of austerity was not the way to go.
Making the city more green

The second question was on candidate's plans to make the city "more green".
Cllr Reid sounded very excited and declared this was one of her favourite topics. She said the council had improved recycling rates and required high sustainability standards on new developments.
The Conservatives called for villages to be built to provide new housing, and opposed the current expansion no of the city. They said London's "garden cities" had been a success and wanted the equivalent for Cambridge.
Labour claimed they had pushed the Liberal Democrats to recycle plastic pots, and said they'd do even more in power than they'd achieved from opposition.
Drinking in Public Spaces
Chair of the Student Liberal Democrats, Anthony Martinelli, asked what appeared to be a planted question about drinking in public. He didn't identify himself as a Liberal Democrat.
Labour struggled to answer. Mr Kavangh said residents drinking on green spaces, and students after May balls were not a problem. He said the problem was those whose drinking caused a "social nuisance" and who were involved in aggressive begging. Mr Kavangh said Cllr Gowers (he meant George Owers) had proposed a wet room policy (which he joked wasn't a pub) and that the police had supported that idea.
(See my article Police Endorse Cambridge Labour's Wet Room for Drunks Policy)
Mr Kavangh said "the police issue ASBOs" (showing a lack of knowledge of the justice system) and asked Cllr Bick to help him out and explain what the police and city council could, and were doing.
Cllr Bick obliged, and noted that Mr Kavangh was in a difficult position as he had apparently not wanted to reveal how authoritarian his party were on this subject. Bick opposed the idea of asking the police to clear the streets and lock up all those who are drinking in public and causing a nuisance in a drunk tank.
The Conservatives quoted John Hipkin saying he would not walk down Regent Street on a Friday or Saturday night "for fear of being urinated or vomited on". Their answer to the problem was more bins, particularly on Huntingdon Road which they said people walked down drinking on Friday and Saturday nights but had no where to throw away empties. They suggested the city adopt a more "european" approach to street drinking, stressing it wasn't in their view generally a problem.
The Green said his Green colleague Cllr Segwick-Jell had supported the drunk tank idea.

Right to Light
Asked for more information on the lighting of green spaces Cllr Bick said he'd seen a list of the top twenty places students wanted better lighting. He noted that there had been different views, and that some of the city's permanent residents were opposed to better lighting of green spaces, he said he had though recently come to understand that Parker's Piece is such an important route between key areas of the city that it needs to be properly lit. Bick said that while the city council could deal with the green spaces, the County Council was responsible for the highways, he offered to help CUSU and ARUSU lobby the County Council.
Labour's Sarah Cain called for lighting the college backs better, and promised that under Labour any improved lighting would retain the "reality checkpoint" on Parker's Piece. She said getting better lighting "not rocket science".
The green candidate called for lights to be solar powered.
Shared Homes Cap
A questioner asked about the Labour shared home cap.
Labour candidate Sarah Cain responded, she said she wanted to see fewer rental properties in Cambridge and more owner-occupied family houses. Cain demonised landlords, and said she wanted to see fewer of them.
Cain related some personal experiences of living in shared houses, including living in a property where the gas boiler wasn't safety checked, and in a property where she lived in an uninhabitable attic room where the landlord regularly came round unannounced late at night. She also told how her sister had fallen through the stairs in a rented property and been asked by the landlord to pay for the damage. In the only bit of heckling which occurred during the event the questioner noted all these stories were irrelevant to his question on the cap.
Cain stated Liberal Democrats in Southampton had introduced such a cap.
Alan Levy spoke for the Liberal Democrats, but started by introducing himself. He mentioned he'd been a councillor before, but not that he'd been absent for so long the council had to pass a special motion as technically he should have been deemed to have resigned. Mr Levy started with the irrelevant statistics that the council has 8,000 council homes and 8,000 people on its housing waiting list. He did eventually address the point and said the Labour proposals would price young people out.
Levy said Southampton was not a Liberal Democrat controlled council, and in any case what Liberal Democrats were doing elsewhere wasn't relevant to Cambridge.
The Conservatives said they would oppose the extra regulation Labour was proposing, particularly due to the snooping on who was living in a house and how which would be required to enforce it.
The Green stated he would tentatively support the Labour proposals, but later sent me a private tweet saying he didn't hear the question.
Unitary Authority
The questioner asked how technically a unitary authority would come about.
Labour's Ashley Walsh explained central government would make it happen if local people wanted it.
Sian Reid for the Liberal Democrats said she would like the County Council abolished and its powers passed closer to the people to the City Council, which she wanted to see have boundaries which were "less tight around the city". She said support for the idea in South Cambridgeshire was strong. Reid said the process for obtaining a unitary authority under Labour was too convoluted to use, and that now with the current government they were more serious about localism, and giving powers to the county's major cities. Reid said she wanted whatever powers went to Manchester or Birmingham to come to Cambridge too.
National Planning Policy Framework
Asked for their views on this the Green candidate said: "no idea".
The Conservative said how under Thatcher he had written to the government urging them to remove the restrictions on building on green belt and green fields as this was artificially making land and house prices too high, he welcomed deregulation.
Cllr Reid for the Liberal Democrats sat on the fence and said their views on further expansion of the city would depend on the consultation responses to the local plan – the consultation is starting in mid-June.
Labour's Sarah Cain only contribution was to accuse the Liberal Democrats of not having a local plan, saying the current one expired in 2006. Cllr Reid stated this was "factually inaccurate"

Homelessness
The Conservatives suggested volunteering to help homeless people.
Cllr Bick said the Liberal Democrat run city council focused on trying to help people turn their lives around, and deal with addiction and other problems and helped them find accommodation.
The Green said the issue was complex, and Labour said the solution was "building more houses, obviously" and claimed they would build many more than the Liberal Democrats.
Overall
In summary I thought the Liberal Democrats had much better knowledge of the state of the city's affairs than any of their challengers; some of this comes from being on the council, but council meetings and council papers are open to all and the candidates could I think have done much more to inform themselves. The Conservatives suggesting that the city's biggest street drinking problem is a lack of bins on Huntingdon Road is just so far out of touch it's ridiculous.
I was quite surprised by Sarah Cain, and by seeing someone who believes in Labour's policy of pushing house sharers out of Cambridge much more strongly than any of the Labour councillors speaking full council did, and even expanding the attack to cover not just shared houses but the entire rented sector. Utterly astonishing, and when combined with the bizzare comments on the local plan and Southampton, fatally damaging her credibility I'd have thought.