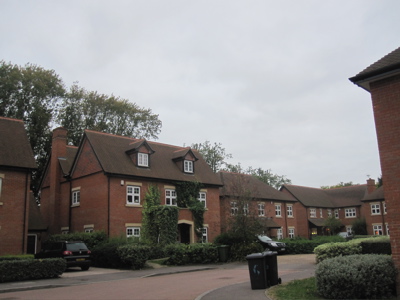 Drastic crown reduction has taken place at one end of a previously magnificent line of trees between Templemore Close and Holbrook Road.
Earlier today someone living near Glebe Road in Cambridge phoned me up to talk about tree works being carried out at the back of Templemore Close. Templemore Close is a small cul-de-sac of infill properties next to the Perse Pelican School on Glebe Road. At the back of the development there was a magnificent line of 23 silver leaf maple trees which were the dominant feature in the local landscape. "Crown reduction" work has recently been carried out on seven trees in the garden of 8 Templemore Close. This work has left what is left of those trees looking in a very sorry state and has resulted in the line of trees as whole having a very inconsistent appearance.
Timeline and Key Points:
1989 – Outline application for residential development at 90/92 Glebe Road and Tree preservation order placed on trees at "80-90 and 92 Glebe Road and land to the rear".
18 August 2008 – Council officers place new tree preservation order on the trees: "to reflect the changed geographical position." The trees had not moved, but Templemore Close had been built next to them so they had a new address. Personally I am not convinced this was a good reason to re-visit the order and wonder if there was another unmentioned underlying reason for the action.
January 2009 – Cambridge City Council's Principal Arboricultural Officer met Templemore Close residents and advised the trees should be considered as a unit.
February 2009 – Due to there being both objections and supporters of the new Tree Preservation Order the question of if the order ought be confirmed was put to Cambridge City Council's Planning Committee. On the 4th of February 2009 the committee consiting of councillors Baker (Chair), Blair (Vice Chair), Blencowe, Dixon, Hipkin, and Smart unanimously confirmed the tree preservation order.
24th June 2009 – K Churchman had applied for permission to perform crown reductions of seven trees in the garden of 8 Templemore Close. The council's planning committee of councillors Al Bander, Baker (Chair), Blair, Blencowe, Dryden, Hipkin, Reid, Stuart, and Zmura unanimously approved the proposals in the face of seven objections.
22nd July 2009 – Mrs Bearcroft had applied for permission to crown reduce four trees in the garden of 4 Templemore Close. The planning committee of councillors Al Bander, Baker (Chair), Blair, Blencowe, Dixon, Dryden, and Stuart unanimously approved the proposals in the face of just one objection.
September 2009 – Work carried out on trees at 8 Templemore Close. Resident of 8 Templemore Close tells me that his neighbours, the owners of the other trees in the line, are planning further work.
UPDATESeptember 2009 – Work started on trees at 4 Templemore Close.
Papers for the city council's planning committee, and the city council's online "planning portal", do not give any indication that permission to carry out tree works at 5, 6 and 7 Templemore Close has been sought. It is possible that officers have given advice in relative secret. I have written to the city council's tree team to ask and will comment on this article if they respond. I accept it would be a nonsense for a further three separate applications to be put before the planning committee, but equally think there needs to be transparency and note the planning committee did has not yet given permission for works to the whole line of trees. (Procedurally I do not think there was anything stopping the council's tree officers making an application for work on the remaining trees themselves; other than the fact we don't have a culture of pro-activity in local government in this country. )
Problems With The System
Only very near neighbours of trees to be worked on are consulted and given an opportunity to object to works. It is hard for others, who may still live in sight of the trees or have another interest, to find out about proposals for tree works.
The decisions that have been made cannot easily be located. Not all local residents are aware that due process has in fact been followed, as it is too hard to verify this. (Calling me, while effective, shouldn't be necessary!)
There is no mechanism for the council to take decisions on a line of trees like this together if they only receive applications from individuals to work on their own trees. As with things like building on streets like North Street and Salmon Lane, or decisions on if a certain type of extension ought be allowed on a particular group of properties, I think councillors should do more localised "tactical" planning.
As this TPO and subsequent applications have gone to three separate planning meetings this means objectors would have been expected to object three times and if they wished to speak attend to speak three times. I think there needs to be an ability to carry objections forward where appriopriate so that people don't keep having to make the same points again and again.
Councillors making planing decisions are often reliant on biased expert advice, in this case they received a report from the tree surgeons – Eastern Tree Surgery – who I believe carried out the work. While here they also had the views of their own tree officers, on other matters such as structural safety of buildings they do not have independent expert advice to draw on.
Those who supported, and obtained, a Tree Preservation Order might rightly be very surprised that just a few months after confirming the TPO the same councillors then approved drastic works to the same trees. There appears to be an inconsistency there.
Interactive Map of the Area
Click on the symbols for more details. Use the controls to move and zoom the map.

View on Google Maps
At the time of writing the aerial photo available on Google Maps shows the full line of trees before the work commenced. The report on the trees to Cambridge City Council's planning committee on the 24th of June 2009 stated:
The trees are approximately 23m high with a canopy spread of approximately 6 – 9 metres. The trees appear to be in good physiological condition, they have full crowns, which are well-covered in foliage and the annual extension growth is normal for the age and species of the trees. The leaves are green, healthy and normal size.
On the other hand the report to the 4th of February meeting stated:
Silver maple are relatively quick growing, short-lived species, as a result the timber is prone to
disease and decay.
and also said:
The trees are probably 60 –80 years old and are mature plants; in normal conditions in an urban environment they could be expected to live for 120-150 years, in this instance it is unlikely to exceed 20-40 years.
This links to the situation on Lammas land where a council tree officer justifying the felling of young sliver maples there said all silver maples would succumb to structural problems eventually.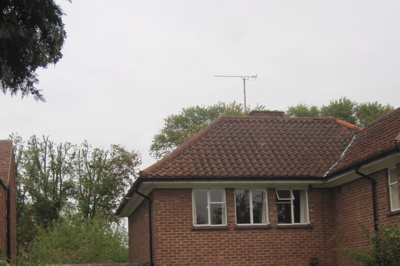 View of the tree works from Holbrook Road.
One point in the objections which stood out to me was made by an objector who commented that a percentage reduction in the crown was hard to visualise and verify. It was suggested that consultation documents ought indicate the height to be lost from trees, as this is an easier quantity to deal with and check. Where trees are being reduced in height I think that is a very good idea.
When I spoke to the resident of 8 Templemore Close he said his view was that the trees were nearing the end of their life, and he felt he had a duty to his neighbours on Holbrook Road to keep them in a safe state. He said that some people in Templemore Close want the trees felled completely suggesting his position was actually relatively moderate. He stressed that due process had been followed, and the application had been to the planning committee at which an objector (named by the minutes as "Lois Arnold") had spoken for their allotted three minutes. He also said that Cllr Alan Baker had been out to look at the site.
At least one of those favouring the work put forward the argument that what happens to these trees is no business of the council (ie. the wider community) and ought just be a matter for the property owners. Generally I am hugely in favour of strong property rights, I dislike necessary state interference in people's lives; but in this case I think that the involvement of the planning process is entirely appriopriate. The trees in question are all interdependent and part of one contagious feature but they are under within five different properties. The trees are of value to those living in a wide area, as well as to some extent the city as a whole. I think it is entirely right that decisions such as if work can be carried out on these trees ought be taken by elected councillors.
When considering the later application for works to the rear of 4 Templemore Close in July councillors added a "recommendation" to their approval stating: "The Council recommends:
the implications of this work be considered on the trees immediately adjacent.
that a long term management plan should be prepared for the tree belt.
The trees should be regularly inspectioned[sic] and a record of those inspections retained. This is in line with current good practice and in accordance with responsible management.
For some reason the councillors did not make the preparation of a management plan a legally enforceable "condition" of the permission, they left it as an informal recommendation.
Direct Links to the Key Documents
My View on the Trees
There have been significant problems of communication and of process here. I would have liked to see the whole row of trees dealt with as one block from the time of the initial application for works at 8 Templemore Close. The proposals, and subsequent decision, were not clearly communicated.
I think the tree works have been a little on the drastic side, but I am mindful that often trees look worst just after work has been done, and in a couple of years time the trees might well adopt a more natural shape. The council's tree officers have said they anticipate vigourous regrowth of the crowns. The potential for inconsistent work on different trees will though, if that is what is to occur, create an additional, unnecessary, loss of value to the area.
It appears that the owners, the council tree officers, and councillors all agreed that there was an urgent safety case for carrying out works. The council officers' report to the June planning committee meeting which considered the trees at 8 Templemore Close stated:
The officers conclude the proposed crown reduction is an appropriate and reasonable response to the condition of the trees. If the work is not undertaken the trees are likely to fail. Where the cavities are in the upper crown the branches are likely to collapse at the seat of decay because the timber will have disintegrated and will be unable to support the loading above. This is likely to occur within five years and could happen in gales this winter.
What is conspicuously absent though from the report, other than in comments from objectors, is the effect of these trees on overshadowing the houses and gardens of Templemore Close. While the argument for works is being made on the basis of safety considerations I feel it is highly likely that Templemore Close residents with relatively small gardens overshadowed by these huge trees might well be seeking more light. As they did not make this argument, and given they bought their houses knowing the protected trees were there, I strongly feel any work ought to have been limited to that which was required for safety reasons.
I am a pragmatist and fully in favour of tree works, and even tree felling, when absolutely necessary, I think that where possible trees ought to be felled in a controlled manner before they fail where we are reasonably sure failure is imminent.

Templemore Close – Why Private Roads are Undesirable in a City
While there are no signs to indicate it, I was told by the resident of 8 Templemore Close that it was a private road from the point at which the surfaces changes in the hammerhead turning bay. He stated that I had been trespassing by cycling further into the road. He even claimed I was still trespassing by walking over to speak to him outside his house when he had clearly come out to talk to me, a clear implied invite (as would a letter box, had I been delivering leaflets). He asked me to remove his house from any pictures which I published. While I have not done this I have decided not to publish any photos taken from within the area he identified to me as being private.
When said I was researching an article for my website on the trees he warned me that the Cambridge Evening News had "got into trouble" for writing about Templemore Close and suggesting it was the most expensive place to live in Cambridge. He told me that a "high powered London lawyer" lived at 7 Templemore Close and told me I ought be afraid of him if I was to write about the road and publish pictures of it. In response to this I asked if Google Street View had visited the road, he said it had, but that Google had taken down its images of the road following complaints by residents. I can find no evidence online of a Cambridge News article mentioning Templemore Close so perhaps it pre-dated the online edition or it may even have been removed following legal pressure! Google Street View does not cover the vast majority of the close.
House Prices in Templemore Close
Obviously the comments made to me when I visited the site prompted me to look up some property prices. The following are extracted from Houseprices.co.uk's page on Templemore Close which contains data obtained from the land registry:
No. 8 Templemore Close was sold for £730,000 on 15/06/2001
No. 11 Templemore Close was sold for £699,995 on 16/05/2008
No. 1 Templemore Close was sold for £1,060,000 on 22/02/2008
No. 4 Templemore Close was sold for £710,000 on 12/02/2004
Personally I don't see the attraction of the location; but each to their own!
Adopting Roads on New Developments
I think that roads on new developments ought be adopted by the county council, I think that private roads set in store problems for future residents and for the wider city. I have written about the situation at Thrifts Walk where despite it being a private road councillors were somehow persuaded to use public money to do it up. Private roads also confuse the police and cause enormous problems as in the case of the postman seriously mauled by a dog on Gazeley Lane.
There are areas where the council is slow to adopt roads; there have recently been problems in Arbury Park with a lack of street lighting and poor curbs. Looking back on my photographs of Templemore Close it appears that it doesn't have streetlights either, a feature in common with other newly built smaller developments in the city where roads have remained private. (While smaller, the unlit new development off Cavendish Road by its junction with Mill Road is another area where street lights would be desirable.) I would certainly not want to see any more gated streets / gated communities in the city and notice that Templemore Close already has what look like they could be parts of gate posts.