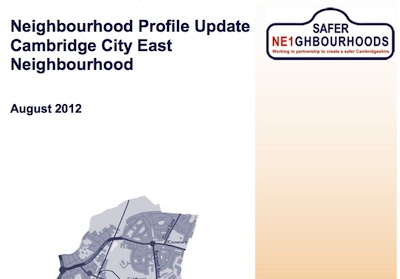 I observed Cambridge's East Area Committee on Thursday the 2nd of August 2012. One of the key things raised, as usual for East Area Committee meetings, was crime, and other problems related to street drinkers in the area. The committee heard from two members of the public one of whom was Joanna Dean of Norfolk Street, who described intimidating and aggressive behaviour from the current population of street drinkers. She and another member of the public said current street drinkers are less considerate than those who had been in the area in the past. They also related reports of shopkeepers having to clean up vomit from outside their shops before they opened in the mornings.
East Area Committee Chair, Labour's Cllr Kevin Blencowe said that the committee had set related police priorities over the last two years, but the problems were still occurring, so he wanted to try something else. He sought the committee's support for two proposals:
A meeting between the police, himself and the opposition spokesperson to develop plans for a localised "street drinking order", a "Designated Public Places Order (DPPO)".
For the committee to ask the police to formally propose a "dispersal zone", under S30 of the Antisocial Behaviour Act 2003, for East Cambridge covering Mill Road, the Mill road Cemetery, Norfolk Street, and perhaps Burleigh Street and Fitzroy Street (outside the East Area) too.
Both of Cllr Blencowe's proposals were surprisingly unanimously approved by the entire committee, including Liberal Democrat members. Some concern was expressed by Liberal Democrat members about a DPPO, but they did not vote against investigating the option.
Inspector Poppet appeared keen on looking into the highly localised DPPO idea, but expressed concern about dispersal saying there was a need to focus on helping individuals holistically and not just moving them on.
My Suggestion – Capitalise on the Relaunch of Jimmy's
Liberal Democrat Councillor Smart noted that Jimmy's Night Shelter is due to re-open as a 24 hour a day assessment centre. According to a FOI request I made in October 2011 was due to have been opened in May 2012, but it appears to yet again have been delayed. I would suggest councillors ought try and ensure the relaunch results in as greater improvement possible for residents of East Cambridge, and could hold a special meeting of the East Area Committee bringing together, in public:
Elected representatives; local members and those with relevant cabinet / executive, and committee chairing, responsibilities.
Management of Jimmy's Assessment Centre
Magistrates
Probation Service
The contractors, providing addiction, and alcohol services, and those from the County Council responsible for monitoring their performance.
Police
NHS
I don't think the public in Cambridge, or the East Area Committee specifically have been clearly told exactly what can be expected from the relaunched service. In my experience single issue public area committee meetings can be very effective. I would like to see councillors and the public better informed about the services being provided so they can ensure the vast sums of taxpayers money being poured into tackling the problems associated with the related problems of homelessness and drug and alcohol addiction among those spending a lot of time on the streets is being effectively spent.
In addition to learning about the new services to be provided by Jimmy's and making clear to those running the service what local residents would like to see; I'd like to see councillors locally scrutinising the performance of the County Council's contract with South Staffordshire and Shropshire NHS Foundation Trust for Drug Treatment Services and with Addaction for the provision of the Cambridgeshire Alcohol Treatment Service. When the latter service is up for tender again, next year, in 2013 I expect, given the contract was for three years from July 2010 local councillors should be ensuring the future provision works in the public interest. One interesting point is which contractor is responsible for an individual depends on if their primary addiction is alcohol or other drugs; I would like to know more about how this works in practice.
Both services are responsible for delivering court ordered treatments and courses. I think there is a lack of openness surrounding such court orders; even magistrates handing them down are often unclear about what exactly they will amount to, when they will start, and how much contact time there will be. A six month order handed down in court might result in no action being taken for a couple of months, followed by a handful of appointments with a practitioner. I think there needs to be much greater transparency so elected representatives can ensure public funded interventions are co-ordinated, and even to ensure sentencing is carried out from a better informed position.
The services have a wider role too, in dealing post-sentence, with those being monitored by the police and probation service. I think magistrates in particular would benefit from hearing from councillors and the public about the impact those committing offences relating to street drinking are having on those who live, work in, and visit, East Cambridge.
I would like to see councillors receive information on how cases had been dealt with by the police and courts, and how effective sentencing had been at preventing re-offending. Councillors could start opening up the process of getting to grips with where our response as society to these problems is currently failing.
My View on The DPPO and Dispersal Order Suggestion
Committee members' logic in calling for the DPPO and dispersal orders appeared to be along the lines of: "we must do something; these are some things; we must do them".
No argument was made that either a DPPO or extra dispersal powers, would actually solve a problem being experienced by the police. Had such an argument actually been made, I would have listened to it with an open mind and considered the need for extra powers, but it wasn't.
While Labour Cllr Gail Marchant Daisley didn't tell the meeting why she wanted to see a dispersal zone order, she did tweet while the meeting was in progress to say:
A major advantage is that it can apply to any form of anti-social behaviour, don't need to show alcohol related crime & disorder.
However the discussion was on the subject of street drinking, and I don't know what other "anti-social behaviour" she hopes to see tackled, but whatever that is, it wasn't the main substance of the concerns raised by the public, or matters debated by councillors.
The attitude of a number of members of the public at the meeting, and the Labour councillors, appeared to me to be one of calling for these people to be swept up, removed from the streets.
If someone is behaving in an aggressive manner on the streets, or urinating/defecating/vomiting on the streets whoever they are, the police have various options for dealing with them. Those whose criminal behaviour is causing a serious problem should end up in court, and their sentences should aim to reform them, and address their health and addiction problems so that they do not continue to offend and cause a problem. As well as people committing offences being pushed into reforming their lives through the courts, I think its important that people have direct access to help with their addictions and other problems. Committing crime shouldn't be the easiest or even only route to getting help. My view is dealing with people committing offences robustly through the courts is far preferable to merely dispersing them, moving them from one part of the city to another.
In terms of DPPOs, as well as following the long ongoing debate in Cambridge around them; I have personally been stopped for carrying an open container of alcohol in a DPPO and ordered to pour it away (being totally unaware I was in such an area), and I've also recently observed Cambridgeshire Police discuss their enforcement of the DPPO surrounding Ely Cathedral. What's interesting in the latter case is that the police don't enforce it in a blanket manner, last month they told Ely councillors:
Quite often we found the regular group of street drinkers and associates in the vicinity of the Cathedral but unless we had reports of ASB or we witnessed any offences, no further action was taken. This is in the spirit of the DPPO and is a proportionate response.
If this approach is taken in East Cambridge I think many residents will feel as I did when I heard the police explain their approach in Ely – they're simply not enforcing the order. However perhaps, if the police are able to exercise discretion, some of the objections to the DPPO could be overcome.
What I wouldn't want to see is police officers lurking outside the CB2 Cafe catching people walking with alcoholic drinks from inside to the terrace using the pavement. In my experience the police prefer targeting harmless, nice, people than those causing problems, and unless officers are clearly directed we will see no effect on those making the lives of residents a misery, and many more people coming into contact with the police who shouldn't have to.
We need to be very careful in terms of what we ask the police to do though; and ensure everyone is treated equally by the police and the wider state. We can't for example have scruffy people being stopped from drinking or buying alcohol, but those who are clean shaven and with a freshly washed T-shirt on being allowed to. Such an approach would breach the basic principles of everyone being treated equally under the law, as Cambridge Liberal Democrats have come close to doing previously via their unwritten dispersal powers protocols.
One of the key roles of the police is to "keep the peace", if the police are directed for example to only use their powers under the DPPO where there is a "breach of the peace", which could be quite broadly drawn in my view, I think that could be acceptable. I would rather the police limited their interventions to cases where an offence is involved (one of my and others' objections to dispersal and DPPO powers is they can criminalise, and restrict the freedoms of, those who have not otherwise committed offences).
I think its reasonable and right for councillors to ask that the options be investigated, and I look forward to reading the outcomes of the meeting to discuss the DPPO, and the consideration of a dispersal zone.
If the council leader, and/or other councillors, are asked to assess the case put forward, my suggestions of areas for them to consider would be similar to those I put forward in March when a zone was being proposed for central Cambridge, the important think is to disambiguate the general call for action, with the reasons the specific powers sought are being requested, there are also other matters I would like to see debated if councillors were considering approving an order these include: signage, operation in practice (forms / notices issued), any protocol limiting the uses of new powers approved (eg. perhaps limiting them to criminal behaviour)
I think a big impact on the area could be obtained from having it patrolled primarily by police constables, with a full range of powers rather than PCSOs who are very limited in terms of what powers they have to take action. I think Labour councillors on the committee are unwilling to criticise the policy of having people dressed up as police officers, rather than constables, as it was their party which introduced the idea. I think the main extra powers of a dispersal zone could be obtained by patrols by already empowered constables. One of the problems raised by the public at the meeting was PCSOs observing problematic behaviour, but just saying hello to those involved, and walking on.
Licensing
Licensing appears to me to be a key area of opportunity to address some of the problems being experienced in the area. While addressing the committee Joanna Dean called for an extension of the Mill Road "Cumulative Impact Zone" to Norfolk Street, no explanation was given as to how that might help. Ex Cllr Gawthrop said he had observed street drinkers being sold alcohol in the newsagents on Norfolk Street after he had a conversation with staff suggesting they probably shouldn't be served. He suggested the council should act to remove licences from premises selling to those who are drunk.
Cllr Owers also criticised some of the area's off licences, he said it was clear those with large piles of 9% lagers or cheap ciders stacked up by the doors or tills, being sold in single bottles/cans, were targeting the street drinking market, and should be stopped.
Licensing Committee member Cllr Benstead said there had only ever been two or three reviews of existing licenses carried out by the council. He said he would like to see the council do more of them, and he noted there were many options open to the licensing committee such as adding licensing conditions which could be the outcome of such a review.
Cllr Benstead and others noted that as a result of the current government's localism policies they now had much greater powers to review licences (As a Labour councillor he didn't put it quite like that). He noted anyone could provide evidence to the council and request a licence be reviewed.
It emerged that even some councillors, and many members of the public, were unaware of what they had to do to trigger a review.
I would suggest that the council needs to make the process of requesting a licence review much simpler and clearer.
The council does provide guidance, but it is currently hidden on the council's website, near the bottom of the page admittedly appropriately titled "Have your say about a licence". I am not sure if this is up to date guidance, the website gives me no assurance and it appears to contradict Cllr Benstead's statement that anyone can request a review – he specifically said councillors could do so. The form for requesting a licence review is available as a Microsoft Word document.
Inspector Poppet said he was the police's licensing officer; he said he would request a review of a premises licence if he thought there was a need for one. [As he apparently hasn't yet made such a request in relation to shops selling alcohol in the East Area, presumably he was implying he doesn't think any reviews are currently justified].
Mothers
Joanna Dean made a point of saying she was a mother, she made two related points, one that she and her child had been subject to intimidating behaviour from street drinkers when going to and from school on Norfolk Street, and that the school sometimes finds needles in their boundary fence; though currently does not routinely check their premises for needles.
Labour's Cllr Moghadas commented just to say she was a mother too; and said needle finds were one reason she didn't send her children to school on Norfolk Street.
Police Report
The police report to the East Area committee contains a section reporting progress against a previously set priority of:
Alcohol and drug-related street ASB in the East, targeting known hot spots and focussing on education and enforcement to address licensed premises selling alcohol to the intoxicated
The police had been relying on merely "having words" with licence holders; a number of councillors were critical of this approach and again urged tougher action.
At the meeting Inspector Poppet said the street drinking problems were unrelated to homelessness; and commented that street drinkers in the Mill Road area came from all areas of the city. This was apparantly contradicted by his report which states:
The monthly ASB Team-led 'Problem Solving Group' looks at how to address these issues but notes that due to the reduction in hostel bed-spaces in Cambridge, and therefore the lack of move-on potential from Jimmy's Night Shelter, there is an impact on those numbers sleeping rough. The ASB Team is taking enforcement action against those tenants who are identified as causing street-based ASB, whilst engaging with support services to try and encourage these tenants into more "meaningful activity".
The discussion when the previous priority was set focused more on class A drug use and dealing. Councillors decided to continue their previous priority unamended, however the discussion at the August meeting did not focus as much on class A drug supply, but on the behaviour of street drinkers.
Jason Gray's Ban From Mill Road
Inspector Poppet referred to an ASBO issued by Cambridge Magistrates banning Jason Gray from Mill Road. Inspector Poppet said he was able to mention the individual case in public because the Cambridge News had reported it. I think police officers need to be more confident about naming offenders, and should not be contributing to the highly secretive justice system we have in Cambridge by unnecessarily refraining from doing so.
Joanna Dean said Mr Gray was banned from Mill Road but not Norfolk Street, and urged future orders should include Norfolk Street. With the magistrates not attending area committees, or eve the city's Community Safety Partnership meetings, there doesn't appear to be a functioning mechanism for this kind of message to get through to the magistrates.
Absent
Petersfield County Councillor Nicola Harrison was absent without apologies or explanation from the East Area Committee. Cllrs Brown, Herbert and Hart apologised for their absence.
Related Articles