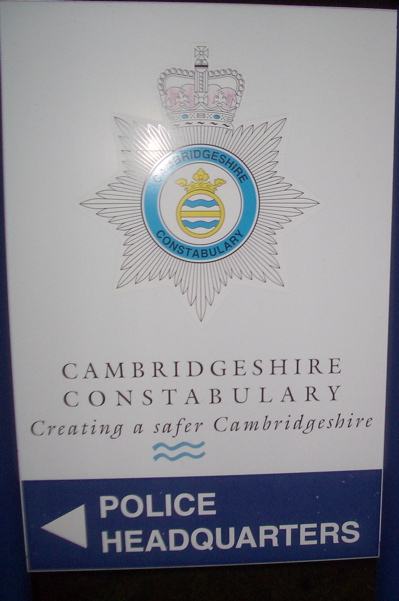 I attended a meeting of the Cambridgeshire Police Authority on Wednesday the 29th of April 2009 . I used the opportunity for members of the public to ask questions to raise the problem of Police Officers stopping people from taking photographs when they have no powers to make such a demand.
My Question – TAKING PHOTOGRAPHS IN PUBLIC PLACES
I would like to draw the authority's attention to what appears to me to be a systemic problem of police officers and police community support officers telling people to stop filming or taking photographs in public places when they have no grounds, or powers, to make such a demand. I think there is a need to look into why officers think they have powers to stop people filming and taking photographs, and for them to be reminded that generally they do not.
This is a particular problem with respect to taking photographs or video of crime and "anti- social behaviour" being committed by, or involving, youths and young people. The police's first response is not to tackle the problem youths, but to warn the person taking or offering photographs not to take photographs of youths. What has happened to the police to cause them to invoke this kind of response? Are they taking political correctness to an absurd level? Are paedophiles taking photographs of young vandals and moped riders? Are the police no-longer free to exercise common sense?
I have asked the Chief Constable about this on BBC Radio Cambridgeshire; she expressed her support for members of the public photographing, and even videoing anti-social behaviour by youths, stating that showing such images to their parents can be a very effective way of putting a stop to the problem.
On a related, but separate point I believe it is particularly important that the police don't try and stop members of the public photographing them on duty / in action when the public think they're doing something wrong.
Answer Given
We note your concern regarding this and ask if there are specific concerns or complaints regarding the actions of Cambridgeshire Officers that these are directed to the Chief Constable so they can be investigated.
My Response and Comments
I used my opportunity to make a brief reply to say that clearly I did not agree with the answer which implies that the subject of my question is considered a matter for the police and not the police authority. Clearly I judged it to be a broad enough strategic systemic problem that it needed to be addressed by the Authority and that's why I took it to them.
Deputy Chief Constable John Feavyour replied to say that there was no police policy allowing officers to prevent people taking photographs and that he would be interested to hear of specific complaints, he said it was a matter for the police's professional standards department.
While Mr Feavyour was saying that to instruct people not to take photos was against police policy I interrupted him say it's no good having a policy if your PCs and PCSOs are unaware of it. Mr Feavyour looked shocked by the fact I'd interrupted and challenged him; he didn't answer the point, other than to say complaints would be taken seriously.
I have previously taken specific cases to both ward based, and area based police consultative committees in Cambridge and will continue to do so, I think such problems ought be addressed in public forums.
Mr Wilkins, a member of the Police Authority, spoke to me after the meeting and we discussed the problem of defining the boundary between a strategic and an operational matter. He said he thought there would be a way for the Police Authority to take action on this – by asking the force to improve their training in this area, and asking them to report back to the authority on what they have done. I drew Mr Wilkins' attention to the fact this is a national problem, and the fact that dealing with it would I believe be in line with his party, The Liberal Democrats', national policies.
I hope Mr Wilkins, and other members of the Police Authority will take some action on this point in the near future.