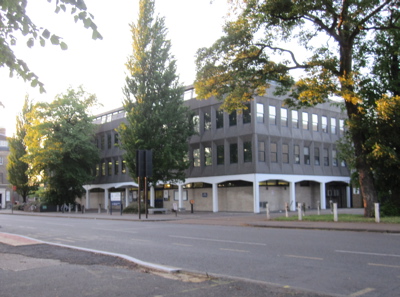 Cambridgeshire Police Authority discussed the "unsatisfactory custody provision" in the county at when they met on the 30th of September.
On the 30th of September 2009 Cambridgeshire Police Authority discussed a report on "Safer Detention and Handling of Persons in Police Custody". This was on the agenda following police custody in Cambridgeshire being condemned by HM Inspectorate of Prisons and HM Inspectorate of Constabulary in a report which drew attention to "unsatisfactory custody provision" including instances such as those detained not being kept in a safe environment, not being offered access to medical care and not being given food.
As many of the problems highlighted related to Parkside police station in Cambridge I raised matter during the policing agenda item at the West / Central Area committee. The meeting's chair said that my comments would brought to the attention of representatives of the Police Authority. I was appalled that Kevin Wilkins (Lib Dem County Councillor for West Chesterton), the only elected representative on the Police Authority from Cambridge did not say anything at all during the police authority's consideration of the report. I would have expected a Liberal Democrat to have taken a strong stance on a matter like this. Ruth Joyce an unelected member with responsibility for Cambridge also said nothing as did many other authority members.
Chief Constable Threatens Staff With Outsourcing if they Don't Stop Bleating
The inspector's report was particularly critical of staffing levels in custody suites. A recommendation was made stating: "Staffing of custody suites should reflect the pressures faced by busier custody suites". Authority members said that custody visitors reporting to them had mentioned both understaffing which they had observed directly and also passed on concerns raised by officers working in custody who felt they were operating with too few officers. Chief constable Julie Spence was astonishingly critical of her own officers when responding to this point. She accused custody officers of "bleating" to the custody visitors and said: "some of our staff have a very strange view how how much work they ought do". Specifically she said "that the custody suite in Peterborough could run with a lot less staff" and "there will always be a level of bleating". The chief constable, appearing to reflect on the discontent within her ranks, said she thought she might say she would "look at outsourcing to get a culture shift". She said: "That might change the mindset of staff about what they can and can't do". I was astonished to hear the chief of police threaten and blackmail her staff in this way. Having observed a reasonable number of Police Authority meetings now I was not surprised that not one of the members of the authority questioned the chief constable on what she had said.
Local Management for Flexibility
While the chief constable was present, and made some interventions, deputy chief constable John Feavyour led the presentation of the update to the police authority as the chief constable has made him personally responsible for the state of custody. He said that he had considered if custody ought be managed centrally or by divisional commanders. Speaking in favour of local management he said that while one of the problems currently was a wide variation in the way people were treated there is a need for flexibility. He told the authority he had once served as a custody officer so knew that there was no need to be centrally prescriptive about things such as staffing levels. He said that sometimes it would be perfectly safe for one person to be in charge of fourteen detainees, if they were all sitting quietly in their cells or sleeping yet on other occasions there could only be one or two people in but there would be a need for more staff.
Police Not to Comply With All Inspectorate's Recommendations
The HMIC/HMIP report made 77 recommendations for the Constabulary and one recommendation for the Police Authority. The police had problems with five of the recommendations:
"Social Services should be contacted routinely when children are brought into police custody during the night and this should be reflected in force policies." This and one other related, but unidentified, recommendation were described as "not deliverable" by the police. Members of the police authority raised no questions in response to this assertion. DCC Feavyour suggested starting a scheme for obtaining volunteers to act as appropriate adults when children were brought into custody. He appeared unaware that such a scheme exists in Cambridge, it's certainly something the CU Students' Pro Bono Society promote).
"Cells without natural light should be taken out of service completely." The police rejected this recommendation on the grounds they felt it had been included by those more used to dealing with prisons. They said that those cells, some of which are at Parkside in Cambridge, without natural light are used last, and only used for short term detention. Despite rejecting the recommendation a member of the authority was able to push the police to agree they did aspire to all cells having access to natural light and would ensure that any newly built cells had access.
"All staff who prepare meals should complete a food hygiene course. " Bizarrely this point really energised some members of the authority, particularly unelected appointee Olive Main. She and others including county councillor Shona Johnson very strongly wanted custody officers to be trained in food hygiene. The police maintained that all food was given to those detained in sealed unopened containers (including hot food which had been microwaved). Members sought clarification from DCC Feavyour that the food was microwaved while completely sealed and he assured them that it was. I am shocked that this was apparantly Shona Johnson and Olive Main's primary point of interest.
"Detainees should be asked if they wish to see a doctor and this should be logged on custody records." The chief constable defended the police's stance to refuse to comply with this recommendation saying that many of her "customers" would do anything to delay what was about to happen to them so would ask to see a doctor if this was offered. DCC Feavyour said he felt the system was robust enough as anyone asking to see a doctor got to see one, and anyone a custody officer felt ought see a doctor got to see one. Magistrate Benjamyn Damazer, who was the only police authority member remotely "on form" during the meeting told his colleagues that at the moment 6500 out of 28000 of those detained asked to see a doctor and attempted to estimate the costs of a change of policy.
Recommendation for the Police Authority
One of the recommendations was: "Recommendation 3.28 should be overseen by the Police Authority lead for custody.", with paragraph 3.28 stating: "Strategic leaders should ensure that custody services are safe and fit for purpose and comply with Safer Detention and Handling of Persons in Custody Guidance. "
DCC Feavyour advised the authority that by receiving his report they had "begun to discharge this responsibility".
Corporate Manslaughter
While a section of the report to the meeting was titled "Corporate manslaughter" not much was said about this. There are two sections of the Corporate Manslaughter and Corporate Homicide Act 2007 which refer specifically to the duty of care relating to the management of custody. These provisions have not yet come into force. DCC Feavyour told the police authority "we're not where we need to get" and "there's still a risk we prejudge the person who walks through the door and get it wrong". The police are still aware of "outstanding risks" within the custody system in Cambridgeshire; and what I think the report to the authority may have been getting at is that DCC Feavyour is aware those improvements need to be made before he had his colleagues become subject to the corporate manslaughter act. The section of the report under the "corporate manslaughter" heading doesn't really address the subject.
Chief Constable Condemns Salacious Reporting
Following her rant about her "bleating" custody officers the Chief Constable turned on the press. She said that the salacious way the inspector's findings had been reported had led to misunderstandings. She said that the statements that DNA samples had been stored with ham sandwiches had not been accompanied by enough detail explaining that the DNA samples were both in sealed containers and were those samples which it had been determined were no-longer required for an investigation. She said there had been no detrimental effect on any ongoing case and said there had been a lot of "mischievous reporting".
Other Points
County Cllr John Reynolds (Girton) asked if the HMIC would re-inspect. DCC Feavyour said, "yes" but he had no idea when. Had Cllr Reynolds had read even the introduction of the inspectorate's report he would have known they had said: "we will return sooner rather than later" (it has been almost a year). Cllr Reynolds also asked for another report on custody to be brought to the next full authority meeting, something which was later agreed by other members.
Benjamyn Damazer asked about immigration detainees; saying many were held for 4,5 or 6 days and that police custody was not designed for such usage. He asked if more pressure could be put on the Border and Immigration Agency and asked the police chief if she could take an operational decision to say that she was not prepared to hold these people. The chief constable replied that such a stance would result in damage to the police's reputation due to headlines along the lines of "Police Tell Illegal Immigrants to Take Taxi to Heathrow". The chief constable suggested writing to UKBA every time the police had to hold an immigration detainee, saying that a large pile of letters might get the problem across to them. Trying to get the message across by sheer weight of correspondence does not appear to me to be a very good way of going about things.
DCC Feavyour described the inspection team as providing "free consultancy" saying that while the report was "highly critical" the state of custody today was "wholly different" to that which the inspectors found last November. He also said that the police were "not yet giving the superb standard of care [he] would expect."
Ruth Rogers the chair of the police authority drew the item to a close by thanking DCC Feavyour for his report saying she "found it helpful and interesting"; her comments were representative of the lack of challenging scrutiny and oversight provided by the kind of people we have on our police authority in Cambridgeshire.
Personally I think that if Cambridgeshire police followed the PACE codes many of these problems would have not arisen. I am shocked that Cambridgeshire police ignore the PACE codes.
I was the only member of the public present. There were no members of the professional press in attendance. My passport was inspected and my car registration number taken before I was allowed into the meeting which was held in a room off the main reception at the force headquarters in Huntington.
Papers