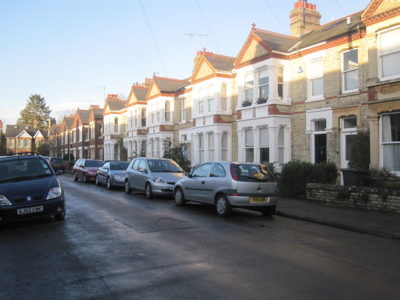 Owlstone Road, Newnham.
Liberal Democrats ruling Cambridge City Council appear hell-bent on making the city an impractical and expensive place to live and do business in. Expanding the areas of the city which are covered by conservation areas is one of the ways in which decisions made by the local council have a damaging effect on the city. I believe the Liberal Democrat's aim is to try and keep the rif-raf (in their eyes – students and house sharers) out of Newnham, Riverside, and the De Freville Avenue areas of the city. If that's not the aim it's certainly the effect. Conservation areas also make it very difficult for people to adapt their homes to suit different stages of their lives, prompting some to move out of the city.
Just how much state control is exercised over those living in conservation areas is illustrated by a current tree works application from Mrs Kesler of 26 Owlstone Road in Newnham. Mrs Kesler wants to prune her apple trees; under the Liberal Democrat regime she dare not just do it; she has applied to the council for permission to. I quote from her application:

T1 – Apple: crown reduce by approx 1m; crown thin by approx 20% off the longest growths and shorten laterals branches by approx 0.75m
T2 – Apple: crown reduce by approx 1m; crown thin by approx 20% off the longest growths and shorten laterals branches by approx 0.75m
T3 – Prunus: remove epicormic growths from base and lower trunk
During the consultation period which followed Mrs Kesler's application I responded to the call for comments by writing to the council in support, I said:
I think this is state interference in people's lives gone bananas.

Mrs Kesler shouldn't need the the council's permission to prune her apple trees, not even if they're in a conservation area.

I fully support Mrs Kesler's application to prune her trees – let her get on with growing her apples .
Mrs Kesler has employed Mr Cole of Eastern Tree Surgery to deal with her application to the council on her behalf. While I do not know why Mrs Kesler is engaging professionals it is possible she has done so simply to deal with the bureaucracy. Using professionals may be an attempt to ease the passage of her application as the Liberal Democrat city council advise that tree works have to be carried out to a good standard, and say they often require adherence British Standard 3998 – a document which as far as I can see is not freely available, though a table of contents can be found.
I think it's really silly that Cambridge City Lib Dems – who're pushing "conservation areas" to ever wider areas of the city are requiring people to apply for permission to prune their fruit trees. I noticed this was a problem in the Riverside area last year, where people there with fruit trees in their gardens were seeking to prune them resulting in the streets being plastered with public notices.
There was no public notice relating to Mrs Kesler's application on Owlstone Road, and no dates associated with posting one are mentioned on the council's planning portal. Tree works notices are common though throughout Cambridge's Conservation areas. I spotted two on nearby streets when I went to look at Mrs Kesler's apple trees before commenting on the application. The only notices on the street are in relation to a Queens' College proposal to refurbish the Owlstone Croft site behind.
The council have set a "Target Determination Date" for the decision on if Mrs Kesler can prune her apple tree of the 26th of February. The application can be followed via the page on application 10/016/TREE2 on the city council website.
I spoke to Liberal Democrat Cllr Neale Upstone about Mrs Kesler's application, and the general problem as I see it of people having to ask permission to prune their fruit trees. He suggested I approach Cllr Sian Reid, the City Council's Executive Councillor for Climate Change and Growth, who he thought might have the power to put a stop to what is happening. Before the West/Central Area Committee on the 4th of February 2010 I had a brief opportunity to ask Cllr Reid why the she thought it right to require applications for permission to prune apple trees, citing Mrs Kesler's application which is in Cllr Reid's ward. Cllr Reid responded to say that she believed it was the law that required applications to made. Cllr Cantrill and the Leader of the Council Ian Nimmo-Smith quickly both jumped in on this line which they all appeared believe absolved them from any responsibility for the ludicrous situation, despite their role supporting the maintenance and expansion of Cambridge's conservation areas.
Mr Cole of Eastern Tree Surgery has commented on a previous article I have written, I have invited him to comment on this one.