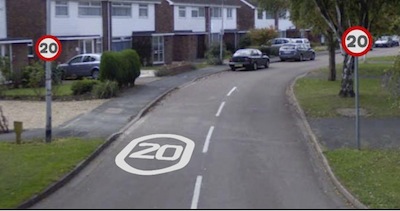 Example of 20 MPH limit signage proposed in consultation
Cambridge City Council are consulting on a 20MPH speed limit for most streets in North Cambridge.
My Response
I want to see Cambridge's roads made safer, particularly for cyclists and pedestrians. I do not however think that the proposed 20 MPH zone scheme is the best use of resources. I am concerned that councillors, and their officers are proposing something they see as an easy way of being seen to do something.
I would rather see:
A focus on enforcement against careless and dangerous road users, for example those driving while using mobile phones and cyclists without lights cycling on main roads in the dark.
Improving safety, and encouraging cycling, at specific junctions; such as the Carlyle Road to Jesus Lock crossing where cyclists and pedestrians need to be able to cross Chesterton Road more easily; Milton Road / Arbury Road junction where allowing cyclists to move during the pedestrian all stop phase would be helpful, and the Green End Road / Green End Road junction.
Maintenance of existing infrastructure such as markings and signage, particularly for shared use cycle paths which has been allowed to deteriorate across North Cambridge.
Where 20 Limits are put in; I would like this to be associated with significant changes to the road environment, the aim being to reduce speeds without the need for enforcement and to emphasise the need to drive with particular care in the area. Rather than a blanket 20 limit, I would like to see focused changes to the environment of roads such as perhaps Chesterton Road from Victoria Avenue to Hertford Street being made a "park road", painted red, and priority given to cyclists and pedestrians. I am disappointed this area has been excluded from the considerations for a 20 MPH limit due to the historical designation of the road as an "A" road. Similarly I would like to see a focus on dramatically changing the feel of Chesterton High Street, deterring, and slowing traffic there, and having the effect of improving the environment there, than diluting effort and just dotting signs across a wider area
Disproportionate Impact Following Enforcement
My primary concern in relation to new 20 MPH limits is disproportionate impact on people following enforcement of a new limit. Many rely on their cars and losing a licence can have a massive impact on people's freedom and ability to work. I am concerned that we will see people losing their licences having done something which is not particularly dangerous such as drive down Gilbert Road at 23 MPH a few times.
I would like to see the position to be taken by local magistrates in relation to enforcement presented to, and considered by, councillors prior to a decision being taken.
I note the West/Central Area Committee resolved to write to the Police and Crime Commissioner about 20 MPH limit enforcement. I think this correspondence ought be put to councillors making the North Area 20 MPH.
The West/Central Area Committee has flip-flopped on the idea of a local speed awareness course to be offered to those breaking the 20MPH limit. I think it would be unfair to institute a local scheme which visitors to would be required to return to the city to benefit from; I think any such scheme ought be national, as I understand it now is in relation to offences in relation to other speed limits.
If funds are to be spend on a "just signs" approach to installing 20 MPH limits I think there needs to be clear assurances from the police and courts that the proposals are sufficient to enable fair enforcement so that the experiences from elsewhere in the city where the police have judged signage to be legal but insufficient to fairly enforce in relation to does not recur.
Specific Questions
I responded to the specific questions in the consultation to say:
I disagree in principle with 20MPH limits on residential and shopping roads in Cambridge.
I disagree with installing the proposed 20MPH limit on the North Cambridge roads specified in the consultation
I disagree with a 20 Limit for Arbury Road, Gilbert Road, Green End Road and Kings Hedges Road.
I support a 20 limit for Chesterton High Street, but would prefer it was installed with a significant change to the road environment aimed at reducing speeds rather than just putting up signs.
How I Use Roads
The online survey asked a odd question of how I use roads. I responded:
I live in Cambridge so use the roads to travel on.
Any travel I do starting at home, be it on foot, by bike, driving or being driven involves use of the roads.
On the Consultation
I would have rather seen the consultation run in a more discursive manner, with responses published online as they came in, enabling more of a debate. Views of councillors, and key organisations such as the police, could have been sought early on.
Speeds have Increased When 20MPH Signs Only Installed
Previous experience in Cambridge has shown speeds have increased when 20 MPH signage is introduced without changes to the road environment.
Some of my previous articles on the subject of 20mph speed limits: