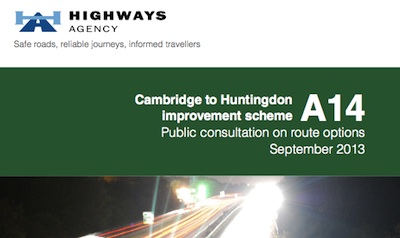 I've just sent the following letter to the Cambridge News for them to consider it for their letters page:
I am appalled to see the Government consultation on proposals for the A14 specifically excludes the question of if the road is to be a toll road or not. The consultation document declares tolling is "essential" and only invites comments on how tolling might operate.

Clearly the question of if the A14 ought be tolled is one people have views on; so in an attempt to address this omission from the consultation I have started a petition on the Government's e-petitions website.

The petition is titled: "No Toll for Cars on the A14″, it can be found at:

http://tinyurl.com/no-a14-toll

Richard Taylor
Cambridge
The non-shortened URL for the petition is:
http://epetitions.direct.gov.uk/petitions/54715
This is the first time I've ever signed a petition, never mind tried to start one.
My view is improvements to the A14 are desperately needed, to save lives, prevent injury and to ensure the Greater Cambridge area can function and realise the economic and other benefits it has the potential to contribute to the country and beyond.
I oppose tolling on the grounds of restricting freedom to travel, increased monitoring of who is travelling where, and the fact tolls are a tax which hit the poorest hardest. I
I think the new road should be funded from general taxation.
See Also