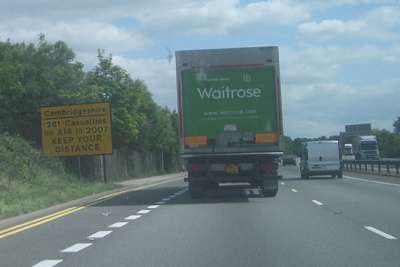 The A14 Near Huntingdon
Yesterday the Conservative Leader of Cambridgeshire County Council, Nick Clarke, launched an attack on Cambridge MP Julian Huppert in a blog post titled "Julian Huppert please, please do not foul up our plans for a bigger road" in which he claimed Huppert is:
trying to influence department for transport ministers to tinker around the edges as a solution to the A14.
I was going to comment on Cllr Clarke's blog, but as I've expanded on my own views on the subject I thought I'd better post my response here on my own site:
The A14, particularly from Cambridge to the A1(M), needs massive improvements, including in my view widening, to make it a safer and more reliable route.

The behaviour of some of those who use the road, and the volume of HGV traffic, are things which need addressing, in addition to making improvements to the fabric of the road.

I think ideas which could be implemented rapidly, such as tolls for HGVs in peak periods, or banning HGVs overtaking should be considered alongside longer term options such as making rail freight more attractive, encouraging goods to be brought into the country via other ports, and making it less attractive to drive goods across the UK to reach Ireland from the continent. I think there is also a role for improved traffic policing, particularly targeted on ensuring HGVs are safe and legal and are being driven with appropriate care and attention.

Some Liberal Democrats in Cambridge are irrationally anti-car, to an extent that if their views led to policies which were implemented, they would make Cambridge an impractical place to live in, and no-doubt, as the current state of the A14 does, damage the city, the region's and the country's economy.

I think where Cambridge LibDems have been able to gain wider public support in Cambridge is in opposing the creation of a ten+ lane road between Cambridge and Northstowe, with four lanes being for local traffic. This option is proposed as an alternative to requiring the proper upgrading of the A14 and the installation of high quality junctions. My view, and one I have expressed from the beginning of the planning process, is that the proper upgrading of the A14 ought be a pre-requsite for starting to build homes in Northstowe.

In my experience if you've come to the conclusion that Julian Huppert is off his rocker then you've probably misinterpreted what he is saying. I think he is right that there are improvements which can be made easily and cheaply, we have junctions with minor roads, short slip-roads, and other dangerous features which could be tackled very quickly. As soon as possible though I think the road ought be upgraded to motorway standard, with three lanes, effectively taking the M11 round the corner to Huntingdon and connecting the M11 to the A1(M) and any work done from now on ought be with that ultimate aim in mind. I would like to see our local MPs and other elected reps making a case that it makes economic sense for the country as a whole to invest in this upgrade as the outputs from the greater Cambridge area have the potential to make an even greater contribution to the national economy. While Huppert is a party politican and is careful not to upset the more diverse elements of his local party I don't think he's actually said anything contrary to the views I have expressed myself here.

In terms of the current debate, and in particular, decisions on where the relatively small sum of money recently allocated in the national budget is spent, I would like to see Cambridgeshire Police release collision investigation reports so that causes of incidents on the road can be properly understood and addressed. Similarly I would like to see economic and transport data made openly available so an evidence based public debate, and publicly supported local case to central government for investment in the road, can be made. We regularly see false starts suggesting such an inclusive, open and well informed, public exercise will take place, but our elected reps, including Cllr Clarke, never appear to follow through on their words.
I note Cllr Clarke tweeted his attack on his personal account and it also appeared on the new CCC_Cabinet twitter account but in neither case was Huppert's Twitter name @JulianHuppert mentioned which would have drawn it to his attention.
See also