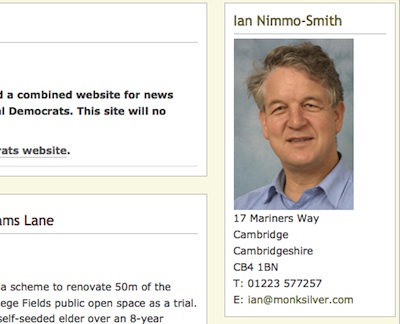 Sometimes comedy can be found in the most unusual of places. Earlier this evening I was reading Cambridge City Council's mayoral engagements webpage and my eye was caught by an entry for the deputy mayor, Liberal Democrat Ian Nimmo-Smith who was leader of the City Council up to May this year. The schedule reveals that at 7.30pm on Sunday the fifth of September he will be attending an Economic Crime Symposium dinner at Jesus College.
The list of engagements does not reveal if Liberal Democrat Cllr Nimmo-Smith will be speaking at the dinner at Jesus College. If he is to make a speech Cllr Nimmo-Smith's period as leader of the City Council has certainly given him plenty of experience of what many might consider to be economic crimes. The major events which occurred on his watch that may be of interest to those attending the symposium are presumably:
If he's looking to keep the conference goers entertained as he welcomes them to our city he could take the opportunity to eat his hat, something he promised to do if the city didn't get all its money back from Iceland.
Delegates might also like to hear about council activities such as the harassment though the courts of junior research student for tax they are not liable for. There are also many council spending decisions which while involving much smaller sums than the main instances where under Cllr Nimmo-Smith's tenure in charge Cambridge taxpayers lost money, still demonstrate a reckless disregard for the value of public money such as spending over the odds all sorts of items from CCTV operator chairs to double yellow lines.
Taking a wider view, one of Cambridge Liberal Democrat's biggest economic crimes in my view has been to not support the A14 upgrade, leaving the City connected to the much of the country via a dangerous, congested road on which journey times are highly variable. The Liberal Democrat's passionate anti-car stance has also made it harder to live, work, and run business in the city.
A further economic crime in my view has been the city council's failure to act to make open market housing in the city more affordable. It has levied high "s.106″ development taxes where the funds have not been applied to projects without which planning permission for the new homes would not have been granted; it has expanded conservation areas; it has insisted on massive percentages of new developments being not open market housing, but social housing which has no effect on house prices. I believe its misguided environmental policies which call for the scientifically ludicrous 100% efficient homes to be built may result in higher energy costs in the long term as residents will have to maintain economically inefficient power sources and will not be free to benefit from the open market competition available to those on the grid.
The event programme states the Serious Fraud Office of England and Wales is a principle sponsor of the conference. Perhaps Cllr Nimmo-Smith will return from the event with an update for the city's electors on investigations into the whereabouts of the £640,000 of folk festival ticket money councillors have indicated they believe to have been taken by fraudsters?
When acting as deputy mayor Cllr Nimmo-Smith wears a large gold medal on a thick blue ribbon.