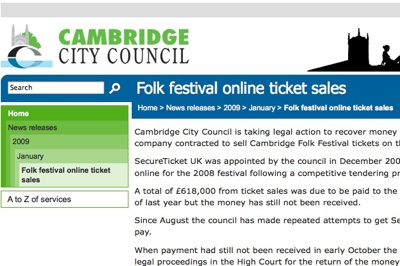 On the 7th of January 2009 Cambridge City Council issued a news release stating that the council was owed £618,000 from ticket sales for the Folk Festival which the ticket seller "SecureTicket UK" was due to pay in August 2008 but had still not been received by the council. The council has initiated legal proceedings in the High Court for the return of the money. This court action will be heard in the High Court on the 21st of January 2009.
Questions Which Ought to Have Been Raised
This failure by SecureTicket UK raises questions about the process the council used to select this company for the role of selling the Folk Festival tickets. I think it is right that the council considered a new start-up. I think it is vital that small companies and new companies are able to obtain public sector contracts on a level playing field with larger more established companies and I have lobbied on that point. However the council ought to have ensured that the public money was safe. I think the arrangement whereby a very large sum of money is amassed by a payment processor is unusual. I would have expected funds to have been transfered into the City Council's accounts within a few days of them being received. Any scheme involving the payment processing company holding onto the funds for extended periods and not passing them directly on to the council ought to have raised a red flag in the mind of any councillor reviewing the contract. Allowing SecureTicket UK to hold ticket money for up to three months between May and August 2008 appears odd. Presumably this means the council provided funds to lubricate the Folk Festival's cash flow during this period (the request for such an internal "loan" ought to have raised more red flags). I also wonder who was to benefit from the circa £5K interest which would have been expected to be earnt. While SecureTicket UK was holding public funds then I would expect to see a protected client account facility such as those used by lawyers and accountants who hold their client's money, or a similar scheme such as an escrow account utilised.
Before entering any significant business transaction it is good practice to do some research into the organisation you are considering entering into a relationship with. For contracts such as this I would have expected a company credit check to be carried out along with some in-house research by council officers into the background of the company. I do not know to what extent this was done. I am aware that often this kind of caution goes too far and gets in the way of getting things done. I have myself tried to buy goods worth a couple of hundred pounds at most using a purchase order issued by the University of Cambridge only to have the supplying company tell me they couldn't deliver for a week or so while they ran background checks on the University! I run my own company and routinely check out those I work with. I think some proportionate investigations ought to have been carried out by Cambridge City Council into SecureTicket UK.
Decision Making
As far as I am aware there are no publicly available documents describing how the council made the decision to appoint SecureTicket UK, and if the relevant councillor asked all these obvious questions. I would expect the Executive Councillor for Arts and Recreation, Julie Smith, to have made this decision as she was responsible for other contracts relating to the Folk Festival for example marquees and lighting. The contract for ticket sales does not appear to have been discussed at a scrutiny committee meeting. Perhaps the council's new decision making process will improve openness and we will see all records of decision made available online for public scrutiny.
In November 2008 a decision to buy software to bring internet ticket sales for the Folk Festival in-house was made, however the report did not mention what was presumably a major factor prompting the change – that the council was owed significant amounts of money by its current third party ticket seller:
Currently, the Cambridge Folk Festival's online ticketing is being operated by a third party provider at additional cost to the Council as the current software cannot cope with the complexity of its existing ticketing arrangements. It is the intention that future on-line Festival bookings are made via this software rather than a third party provider.
This report was taken as an "Agenda B item" this meant the decision was approved prior to the Community Services Scrutiny committee on Thursday 13 November 2008, with no debate.
The Arts and Entertainments Service Progress Report 2008/09 presented to the Community Services Scrutiny Committee in November 2008 stated that the installation of new Corn Exchange box office system which was planned for September 2008 was currently still at the stage where the preparation for the tender was under way. The report says this was delayed by workload pressures and that the timetable was modified partly to fit with relocation. There was no indication of if it would be ready deal with ticketing for the 2009 festival.
If the decision was made by Cllr Julie Smith I wonder why it has been the Council leader and not her left to comment on it. One explanation might be it is such a significant sum of money that it is appropriate for the leader to answer questions about it. However this along with Cllr Smith's passing off responsibly for answering questions on the Accordia playground saga might suggest the presence of a plan keep as much negative publicity away from Cllr Smith as possible, perhaps in preparation for her taking on a different role within the Cambridge Liberal Democrats in the future – Council Leader or Parliamentary Candidate perhaps?
Digging into the Detail
The 2007-8 Directors' report for SecureTicket UK indicates that the company developed and rolled out their new SecureTicket product during that year and states: "the company produced its first ticket revenue in the third quarter of 2007″. Cambridge City Council was clearly a very early adopter of this product, it became one of the first three clients of SecureTicket UK's payment processing and ticket sales service. The other 2007-8 clients were Retrofest and Musical Associates (UK) Ltd. I have written to these two companies to ask if they have had any problems getting money the were due from SecureTicket UK.
For the period March 2007 – March 2008 the accounts of SecureTicket UK show the company to be operating at a loss, it made a loss of £250,753 in that year. The company was financed by a £4 million pound investment from RAB Capital which was made to and held by the Telsecure Group Ltd. The directors' report states SecureTicket was supported by its parent company Telsecure Group Ltd and one of its directors, Mr R Qajar. A charge relating to a loan of £805,000 from RAB special situations (master) fund Ltd. was registered with companies house in February 2008, I suspect this related to part of the £4m investment, as of the 31st of March 2008 it did not appear the company had actually received all of the investment, or if it had it was no-longer all showing on its balance sheet. The existence of this current charge against the company might adversely affect the chances of Cambridge City Council getting its money back as there is a strict order in which creditors get paid (1,2) with the taxes due to HMRC, employee wages, and registered charges being high on the list.
In terms of cash in the bank in March 2008, which is before the company would have received the income from the Folk Festival tickets, it had only £42,389. It is not possible to tell from the public record if SecureTicket UK currently holds enough funds to pay Cambridge City Council.
As of 31 March 2008 SecureTicket UK's debts to those other than its parent company were only £55,080 in total. A month or so later on the 11th of May 2008 the Cambridge Folk Festival tickets went on sale.
SecureTicket UK is wholly owned by the Telsecure Group Ltd. UK company law generally considers wholly owned subsidiaries as separate entities from their parent companies, and the parent company is not liable for their subsidiaries' debts. However in cases of intentional fraud or where the subsidiary is regarded as merely an agent conducting the parent companies' business the courts have made parent companies liable. I strongly support the system of having companies which are separate legal entities, and as long as all is above board as this system encourages and enables individuals, and parent companies to take on the risks involved in setting up companies, and this is something our economy needs. However protections this system offers should not be abused.
The question the existence of the parent company raises is: "Has Cambridge City Council been smart enough to initiate legal proceedings against both SecureTicket UK and its parent company Telsecure Group Ltd?" It is not possible to tell if Telsecure Group Ltd. have the funds available to repay their subsidiary's debt, but I would expect winding up order on them to be more likely to result in the recovery of Cambridge residents' money than one on SecureTicket UK. In the event Telsecure has taken money out of SecureTicket I believe the case for seeking recompense from Telsecure would be strengthened.
No public freely available record of either cases scheduled to go before the high court, or the judgements made are available to the public without charge. This lack of openness within the courts is not in my view conducive to justice. There will, on the day of the hearing, be a public online listing containing very minimal information such as the time and place of the hearing, and the identities of the parties and the name of the judge. But at the moment the documents filed by Cambridge City Council are not available for public browsing online (in the USA I believe they would be).
In using SecureTicket Cambridge City Council was in some way perhaps supporting the fruits of innovative work conducted in the local area as it has been reported that Scientific Generics and Telsecure worked together to create and implement securePay a totally new approach to securing card transactions, which uses the cardholder's mobile phone as part of the authentication process. Scientific Generics is based in Harston just outside the city.
Until November 2005 when the company name was changed the company which is now Secureticket UK Ltd. was called "Trendy Fashions Limited". There can be legitimate reasons for a company changing its name, but often it is something which raises questions. The accounts of Secureticket UK Ltd. which were made up to the 31st of March 2007 were accounts of a dormant company. (ie. the company came back life in its new incarnation in March 2007 and Cambridge City Council signed up as a client very shortly afterwards to handle the ticket sales for that summer's festival.) What this pattern of name changing and dormancy could have been in aid of is giving the new company the appearance of being older and more established. This is relatively common practice and old dormant companies change hands for premium prices for this reason. There were three top level resignations in the Telsecure Group in late 2008, this could be co-incidental, Francis Calcagno, and Robert Evans resigned as directors and Ian Collins resigned as secretary.
Telsecure also describe a product on their website called securebet which provides services to the online gambling industry, and uses the tagline "Innovative Money Management" in its logo. Securebet (Europe) Limited has been set up as another separate company, this time wholly owned by Fortunatus Holdings Ltd.
Rashid Qajar has a profile on the online social network LinkedIn which describes him as: "Owner, Telsecure (Europe) Ltd and Telecommunications Specialist" He describes his job as Chief Executive at Telsecure Group Ltd & Fortunatus Holdings Ltd.
According to a Retrofest forum there was a typing error on the tickets SecureTicket UK produced for the Retrofest event, saying the camp site was open a day before it was. SecureTicket did not issue a correction.
The investors funding SecureTicket UK, the RAB Capital special situations fund, are based in the Cayman Islands, and according to this Telegraph article are in some trouble themselves
Comparison to the Council Tax Take
Opposition councillors have drawn attention to the fact that the sum of money involved is about 10% of the total City Council Tax collected this year (what he means is the City Council's share of the council tax collected). The Liberal Democrats make this kind of comparison too. For me what this really does is draw attention to how small the Council Tax is as a proportion of the City Council's £118m turnover. It also draws attention to how little discretionary funds the council has available, and it is in that context this sum is particularly significant. Though something else to consider is the council's £80m (or £71m) investments.
Cambridge City Council's Budgets
Clearly the council have known about this for sometime, yet the papers for the strategy and resources scrutiny committee to be held on Monday the 19th of January which will be discussing the council's future budgets do not mention it. There are pages and pages of documents describing the details of much smaller transactions yet this "elephant in the room" has been omitted. I am sure councillors will find a way to raise questions about the competence of the current executive councillors in safeguarding public money.