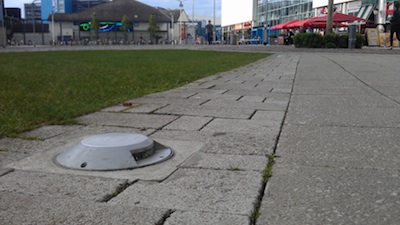 Ground Level Lights at Cambridge Leisure
In the run up to the 2012 local elections Cambridge Liberal Democrats decided to stand up to those who usually exert greatest influence in Cambridge, the largely elderly home owners who populate the residents associations, and made an election commitment to improve lighting on Cambridge's green spaces.
Specifically the Liberal Democrats running the city council responded to concerns raised by student Liberal Democrats, and a Cambridge University Students' Union campaign for the Right to Light and promised to act.
According to councillors speaking at the last West/Central Area Committee first area to to see new lights will be Parker's Piece, with councillors' favoured option being solar studs as found on a number of cycle paths just outside the city.
Over the weekend at the Town and Country fair on Parker's Piece I stood next to one of the main paths, at the Cambridge Cycling Campaign stand where they had some of the solar studs on show, and discussed the council's proposals. My attention was drawn to the alternative form of floor level lighting illustrated above which is in use in at Cambridge Leisure. This, while not in that instance solar powered, illuminates the path and the surrounding area rather than simply providing points of light pointing up into the eyes of cyclists and pedestrians. I think it would be a good idea for councillors to consider such a style of lighting for the paths across Cambridge's green spaces, as it would in my view probably help those crossing the space maintain their night vision and awareness of their surroundings and do more than simply mark the edges of the park and actually provide some illumination of the area.
Jesus Green
I've particularly been lobbying for improved lighting on Jesus Green, I used to commute over the green for a number of years, often in the dark, between the crime hotspot at Jesus Lock bridge over to Park Street. I received a hostile reception from local residents who largely make up the Jesus Green Association who oppose better lighting, but have kept campaigning, and lobbied for lighting to be included in the latest Jesus Green lottery bid, although it's hard to keep track of what's going on as there is a lot of secrecy surrounding the bid process.
Personally I think two extra street lights would be ideal for Jesus Green, and more in-keeping than ground level stud lights of any form. I think Parker's Piece has a more urban setting and can see the stud lights might be suited there, though again I'd go for a couple of street lights.
Councillors will probably find solar studs easier to install as they won't need an ongoing power budget to be found, and won't I expect form part of the county council's outsourced street-lighting contract. Unfortunately what's practical in-terms of local government process might be as significant a factor as what the best thing to do is considered to be.
Report To June 2012 West Central Area Committee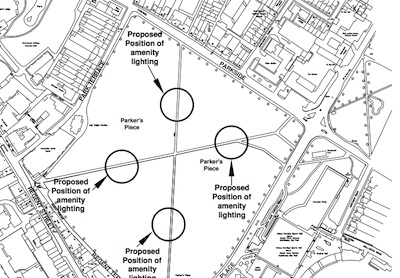 Vague Plan of Parker's Piece Lighting Proposals
Councillors are to be asked to approve continued work on the Parker's Piece proposals. Their report describes the project as:
Provision of additional amenity lighting at the mid points of the paths across Parkers Piece following concerns over community safety.
Gives an estimated cost of £30,000 and notes £8,000 has been secured towards this.
Officers note "risks" of:
Very sensitive green space. Fine balance between the intrusiveness of lighting equipment versus the improvement to lighting levels. Proposals may not lead to the majority in support. Securing the future maintenance and ongoing revenue implications will also need to be resolved.
"Ongoing revenue" indicates that mains powered lights, not solar, might be being considered.
Lighting, Safety and Fear of Crime
The snappily named Home Office Research Study 251 from 2002 reviews research on the impact of street lighting on crime. The picture is mixed, and potential mechanisms for street-lighting influencing crime are surprisingly convoluted and complex. Better lighting could, and reportedly has in some places, resulted in greater disorder and crime, it can encourage people to gather and can help criminals identify targets as well as make people feel safer. If people feel safer and lighting makes an area more attractive to walk through then more people might be present in the area; and the presence of other people is something which could make criminals think twice about committing an offence.
Cambridge Liberal Democrats are very very slow at getting things done. They recently took seven years to get cycle parking installed off King Street. If they're not going to get the lights in for this winter, then perhaps there might be an opportunity to so some research on the impact of the new lights, improving the recording of crime in the area where lighting is to be improved, so the effects of the new lighting can be analysed.
I think lighting is a local issue, and one which councillors who are aware of what those using the areas want, are best placed to make judgements on what to do having regard to all the available evidence. Each space has unique attributes. Cambridge has some factors which are not mentioned in any research on lighting, crime and safety, for example the prevalence of cyclists without lights crossing the green spaces in the dark, creating a collision hazard for those walking and cycling.
West Central Area Committee – 21 June 2012
Cambridge's West Central Area Committee is meeting on the 21st of June 2012.
I intend to seek to use the open forum to ask:
Other queries I certainly wouldn't have time to raise but would like to include:
asking how many councillors have viewed the full online planning files for the applications they are determining; and how many did so while logged in so they could review comments marked "sensitive" and not available to the general public. I'm concerned that few councillors appear to have read all the relevant documents prior to turning up to consider planning applications.
questioning if councillors are confident Love Cambridge is not being used as a mere conduit for funds from Magdalene College allowing it to give the impression an public environmental improvement scheme on Quayside which it, extraordinarily, is being allowed to "promote" has wide support.
question what "promotor" status means in relation to an environmental improvement scheme. If it means the same as "lead councillor" does in North Cambridge then it is entirely inappropriate in my view for anyone other than a councillor, or committee of councillors to hold that role, as it involved being given delegated power to approve changes to the design of schemes. I have successfully opposed such delegation to a residents association in North Cambridge and would oppose its delegation to the Friends of Midsummer Common, or a Cambridge College in the West/Central Area.