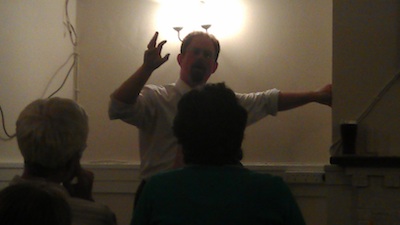 Julian Huppert MP at the Maypole Pub
On Friday evening Cambridge's MP Julian Huppert spent a couple of hours in the upstairs room of the Maypole pub fielding questions and talking to people. I think this was absolutely brilliant and it was great to see our MP openly engaging with people at a free, informal, event open to all-comers. All MPs should regularly do things like this.
The Cambridge First newspaper's lead online headline for the day was: 'We need more evidence in politics' Huppert to say in pub talk. Huppert started by joking that the press apparently knew what he was going to say before he did; and that such articles had the potential to make his job writing speeches much easier.
Huppert spoke for a few minutes about what it was like to be a rational, logical, scientifically literate MP in a House of Commons made up of a vast majority who're, well, not. He related some of his exchanges with David Tredinnick MP and his contributions to the debate a few days earlier on Nadine Dorries' amendment to the Health and Social Care bill on abortion advice. (An article I wrote following a previous similar presentation includes many of the examples raised)
Questions
The floor was quickly opened up to questions. The first of which asked Huppert what his reaction was to winning a "beard of the year" award. Huppert appeared slightly surprised by the question, he said he did recall the award (I do too, but can't find a link) and explained that his beard started originally out of laziness.
Discussion moved onto what was behind the positions taken by the "irrational" MPs. If they were not taking an evidence based approach to policy making and voting, what were they doing? The influence of religion in the House of Commons, and the question of if taking decisions based on what was popular was actually the essence of democracy, were discussed.

Prayers
Following the discussion of the influence of religion I asked Julian to tell us a bit about "prayers" in the House of Commons, how the day starts, and the issue of him getting somewhere to sit down. (This bit of the day's proceedings isn't televised, so it was a genuine question).
We were told that the Speaker's procession enters the chamber and MPs have to bow three times, once at the bar of the House, once at the location of a chandelier which used to be there hundreds of years ago and again to the table. Huppert confirmed that MPs really do pray; prayers are read out in the chamber and MPs do turn their backs on the chamber. (It's not easy to find out how much of this is myth, a long dead tradition, or actual current practice from Googling so it was good to hear Huppert relate his experience). We were told how while Huppert doesn't pray, he does sometimes have to go into the prayers in order to get a seat, particularly for important debates and occasions such as Prime Minister's Questions, and that technically MPs are supposed to pray to be able to get a seat. He said he just sits there, reading his papers, which he said does feel slightly disrespectful to those who're praying but he doesn't mind as its the system, not him, which is in the wrong. He told us how the system for reserving seats during prayers included "pink card" option which gives serving on committees a "bye for prayers". Huppert stressed how it was important to get a seat as MPs who're not in a proper seat are not allowed to ask questions or contribute to debate. (A number of times Cambridge residents have been disenfranchised by the furniture as Huppert has not been able to get a seat). We were also told about "Green cards", which are intended to be used to reserve a place by MPs themselves, but Huppert revealed the Liberal Democrats sometimes place them on behalf of party colleagues.
Huppert explained how the Commons was largely run on a trust and honour system where MPs can even sign up other MP's names to amendments and motions. (This reminded me of Huppert's fantastic description of Parliament as "A Cambridge College turned up to eleven" (he was quoted as saying this by Cllr Sarah Brown during a Cambridge City Council meeting) – I'm still out of pocket due to people signing up for dinners using my name so they could take extra guests!).

Experimenting with Public Policy
Another question I asked was if Huppert thought it was ever appropriate to do experiments with public policy; if he saw that as compatible with the evidence based and rational approach he was espousing. I asked if, with something like bringing in police commissioners, where there's little evidence to suggest how effective they might be designing an experiment to find out might be the way forward.
Huppert responded, not admitting to any role he or his party might have had pushing back the date for elected police commissioners to November 2012, to say he his answer was yes, he was in favour of variation around the country and letting people try different things and sharing practice which was shown to work well. He noted the risk of charges of a "postcode lottery" but said the benefits of diversity, allowing the collection of evidence to show what works and what doesn't, outweighed the risk of such headlines; he did clarify variations shouldn't generally be based on a "lottery", but on a more rational basis.
An example of a council with a limited budget for education maintenance allowances wishing to run a randomised trial – giving the money to randomly selected pupils and comparing their performance to those not given the funds was put to Huppert who was asked his view on an approach like that. He didn't rule out supporting it completely but did note how it would clearly be seen as unfair on some people and sounded less than keen.
Huppert noted that some experiments, for example in relation to early years education, would take a very long time to get to results.
The Economy
In response to a question about the state of the nation's finances, and taxation, Huppert replied:
What should we do about the economy? I don't want to debate that for the next hour.
Now I completely agree that would have been an inappropriate direction to take the event in, but I am concerned that our MP doesn't take as much of a role as I think he should in debates on the economy. I accept that Huppert has specialised in Home Affairs and transport, but I think that its important that MPs (and other elected representatives like councillors) remain generalists too.
Science Policy
Huppert said he had not had much input into science policy since becoming an MP, saying he wouldn't have stood as an MP, and remained as a scientist, if he'd wanted to keep working in this area. I think this is a great shame as I would have thought Huppert's experience would be invaluable to improving science policy. Perhaps he is unwilling to upset research councils and point out their failings as he might be thinking he may wish to return to academic science at some point? Perhaps he's also unwilling to speak up about problems at Cambridge University and its colleges as he may have kept his head down in the interests of progressing his own career rather than challenging injustices and failing processes when he has come across them? His parents are both academics so there might be conflicts there too?
Research councils don't in my view take their role in ensuring the public funds they distribute are well spent seriously enough. Dogged observance of the Haldane principle has led to a failure in research councils spending taxpayer's money in a defensible and careful manner and a widespread view from the perspectives of academics, institutions and government that the research councils' role is to work for the existing academic institutions and academics rather than in the interests of wider society. Not all research councils are as bad as each other but many, tacitly admit via their eligibility criteria, that they are not capable of assessing the quality of research grant applications (which one might expect to be their key role) so permit applications only from those who've held post-doctoral positions for a long period, are already employed by an academic institution, and have the support of a head of department. The result being funds are focused on members of the existing academic establishment. My view is that applications for public money to carry out research ought be assessed on their merits, an application from anyone should be accepted and then that individual (or team) should then, once they're holding the funding, be able to shop around institutions who'd compete to offer them the most attractive facilities and support. Perhaps the system ought really be shaken up and good ideas for potential projects ought be accepted from those who don't wish to carry them out themselves? Clearly these kinds of ideas would apply for new projects and ought not be the only mechanisms for obtaining funding.
The shocking state of accountability at the moment can be seen as the Biotechnology and Biological Sciences Research Council don't know or care how many PhD research students they fund graduate with a PhD and they don't seek to assure themselves that any minimum standards are in-place at the institutions they fund (not ensuring that the institutions are able to comply with their legal obligations relating to the proposed work, or that those funded by the taxpayer will be treated reasonably). This kind of approach to spending public money shouldn't be tolerated.
Following advice from Puffles2010 as my next step in pursuing this I have asked Department for Business, Innovation and Skills to release their grant funding agreements under which they make payments to the research councils. I will then be able to either look into where those agreements are being breached or make suggestions for strengthening them.
There are many many other areas of education and research policy which needs scrutiny and reform. From empowering students who are paying higher fees, through stronger students unions and more consistent, fair, complaints and disciplinary processes to ensuring publicly funded research results are freely accessible.
I think Cambridge's MP is very well placed to work on improving this key area of public activity; which if we get it right has the potential to have a huge impact on improving people's quality of life around the world as well as boosting the economy of the UK, and particularly Cambridge with its high density of businesses derived from academic research work. I don't think he should be at all pigeonholed because of his professional background, or that he ought be expected in Parliament to specialise in this area, but what I think he should do is contribute, and as with other areas, and work to channel the concerns of his constituents and ensure they're heard by those in power and making decisions.
What Do The People Want?
Huppert explained that opinion polls are often not very useful as people tend to not be well informed enough to take a position on the questions they're being asked. He said most people should probably answer "don't know" to most questions. He outlined the principles behind deliberative opinion polling – where a representative group of people are selected, and taken away, perhaps for a residential weekend, and briefed in as impartial a manner as possible on subjects before being asked for their views on them.
Huppert shared his view that a referendum on membership of the EU would almost certainly be won if people were well informed before expressing an opinion; but said any referendum campaign would end up being overshadowed by some kind of non-issue (presumably he was thinking bent bananas) on which the result would then hinge.
Size of the State
Huppert even approached the really key question, and one he dodged repeatedly before becoming elected, on how big the state should be, and what proportion of the country's or an individual's wealth should be taken as taxation and spend for the common good. Huppert told us how he'd met an elected mayor in the USA who'd been voted into office on a pledge to scrap the local fire brigade and offer a tax cut in return. While hardly courageous to note that such a policy wouldn't go down well here in the UK, he did at least start discussing the question of what the state needs to, and ought to, do. Huppert, who is the Lib Dem's transport spokesman noted that the UK state still owns some Motorway service stations and suggested they're not something the state really needs to hold on to any longer. One of the key problems with the Liberal Democrats as a party is the hugely different views of their membership on what they state should do; some want a much larger state and an expanded benefits system, others take a view more like my own – that the state should do what it does best, and not interfere in areas where either individuals or companies are best. The "size of the sate" question is a key area where I think my own views are most at odds with the Liberal Democrats', but Huppert didn't say anything I disagreed with here.
Climate Change and Intelligent Design
Asked about the intensity of debate on subjects like climate change and evolution in the USA Huppert commented that we were a long way from that type of situation here in the UK, but he shared concerns that some activists from the USA are seeking to export their campaigning approach to the UK. On Climate Change Huppert said we should keep a critical mind but "should not ignore the overwhelming evidence".
Transparency Agenda
Asked about the "transparency agenda" Huppert told us that he was taking a motion to the Liberal Democrat conference asking them to adopt a policy of the government pro-actively publishing as much information as possible. He talked about the kinds of things people could do, for example with transport data when it is released. He also said how in some areas the official information isn't as good as information which might be crowd-sourceable, saying for example that a train company might not know where it's train is to the same degree of precision as those on the train (or at least their mobile phones) probably did. He noted that one problem with moving to GPS for train signalling was resolving which track a train was on being much more difficult via GPS than working out where along a line it was.

Schools
Asked about the government's schools policy, Huppert answered succinctly that what is important is quality. I agree with him absolutely but think he should probably add meritocracy to his tweet sized answer on that subject next time.
Members' Dining Room
We were told that in the commons members' dining room there is one end for Labour, one for Conservatives and a large oval table in the middle for the Lib Dems; the Northern Ireland MPs from all parties have their own shared table (which is often empty).
When Life Begins
Asked about when he thought life began, Huppert responded to say that was "not a scientifically tractable question".

Corrections in Hansard
Outside of the main session Huppert spoke to a group of us about how sometimes Hansard is rather over eager in the way it corrects what he's said. He gave an example of how strong rhetoric can be toned down to make it grammatically correct and noted that despite what the official record states he never calls a Conservative his "honourable friend" and has never called Nadine Dorries "honourable".
On PPE Graduates
Asked about "PPE graduates replicating themselves in the House of Commons" and if they see themselves as under threat from the likes of himself, Huppert responded to say no. He also commented on the number of lawyers who were MPs, saying they weren't too bad as at least they developed arguments and thought in a logical manner.
On How to Run A Country
Asked if he had learnt a lot about "how to run a country" Huppert responded to say how he'd started to appreciate how it was important to let the Government write legislation, with care, and after civil servants had done some work rather than MPs doing it in a haphazard way in the House of Commons after an hour or two's debate. He said unintended consequences of legislation needed time to be considered, he gave an example of an MP tabling a bill or amendment to change free school meal eligibility, something which ought not be changed on a whim as lots of school funding formulae depend on statistics relating to those entitled to free school meals and knock-on effects have to be considered.

On Lobbying by Big Business
Asked about how much he's lobbied by big business; Huppert said he got lots of invitations and accepted some of them. He said the important thing was to listen but not always to do what they wanted. We were told how when the Liberal Democrats became part of the coalition lots of Liberal Democrat party staff were recruited by lobbying companies who were desperate to know about people they'd previously ignored. He said there were people now getting very well paid for insider knowledge on the Liberal Democrats such as "He's called Chris" and "He's a vegetarian". Huppert spoke about how he had accepted dinner from Airwave, the company which supplies radios to the emergency services. After the presentation at the event though he asked them questions about the fact he'd been told that their systems fail during large events. (Huppert has also raised this, and problems with interoperability between forces at the Home Affairs select committee). Huppert said that accepting hospitality didn't mean he wasn't going to ask difficult questions, and that transparency in lobbying from business is what's important to push for, not banning it.
In the Chamber
Asked about the temper and volume and debate in the chamber, he said that while MPs behaved like children in the commons generally behind the scenes they were more like adults. He suggested anyone who could get into the public gallery, in front of the screen, should do so (you need an MP to vouch for you) and experience just how loud the chamber is. He said on TV it is easier to follow as only the microphone near the speaker is live, and that often on TV a debate sounds very different than it does in the chamber. He said that sometimes the abuse being shouted (too often at women in particular) was quite extreme and it was very unpleasant and difficult to give a speech while being forcefully shouted at. Huppert suggested it was "a bit like boxing" while lots of people profess to disapproving of it, many people clearly do enjoy watching it.

Correspondence
Huppert talked about the various ways in which people get in touch with him. He encouraged people to visit him at a constituency surgery if they had something they wanted to raise with him, as that showed him the strength of that person's feeling and also provided the chance for a proper debate and discussion to really get to grips with the issue. He commented on how he got a large amount of correspondence asking him to sign up to EDMs he had proposed himself and other forms of bulk mail; he urged people to write in their own words. Commenting on petitions he noted his experience on the Traffic Area Joint Committee for Cambridge had left him rather sceptical of them as often he'd noted people would sign petitions on both sides of an argument – perhaps not wishing to offend their neighbour who'd come round asking them to sign up, or not understanding what they were putting their name to.
Huppert said that he looks at and approves everything which goes out of his office in his name, noting that his office has dealt with almost 10,000 pieces of casework since his election just over a year ago.
Huppert said Twitter was a good way to get in touch with him directly; he noted that there were not yet statistics collected on MPs performance responding to tweets, suggesting that made it less formal than letters and emails he feels a duty to respond to. Huppert said Twitter was something he keeps for himself and said he writes all his own tweets.
Re-election
Without being specifically asked Huppert revealed his ambition and desire to remain Cambridge's MP for a "good time yet".
Brilliant
I thought the event was an excellent opportunity for getting to know our MP's views and to hear him debate things in-person with his constituents. I wonder if Cambridge's other MP, Health Secretary, Mr Lansley will ever do something similar?
The event was organised by Skeptics in the Pub, Cambridge.
The Cambridge Festival of Ideas, which runs from the 19th-30th October was promoted at the end.