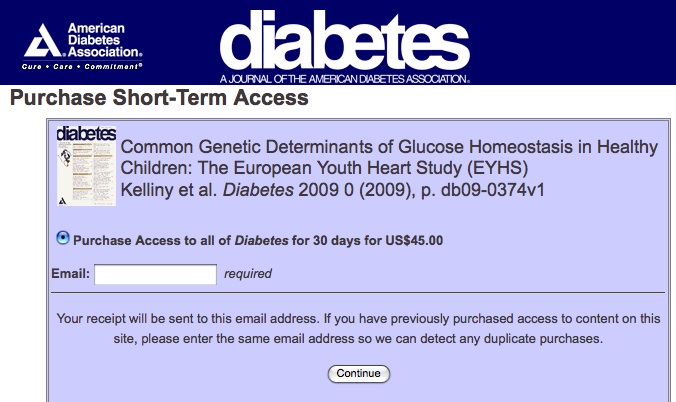 The UK public fund a large amount of scientific research, both though the research councils and via scientific work conducted by public bodies. Many results of publicly funded research are inaccessible to the vast majority of those who could make use of and build on it. Removing restrictions on sharing and accessing the journal articles which are a key output from much scientific work is an area where a simple change in policy could result in research results becoming much more accessible and having a greater impact on society.
Publicly funded scientists in the UK are currently allowed to publish their work in journals which then charge those wishing to access the articles. The public ends up paying both for the work to be conducted and then again to access the results. UK universities spend many millions of pounds every year on access to research publications which were produced by the universities themselves. This makes little sense as in many cases the publishers essentially take a document from a researcher, host it online, and charge those wishing to download it. The UK Government has given, and continues to give, scientific publishers a license to print money.
I think that the government should insist that the results of publicly funded research are made freely available; I think this would:
Reduce costs to universities, giving them funds to spend elsewhere.
Increase the effectiveness of the UKs research funding.
Improve healthcare provision as doctors and other working in the medical sector gain access to more research results and more evidence on which to base their decisions.
Boost the economy as companies as well as academics would have greater able to access to research outputs.
Breakdown some of the barriers to participation in science in the UK help tackle nepotism, favoritism and cronyism and introduce meritocracy.
Make it easier to assess the value of scientific research and make funding decisions.
There have been many announcements from government expressing an intent to go down the open access publishing route; but in my view little is actually changing, and the change there has been is occurring slowly. I think there is need for clear leadership from Parliament on this and believe the UK scientific, engineering, medical and other research communities would benefit enormously from a straightforward requirement for unrestricted, open access, distribution of research results.
Peer Review and Editorial Boards – Adding Value?
Some argue that publishers add value; one of the key arguments used in defence of the current system is the defence of "peer review". This is the process where a submitted paper is passed to other scientists who are asked for their opinion on aspects such as how interesting the work is, how well it has been carried out, how appropriate it is for a particular journal and if it has been conducted in a scientifically rigorous manner. By asking scientists to do this work, typically for free, publishers get much of the work they are doing in terms of selecting content for their publications done for them at no cost. Peer review is a good concept, and independent comments often result in improvements to the research being adopted prior to publication. This is a good thing.
The best journals pass articles anonymously to carefully selected experts in specific fields for review. More common though among the vast majority of publications is to simply ask the submitting author for "suggestions" of who could review the paper and for it to simply be passed on with no regard to anonymity. Ideally a peer reviewer would not know who a piece of research they were reviewing had been authored by, to illuminate bias and favouritism. I have been at a scientific meeting where those present in a lecture hall were asked who had been given a non-anonymised research article to peer review and about nine out of ten hands went up. In practice peer review isn't all its cracked up to be. After peer review the next step is approval by the editorial board of a journal; typically those working in a particular field will know individuals on boards of journals and will be on such boards themselves. In my experience there is a culture of exchanging favours for friends at this step too. When I have discussed open access publishing with senior academics I have been told a motivation for not following that route is an assurance that they will be published in a hassle free manner by those they know on the editorial board of a particular publication.
While the underlying process of "peer review" is worth retaining, the problem is that the current system of its operation has become sacrosanct among the scientific establishment. I think current system could easily be superseded by a more open publication system which allowed comments and suggested improvements from all with something to contribute. I think that traditional journals' other role of identifying and classifying research results so as to make them easy to locate has been superseded by online technology. It is now easier to apply more meritocratic measures of a publication's value than merely if it has been accepted for publication by a "highly respected" journal, one can look at where it has been cited and if valuable further work builds on its results for example.
Publication Ethics
Whatever the system it will inevitably be played by those trying to make the most out of the system such as career scientists. There are perceived benefits to having a large number of publications to someone's name so it is common practice for people to exchange "co-authorship" on papers even if they have had no or little involvement in the work. (I've seen situations where junior individuals who actually did the work don't get mentioned as the group leader has already got enough names of authors once all their scientific colleagues they owe favors too have been listed!) We need our scientists to behave ethically, more transparency and openness resulting from a reformed publication system would I believe be a strong driving force which would encourage that.
Access to Journals at the University of Cambridge
When came to Cambridge University in 2001 I found that access to scientific journals was much more restricted than it had been at my previous university – Imperial College London. It was not until 2006 when the University of Cambridge received £400,000 from the Science Research Infrastructure Fund (SRIF) which it spent with publishing company Elsevier that the situation really began to improve. This illustrates the problems faced in accessing information by one of the top research universities in the world in accessing information; things are much worse in poorer institutions. With open access publishing these costs and inequities disappear.
Publishing companies are in a position where they are able to hold institutions to ransom. It was not just Elsevier but many publishers, including Nature and the IEEE that Cambridge University had inadequate arrangements for access to journals from just a few years ago. One reason the situation has improved is that prices charged by publishers are dropping for example the IEEE currently charges institutions $43,995 for access to its journal package, in 2005 it charged $80,000. Even if prices were to half again I think the arguments for unrestricted, open access, publishing would still be valid. Slashing prices and offering schemes such as charging only for articles in the first three or six months after publication show that publishers are responding to public policy, but also that they are taking drastic steps to try and maintain their position, our political leaders should not be duped by them.
An Example – Accessing EPSRC Funded Research Today
Recently, through my voluntary work on mySociety's Freedom of Information website WhatDoTheyKnow.com I came across someone making a freedom of information request for some scientific research results. The request had been made to The Forestry Commission, which is the government department responsible for the UK's woodlands. The work had been led by the government department, carried out in collaboration with UK universities, and largely funded by public money distributed via the Engineering and Physical Sciences Research Council.
WhatDoTheyKnow user Simon Birkett had asked about work relating to pollutants and urban greenspace in London The response stated that the results had been published in a scientific paper. That paper entitled An integrated tool to assess the role of new planting in PM10 capture and the human health benefits: A case study in London has been published in the October 2009 edition of Elsevier Ltd.'s Environmental Pollution journal. While a member of Forestry Commission staff has offered to send a copy of the paper by post to the requestor they have not released the information to everyone via WhatDoTheyKnow presumably as doing so would presumably be a breach of the copyright in the work which they have probably handed over to the publishing company. The publishing company offer a A PDF version of the publication for $31.50 via their website.
I decided to ask Tony Hutchings, the Forestry Commission's Head of Land Regeneration and Urban Greenspace who led the research why he decided to not to publish the work in a more accessible manner he wrote back to me stating:
The work was predominantly funded through the Engineering and Physical Sciences Research Council. The work was published in a high quality, good impact, peer review journal. The Research Councils (as do many funders from both private industry and public bodies) assess the quality of the research undertaken by the impact factors of the papers produced. Through your research background and publication record you might be aware that this impact factor is assessed on the number of citations to papers within the journal normally over a 2 year period. To my knowledge there are unfortunately few open access journals with high impact factors.
The fact that this research was published in this manner and predominantly funded by a research council is interesting as the research councils, nominally at least, have policies promoting open access to research publications deriving from work they fund. Personally I have seen little impact of this supposed policy as publicly funded science has continued to be given to publishing companies to profit from since it was adopted. The EPSRC's "Policy on Access to Research Outputs" states:
"We remain strongly committed to the principles outlined in the Research Councils UK position statement on access to research outputs issued in June 2005. This says that knowledge derived from publicly-funded research must be made available and accessible for public use; must be subject to rigorous quality assurance through peer review; must be preserved and remain accessible for future generations and this must be done in a cost effective way."
I wrote to Dr Sue Smart the EPSRC's Head of Performance and Evaluation who is responsible for the policy to ask for her comments on the publishing decision made by the Forestry Commission. She replied to say:
We believe that our researchers should be able to choose the most appropriate publication routes, which may be via subscription journals (in which case we would expect them to make their article available through an institutional or subject-based repository as well – ie the so-called 'green' option), or via publication in open-access journals (the 'gold' option). This mandate will be introduced in the next 6-9 months but will not be applied retrospectively. We recognise that the choice of publication journal is highly significant to researchers and would not wish to bar them from publishing in the most highly esteemed volumes.
Yet again another promise of "jam tomorrow", perhaps another small step forward will take place in 6-9 months, but there is no reason the general problem could not be tackled today. Dr Smart's response also highlighted what I believe is a major problem, assumptions by researchers that people, especially those involved in funding and employment decisions rely on metrics such as "journal impact factors". Dr Smart wrote:
I'm afraid Tony Hutchings is mistaken in his assertion that we use journal impact factors in assessing the quality of research. It is true that we do use bibliometric analyses as an input to our International Reviews and as an input to internal policy discussions regarding strengths and weaknesses of the research base, but we do not focus on journal impact factors in any of these analyses and certainly not in assessing the quality of individual research projects.
The EPSRC also stated that the Forestry Commission's offer of a paper copy of the research article was: "in keeping with the principles of the RCUK position statement."
See also: